Alert
Covid-19 Alert! WE ARE OPEN!!! Our bathroom facilities are open with limited occupancy. Please CALL for tent, Cabin, or Deluxe Cabin reservations. We have full-hook up sites available. Our pool is now open, with limited occupancy- sign up for 45 minute time slots available at the front desk. The Governor has issued a mandate requiring masks in all public places across NC. This mandate goes into effect Friday, June 26th @ 5pm. Please let us know if you have any questions. Hope to see you all soon. Please check out our blog for current updates.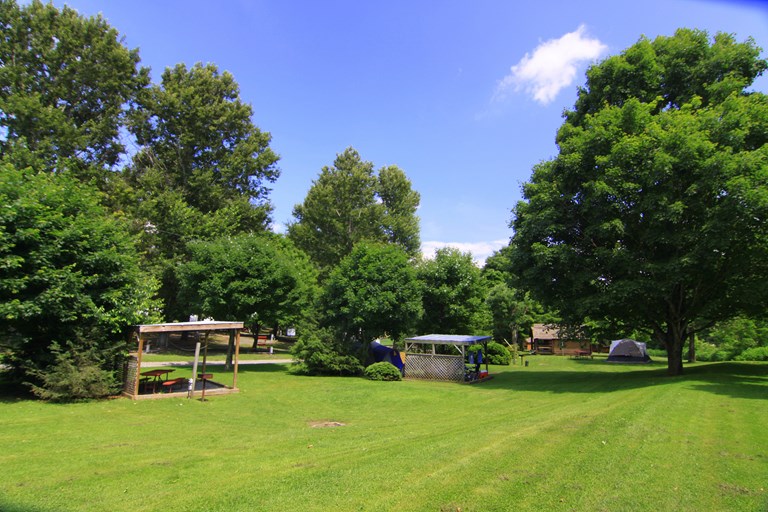 Boone KOA Reviews
Directions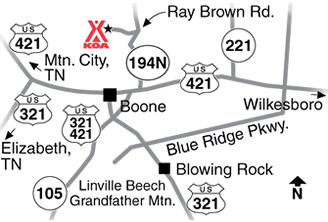 GPS address:  1258 Ray Brown Road
GPS: If you can, make sure your GPS is programmed to use highways only, avoid unpaved roads, and follow truck routes.  If you're GPS routes you on a narrow, winding mountain road or gravel road - immediately stop and turn around.  
GPS TIPS and DIRECTIONS:

If coming on 421N DO NOT TURN ON Brookshire Road, continue to  Hardee's and turn on NC194N/Jefferson Hwy. 3 miles, turn left on Ray Brown Road for 1 mile.

If coming from West Jefferson on NC194/Jefferson Hwy DO NOT TURN ON Chestnut Grove Road continue on NC194/Jefferson Hwy 1.5 miles to Ray Brown Road for 1 mile. 

If coming from TN, we recommend traveling from Mountain City to Boone on 421S DO NOT TURN ON Rich Mountain Road OR Tater Hill Road.  Travel on 421S through downtown Boone to NC194N/Jefferson Hwy. 3 miles, turn left on Ray Brown Road for 1 mile.

Easy access from Blue Ridge Parkway on US 321 or 421. From Boone take NC194N 3 miles, turn left on Ray Brown Road for 1 mile.

There is a road in our county called Harmony Lane.  You do not want to go there. The physical address for the campground is 123 Harmony Mountain Lane.
Get Google Directions
Jul 20, 2020
Very peaceful and clean.
Jul 20, 2020
This campground has a good location for Boone and Blowing Rock activities. Sites a little small. Suggest you look at the site they assign before pulling to site. No trash pick up at site which I've become used to at other KOA's.
Jul 20, 2020
Clean, cool, green, nice facilities including pool, miniature golf, campground store, laundromat and farm animals that can be fed. Great for all types of camping from tent to RV!
Jul 20, 2020
We had a great time. Service was great. Grounds beautiful and bathrooms clean
Jul 20, 2020
The staff was very helpful but the bathrooms/ showers on the "D" Row where not clean. Partially due to the kids playing in them. I felt the sites were a little close to each other and the grounds could use an update.
Jul 19, 2020
It was a nice campground. It was clean, except for the dog droppings that weren't cleaned up. Not even when the people left, it wasn't cleaned up. We had a hard time getting parked, we probably should've asked for a bigger site, as we have a large travel trailer. We don't like to make waves. Overall it was nice.
Jul 19, 2020
Our visit was a family affair with children/grandchildren at one site, parents at a site, and friends at another. Everyone had a great time. The campground is clean and beautiful. We watched deer play in a field across from our site. Nearby excursions are easily accessible. There is literally something for everyone. Great camping experience!
Jul 18, 2020
The Boone KOA was locates away from the traffic and the wether was perfect. The KOA employees were very nice and the campground and facilities were very clean. The sites are a little narrow and the grade requires leveling blocks. This was no problem considering the peaceful stay. We are staying there again soon.
Jul 18, 2020
Beautiful weather in the dead of summer! Nice quiet relaxing place without all the bells and whistles of a resort. Great vacay and will definitely stay again!
Jul 17, 2020
This was a wonderful surprise how nice the KOA Campground was.The sites were very large with ample space between the campers.Since the pandemic it is nice to see it was open and taking reservations.The only thing that bothered me and i know we all have freedom of speech but the trump flags were intimidated I did not feel safe.I felt that I did not belong and I look for a place that has no politics
Jul 17, 2020

Our cabin was very comfortable! We enjoyed our stay and will be back again!
Jul 17, 2020
The staff was very helpful. The campground was wonderfully peaceful, clean, and relaxing. I especially enjoyed hearing the donkeys braying in the morning and evening. We were close to all we wanted to explore.
Jul 17, 2020
Had a great time, very pleasant staff and we are looking forward to returning in the fall if not sooner.
Jul 16, 2020
Very friendly and helpful staff members. We enjoy the weather and cool temperatures in July. kids had a wonderful time roasting marshmallows at the campfire and chasing fireflies.
Jul 16, 2020
Close to the High Country of Western North Carolina where there is plenty to go and see. Sites are very close to one another and the terracing of the site makes you feel stacked close to each other.Most sites are relatively short pull through.Very few if any concrete RV pads and a few concrete patios. Hookups are properly positioned to allow easy hookups. Bathrooms were clean and well kept.
Jul 14, 2020
Sites are tight to get in with bigger rigs, would have been nice to have a firepit on our site or been told there wasn't one so I could have brought my own.
Jul 14, 2020
After a rocky start with trying to get a site that we wanted we ended up having a very relaxing weekend. We did end up on the row that we wanted and we appreciate that. The reason for the 4 is that the internet was not very friendly. We could never get the password to authenticate We will be back in Sept. Reservations already made.
Jul 14, 2020
Loved the campground and the amenities. We had 2 granddaughters with us and they loved it. The staff was amazing and very helpful. The animals were a huge hit! We will be back
Jul 13, 2020
We go every year and it is always a great stay. It can be challenging with bigger units and the sites could be more level, but still, we love it!
Jul 13, 2020
Always a great stay at this KOA! Clean, quiet. Most spots have shade. Staff are all responsive and friendly.
Jul 13, 2020

Jul 13, 2020

We loved all the amenities! We also love how friendly and thoughtful the staff were!
Jul 13, 2020
As always, we had a very nice time. We look forward to staying here again.
Jul 13, 2020
Beautiful, quiet, and very well maintained campground: enjoyed seeing the livestock - extra bonus!!
Jul 13, 2020
This was our first time camping at the Boone KOA and we certainly were not disappointed. We had a great time and were treated with kindness by EVERY employee we encountered - from our initial phone conversation when making our reservation until the time of our departure. We were so impressed with the cleanliness of the park, especially the restrooms. We will definitely be back!
Jul 11, 2020
Nice facility clean , cooler weather this time of year.
Jul 11, 2020
Beautiful area. Sites a little unlevel but you are in the mountains. Staff was amazing. My great grandchildren visited and the goats and donkeys were a hit!!
Jul 10, 2020
No social distancing during Covid 19. Our site was a main path to the pool, table tennis, and the lake. Most people NOT wearing masks, and many groups very close to our site. Our site was noisy and we had no privacy what so ever. They have a lot of nerve charging the amount they did for this site. Thank God we were self contained and left the campground for most of the two days we stayed there.
Jul 10, 2020
Very peaceful and enjoyable. I needed propane and had to go searching around town for it. A lot of KOAs will have it on site. Kids loved feeding the goats. Overall a great place to stay.
Jul 10, 2020
Cheyenne was great!!! Very pretty and nice young lady!!! She really took care of us!!! Even left the laundry open after closing to accommodate my friend who needed to dry his soaking wet clothes as we were caught in pouring rain just prior to our arrival on our motorcycles!!!! Thank you Cheyenne!!!
Jul 09, 2020
Wonderful time with the family. We will be coming back.
Jul 09, 2020
The big trees at the campsite is nice for shade, but make it hard to pull a camper out of your site.
Jul 09, 2020
We had a wonderful time at the Boone KOA. The staff is amazing and the sites are great. I don't think they have a bad site on the property. There is so much to do in and around the Boone KOA. If you have never been I highly recommend Boone KOA.
Jul 08, 2020
Great place really helpful staff. Especially Gary!!!
Jul 07, 2020
Loved this KOA and lived the little farm animals. Friendly staff. Rate a 10.
Jul 07, 2020
Our site was found dirty with empty bottles. One power box not working and flagged as out of order. Site are way to close together that you can hear conversations of other campers.I was not inform ahead of my visit that my requested site would not be available. Requested at opening of season. was told you can reserve a year in advance but not on line ? office girls became short when questioned.
Sep 14, 2020
My husband and I have a great time. The office was really nice an helpful. Will be definitely coming back
- April Dillon on Google
Sep 08, 2020
Campsites have shade, nice small playground for children, bath house was clean. Weekend activities were a fun addition (tie dye) with friendly staff, as well as easy sign ups for time at the pool and the small putt putt course. We had a great time!
- Megan on Google
Sep 03, 2020
Friendly Staff. Beautiful location. Great prices.
- Victoria Fullbright on Google

Boone KOA
Open May 1 - October 31
123 Harmony Mountain Lane
Boone, NC 28607
Check-In/Check-Out Times
All, Check in 1pm, check out by 11am
Check-in: 1:00 pm, Check-out: 11:00 am
Get Google Directions

© 2020 Kampgrounds of America, Inc.