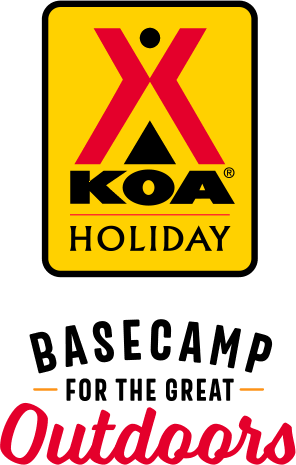 KOA Holiday Campgrounds
Whether you're exploring the local area or hanging out at the campground, KOA Holidays are an ideal place to relax and play. There's plenty to do, with amenities and services to make your stay memorable. Plus, you'll enjoy the outdoor experience with upgraded RV Sites with KOA Patio® and Deluxe Cabins with full baths for camping in comfort. Bring your family, bring your friends, or bring the whole group – there's plenty of ways to stay and explore.
KOA Holidays Feature:
RV Sites with a KOA Patio®
Deluxe Cabins with full baths
Premium Tent Sites
Group meeting facilities
Directions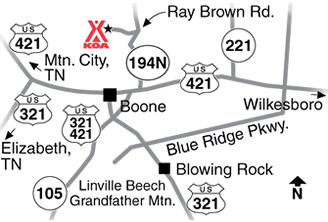 GPS address:  1258 Ray Brown Road
GPS: If you can, make sure your GPS is programmed to use highways only, avoid unpaved roads, and follow truck routes.  If you're GPS routes you on a narrow, winding mountain road or gravel road - immediately stop and turn around.  
GPS TIPS and DIRECTIONS:

If coming on 421N DO NOT TURN ON Brookshire Road, continue to  Hardee's and turn on NC194N/Jefferson Hwy. 3 miles, turn left on Ray Brown Road for 1 mile.

If coming from West Jefferson on NC194/Jefferson Hwy DO NOT TURN ON Chestnut Grove Road continue on NC194/Jefferson Hwy 1.5 miles to Ray Brown Road for 1 mile. 

If coming from TN, we recommend traveling from Mountain City to Boone on 421S DO NOT TURN ON Rich Mountain Road OR Tater Hill Road.  Travel on 421S through downtown Boone to NC194N/Jefferson Hwy. 3 miles, turn left on Ray Brown Road for 1 mile.

Easy access from Blue Ridge Parkway on US 321 or 421. From Boone take NC194N 3 miles, turn left on Ray Brown Road for 1 mile.

There is a road in our county called Harmony Lane.  You do not want to go there. The physical address for the campground is 123 Harmony Mountain Lane.
Get Google Directions
Aug 30, 2021
We enjoyed staying at the Boone KOA. It's an older KOA but still pretty good. The negatives were out site, G8 was hard to get into with a travel trailer. Very loose gravel road on a steep hill and a tree on the corner of the lot made a difficult turn. Also mixing permanent residents with short term site rentals does not work (anywhere)
Aug 29, 2021
Great weather. Beautiful location.
Aug 29, 2021
The campground is beautiful and exceeded all of our expectations. The facilities were clean and the camp personnel were very friendly and helpful. I would recommend Boone KOA to anyone. to anyone.
Aug 29, 2021
Very nice campground our spot did not have any trees but other than that great campground next time we go back we were get a different spot
Aug 29, 2021
We really liked this KOA in Boone. The price was reasonable. I asked for a shaded site and I got a nice site on a fairly short notice for our Class A. F D Miller
Aug 29, 2021
Nice park and very quite. Was disappointed at the way staff came to talk(ride by) about our dog. Need to investigate the matter first before anything is said. All in all nice trip
Aug 29, 2021
It was wonderful. Very friendly customer service. Great tent spot. Will be coming back for sure!!
Aug 28, 2021
Had a great time.
Aug 28, 2021
Had a great time
Aug 28, 2021
Bathrooms VERY clean. Lots of pretty trees. Quiet.
Aug 28, 2021
Quite, relaxing
Aug 27, 2021
Some sites too narrow and/or too short i.e. site-4d no parking space for vehicle. Only had a 20' camper and site was too short and narrow for camper and tow vehicle
Aug 27, 2021
Our site was small and unlevel we were unable to use our fire pit as it was to close to our neighbors pop out(4-5 feet away).
Aug 27, 2021
Site was very uneven and full of tree roots . Wifi did not work. No cell service. Dirt roads .
Aug 27, 2021
It's such a beautiful setting. I could be happy simply sitting there looking at the scenery. Of course, our needs were well met. That's why we choose KOA.
Aug 26, 2021
Sites are unlevel and gravelly; we had to add 4 inches of height to the tires on one side of our travel trailer. The approach and egress from each campsite was steep and very tight. We had to very careful not to hit a tree or another camper. The view from our site was not appealing, because there were weeds, clutter, and a storage barn down on the creek bottom.
Aug 25, 2021
Very clean and impressed with the friendly staff
Aug 24, 2021
We enjoyed the time we stayed at the Boone KOA. It is always relaxing & everyone is always very friendly.
Aug 24, 2021
The Boone KOA was always clean and well taken care of as expected. The staff was always helpful and friendly with anything we needed. Had a great time and will diffidently will making a return trip.
Aug 24, 2021
Absolutely loved this KOA! It has lots of trees providing great shade in the summer heat. The rv sites are very spacious and the grounds are very well maintained. There are even goats, donkeys and cows near by which provide some good entertainment.
Aug 24, 2021
Nice campground and a friendly staff who went above and beyond for our family. Will be making this place our preferred location in the Boone area.
Aug 23, 2021
Site was muddy , narrow, short , lacked sufficient gravel and not level for a 42' unit. Road needs to be widened to KOA and needs to have trees trimmed. We hit several branches on the up and down.
Aug 23, 2021
Kristina and her staff were amazing! They made us feel like family on our long over due vacation. Can't wait to return!!
Aug 23, 2021
The staff was great at helping us. A beautiful place in the mountains with everything you need to camp. Cabins, RV sites, tents and park models. Very clean and well taken care of.
Aug 22, 2021
They had great facilities and a friendly and accommodating staff. Tropical storm Fred came through while we were there and the next day they were up early repairing roads and picking up limbs. They also made the office available for campers to shelter in during the tornado watches. This is a top run facility and we will return!
Aug 22, 2021
Wonderful koa, however needs better WiFi. Also needs cable.
Aug 22, 2021
Very nice campground. Only complaint we have is Ray Brown Rd being so rough.
Aug 22, 2021
Everything was great but there were a lot of dogs barking.
Aug 21, 2021
Always enjoy our stay. Close to lots of nature things to do. Friendly staff. Clean
Aug 21, 2021
Very peaceful campground.
Aug 21, 2021
The cabin was very nice and shower and bathrooms were convenient. The staff was very friendly though some of the other guests and permanent residents were not so nice.
Aug 21, 2021
Very tight spaces, broken sewer drain. No Satelite reception. Would be nice to at least have cable.
Aug 17, 2021
Nice flat large sites. Quiet location. Friendly staff. Road to KOA sucks, large pot holes and uphill. Pool closes early but nice playground.
Aug 17, 2021
Very friendly neighbors, clean campground.
Aug 17, 2021
Nice clean campgrounds. Good atmosphere with great wilderness and animals all around.
Aug 16, 2021
Very quiet. No cable tv
Aug 16, 2021
Great camp ground had to leave two days early because of faimly problems but would stay there again .
Aug 15, 2021
Amazing location Weather in August is great Campground is quiet Staff are very helpful and pleasant Many thanks for a great trip
Oct 08, 2021
Great park Wifi could use a boost.
- Steve "Chunker" Thrower on Google
Sep 19, 2021
Great Location, easy access from road, great treed sites, clean, well maintained, close to everything.. Their Wifi was stable and reliable. Would definitely recommend...
- Christy Hildebrand on Google
Sep 18, 2021
Loved this camp ground! The rec room was specifically a nice feature as was the mini golf course. Perfect location!
- Katie-Starr Goodwin on Google