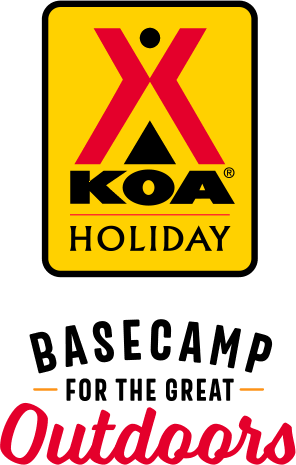 KOA Holiday Campgrounds
Whether you're exploring the local area or hanging out at the campground, KOA Holidays are an ideal place to relax and play. There's plenty to do, with amenities and services to make your stay memorable. Plus, you'll enjoy the outdoor experience with upgraded RV Sites with KOA Patio® and Deluxe Cabins with full baths for camping in comfort. Bring your family, bring your friends, or bring the whole group – there's plenty of ways to stay and explore.
KOA Holidays Feature:
RV Sites with a KOA Patio®
Deluxe Cabins with full baths
Premium Tent Sites
Group meeting facilities
Directions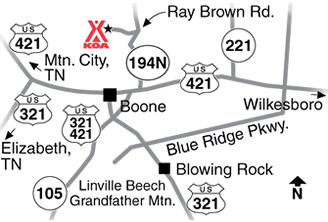 GPS address:  1258 Ray Brown Road
GPS: If you can, make sure your GPS is programmed to use highways only, avoid unpaved roads, and follow truck routes.  If you're GPS routes you on a narrow, winding mountain road or gravel road - immediately stop and turn around.  
GPS TIPS and DIRECTIONS:

If coming on 421N DO NOT TURN ON Brookshire Road, continue to  Hardee's and turn on NC194N/Jefferson Hwy. 3 miles, turn left on Ray Brown Road for 1 mile.

If coming from West Jefferson on NC194/Jefferson Hwy DO NOT TURN ON Chestnut Grove Road continue on NC194/Jefferson Hwy 1.5 miles to Ray Brown Road for 1 mile. 

If coming from TN, we recommend traveling from Mountain City to Boone on 421S DO NOT TURN ON Rich Mountain Road OR Tater Hill Road.  Travel on 421S through downtown Boone to NC194N/Jefferson Hwy. 3 miles, turn left on Ray Brown Road for 1 mile.

Easy access from Blue Ridge Parkway on US 321 or 421. From Boone take NC194N 3 miles, turn left on Ray Brown Road for 1 mile.

There is a road in our county called Harmony Lane.  You do not want to go there. The physical address for the campground is 123 Harmony Mountain Lane.
Get Google Directions
Jun 23, 2021
Absolutely love this little campground. Will definitely be booking again. Haven't been disappointed by a k o a yet.
Jun 23, 2021
The Boone koa is absolutely the best and I feel like its my hone away from home!!!
Jun 22, 2021
We love Boone....this KOA is not a real KOA. The property, the service, the amenities, nothing was up to KOA standards. We checked out some other campgrounds in the area for next time.
Jun 22, 2021
I am 83 yrs old & not in good health, our stay could not have been more relaxing & comfortable! We absolutely love the staff.
Jun 22, 2021
internet and cellular service very bad. people are very nice. but will not be back to this koa. all holiday KOA are not the same.
Jun 22, 2021
Helpful staff. Only negative was lack of cable. We are interested in staying longer on our next visit to Boone but the lack of any TV reception will cause to look for other campgrounds
Jun 21, 2021
Beautiful campground, clean bathrooms, Joanna and staff are amazing!
Jun 21, 2021
The amenities and site were great. Had a tent sight near the entrance. The site was nice, but cars traveled way too fast on the gravel road causing us to get dusted every time someone went by. Had a drunk neighbor in a camper across the road from us that was being loud past quiet time. If it weren't for my 2 yr old grandson I wouldn't have cared. We made 4 phone calls before he was finally quiet
Jun 21, 2021
Great staff and very welcoming! Peaceful campground.
Jun 21, 2021
We enjoyed our stay very much. Very friendly staff and clean campground, we will definitely be back
Jun 21, 2021
great location and staff Clean restrooms Mini golf needs new carpet
Jun 21, 2021
This was our first KOA stay and everyone had a great time! My kids continue to talk about feeding the goats and the fun playground. We will be back!
Jun 21, 2021
We liked this camp ground a lot because of it convenient location to sites and attractions in the area. The campsites are clean and well shaded by trees. The WiFi internet was lacking though and was very difficult to keep connected to our devices. We will definitely be staying at this KOA again in the future.
Jun 21, 2021
Always a great place to stay!
Jun 21, 2021
Great campground
Jun 21, 2021
Close to activities, easy in and out
Jun 21, 2021
Loved it. planning on going back
Jun 20, 2021
Very friendly and helpful staff. Beautiful and well maintained campsites.
Jun 20, 2021
Awesome, polite, helpful staff!! Great site for our motor home! Enjoyed our stay!
Jun 20, 2021
The site was level, with a concrete pad, table and 4 chairs and next to goats, and donkeys that we could feed with the food bought at the camp store. Staff and neighbors were friendly and very helpful. Lots to do as well, play ground and an assortment of lawn games. We will definitely be back!
Jun 20, 2021
I don't like giving kudos that aren't deserved and that's what most rating systems try to do. We stayed at the Boone KOA for 4 nights. It was great! The site was remote but Boone was close enough to enjoy. The parking was easy and level. The Park was clean and pet friendly. Dumpsters could have been a little more convenient. Employees were great. Would recommend this RV site w/o reservation!
Jun 20, 2021
We had a wonderful 6 night stay at the Boone KOA. The staff were very nice and helpful. They even worked to arrange for us to stay on the same site when we added a day onto the end of our stay. We would not hesitate to stay there again even though the sites are small.
Jun 20, 2021
Roads and sites are terrible. Impossible to get around. No lighting especially dangerous at night. Roads are even treacherous to walk. Challenging drive in with a big rig then when you get in there, its even worse. Extra cars parked in the roads because sites are so small and you cannot navigate around them, Sites so small chairs and firepits are basically sitting on the edge of the street
Jun 19, 2021
Staff were very helpful and courteous. My wife and I enjoyed our stay. Thank You and hope to see you again for an even longer stay. We very much enjoyed our stay.
Jun 19, 2021
Like most KOA we have been to the sites are small and cramped. However: The staff was very helpful and friendly. The amenities were very good. The area was very clean. We would return and do recommend Boone KOA. Just the size of the sites and the fact there are no grills available prevent a 5 star review.
Jun 19, 2021
The office lady's were very nice with a smile on their faces and very helpful along with the men working the grounds. I seen one helping helping an older gentleman level and connections to his tagalong camper.
Jun 19, 2021
Very quiet campground. Very enjoyable stay. Friendly helpful staff. We will stay here again.
Jun 19, 2021
Busy place. Campsites need to be better groomed. Roots make it easy to trip on in the sites. Roads and sites need more gravel and graded
Jun 19, 2021
Beautiful campground. Very well maintained. Good wifi strength. (alas no cable). Definitely would stay here again. For the kids: mini golf, cornhole, playground, petting/feeding goats.
Jun 18, 2021
Impressed with the cleanliness....and no bugs! Thank you!
Jun 18, 2021
Pleasant and helpful staff. A special thanks to Garry.
Jun 18, 2021
Restrooms were scare and not clean. Fire pits are nothing but a couple rocks on sloped ground. Sites too close together not enough level ground on sites.
Jun 17, 2021
Friendly and helpful staff.
Jun 17, 2021
Beautiful place to visit.
Jun 16, 2021
Excellent staff! Poor WIFI. Tight sites. Beautiful space and very family friendly. No cable TV if that's a must for you.
Jun 16, 2021
Great stay!!
Jun 16, 2021
Everything was excellent and the service was awesome! Only thing I could say is the bathrooms could get a little extra attention maybe checking them more often and only because of the smell not the cleanliness.
Jun 15, 2021
We have stayed at over 100 campgrounds over the last 5 years. These sites were some of the most un level that i have seen. I saw dozens of sites that were 3-6" off grade where the axles/ tires would rest. Please invest in more rock granite and use your box blade attachment that you have. I realize that there has been lots of rain lately. some more rock would really help reduce the amount of mud
Jun 15, 2021
The amenities are wonderful. My daughter especially liked the goats. When we had a problem with our popup camper the employees helped us resolve our problem.
Jun 15, 2021
it was nice and it was convenient to Boone and the area in general.
Jul 30, 2021
Great campground with lots of activities for kids.
- Steve Perkins on Google
Jul 26, 2021
Love it! Clean and beautiful! Lots of amenities!
- Beverly Johnson on Google
Jul 13, 2021
Tent camped and stayed in a cabin. Wonderful staff, terrific facilities, and even better location.
- A Rudolph on Google