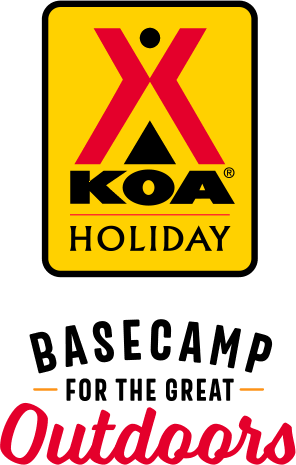 KOA Holiday Campgrounds
Whether you're exploring the local area or hanging out at the campground, KOA Holidays are an ideal place to relax and play. There's plenty to do, with amenities and services to make your stay memorable. Plus, you'll enjoy the outdoor experience with upgraded RV Sites with KOA Patio® and Deluxe Cabins with full baths for camping in comfort. Bring your family, bring your friends, or bring the whole group – there's plenty of ways to stay and explore.
KOA Holidays Feature:
RV Sites with a KOA Patio®
Deluxe Cabins with full baths
Premium Tent Sites
Group meeting facilities
Directions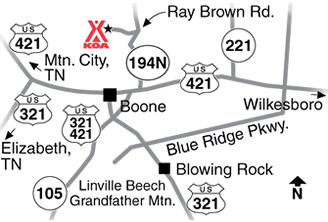 GPS address:  1258 Ray Brown Road
GPS: If you can, make sure your GPS is programmed to use highways only, avoid unpaved roads, and follow truck routes.  If you're GPS routes you on a narrow, winding mountain road or gravel road - immediately stop and turn around.  
GPS TIPS and DIRECTIONS:

If coming on 421N DO NOT TURN ON Brookshire Road, continue to  Hardee's and turn on NC194N/Jefferson Hwy. 3 miles, turn left on Ray Brown Road for 1 mile.

If coming from West Jefferson on NC194/Jefferson Hwy DO NOT TURN ON Chestnut Grove Road continue on NC194/Jefferson Hwy 1.5 miles to Ray Brown Road for 1 mile. 

If coming from TN, we recommend traveling from Mountain City to Boone on 421S DO NOT TURN ON Rich Mountain Road OR Tater Hill Road.  Travel on 421S through downtown Boone to NC194N/Jefferson Hwy. 3 miles, turn left on Ray Brown Road for 1 mile.

Easy access from Blue Ridge Parkway on US 321 or 421. From Boone take NC194N 3 miles, turn left on Ray Brown Road for 1 mile.

There is a road in our county called Harmony Lane.  You do not want to go there. The physical address for the campground is 123 Harmony Mountain Lane.
Get Google Directions
Jul 25, 2021
It was okay for an overnight stay. A bit out of the way and a little difficult to get to. Site was level and had a nice concrete patio with good metal table and chairs. Goats and donkey were nice.
Jul 25, 2021
Very nice campground. Some spots are a little tight, but overall great place to camp.
Jul 25, 2021
Everything was great but tent 5 person others over talk all night long and was loud laughing and stuff tile 1am thats main reason why I left early.. no respect for others sleeping. Look like vary good campground will try again this year.
Jul 24, 2021
We love staying at Boone! Can't wait to come back.
Jul 24, 2021
Staff was helpful and very pleasant. Our only concern was quickly addressed and resolved plus helpful suggestions given that made our site even more enjoyable. The area is beautiful with pleasant summer temperatures. The internet is not reliable which causes some frustration. The sites are not as level as we have found at other KOAs. Laundry clean and reasonably priced.
Jul 24, 2021
Nice quiet campground
Jul 24, 2021
very beautiful campground, very family oriented
Jul 23, 2021
ONE OF THE VERY BEST!!
Jul 22, 2021
Very well organised and pleasant. We'll be back many times.
Jul 21, 2021
Wonderful staff and great customer service. We are so happy to come to Boone KOA every year ��. This crew of people will make your stay so special. A wonderful location and a great time � for relaxation and adventure with all the great natural beauty and places to explore. Thanks again for all your customer service and friendly staff � �. We will be back again for sure �. Debby and B
Jul 20, 2021
Love every trip to Boone KOA. was able to take the grandkids on this trip with made it even more special. Always enjoy Garry, Joann and he team at Boone. Thanks for a great weekend.
Jul 20, 2021
cant wait to come back! great place for the family
Jul 19, 2021
Extremely short pull thru sites Extremely poor internet No cable Poor cell phone coverage
Jul 19, 2021
I enjoy this KOA. If you have kids there's a great area to play. If you don't have young children, pool or putt putt or hanging out. I like the fact the activity is available but doesn't hinder a camping experience for others. Some KOAs are so crazy, it's too busy. I think this KOA has the right combination.
Jul 19, 2021
Awesome place. Friendly staff. Super accommodating. Spacious tent sites. We will be back
Jul 19, 2021
disappointed no cable and we had to use boards to level our motorhome. site was shaded though. Garry was very helpful area attraction info. and directions
Jul 19, 2021
We liked the campground a lot, staff was friendly. Only change I'd make would ask for a space closer to office for easier mobility for this ole senior.
Jul 19, 2021
We had a deluxe pull thru that was very level. However looking at other regular sites, they were not very level. No cable TV but our site had satellite access, most do not. Cell service spotty, but internet was pretty strong. The bathhouses need stronger fans, very hot, but very clean. Staff was friendly and helpful.
Jul 19, 2021
Like a home away from home. We go every year and love it here.
Jul 19, 2021
Everyone at the KOA was friendly and helpful. The camp was clean and well maintained. It's great value for the money. We enjoyed our tent site, the playground, the goats, the pool, the dog park and the put put golf course. The free Bluegrass concert on Saturday was a nice touch. We would definitely stay there again and recommend it to others.
Jul 19, 2021
Awesome experience! KoA makes your family trip special. Loved the location. We would love to come again.
Jul 19, 2021
We had a water issue, the staff was helpful in figuring it out.
Jul 19, 2021
stayed in the 2 room cabin,very nice loved it,only complaints was always waiting on the restroom,only 1 car parking and bathhouse was so far away
Jul 19, 2021
Very friendly staff, the restrooms and grounds were very well kept. The goats and donkeys was and added bonus, our grandkids sat for hours and watched them play. Would recommend to all my friends and family.
Jul 19, 2021
The only reason I give this campground 2 stars is because it's somewhat close to Boone. That's all the positive things I have to say. This was the first time we had ever stayed at a KOA and now I know why we haven't before now (and won't be again). It's a shame Boone doesn't have a decent family friendly campground nearby. This one has potential but needs some major TLC.
Jul 19, 2021
We come over as often as possible for quick weekends. We love the convenience to home and work, while still feeling like we're getting away from it all. The staff is friendly, the store is well stocked, and we really enjoyed the bluegrass band this past Saturday!
Jul 19, 2021
My site was B-6. This site is right beside the exit road and was continually being covered in dust due to the high traffic that was not following the speed limit. I could not sit and enjoy my site due to the dust and traffic. The site was not very level and not very wide. Will not stay in this campground again if assigned anything in the B range due to the exit road and size of the sites.
Jul 19, 2021
Plenty for the kids to do and plenty of families with kids. Staff was great and very helpful.
Jul 18, 2021
The best place we've stayed in since leaving home. It was family run & they take a lot of pride in it. It was spotless; store had everything a camper/rv person could need & prices very reasonable. It was so quaint, had goats and donkeys, very nice/clean playground for kids, pool was very clean. Their staff was amazing; attentive; service as soon as you walked in the door. We'll be back!
Jul 18, 2021
The staff has always made me feel like I was at home!!!!
Jul 18, 2021
At about 3:30 in the morning someone walked by our tent. They got so close, in fact, that we could hear the grass right outside and could see their shadow waking by. This happened twice. It scared the crap out of my friend and neither of us slept well after that. I can't fathom why someone would do that as we were surrounded by large RVs.
Jul 17, 2021
Very friendly staff, clean campground and bathrooms. wifi could be better.
Jul 17, 2021
Everything was nice. we are headed back in july with grandchildren.
Jul 17, 2021
There were no grills and the sites are to close together. Staff was nice.
Jul 17, 2021
We're returning next July.
Jul 17, 2021
Loved the cooler weather and the friendly staff. Granddaughter loved the goats, playground and the ice cream sold at the camp store. We will be back.
Jul 17, 2021
We enjoyed our stay, and would return someday, but the camp sites are small, close and not very level.
Jul 16, 2021
We enjoyed the quiet and the countryside. The lots could be a bit more level and for those who depend on the internet or television, they will not enjoy their enjoy their stay. But we liked it very much and will stay there again.
Jul 16, 2021
Everyone working there was friendly. The grounds were quiet and peaceful. The lots are close but our neighbors were delightful
Jul 16, 2021
First of all, the location is beautiful and the facilities, while old, are very well kept for. Best water pressure for a shower that I have ever had in a campground! We are in a toy hauler with roof top tent, and the sites are very narrow, we would not have been able to put up the tent and the larger RV's would have trouble getting out of the sites I would imagine. Very quiet 10pm-7am though
Jul 16, 2021
The staff was so helpful and accommodating. The cabin was clean and the rest of the area was well kept. It was an easy drive in and out of town and we felt like we were in a safe and secure area. We really enjoyed everything about our stay and hope to come again someday.
Jul 15, 2021
Enjoyed our stay. We wanted to change our site and you were most helpful
Jul 15, 2021
Our stay went very well. Your friendly staff were always available for help and for questions. My main criteria for a great campground is clean bathrooms with hot showers and Boone KOA passed the test! Our site was shady and convenient to office and shower/restrooms. I liked that you have a utility sink for dish washing. If we return to your area we would stay with you again.
Jul 15, 2021
Very personable staff. Cabin was clean, and just as described. Mini golf is very reasonably priced at $1/day. Checkin and checkout was easy.
Jul 15, 2021
Always a fun stay. Great customer service!
Jul 14, 2021
As soon as I stepped out of my truck it was into. Pile of dog poop. The sewer cover was locked into place requiring a screwdriver or two to pry it open, but we didn't know that so had to wait for someone at the office to open it for us. Cell service almost non-existent & wifi spotty. Location was further away than we cared for. Otherwise the campground was clean & quiet. The staff was friendly.
Jul 30, 2021
Great campground with lots of activities for kids.
- Steve Perkins on Google
Jul 26, 2021
Love it! Clean and beautiful! Lots of amenities!
- Beverly Johnson on Google
Jul 13, 2021
Tent camped and stayed in a cabin. Wonderful staff, terrific facilities, and even better location.
- A Rudolph on Google