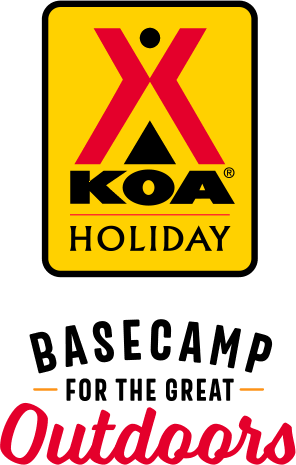 KOA Holiday Campgrounds
Whether you're exploring the local area or hanging out at the campground, KOA Holidays are an ideal place to relax and play. There's plenty to do, with amenities and services to make your stay memorable. Plus, you'll enjoy the outdoor experience with upgraded RV Sites with KOA Patio® and Deluxe Cabins with full baths for camping in comfort. Bring your family, bring your friends, or bring the whole group – there's plenty of ways to stay and explore.
KOA Holidays Feature:
RV Sites with a KOA Patio®
Deluxe Cabins with full baths
Premium Tent Sites
Group meeting facilities
Directions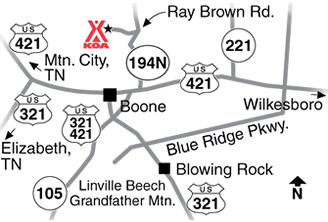 GPS address:  1258 Ray Brown Road
GPS: If you can, make sure your GPS is programmed to use highways only, avoid unpaved roads, and follow truck routes.  If you're GPS routes you on a narrow, winding mountain road or gravel road - immediately stop and turn around.  
GPS TIPS and DIRECTIONS:

If coming on 421N DO NOT TURN ON Brookshire Road, continue to  Hardee's and turn on NC194N/Jefferson Hwy. 3 miles, turn left on Ray Brown Road for 1 mile.

If coming from West Jefferson on NC194/Jefferson Hwy DO NOT TURN ON Chestnut Grove Road continue on NC194/Jefferson Hwy 1.5 miles to Ray Brown Road for 1 mile. 

If coming from TN, we recommend traveling from Mountain City to Boone on 421S DO NOT TURN ON Rich Mountain Road OR Tater Hill Road.  Travel on 421S through downtown Boone to NC194N/Jefferson Hwy. 3 miles, turn left on Ray Brown Road for 1 mile.

Easy access from Blue Ridge Parkway on US 321 or 421. From Boone take NC194N 3 miles, turn left on Ray Brown Road for 1 mile.

There is a road in our county called Harmony Lane.  You do not want to go there. The physical address for the campground is 123 Harmony Mountain Lane.
Get Google Directions
Oct 11, 2021
Beautiful campground. Great people working there. Sites are a little tight. Some of the bigger rigs had trouble with corners. Won't stop us from staying again.
Oct 11, 2021
We drive to our site, and it is so unlevel, when trying to level, two of our jacks broke, due to the grade of the site and the fact that it was soggy crush and run. There was no water control to route the rain around the sites, so one site splilled onto the other. We will never go back to this resort. I cant list all the issues as there is not enough room.
Oct 09, 2021
Quiet campground, but very nice and peaceful. Playground for kids and wifi.
Oct 08, 2021
The owners were awesome and friendly. Will definitely be back.
Oct 07, 2021
Great staff, very friendly and clean restrooms
Oct 07, 2021
Always friendly, helpful and accommodating.
Oct 07, 2021
The site & WIFI were not as advertised. The pull-thru spot we had was sold to fit larger than our 22', but was too small to accommodate both the trailer + truck without it sticking out in the road. We either parked at the office or just let the truck stick out in the road. Also the WIFI signal is none existent. With only one bar phone service, connection to decent WIFI is crucial.
Oct 06, 2021
Great location, everything is nice and clean, and they're friendly as can be. Have stayed here multiple times before both in cabins and tent camping and will definitely be back!
Oct 06, 2021
Well maintained. Friendly hosts
Oct 06, 2021
Great place to stay, especially with kids!
Oct 06, 2021
Always love staying at the Boone KOA. This most recent time was especially lovely as the leaves were changing and the air is cooler. Such a welcoming, friendly, professional place - it always feels like coming home.
Oct 05, 2021
One nite to see a friend but like koa s
Oct 04, 2021
My kids had fun, very crowded. Everything was clean. No WiFi in the cabin we stayed. Spotty cell reception. We had fun and made good memories.
Oct 04, 2021
Very clean & quiet campground! We loved feeding the goats & donkeys every afternoon and waking up to the valley view of the morning sky & mountains. The owners are gracious hosts and go out of their way to make sure you have everything you need! We will definitely be back!
Oct 04, 2021
We didn't get the site we had originally reserved (upgraded patio) site. Office personnel gave that site to someone else the day before we arrived. We we're put in a spot closer to our family which turned out okay. I will return here again, but only with a firm guarantee that we will get the site we reserve.
Oct 04, 2021
Nice campground. Sites are mostly pull through but a little cramped.
Oct 04, 2021
Very relaxing. Clean facilities, petting zoo and playground. Gorgeous view!
Oct 04, 2021
Staff is very professional. But like most other KOA 's the tent area sucks. It faces the road and the sites are at a bottom of small hill. Calling that section Tent Row is not very welcome
Oct 04, 2021
One of nicest KOA been too , loved the animals there
Oct 04, 2021
Wonderful place, we were there years ago , wonderful then and now. We will return to your beautiful mountains next chance we can. Thank you very much for your hospitality.
Oct 04, 2021
Awesome �
Oct 03, 2021
Everything was okay except the internet service wasn't good at all.
Oct 03, 2021
Wonderful weather and great staff.
Oct 02, 2021
We thoroughly enjoyed our two month stay. The campground was peaceful and quiet. It's away from hustle and bustle of the city and yet close enough to see many attractions. The rolling meadows are beautiful. The entire staff was friendly and hospitable. Highly recommend!
Oct 02, 2021
Great people and very clean. Love the campground.
Oct 02, 2021
Love the animals! Easy location and beautiful sky at night
Oct 02, 2021
Only could get one night stay. Enjoyed it and wife fed the goats and donkeys. Very laid back area.
Oct 01, 2021
Most everything was good, but you really need to work on: 1 - making sites more level, 2 - improving roads between sites, 3 - and cable would be wonderful!
Sep 30, 2021
Beautiful campground and sites perfectly located for touring NCs High Country.
Sep 30, 2021
No cable and internet not good for streaming is my only complaint
Sep 30, 2021
Boone KOA Holiday was a great fall stay. It was the perfect time of the year to visit. The trees were changing colors, they had apple trees and farm animals.
Sep 30, 2021
This location is quiet, private and quaint. Taxis are hard to find, but Boone is beautiful. Very Clean and equipped.
Sep 29, 2021
This KOA has is wonderful employees like Gary and a great owner Joanne. It's a great place to camp.
Sep 29, 2021
We enjoyed our stay very much. Didn't want to go home! Staff was very nice. Store was stocked with little things we needed. Grounds are very well maintained. The only downside was Wifi is really bad. (Staff was honest about it too). Our phones are with Verizon and service was pretty bad with them too. I am not a screen junkie but didn't realize how much I depend on service for little things.
Sep 29, 2021
Kristina makes you feel like your at home and always ask if you are happy about your stay!!!
Sep 28, 2021
We stayed 3 nights. We enjoyed the neighborhood feel of Boone KOA. The grounds are very well maintained, the layout spacious enough to never feel on top of anyone. The staff is extremely friendly. Everything is clean. Resident goats and mini burros added a homey dimension. The playground was well enjoyed by children. There was a very nice dog run/park and plenty area to walk my dog. Happy campers!
Sep 28, 2021
Good place to stay but some sites are snug.
Sep 28, 2021
One of the best KOAs we have been to. The sites were great and the staff were great. We booked a return trip next year.
Sep 28, 2021
Our sign in process was very easy, the staff greeted us by name and had all paperwork ready.
Sep 28, 2021
People are great. View is great. Road to park needs repaving and park is getting a little dated. Sites are very unlevel and it was hard to level camper. Bring plenty of cribbing; hover, staff was great and moved me to a better site the next day. Regardless of these observations, still the best option we have found for camping near Boone.
Oct 08, 2021
Great park Wifi could use a boost.
- Steve "Chunker" Thrower on Google
Sep 19, 2021
Great Location, easy access from road, great treed sites, clean, well maintained, close to everything.. Their Wifi was stable and reliable. Would definitely recommend...
- Christy Hildebrand on Google
Sep 18, 2021
Loved this camp ground! The rec room was specifically a nice feature as was the mini golf course. Perfect location!
- Katie-Starr Goodwin on Google