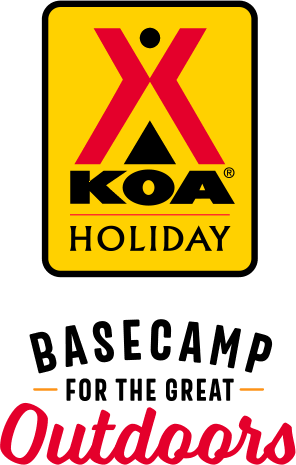 KOA Holiday Campgrounds
Whether you're exploring the local area or hanging out at the campground, KOA Holidays are an ideal place to relax and play. There's plenty to do, with amenities and services to make your stay memorable. Plus, you'll enjoy the outdoor experience with upgraded RV Sites with KOA Patio® and Deluxe Cabins with full baths for camping in comfort. Bring your family, bring your friends, or bring the whole group – there's plenty of ways to stay and explore.
KOA Holidays Feature:
RV Sites with a KOA Patio®
Deluxe Cabins with full baths
Premium Tent Sites
Group meeting facilities
Directions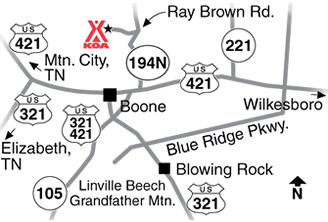 GPS address:  1258 Ray Brown Road
GPS: If you can, make sure your GPS is programmed to use highways only, avoid unpaved roads, and follow truck routes.  If you're GPS routes you on a narrow, winding mountain road or gravel road - immediately stop and turn around.  
GPS TIPS and DIRECTIONS:

If coming on 421N DO NOT TURN ON Brookshire Road, continue to  Hardee's and turn on NC194N/Jefferson Hwy. 3 miles, turn left on Ray Brown Road for 1 mile.

If coming from West Jefferson on NC194/Jefferson Hwy DO NOT TURN ON Chestnut Grove Road continue on NC194/Jefferson Hwy 1.5 miles to Ray Brown Road for 1 mile. 

If coming from TN, we recommend traveling from Mountain City to Boone on 421S DO NOT TURN ON Rich Mountain Road OR Tater Hill Road.  Travel on 421S through downtown Boone to NC194N/Jefferson Hwy. 3 miles, turn left on Ray Brown Road for 1 mile.

Easy access from Blue Ridge Parkway on US 321 or 421. From Boone take NC194N 3 miles, turn left on Ray Brown Road for 1 mile.

There is a road in our county called Harmony Lane.  You do not want to go there. The physical address for the campground is 123 Harmony Mountain Lane.
Get Google Directions
Oct 20, 2021
Awesome place. Great location. Enjoyed every aspect
Oct 20, 2021
Great place Great Staff
Oct 20, 2021
Sites are wooded, which is nice. However. They are very close, so cigarette smoke from neighbors was unpleasant. Wifi was totally unstable; it was hard to even read email or Facebook, let alone download a video. If you advertise it, it should actually work.
Oct 20, 2021
We thoroughly enjoyed our stay and the staff was so helpful. We had an issue with our camper and the staff was quick to help and made the rest of our stay go smoothly. Highly recommend! We will be back for sure.
Oct 20, 2021
Awesome campground!! We love the view, the staff, camp is clean. We highly recommend!!
Oct 19, 2021
Close to many of the small towns. Quiet, Area's were close. Septic hookup next to our picnic table, however when you camp that is common. We like to use the campground to sleep and stay busy during the day enjoying the sites.
Oct 19, 2021
Always our favorite place to stay, wish you were open year round
Oct 19, 2021
We really enjoy KOA's. But, we really wish the internet worked. It's rare we stay at any KOA that has decent internet. Sometimes I'd like to stay longer and work from the RV Enjoying my evenings and afternoons locally. It's impossible though, with the sub par connections. How great would it be, if KOA made an advertising deal with ATT or Verizon for high speed at all locations. That worked.
Oct 18, 2021
Great people in a really good location. Tent sites and cabins are spaced out. Everyone working here was highly pleasant. Will definitely be back
Oct 18, 2021
We had a very relaxing time. The weather was great and the campground was very nice. We met and made some new friends. The staff was awesome. We will be back.
Oct 18, 2021
I thought the campsites were a tiny bit close together. The trees and close campsite made it a little difficult for several longer campers to manuver into their sites on a few occasions. Loved the opportunity to see cattle and feed the goats.
Oct 18, 2021
Beautiful, clean & inviting-this is our first impressions! Loved the location & quiet atmosphere. This was our first "tent camping" attempt-cold but we loved it! The camp store had hot chocolate & firewood-thanks! Suggestions: IF the store doesn't have it, a tarp would have helped us (our tent leaked!). Your signage (spray painted orange stop sign) is not very inviting!
Oct 18, 2021
Very pleasant and quite.
Oct 18, 2021
First time staying here, we loved it and will be back.
Oct 17, 2021
Cabin, while relatively spacious for this type of accommodation was did not show the "pride of ownership" we encountered in the "mom & pop" camping cabins we used during our trip. After 4 experiences with KOA in recent years, I would compare it to McDonald's; it will meet your needs when options are lacking, but you won't leave saying "that was a satisfying experience".
Oct 17, 2021
Always enjoy our stay. Enjoyed the rest and relaxation. Very quiet.
Oct 16, 2021
Very nice people and nice, peaceful Campgroung.
Oct 16, 2021
A beautiful KOA in the mountains. The staff is very friendly and the grounds are kept clean. The spots are a little tight and the WIFI is very spotty. We enjoyed our stay and plan to stay there in the future.
Oct 16, 2021
First time visiting and we will definitely be back. Loved the cabin, the area, the friendly staff and the cleanliness. We had a wonderful time.
Oct 16, 2021
Great location and friendly staff and one of the cleanest boathouse I've seen and my wife and have visited a lot of campground. Would have rate it 5 but the parking areas were a bit must could have use more graveling those area which would have made it a bit nice. All and all it was a good stay.
Oct 16, 2021
We enjoyed our stay
Oct 16, 2021
Loved it and the staff was so friendly and helpful. Everything was so clean and we'll kept .
Oct 16, 2021
We really enjoyed our stay at the Boone KOA. The staff was helpful and friendly. The atmosphere was relaxed and we loved the country mountain setting.
Oct 16, 2021
Our stay was great but some what stressful as we had brake problems a place was recommended to look and fix the brakes I took it to them they told me what was wrong I said fix it they did on the way home Friday it exploded new Lincolnton NC and burnt up we are okay but motor home destroyed guess we won't be back there camping we're lucky to be alive today the brakes blew and fluid caught on
Oct 16, 2021
One night camping in a tent. Quiet, clean, and conveniently located. Will come back soon for an extended stay.
Oct 15, 2021
Excellent facility. Excellent staff. Very clean restrooms. Just a VERY pleasant place. Have been coming back to this KOA for almost 30 years. We will be back in 2022.
Oct 15, 2021
Great location for camping, especially being nestled in a beautiful area. The only concern was the WiFi had a weak signal and wasn't that reliable, and poor TV antenna signal. However if you're looking for amazing views and outdoor activities this is the location. The staff was also very professional and knowledgeable.
Oct 15, 2021
Alsom!!!!!!!!;;;;!!!!!!!;!;;;;!!!!!¡!!!!!!!!!!!!!!!!!!!!!!!!¡!!!!!!
Oct 15, 2021
It was fine. Nothing special but adequate.
Oct 14, 2021
Nice size campsite. I asked for near a restroom and wound up on a busy road right by the main office. Did not realize the only restroom was nect to the office. Should have asked. Otherwise, very nice sized campsite.
Oct 14, 2021
Beautiful! Peaceful night.
Oct 13, 2021
Wonderful, as usual. Love the location above Boone. Nice and quiet. Just a note that the KOA has no control over - Ray Brown Road up to the KOA has several dangerous pavement breaks that are getting larger - cones currently around them. Road needs to be paved before someone loses an axle.
Oct 13, 2021
Very enjoyable. Nice view of mountains. Family oriented campground.
Oct 13, 2021
Great place! Great service and staff!
Oct 12, 2021
Great location in the mountains. Close to everything, but still tucked away….
Oct 12, 2021
We were welcomed warmly. Staff found a camping cabin available for the 1 night we needed on a drop-in because of rain. Cabin was clean and comfortable.
Oct 08, 2021
Great park Wifi could use a boost.
- Steve "Chunker" Thrower on Google
Sep 19, 2021
Great Location, easy access from road, great treed sites, clean, well maintained, close to everything.. Their Wifi was stable and reliable. Would definitely recommend...
- Christy Hildebrand on Google
Sep 18, 2021
Loved this camp ground! The rec room was specifically a nice feature as was the mini golf course. Perfect location!
- Katie-Starr Goodwin on Google