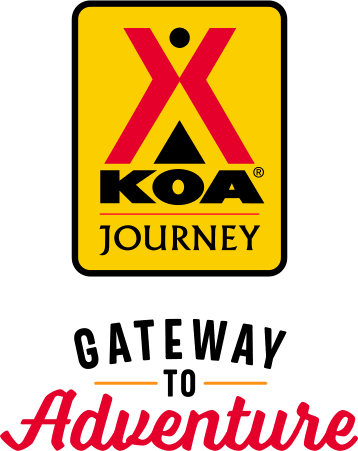 KOA Journey Campgrounds
KOA Journey campgrounds are the perfect oases after a day on the road. Whether it's along the way or a quick getaway, they've got you covered. Located near the highways and byways of North America with long Pull-thru RV Sites, they deliver convenience to the traveling camper. Pull in, ease back and take a load off.
KOA Journeys Feature:
Pull-through RV Sites with 50-amp service
Premium Tent Sites
Well lit after hours check-in service
Directions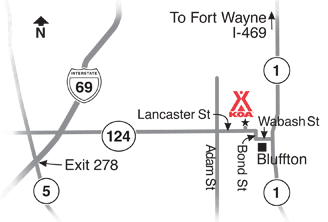 From I-69 exit 278 go north on St. Rd. 5 to Red Flashing signal small cemetery on east side of intersection. Turn East on St. Rd. 124 east. Continue east approximately 4 miles to first 4-way stop @ St. Rd.3 and St. Rd. 124 east continue east approximately 9 miles on St. Rd. 124 east to second 4-way stop @ Adams Street (to south) St. Rd. 124 (to north) large warehouse on north side of intersection. Continue east approximately ¼ mile to Campground entrance.
From I-469 exit 6 go south on St. Rd. 1 /also called Bluffton Rd. approximately 15 miles to city of Bluffton. Continue south thru first stop light (Walmart/Lowes) intersection. Continue South thru second stop light (Walgreens). Continue south to third stop light (Arby's/Sunoco station) turn west onto St. Rd. 124/116 approximately 1 mile. Cross R/R tracks continue west to Tee-intersection. Continue west on St. Rd. 124 over bridge to 4-way stop @ county Rd. 100E/St. Rd. 124/100N. Continue south on 100E/St. Rd. 124 approximately 1 mile to 4-way stop 2@ Lancaster St. /St. Rd. 124. Continue east on Lancaster St. approximately ¼ mile to Campground entrance.
From the east on St. Rd 124 west continue west to city of Bluffton @ first stop @ light Main St./St. Rd.124/St. Rd. continue south over bridge in (outside lane) to second stop light @ Main St./Wabash St. (Hardees on east side of intersection). Continue west on Wabash St. approximately ¼ mile cross R/R tracks to Tee intersection @ Wabash St./Bond St. Continue north on Bond St. to Tee intersection @ Lancaster St. /Bond St. Continue west on Lancaster St. approximately ½ mile to Campground entrance.
From the south on St. Rd. 1 north continue to city of Bluffton on St. Rd. 1/Main St. for 5 stop lights @ Main St/Wabash (Hardees on east side of intersection). Continue west on Wabash St. approximately ¼ mile cross R/R tracks to Tee intersection @ Wabash St./Bond St. Continue north on Bond St. to Tee intersection @ Lancaster St. /Bond St. Continue west on Lancaster St. approximately ½ mile to Campground entrance.
Get Google Directions
Apr 08, 2021
We were happy with the KOA except for 1 thing. On Saturday (Apr. 3, 2021) the camp store was supposed to open at 8am. I went there at 9 am and 10:30 am and both times it was not open....locked. Other than that everything was fine.
Apr 08, 2021
Very nice and quiet campground. I would definitely stay again.
Apr 08, 2021
The Bluffton KOA is not the typical KOA that I've come to know. There wasn't nearly as many kid amenities. I wouldn't recommend staying there if you have kids.
Apr 08, 2021
We left after one night instead of the two we actually booked. No one was in the office even though we arrived at 4:00. We were unable to purchase firewood. The restrooms were not up to normal standards for a KOA. The showers were unexpectedly closed the following day and no one was again in the office to check out. We were very disappointed.
Mar 17, 2021
We arrived at about 4 pm. The office was closed. I wanted to fill my propane tank (the website states there is propane available), but no one is present to fill my tank. We found a "check-in package" hanging on a peg ... we had pre-paid. We found our site. I drained some soapy water from my tanks and the sewer backed up. There's more bad, but I'm out of characters. Worst campground!
Mar 12, 2021
Was off-season so nobody in office but had an issue with water while I was gone and the man in lot behind us took care of it... good people there
Jan 16, 2021
I'm stay at the camp ground thru the winter having had any problems with my water freezing up the only thing I dont like is not anuff gravel on the camp site and on the path in and out got alot of holes
Dec 19, 2020
KOA Bluffton is the perfect location and size. This was our first year with a RV. The staff was absolutely amazing. We were treated like family and felt welcomed which made us feel the need to book our next stay before we left the campground. I can't say enough about Campground Assistant and Staffer Morgan. She made an everlasting impression from our very first booking to the last reservation.
Dec 18, 2020
Great staff and great facility. Perfect way to enjoy our first-ever stay with KOA!
Dec 03, 2020
I reserved online and never spoke with anyone. The instruction on the door said to fill out an envelope if coming in after hours. There were no envelopes. Several people drove up to and entered the office. I walked over and yelled in the open door but no one came out. The front section of the office/store building was a mess. packages, package notice slips, and trash were laying all over .
Nov 26, 2020
I reserved and paid for a site and when we got there, they had moved our site and said that they had rented out the other site that we picked and reserved. They said they did not know who changed it and there was nothing they could do about it. Why reserve a site if they are going to move you without asking???
Nov 26, 2020
Great quite place, A little muddy, but then there has been a lot of rain!
Nov 25, 2020
I love the site we are on and management is great. My grandbabies love the playground
Nov 19, 2020
Great campground, clean facilities, other than a fishing pond or canoe lake, this KOA has all the amenities to keep the kids and adults busy!! Staff was very nice and helpful, we'll be back next year amd many more to come!! :)
Nov 12, 2020
Camp sites were good and staff was always helpful and pleasant.
Nov 12, 2020
Nice enough place internet was terrible
Nov 07, 2020
The cabin we stayed in was great. The day we arrived it was getting petty cold so we put both heaters on in the cabin. It got pretty warm in there so I was glad we didn't freeze!! The camp ground was clean and back off the road so you didn't really hear anything other than the trees and leaves in the wind. It was really nice to just turn everything off for a few days,
Nov 03, 2020
Great staff and activities. Close to restaurants and attractions in Bluffton. If I had to say something negative... it is sometimes difficult to get someone to answer the phone.
Oct 30, 2020
Made reservations early as did my family so we could be next to one another. Unfortunately we show up and there were other rv s in the spots. Too many seasonal rv s.
Oct 30, 2020
they have year round campers and we were parked next to one. they did not respect the 10:00 quiet hour. we couldn't report this to the management because there was no management on site. the number they supplied went straight to voice mail and we never got an answer or reply. they should not put overnight campers next to year round units. I'll never be back !!
Oct 26, 2020
We have stayed there many times...
Oct 20, 2020
It was very nice. Very clean place. This was our 4th stay there. There were 5 unit in our group we all had a good them.
Oct 19, 2020
Very quiet and nice campground. We had a great weekend and will return
Oct 19, 2020
We always enjoy staying here.
Oct 19, 2020
we stayed with a group, had great sites all together. Everything was clean and well maintained, and the staff was very helpful.
Oct 19, 2020
Plenty of activities for the kids. Small sites but the full hook up was a definite plus. Would definitely return for another stay.
Oct 18, 2020
Our rv site was great. The lodge our companions rented is in need of updating and regular repairs. The unit smelled of sewer due to uncapped laundry connections and the shower needs a set of new on/off handles. It could also use a kitchen table and chairs.
Oct 18, 2020
Trains rumble by all hours, full of full time RVs with insulation all around-looks like a transient camp. Quiet hours end at 7 am. Had a site with large heavy equipment trailer that twice at 7:30 am pulled in front of our site, stopped, and honked horn for someone they were picking up. Real nice. No campground etiquette at all. Absolutely nothing about this place I would recommend.
Oct 18, 2020
Quite , clean helpful staff
Oct 14, 2020
The laundry room was usually dirty. Campsites weren't picked up after campers left.
Oct 14, 2020
Had a great stay, cute little campground
Oct 13, 2020
great campground
Oct 12, 2020
Very nice site. Quiet and comfortable.
Oct 12, 2020
Great service, Clean and lots of fun for my gran kids. The never got bored.
Oct 12, 2020
You can't have a 110v hookup for a camper, it doesn't work. 30 amp hookup is what was advertised and that always means 30 amp 220. The connections were there for 30 and even 50 but not the correct breakers.
CAMPGROUND RESPONSE / COMMENTS:
The site you chose is not a 50amp site, but all of our sites have a 30amp and a 110v connection.
Sep 21, 2021
Staff, both office and site, were helpful and friendly! Had one of our group get put into a site that was a bit of a hike from the rest of us but overall our experience was great as usual!
- Tyson Harris on Google
Sep 16, 2021
Pretty great koa !!
- Daniel Martin on Google
Aug 24, 2021
Very nice place with big sites. Just wish they would improve the road into the park.
- Alan Page on Google