Benson KOA Reviews
Directions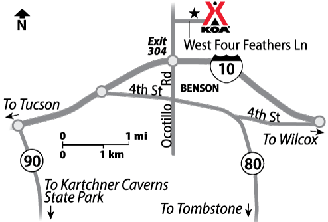 Exit 304 off I-10: go north 1/2 mile and follow the signs.   A-Frame lights can be seen from I-10 : East Bound Interstate signs are here!  West bound interstate billboard at exit 340.
Get Google Directions
May 15, 2017
Such a cute place! The front desk person was very kind and helpful. The place was EXTREMELY clean and well kept. Perfect place for a stop over on the way to wherever you're going!
Apr 27, 2017
Quiet campground. Friendly, helpful hosts.
Mar 22, 2017
KOA was great. Staff was helpful and friendly. Being near Benson AZ you have a few trains come through at night. If your in a tent, you may want to bring ear plugs.
Feb 15, 2017
This place was great for being so far off the beaten path. The kamp hosts made us feel right at home. Thanks for the great stay.
Aug 14, 2020
Staff was great! Katie got us set up with our membership and got things squared away for us. Going through some renovations right now but highly recommend you stop if passing that way.
- Gary Copsey on Google
Jul 05, 2020
Awesome! Even though the pool was closed there was still a golf course.
- Raze Gamer on Google
Jul 03, 2020
Good place to fill your propane .
- julia winker on Google

Benson KOA
Open All Year
180 West Four Feathers Lane
Benson, AZ 85602-7952
Check-In/Check-Out Times
All Sites
Check-in: 3:00 pm, Check-out: 11:00 am
Operating Hours
Sunday: Open 9:00 AM to 5:00 PM
Monday: Open 9:00 AM to 5:00 PM
Tuesday: Open 9:00 AM to 5:00 PM
Wednesday: Open 9:00 AM to 5:00 PM
Thursday: Open 9:00 AM to 5:00 PM
Friday: Open 9:00 AM to 5:00 PM
Saturday: Open 9:00 AM to 5:00 PM
Get Google Directions

© 2020 Kampgrounds of America, Inc.