Benson KOA Reviews
Directions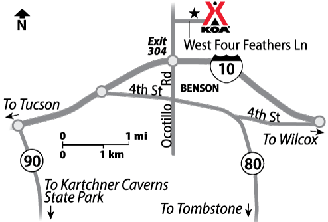 Exit 304 off I-10: go north 1/2 mile and follow the signs.   A-Frame lights can be seen from I-10 : East Bound Interstate signs are here!  West bound interstate billboard at exit 340.
Get Google Directions
Oct 09, 2018
Beautiful cabins. The owners are super sweet. For being in Arizona this is a very nice place. Had a playground for my kids and a pool and close to dining and grocery stores. We had a relaxing time.
Oct 07, 2018
Only stay one night on my way to New Mexico. I would stay at this location again. When I'm back in the area.
Sep 25, 2018
The kabin was clean and the beds were comfortable. The AC worked great! The owners were very nice and the campground was quiet and peaceful. I would stay here again.
Sep 21, 2018
Road going in and out was in poor condition. Bathrooms could use cleaning. We stayed in a cabin. Cabin was not too bad. But the location of the cabin and others behind the main building left much to be desired. Equipment sheds and "junk" in plain sight everywhere. In general, the whole facility appeared dated and run down. Customer service not the best, especially on the phone.
Aug 27, 2018
I had a very nice and quiet stay at this location, and the host were very nice and friendly. I do plan on returning back there sometime soon again.
Aug 16, 2018
The people that run the Benson KOA are just the BEST!! We loved our Kamping Kabin. It was spotless. Can't wait to come back!!
Aug 15, 2018
Place is starting to clean up. Stayed in a KOA Kabin, nice, clean. Washrooms clean, Close to Tombstone and Bisbee. Yes, we will stay again when in town.
Aug 08, 2018
Tres apprécier pour ride de moto
Jun 29, 2018
Very friendly, clean cabin, large amount of firewood for $7.50.
Jun 28, 2018
Of course it was very hot and I wasn't able to walk a lot, but I followed the rules and walked the dog along the perimeter of the campground. It would have been better if the wooden walkway to the office/store had a railing or a smoother surface. The campground was neat, and bathroom/showers were clean. One of the toilets rocked when I sat down so that should be repaired before it breaks.
Jun 25, 2018
great staff, clean and safe location, well be back soon
Jun 01, 2018
This is a well kept campground and the owners and staff go out of their way to make you feel at home and welcome We look forward to visiting again the next time we are in the area.
May 30, 2018
The owners is great they make you feel . Plus they are there for you if you need them. And the KOA camp is clean. We will be going back again.
May 30, 2018
Older facility but clean and nice. We enjoyed our stay. :)
May 26, 2018
Our Kabin was top notch and exceptionally clean. We received excellent service in the office.
May 21, 2018
Good night stay, looks like they are making improvements to campground, liked the location.
May 15, 2018
des gens très gentil.
May 14, 2018
Camp was quiet and clean. A/C wasn't very cold but tolerable. I would stay again!
May 03, 2018
Owner schooled me on the adjustments a small town KOA could not accommodate. I am used to a better level of service.
Apr 20, 2018
Great location and wonderful hosts. They really care and make sure you feel at home.
Apr 10, 2018
very nice staff
Apr 08, 2018
Clean bathrooms. Nice sites and well maintained cabins. However, pool needs maintenance - the kids wouldn't use it after finding some kind of excrement in the pool. Also the picnic tables are terrible - paint is peeling and tables are tilted.
Apr 05, 2018
Extremely well maintained. It is peaceful and there are lots of unexpected perks when staying in the cabins. We will definitely be back.
Apr 04, 2018
Nice personal service, friendly staff, clean and cozy cabin, no freeway noise. Thanks and we will be back.
Mar 26, 2018
Very nice caretakers, clean cabin and bathrooms. The campground itself is pretty sorry. Lots of junk all over the place. And many things, i.e. miniature golf area, need updating and repair.
Mar 23, 2018
Queen bed in the cabins would help a great deal. The road needs repair or conversion to just a dirt road. The kids liked the play ground. The pool looked nice but it was to cool for us to use.thanks for the stay.
Mar 09, 2018
The Kims are wonderful hosts. Even though the campground is older, everything was very clean and well maintained.
Mar 03, 2018
The owners were very accommodating when my tent was snowed in unexpectedly one more, and had to upgrade to a cabin. The radiator, television, and micro-fridge inside were most unexpected!
Feb 12, 2018
This camp ground was very quiet. We stayed in a cabin conveniently located across from the showers/restrooms. Restroom/shower area very clean and accessible!
Dec 28, 2017
The campground is a bit messy, and we only saw it at night, left early in the morning. Otherwise comfortable stay.
Dec 13, 2017
Absolutely wonderful
Nov 29, 2017
Pool and spa need attention. The kitchen could be updated and cleaned. Hazardous trench between our cabin and the pool. Limited selection of items in shop. Loved the cabin. Very clean bathrooms. Very peaceful. The attendees of the camp were very nice people.
Nov 24, 2017
We enjoyed our stay. Lots of trees in landscape. Friendly and generous management
Nov 16, 2017
We stayed in one of the cabins. Very clean and comfortable! Our first night we finally got to sleep around 2 am because of all the noise coming from a long-term camper just outside the window of the cabin. Music, car alarm, barking dog, people yelling..... The KOA staff moved us to another cabin for our next night. Once again very clean but not so level. And once again loud music till about 12 am.
Nov 07, 2017
Very clean and friendly staff made us feel right at home even though we were many miles away!
Oct 25, 2017
Peaceful and quiet. Just the way we like it. And the night sky was fantastic.
Oct 12, 2017
run down and junky looking
Oct 10, 2017
Very nice and clean cabin and bathrooms. Location easy to find. Nice and quiet with train engines inducing relaxation in the distance. Onsite amenities need attention.
Oct 04, 2017
Very kind and accommodating staff. I changed my reservation from a tent site to a cabin at the last minute. The Kim family prepared my cabin right away. I really appreciated that. The amenities are a little dated but functional. Great place to stay if you don't need all the bells and whistles. Cabin was very clean. All in all made for a good night's rest.
Oct 04, 2017
Benson KOA is very peaceful and convenient. The owners are very kind and take pride in their campground. It is a nice place to relax and enjoy nature.
Sep 07, 2017
Very friendly staff. We enjoyed our stay. We will be back!
Sep 06, 2017
The cabin was clean, but we couldn't sit outside in the evening because of the Cat Stink... They are using the gravel as a litter box.. I would have been nice to enjoy the little lake in the back but it was surrounded by tall weeds and piles of tree limbs. There were sheds STUFFED with junk and water spouts covered in tape because they leak.
Aug 25, 2017
We were just passing through. Only stayed one night. Very pleasant camp site.
Aug 23, 2017
Funky but clean and inexpensive.
Aug 16, 2017
My cabin was wonderful, the washrooms were old but clean. Loved the music playing in the washrooms. This can be a very nice campground but it needs more maintenance people. The grass needs to be cut, the weeds gone and the trees trimmed. Will stay again.
Aug 14, 2020
Staff was great! Katie got us set up with our membership and got things squared away for us. Going through some renovations right now but highly recommend you stop if passing that way.
- Gary Copsey on Google
Jul 05, 2020
Awesome! Even though the pool was closed there was still a golf course.
- Raze Gamer on Google
Jul 03, 2020
Good place to fill your propane .
- julia winker on Google

Benson KOA
Open All Year
180 West Four Feathers Lane
Benson, AZ 85602-7952
Check-In/Check-Out Times
All Sites
Check-in: 3:00 pm, Check-out: 11:00 am
Operating Hours
Sunday: Open 9:00 AM to 5:00 PM
Monday: Open 9:00 AM to 5:00 PM
Tuesday: Open 9:00 AM to 5:00 PM
Wednesday: Open 9:00 AM to 5:00 PM
Thursday: Open 9:00 AM to 5:00 PM
Friday: Open 9:00 AM to 5:00 PM
Saturday: Open 9:00 AM to 5:00 PM
Get Google Directions

© 2020 Kampgrounds of America, Inc.