Benson KOA Reviews
Directions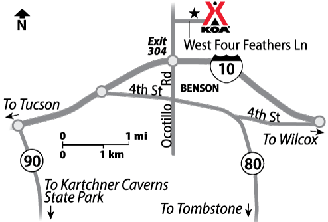 Exit 304 off I-10: go north 1/2 mile and follow the signs.   A-Frame lights can be seen from I-10 : East Bound Interstate signs are here!  West bound interstate billboard at exit 340.
Get Google Directions
Jul 21, 2020
The management was awesome, they helped me out so much and she was very friendly and sweet and the kids were great too. It was a very enjoyable stay.
Jun 19, 2020
The cabin was comfortable and kozy!! The company was great and the employees very kind...
Jun 06, 2020
Hope Katie gets better... I understood campgrounds under renovation but saw none while we were there. Arrived Monday pm and office closed Tues and Wed. Swimming pool non functioning, saw no repairs being made to anything. Mens bathroom nasty- urinal filthy, never saw a empty trash can. Cabin was as expected and when we saw someone that worked there, they were friendly. Old picnic table. Could be n
May 24, 2020
Clean and quiet. Thank you for preparing our cabin. Beautiful spring birds in the area too.
May 03, 2020
Nice quiet getaway. People were very friendly, always there to help.
Apr 22, 2020
This KOA was a PLEASURE to stay at. The staff are the KINDEST people and the sites were clean. We will DEFINITELY be going back soon.
Apr 17, 2020
Cabin was amazing. It was clean and comfortable. It was nice having a grill and fire pit at the site. Firewood was available which was a plus. My kids loved playing putt putt. The management was exceptionally helpful and kind. We will definitely be coming back again soon.
Apr 01, 2020
Stayed here twice. We plan on coming back.
Mar 13, 2020
Pleased with the improvements made to the facility. Looking forward to our next visit.
Mar 01, 2020
Great location! Love staying at the cabins!!
Feb 29, 2020
Enjoyed the stay but cabins could have been cleaned better. There were cob webs on ceiling and under beds had not been swept in quite some time. But hosts were friendly and area was nice. Dogs enjoyed the doggie area. Thanks
Feb 18, 2020
Clean but dated
Jan 02, 2020
Showers need to be cleaned.
Jan 02, 2020
The cabins are very cute, and the mattresses on the beds are super comfortable. For winter camping, our first night, I felt an extra or more proficient heater would have been nice, but second night weather warmed up. The fire pit was great, but it was built so close to a small RV site that the couple in the RV site were getting all the smoke, Lol. But clean, quiet, comfy, and lovely campground!!!!
Dec 30, 2019
I loved it. I will stay again. It felt safe as I was traveling alone.
Dec 29, 2019
40+ years of KOA's - never stayed at one as bad as this one. totally unlandscaped cluttered grounds- piles of old metal and debris everywhere- no hot water for washing up or showersSame dead bugs in sinks the whole 4 days we were there and no paper towels the last 2 days. Unflushed poop in toilet first 2 days. TV when it actually worked. Managers doing very little for their pay no amenities
Dec 28, 2019
We stayed in a cabin. I know the weather was probably colder than normal, but the portable heater didn't keep the cabin warm
Dec 02, 2019
Easy reservations. After hours check in was flawless. Everything was in place and instructions were clear. The Kamp Kitchen was utilized and appreciated (our fire starting was a fiop due to rain) The cabin was clean and well furnished. We liked having a fridge and space heater. We kniwhere was an upgrade going on; negative was that we could see all the scraps from Our site. Will stat again!!!
Oct 22, 2019
The family that runs the place is absolutely amazing. We met them all and they were all so kind and welcoming. We took our pup here for his first camping trip and he didnt want to leave. They are doing alot of remodeling right now so I cant wait to come back and see the results!
Sep 11, 2019
The cabin was clean, but the bed is very uncomfortable. Once in the bed your down below the frame and it is hard to get out. The overhead light is blinding, needs a small lamp. The tv is right next to the ac and you can't hear the tv. The owners need to stay in a cabin to check it before renting. The restrooms were clean. They are doing a good remodel.
Sep 02, 2019
The owners were really great. They upgraded us to a camping cabin when we requested it, and it was a minimal extra charge. The facilities were ok, definitely in need of updates. The bathrooms were pretty clean. We would stay here again if we're ever passing through.
Jul 18, 2019
Very friendly hosts
Jul 15, 2019
The stay at Benson KOA was amazing !! We had a lot of fun ...the Pool was very clean and has new equipment for added fun. Nights skies are filled with stars and the sound of owls hooting, bunny's hopping around and the smell of s'mores. Larry and Katie are the hosts and they make you feel like family...we will definitely return. Thanks again Larry and Katie see you soon!
Jun 21, 2019
We habe staued there many times. It is an awesome koa surrounded by many points of interest. Camp is clean and well kept. The new owners are in the process of updating the camp sites. Will stop again.
Jun 20, 2019
This KOA had some nice features like TV in the cabins. Solid tent structure over tables were nice. Mini golf looked nice, but balls and clubs weren't available when it was cool due to limited store/office hours, could have them outside for use. Would be nice to have a cooled indoor activity room for kids. Parts of the kampground looked unfinished. Was ok, felt like had potential to be really nice
Jun 15, 2019
Going from el paso to california. Needed to stop half way. Benson was the spot
May 17, 2019
Great quiet get away. Staff were so nice and friendly. Love all the improvements that are planned and happening!!
Apr 28, 2019
Managers were amazing. They let us leave my utility trailer in the site past checkout so we could visit tombstone without worrying about it. Thanks Katie and Larry, your favorite moose hunter
Apr 08, 2019
Awesome people and awesome place.
Mar 28, 2019
Quiet grounds
Mar 27, 2019
Nice cabin. Restrooms and Kamp Kitchen close by. The facilities were quite adequate but somewhat run down, though we could see that updates were being done throughout the park. We will definitely come back. The staff were great, the location and views are wonderful, and we had a relaxing, enjoyable stay. My 6 year old loved the playground & mini golf. Lots of value for the cost of the cabin rent!
Mar 25, 2019
We have been to Benson several times over the years, it had become rundown and needed much TLC. We had the opportunity to revisit 3/2019 and to our surprise it is under new ownership! The place looks great!! The staff is amazing funny, kind, very friendly and welcoming...we can't wait til our next visit as they are making lots of changes/ improvements...Plus free mini golf!! We give it 10 stars
Mar 14, 2019
New management and I am sure they will develop this KOA into something nicer. More attention is needed for the bathroom and shower areas. Paper products were lacking and the trash wasn't emptied daily. I wish them luck and I imagine we will be back.
Feb 09, 2019
The new hosts were hospitable, very friendly (laughing and smiling all the time), and helpful. They made my visit comfortable and enjoyable. I like the camp because it is close enough to town for supplies or restaurants... small enough to have a community feel... yet large enough for all your needs. GREAT!
Jan 27, 2019
The staff are very nice. The restroom, shower area is very, very clean. The laundromat is very, very clean and has nice machines. It was very peaceful there.
Jan 18, 2019
The cabin was small, and it did not have heat so we froze. Not many channels to watch, little fridge. No way to cook in the cabin.
Dec 25, 2018
Wonderful stay! Cute and well kept grounds, very clean and friendly. Will definitely be back for some mini golf!
Dec 04, 2018
We stayed in a camping cabin. It was spotlessly clean, and the owners had turned the heat on for us. The restrooms are always clean and warm. We. Visit Tombstone often, and always stay at the Benson KOA.
Nov 15, 2018
Cabin stay was great, but the rest of the camp needed cleaning up and main building was in need of repairs. Lots of hot water in the showers!
Nov 04, 2018
We got in late and appreciated being able to access out cabin without bothering anyone
Oct 15, 2018
Very clean facilities. Unfortunate encounter in our cabin with a large Wolf spider, but that's camping and we dealt with it ( it won't be bothering any other campers}!
Aug 14, 2020
Staff was great! Katie got us set up with our membership and got things squared away for us. Going through some renovations right now but highly recommend you stop if passing that way.
- Gary Copsey on Google
Jul 05, 2020
Awesome! Even though the pool was closed there was still a golf course.
- Raze Gamer on Google
Jul 03, 2020
Good place to fill your propane .
- julia winker on Google

Benson KOA
Open All Year
180 West Four Feathers Lane
Benson, AZ 85602-7952
Check-In/Check-Out Times
All Sites
Check-in: 3:00 pm, Check-out: 11:00 am
Operating Hours
Sunday: Open 9:00 AM to 5:00 PM
Monday: Open 9:00 AM to 5:00 PM
Tuesday: Open 9:00 AM to 5:00 PM
Wednesday: Open 9:00 AM to 5:00 PM
Thursday: Open 9:00 AM to 5:00 PM
Friday: Open 9:00 AM to 5:00 PM
Saturday: Open 9:00 AM to 5:00 PM
Get Google Directions

© 2020 Kampgrounds of America, Inc.