Benson KOA Reviews
Directions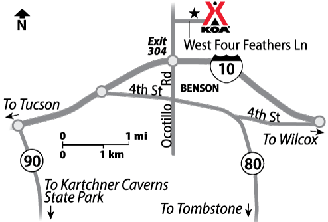 Exit 304 off I-10: go north 1/2 mile and follow the signs.   A-Frame lights can be seen from I-10 : East Bound Interstate signs are here!  West bound interstate billboard at exit 340.
Get Google Directions
Feb 21, 2019
Power kept going out all night, even with 30 amp hookups. Up to 30 sites were affected. When we asked about a refund, we were told there was nothing they could do. The road leading to the campground was like a washboard.
Feb 21, 2019
It was a great place to see several spots. The town had everything you needed including Walmart, Ace Hardware and Oriellie auto parts. Camp site was clean, slow on the water in the showers
Feb 20, 2019
Rigs were crammed in like sardines in a can. Very little room around rig site. A few trees but not much else. The staff were friendly and accommodating. The road to the KOA was horrible; full of pot holes and ruts.
Feb 20, 2019
First the dirt road to the camp was very rough full of pot holes, there was no toilet paper in the rest room and not clean , there is no outside lighting , pitch blak at 7 pm my wife was afraid to go out REAL SAD.
Feb 19, 2019
Power went in and out for our three day stay. Wifi was useless
Feb 19, 2019
The site itself was fine, but the last half-mile or so of road was unpaved and very rough and bumpy. Also, in the womens restroom, the paper towel dispenser was jammed and the air hand dryer didn't work.
Feb 19, 2019
Very nice people. Cable worked great. Clean restrooms.
Feb 19, 2019
Power went out about 3 times a night, sometimes for hours. Woke up one morning to take a shower before an appointment and the water was turned off. I understand they have to do maintenance but those are the two things I was really paying for. The single entrance and exit lane is also ridiculously bumpy. And there are goat heads everywhere.
Feb 19, 2019
They have been having serious power problems since the end of December. as the camp fills power loss happens ended up turning the power in the coach off for most of the time. I understand that the park is recently under new owners but, they should shut down and do some major work on the infrastructure before reopening. I will not stay there again worst KOA in my experience. Feel ripped off!!
Feb 19, 2019
Office staff at reception extremely professional and welcoming. Office and store very neat and tidy. The RV sites are horrible!!! Tiny and tight. On top of other campers, early room to move the slides out. We were traveling in a 40" Motorhome with a toad. I reserved a newer site/ pull through and was put out front toward the road where I didn't fit. Just plain awful for the price!
Feb 19, 2019
They are super nice. The new management are cleaning up the place very nicely.
Feb 17, 2019
Only disappointment is the bad roads . Too many bumps and pot holes for RV travel, otherwise an nice RV park.
Feb 17, 2019
Over ight while in route to San Antonio. Easy access from interstate and easy hookup and disconnect made short stay pleasure.
Feb 16, 2019
Second worse KOA we have ever stayed at. Needs tons of updating and repairs. Electricity is not stable. Roads need repair. Entry can clog up very quickly. Can't imagine how bad it was under previous ownership. Hope new owners are capable and willing to bring this park up to KOA standards quickly.
Feb 16, 2019
Our site was barely wide enough for our rig and there was a pile of dog doo in it, the wifi was pretty much useless. The whole place is in need of a lot of TLC. As it is now it is overpriced. The staff was friendly.
Feb 15, 2019
We like that the campground is away from the highway and railroad (it is the most distant than the others). They need to empty the garbage cans more often, maybe have a dumpster available to help with over stuffing. There are a lot of campgrounds in Benson, I think they need to invest a little more into the campground to continue to be relevant.
Feb 15, 2019
The power went out, we had to go down to the main electrical box and turn it on. Come to find the Campgrounds was setup for 30 not 50 for big rigs. Manager told us that we could not get a refund so we called corporate offices to file a complaint. Swimming pool,hot tub didn't work, Laundry room stunk like someone pissed in it, community room was a rundown storage room. The list goes on.
Feb 15, 2019
I understand they are new owners. The park needs some work but with the improvements will be great. —- electrical—- WiFi—- roads Hosts were friendly
Feb 15, 2019
The electricity went off twice while we were trying to go to sleep.and again for good about 5 or 5:30 AM. I require CPAP to sleep at night and luckily I had an adapter for our battery that I had to get up and find. I called the office in the morning to talk to them about it but never heard back from them as I had to leave a message. Otherwise we liked the location and it was clean.
Feb 12, 2019
We have stayed at many KOA's over the years, and this place was HORRIBLE ! Power kept going off. Maintenance was awful. Based on the overall cleanliness, I would not set foot in the showers. The grounds look like there has been no care in years. Signs and cabins look worn and need paint. There is an old refrigerator stored in the laundry. Road in was very bad. Better to dry camp than go here !
Feb 12, 2019
The park is in a very run down condition. Not at all up to what is expected when we decided to stay at a KOA. Understand it is under new ownership. Hope they are able to clean it up and bring it up to KOA standards.
Feb 11, 2019
Very friendly staff!
Feb 11, 2019
Nice OLD campgrounds. Good people. To close together
Feb 10, 2019
Employees were good.The infrastructure needs a complete redo.I barely had electricity. Everything is old, even though the employees did their best for everyone. KOA should be embarressed by the ageing conditions. I need to be reimbursed for the lack of energy to my travel trailer. Example: no lights if I ran my water pump. My outlets never did work. Unable to charge batteries to my solar unit...
Feb 10, 2019
Worst KOA ever. Electricity kept going out due to overloading. Our electrical connections were broken and loose. Sewer tap was uncovered and had plants growing out of it. Jacuzzi closed at dusk (no lighting) and required access past the out-of-season, uncovered pool that itself needed re-plastering. Community room was used to store junk that overflowed out in back. Very messy - lots of weeds
Feb 10, 2019
Pros: We had a pleasant stay despite the fact it needs updating. Staff were friendly and helpful; store was good; Cons: Laundry room is like being in an old basement; washrooms need work; wifi is the worst I have ever seen at any RV park; sites need maintenance; pool was closed but also looks like it needs work; entrance is full of potholes; no recycling at garbage which is unheard of at RV parks.
Feb 10, 2019
The power grid at this KOA is totally unacceptable. Power in the entire park would go off numerous times morning, evenings, throughout the night. Ran generator for power to ensure no interruptions. Ran refrigerator on alternate power so that it would not be damaged and not lose food due to power outages. Management knew about this problem continued bringing in additional big units! Unsatisfactory!
Feb 09, 2019
The new hosts were hospitable, very friendly (laughing and smiling all the time), and helpful. They made my visit comfortable and enjoyable. I like the camp because it is close enough to town for supplies or restaurants... small enough to have a community feel... yet large enough for all your needs. GREAT!
Feb 09, 2019
Don't know the history of the park, but it is an older one, but well kept up. I walked the park and didn't see any of the electrical issues others commented on. Also someone commented on the railroad noise. The park is about a mile from the railroad. Didn't hear a train. Every other park in the area is much closer, It is a little tight for big rigs, but standard trailer/truck combo no problem.
Feb 08, 2019
Had about a dozen power outages. Requested 50 amp site got a 30 amp.just wasnt a happy camper.
Feb 08, 2019
Everything was clean and the host were very friendly. Only think that kept Me from 5 star rating was the entry road was unkempt. Everything else was great.
Feb 08, 2019
The staff were very nice and I think they are trying to fix things. However, the park is old and rundown, had major electrical problems when we were there.
Feb 08, 2019
Was very very busy. Extremely slow internet.
Feb 07, 2019
This campground might have been a nice place 50 yrs ago, but for today it was terrible. Trees hanging over, one site had no utilities and over all just run down. Will not be staying at another KOA in our traveling. Sites really not big enough for large rigs.
Feb 05, 2019
Rough road going in but worth it :) Close to main highway, safe, quiet, clean, friendly, with large pull through lots and a beautiful view of the countryside and mountains. What more do you need?
Feb 05, 2019
I was traveling & called & payed I was told where to find the map to where I would park it was a pull through I left before the office opened. It was easy to get to & just beautiful. I will definitely go back
Feb 04, 2019
Very well kept, good location, and friendly people. Disappointed WIFI didn't work.
Feb 03, 2019
We really liked this campground and the Benson area in general. The campground has well tended grounds with local flora spread throughout the campsites. Some of the sites are pretty close together, and the one we were in was a little difficult to get out of. Benson is less than a mile away and has good shopping and restaurants. We will definitely stay here again, probably soon!
Feb 02, 2019
Great place to stop to visit surrounding area. Enjoyed Tombstone, Bisbee and the Sierra Vista area. Much to see.
Feb 02, 2019
We paid for 50 amp but it didn't work the electric panel was coming apart very dangerous Our site didn't have a dump Interior roads are very narrow Very difficult making turns We damaged our trailer trying to get out Lady at the desk knows nothing about motor homes what lengths will fit on the roads or in the space Worst koa I've ever been in Paid 50 dollars for a really bad experie
Jan 30, 2019
There was a dangerous electrical problem during our stay. The meter at campsite was cracked glass and loose wires. The campground needs serious issues corrected. Our site was not the only one with major electrical problems.
Jan 29, 2019
katie was very nice and helpful. the camp need work, they are trying to make it better
Jan 27, 2019
The staff are very nice. The restroom, shower area is very, very clean. The laundromat is very, very clean and has nice machines. It was very peaceful there.
Jan 25, 2019
It was a wonderful site with lots of room and our host was wonderful. Would come back again.
Jan 25, 2019
Pretty much a stop and go location.... but I wouldn't recommend it at all for anyone
Aug 14, 2020
Staff was great! Katie got us set up with our membership and got things squared away for us. Going through some renovations right now but highly recommend you stop if passing that way.
- Gary Copsey on Google
Jul 05, 2020
Awesome! Even though the pool was closed there was still a golf course.
- Raze Gamer on Google
Jul 03, 2020
Good place to fill your propane .
- julia winker on Google

Benson KOA
Open All Year
180 West Four Feathers Lane
Benson, AZ 85602-7952
Check-In/Check-Out Times
All Sites
Check-in: 3:00 pm, Check-out: 11:00 am
Operating Hours
Sunday: Open 9:00 AM to 5:00 PM
Monday: Open 9:00 AM to 5:00 PM
Tuesday: Open 9:00 AM to 5:00 PM
Wednesday: Open 9:00 AM to 5:00 PM
Thursday: Open 9:00 AM to 5:00 PM
Friday: Open 9:00 AM to 5:00 PM
Saturday: Open 9:00 AM to 5:00 PM
Get Google Directions

© 2020 Kampgrounds of America, Inc.