Benson KOA Reviews
Directions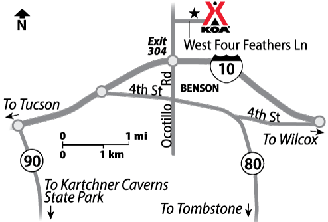 Exit 304 off I-10: go north 1/2 mile and follow the signs.   A-Frame lights can be seen from I-10 : East Bound Interstate signs are here!  West bound interstate billboard at exit 340.
Get Google Directions
Mar 24, 2019
Tent camp, Could use fencing and upgrade camp kitchen. Pleasant stay. Nice staff and reasonable at short notice.
Mar 23, 2019
The good is that the staff is very nice. We stayed here 6 nights in order to visit many areas around Benson. The bathrooms were not very warm and not well lit in the shower area. Basically they need updating. The WiFi never worked. Sites are close together but they seem to try to space campers apart if they have room. It is far enough from the railroad tracks that the trains are not a bother.
Mar 23, 2019
Friendly staff. Everything was as expected.
Mar 22, 2019
The people are nice but I would check back next fall to see if the work is done. It is an older KOA and I know they are working on updating their electricity and cable, as well as the pool and the grounds.
Mar 21, 2019
Very friendly people and helpful. Loved the town we will be back.
Mar 21, 2019
Unkept ladies restroom. Towel dispenser worked — sometimes.
Mar 20, 2019
Nice clean park. Staff friendly. Dog run well maintained.
Mar 20, 2019
The Benson KOA is awesome. Great location, nice campground, they have a small dog run as well which our dogs enjoyed. Was sorry to leave and will be back for sure!
Mar 20, 2019
Campground needs some work, looks that's in process.
Mar 19, 2019
We loved the new hosts and their vision for the future. We look forward to returning in the fall. One of my all time favorite places in Arizona.
Mar 19, 2019
Very friendly. Very clean even during their construction work. Met several new friends. Would recommend this location.
Mar 18, 2019
They were very friendly and nice
Mar 17, 2019
This KOA is near the freeway so easy off, easy on. We got in after dark and it was rather hard to see anything since they had no" street lights". We just stayed one night on our way home to Texas. The road to the KOA was very pot-holed.
Mar 16, 2019
Last minute decision. Toilets overflowed. Facilities were run down. Pool was drained. Playground tether ball was flat. Picnic area tarp covering torn off. Picnic kitchen area was useful but cluttered and dirty.
Mar 15, 2019
Very friendly staff, and they were happy to help us, filled with propane and saved money, wanted to extend stay because of horrible wind gusts and had no problem accomocating us. might not hurt to fix your driveway though ;-)
Mar 14, 2019
New management and I am sure they will develop this KOA into something nicer. More attention is needed for the bathroom and shower areas. Paper products were lacking and the trash wasn't emptied daily. I wish them luck and I imagine we will be back.
Mar 13, 2019
Good place to stay. It's clean but run down. Spaces are very close together. Manager is very nice. Older park that needs some TLC.
Mar 12, 2019
Everything was great, would definitely stay here again.
Mar 12, 2019
Staff very pleasant and helpful. Facility is older and has been allowed to deteriorate somewhat. Had to get a different picnic table because it was falling apart literally . Could not log onto internet kept on having to be rebooted This once was a great camp site but now has a bit of work to get it back to its former self. On positive side, sites nice and level , good water pressure,
Mar 12, 2019
Nice and quiet
Mar 12, 2019
We only stayed 2 days, but enjoyed a nice quiet stay. We also had a nice visit with the camp hosts/managers. Very nice people.
Mar 11, 2019
Convenient location off the highway & clean restrooms. We arrived late (after the office closed) & found details left for us since we had a reservation... but once we got to the tent area, we were very confused. All tent sites are clustered in one grassy area with no area to park your car nearby? Maybe there was an explanation, but since we arrived late, there was no staff to ask (not their fault)
Mar 11, 2019
The price was two times higher than it should be in comparison to other (much nicer) nearby campgrounds, and other KOA's. Even Seligman is nicer and that's saying something. This campground offered my family nothing but a 50 amp hookup. The gate to the dog park didn't have a latch so my dog's couldn't use it. The pool was empty. The hot tub was out of service. For $71 a night! Cmon
Mar 11, 2019
Campground is old and tired -- needs refreshing. Access road is gravel/dirt and full of ruts and holes. Sites are close together. I will consider alternative campgrounds if I stay again in Benson. The lady in the office was very nice.
Mar 10, 2019
Internet doesn't work
Mar 08, 2019
Road into the KOA is rough with pot holes. Terrible! Once the road is fixed, the KOA will be nice. Managers were very nice.
Mar 08, 2019
The receptionist was kind and professional for helping my needs!
Mar 07, 2019
This park is for small units, not really big rigs pulling trailers. Tight turns entering and leaving, No night lights between spaces. The water faucets are too close to the ground and unable to hookup water filters or water pressure regulators. Animal dropping throughout the park. The female greeter was very pleasant.
Mar 05, 2019
New owners who are working very hard to clean and fix the place up. They are very helpful.
Mar 05, 2019
Nice, peaceful campground perfect for an overnight stay, clean facilities, and easily accessible from the I-10. The staff is EXCEPTIONAL. We delayed our initial arrival after Katie Hall called to warn us of the camp's power outage and oncoming bad weather. Our deposit was refunded, but we stayed there a week later after the weather cleared. Major kudos to EXCELLENT customer service here.
Mar 04, 2019
We stayed on a cold night and our site was connected to the streetlamp out by the playground. It was a cold night and we used heaters. Power to site went on and off all night. site power reset on its own. Would not recommend.
Mar 04, 2019
We enjoyed the friendly service and the nice atmosphere. Thank again!
Mar 03, 2019
Very easy reservations. Place as clean and access to site easy. Road in was a bit rough but soable at slow speed.
Feb 28, 2019
We stayed in Benson for two weeks. We found the camp grounds very clean and quiet. The new managers were very friendly and helpful. They are working very hard to get the camp back to what it should be. We would definitely stay again, and wish them the best of luck.
Feb 28, 2019
This campground needs some TLC to bring it back to former good state. We've been stopping here for many years and we're sorry to see deteriorated sites, potholed access roads and excessive dog poop despite the provision of bags and trash cans. The rules need to be enforced. We really hope that Benson can rise again.
Feb 27, 2019
I would like to give a 5 but we had a lot of trouble with the cable and wifi. I think the next time we are there it will be better because they got the okay to fix things from the owner. The GM's were awesome as was the other gentleman, Shawn, one of the employees. Shawn was especially friendly and helpful. We enjoyed our stay other than the westher.
Feb 25, 2019
Very friendly staff. Nice quiet park.
Feb 24, 2019
This isn't your typical KOA, had a stray dog walking around who actually came and peed on our outdoor carpet/mat, there was a lot of dog poop in back of park. Only one of the men's shower was working properly. I know this KOA is under new ownership so I will give them some time, but when I called to tell them about my experience, it said user line was busy all 3 calls. Really? No call waiting?
Feb 23, 2019
It was raining and snowing and our campsite became a mud pit. It really made a mess in our motorhome. They need to lay more gravel. The restrooms were clean. It was an adequate for a night.
Feb 22, 2019
This KOA was overpriced and in need of repair. The manager was nice.
Feb 22, 2019
no cable, they say they have wifi but you can not get on many people we talked to also said they cannot conect.
Feb 22, 2019
Never go back! Doesn't stand up to KOA quality. Power, bad. WIFI, bad, pool has no water in it. Bathrooms, disgusting! Property is in need of sucificent repair!
Feb 21, 2019
Clean campgrounds; new management and staff very helpful and friendly; facilities are being updated and improved.
Feb 21, 2019
Good level spots. Everything you need
Aug 14, 2020
Staff was great! Katie got us set up with our membership and got things squared away for us. Going through some renovations right now but highly recommend you stop if passing that way.
- Gary Copsey on Google
Jul 05, 2020
Awesome! Even though the pool was closed there was still a golf course.
- Raze Gamer on Google
Jul 03, 2020
Good place to fill your propane .
- julia winker on Google

Benson KOA
Open All Year
180 West Four Feathers Lane
Benson, AZ 85602-7952
Check-In/Check-Out Times
All Sites
Check-in: 3:00 pm, Check-out: 11:00 am
Operating Hours
Sunday: Open 9:00 AM to 5:00 PM
Monday: Open 9:00 AM to 5:00 PM
Tuesday: Open 9:00 AM to 5:00 PM
Wednesday: Open 9:00 AM to 5:00 PM
Thursday: Open 9:00 AM to 5:00 PM
Friday: Open 9:00 AM to 5:00 PM
Saturday: Open 9:00 AM to 5:00 PM
Get Google Directions

© 2020 Kampgrounds of America, Inc.