Benson KOA Reviews
Directions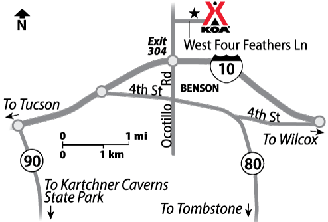 Exit 304 off I-10: go north 1/2 mile and follow the signs.   A-Frame lights can be seen from I-10 : East Bound Interstate signs are here!  West bound interstate billboard at exit 340.
Get Google Directions
May 15, 2019
Area needs to be cleaned up of weeds and outside in general. Not one of the best KOA's we have stayed in.
May 13, 2019
Owners are nice , store stocked well, laundry was nice but there was a bacteria in the water so we could not use it. And the water had to be shut off completely for a large portion of the day, so no restrooms use either. Rates are higher than other KO A's we stayed at
May 04, 2019
Ok place to stay.
Apr 28, 2019
New friendly staff and management. New Owners are working on upgrading the park. Would stay again.
Apr 28, 2019
Managers were amazing. They let us leave my utility trailer in the site past checkout so we could visit tombstone without worrying about it. Thanks Katie and Larry, your favorite moose hunter
Apr 27, 2019
Only stayed one night but experienced no problems. Would stop there again if need arose��
Apr 27, 2019
Very courteous and staff went over the top to please and accomadate our needs. Pool was wonderful and campsites were laid out nicely. Bathrooms immaculate. Were on bicycles and the lack of shade was an issue.
Apr 24, 2019
The camping rate is unreasonably high for what the facility has to offer.
Apr 24, 2019
Thanks Katie
Apr 22, 2019
Cute, clean bathrooms, nice staff
Apr 18, 2019
One night stay at our pull through site. Very enjoyable.
Apr 17, 2019
One of the worst Koa properties we've stay at!!
Apr 17, 2019
Very quiet and dark. First time we'd seen the stars in a couple weeks! Katie is a very lovely lady. Appreciated her kindness.
Apr 16, 2019
Scenic views and nice sites!
Apr 14, 2019
Neat and clean facility very quiet very friendly staff
Apr 14, 2019
I love this KOA. It has great screening from the natural vegetation in and around it, nice amenities and great overall feel to it. There is nice dog yard and the people are friendly as can be and the place is clean and well kept. Will be back for sure.
Apr 12, 2019
The gravel road to the campground was a bit rough, but once there it was fine. Roomy site for our large 5th wheel. We will stay here again on our travels.
Apr 12, 2019
Really great hosts! Helped us with removing our TV antenna that had been damaged in the wind. They are in the middle of some remodel. I hope it is to put in wheelchair accessibility for a bath & toilet. They are not compliant with ADA. Host tried to accommodate as best as we can.
Apr 10, 2019
very clean, well kept. Owners friendly and helpful.
Apr 08, 2019
Awesome people and awesome place.
Apr 08, 2019
Katie was the greatest, most patient and helpful host! Thank you, the Quinns
Apr 07, 2019
We were quite disappointed with this KOA park. The park is run down and the rates were very high for the quality of the park. We hoped to have a pool to use and found out the pool didn't even have water in it! The sites are not wide enough for large rigs; we had to move our trailer several times to get the slides to fit around the bushes and electrical box.
Apr 06, 2019
More effective internet would be welcome. For the rest it's perfect
Apr 04, 2019
I'll give it a four because it's a convenient overnight stop. The customer service at this location is not very good. Most Rv parks will leave you a note telling you where your spot is if you arrive after hours with a prepaid reservation. It's important to get the spot that we asked for namely 65+ feet and 50 amps. We wandered around until we found a spot that would work. Please communicate!
Apr 04, 2019
Very over priced, friendly staff, not worth the price they charge, $50+ a night with taxes, pool closed for repair and facilities rather ran down, I will look for another campground next time
Apr 04, 2019
most expensive RV park between Michigan and AZ. very poor Tv reception,
Mar 31, 2019
I used to love this KOA but under new management + rates SKY rocketed for tent campers from a little over $400 to over $600. I was planning on staying there the month of May but will not pay $600. I realize updates are needed but the place still has cat urine odor in kitchen area + laundry room. Also still a few cats around that use the sandy tent area as a litter box. No privacy in tent area
Mar 29, 2019
This a very pleasant KOA located in a terrific spot. The only reason we give the 3 is because the facility needs upgrading - which we know is underway! Good luck!
Mar 29, 2019
Clean bathrooms, friendly and helpful staff, pleasant walking area, and quiet.
Mar 29, 2019
Nice little campground out in the high desert. 1/2 hour to Tombstone, a must see.
Mar 28, 2019
Very nice staff and great Southern, AZ location
Mar 28, 2019
Our host were very helpful and provided great customer service
Mar 28, 2019
Quiet grounds
Mar 28, 2019
Needs a lot of work. Very run down. Swimming pool not even close to being ready for use. Great place if you just need somewhere to pull in and hookup
Mar 27, 2019
Nice cabin. Restrooms and Kamp Kitchen close by. The facilities were quite adequate but somewhat run down, though we could see that updates were being done throughout the park. We will definitely come back. The staff were great, the location and views are wonderful, and we had a relaxing, enjoyable stay. My 6 year old loved the playground & mini golf. Lots of value for the cost of the cabin rent!
Mar 27, 2019
A campground in resurgence. Suitable facilities improving each day. Great managers. We'll go back!
Mar 27, 2019
It was a nice campground, friendly staff and convenient to visit Tombstone and Bisbee.
Mar 26, 2019
Very enjoyable stay!
Mar 25, 2019
Too much dust entrance is a pot hole and sites very tight. Not big rig friendly. Exception is wonderful people friendly and helpful.
Mar 25, 2019
Sunsets were beautiful and the staff was knowledgeable, helpful and very nice. The campground is in a good location for a base camp to visit the surrounding area. Renovation is about to begin on the cable, which was pretty snowy some and some other projects. I believe the sewer to the bathroom needs work. Wifi like many campgrounds is weak. I would go back again and look forward to the renovation
Mar 25, 2019
We have been to Benson several times over the years, it had become rundown and needed much TLC. We had the opportunity to revisit 3/2019 and to our surprise it is under new ownership! The place looks great!! The staff is amazing funny, kind, very friendly and welcoming...we can't wait til our next visit as they are making lots of changes/ improvements...Plus free mini golf!! We give it 10 stars
Mar 25, 2019
It was a nice, clean, quiet campground. The front manager was very nice and accommodating. My only suggestion would be to plant grass in the pet play area to keep down the dust by the cabin and keep the area cooler. We will be back for sure!!
Mar 24, 2019
The staff was friendly and helpful. The facilities were clean and nice. Conveniently located.
Aug 14, 2020
Staff was great! Katie got us set up with our membership and got things squared away for us. Going through some renovations right now but highly recommend you stop if passing that way.
- Gary Copsey on Google
Jul 05, 2020
Awesome! Even though the pool was closed there was still a golf course.
- Raze Gamer on Google
Jul 03, 2020
Good place to fill your propane .
- julia winker on Google

Benson KOA
Open All Year
180 West Four Feathers Lane
Benson, AZ 85602-7952
Check-In/Check-Out Times
All Sites
Check-in: 3:00 pm, Check-out: 11:00 am
Operating Hours
Sunday: Open 9:00 AM to 5:00 PM
Monday: Open 9:00 AM to 5:00 PM
Tuesday: Open 9:00 AM to 5:00 PM
Wednesday: Open 9:00 AM to 5:00 PM
Thursday: Open 9:00 AM to 5:00 PM
Friday: Open 9:00 AM to 5:00 PM
Saturday: Open 9:00 AM to 5:00 PM
Get Google Directions

© 2020 Kampgrounds of America, Inc.