Benson KOA Reviews
Directions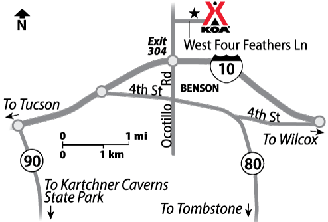 Exit 304 off I-10: go north 1/2 mile and follow the signs.   A-Frame lights can be seen from I-10 : East Bound Interstate signs are here!!!!
Get Google Directions
Oct 22, 2019
The family that runs the place is absolutely amazing. We met them all and they were all so kind and welcoming. We took our pup here for his first camping trip and he didnt want to leave. They are doing alot of remodeling right now so I cant wait to come back and see the results!
Oct 21, 2019
AWFUL! The place is a dump. The discount offered in no why makes up for the disappointing weekend. Never booking there again and will most likely will never stay at a KOA again. Clearly there are no standards for a campground to call it's self a KOA.
Oct 21, 2019
They were starting a major renovation the day we left. Will check out the work on the way home....
Oct 20, 2019
We really appreciated the friendliness of both Donna and Katie. Loved how quiet it was. We know the new owners are working hard to fix issues with water/plumbing and electrical. I suspect things will be in order when next we visit. Thanks for a great week.
Oct 20, 2019
Cable TV doesn't work, wi-fi doesn't work, water was shut off both days and we were not notified. Putting signs on the bathrooms doesn't work if you use your trailer. I understand they are working on improvements, but the camp hosts could let people know ahead of time. We checked with other guests, their cable and internet didn't work either. A lot of money for a dirt path to park on.
Oct 20, 2019
This park advertises the availability of both cable TV and WiFi. With regard to cable, there was no connection point anywhere near my site. I observed that other guests were running lengthy cables to neighboring sites just to reach a nipple. WiFi? Nope. Other than for one very brief window of time (that I used to find another park), there was no Internet access from my site, either.
Oct 20, 2019
We drove in and drove out. 95 percent of our travel is KOA however benson was an exception. Not large motorhome friendly. The road to the park was terrible. The park Was under reconstruction. Told we may lose water or electricity at any time. Narrow roads in the park. Hope they get it back to KOA standards. They did provide a full refund
Oct 18, 2019
Potential for a great campground, but needs a lot of work. Was put in a site with sewer on wrong side. Moved to one where all services were on the correct side. Laundry room doesn't smell like laundry, smells like something old and dead. Wifi sucks.
Oct 18, 2019
The hosts were very nice and accommodating. The park is not for a large RV. We have a 35 foot 5th wheel, and it was difficult to maneuver the corners to get to our site and to leave in the morning. We had a long site, so we didn't have to unhook our ATV trailer. The up side, the site was shaded, the bathrooms were clean.
Oct 17, 2019
Wonderful people helping us get into a site that fit us. Patient and kind. Quiet and peaceful place to stay.
Oct 13, 2019
Katie even phoned me to tell me I left a cheap bucket behind. She is also one of the most memorable personalities of my entire trip. I enjoyed the pool and clean bathrooms. Thanks.
Oct 11, 2019
Very nice people, and facilities have lots of potential. Some safety issues with open holes and missing pavers as renovations are in progress. No doubt it will be much better when current managers complete planned projects.
Oct 07, 2019
Benson was under construction and no one changed the signs to direct us to the road we found that would have kept us out of the fresh asphalt. Bathrooms were not ADA.
Oct 06, 2019
The campground is under repair. We were charged more because we did not have reservations even though there was nobody else in that part of the campground. We almost always stay at KOA but the price for this campground was very high for the condition it is in. If anything, we should have gotten a discounted rate. Not happy campers...
Sep 13, 2019
The site is being upgraded. But is a great place to stop. Wonderful staff.
Sep 11, 2019
The cabin was clean, but the bed is very uncomfortable. Once in the bed your down below the frame and it is hard to get out. The overhead light is blinding, needs a small lamp. The tv is right next to the ac and you can't hear the tv. The owners need to stay in a cabin to check it before renting. The restrooms were clean. They are doing a good remodel.
Sep 02, 2019
The owners were really great. They upgraded us to a camping cabin when we requested it, and it was a minimal extra charge. The facilities were ok, definitely in need of updates. The bathrooms were pretty clean. We would stay here again if we're ever passing through.
Aug 31, 2019
Needs lots of love!
Aug 26, 2019
The park is being "renovated". The owners tried to place us in an area inundated with weeds and overgrown trees. They guided us to one place where you could not see the ground/hook-ups for the weeds and we could not extend the slides for the trees. We asked to be moved so they guided us to a space. Overgrown trees, stuck us and they had to cut several branches to free us to avoid damage CLOSE
Jul 31, 2019
Benson was the perfect stop while we were on our way west toward Phoenix it was a short drive to Tombstone AZ where we visited for lunch. It's in the desert but had everything we needed including a swimming pool!
Jul 28, 2019
WiFi and the cable didn't work! No staff to assist after 6 pm.
Jul 22, 2019
We were delayed with truck problems and didn't get to the camp on time. They very graciously changed our dates for all of us. They are doing improvements and it will become much nicer thanks
Jul 21, 2019
Awesome stay. Katie and her husband are awesome! Highly rated place and people! Thanks
Jul 19, 2019
Really enjoyed the quiet . The lady at reg was very friendly and helpful.
Jul 18, 2019
Very friendly hosts
Jul 17, 2019
Camp was clean but old. Didn't get to meet the staff but they seemed nice over the phone. Just stayed overnight and it was just me and I think two other people. So really couldn't give it a fair rating. But it was nice being close to Tombstone and Kartchner Caverns. Would probably stay here again while passing through.
Jul 16, 2019
Our overall impression is that we won't likely return. We don't live far away and was looking someplace close with a pool for the kids. The pool was closed early due to storms one day, but remained closed after the storms and before dusk. Also, we didn't even realize there were spots available in shaded areas behind the office. As few campers as there were we should've at least been offere
Jul 15, 2019
The stay at Benson KOA was amazing !! We had a lot of fun ...the Pool was very clean and has new equipment for added fun. Nights skies are filled with stars and the sound of owls hooting, bunny's hopping around and the smell of s'mores. Larry and Katie are the hosts and they make you feel like family...we will definitely return. Thanks again Larry and Katie see you soon!
Jul 15, 2019
It was a quick stay to test out our equipment - and it was AWESOME!! Katie and Larry were very welcoming and very helpful with all of the questions we came with - if you are driving thru southern Arizona and need a place to set up camp - this is a great place to do it!! We will be back!!
Jul 14, 2019
The new General Managers are working to renovate and update. We look forward to visiting again to see their progress. Thank you for your hospitality!
Jul 10, 2019
The road into the campground is absolutely horrible. I had to drive at 1mph to avoid the RV from being thrown side to side. The campground itself was clean, but in need of some updating.
Jul 05, 2019
Friendly and helpful management. The sites were very level and roomy. It was close to town and restaurants, but felt like we were out in the country for that quiet, starry sky experience.
Jul 02, 2019
a great place to stay, and in the process of even getting better. Great satellite reception.
Jun 27, 2019
Horrid road leading into the campground, which was virtually empty, with only 4 other units all night. However, we were placed in a spot that was too small for our trailer, 28 feet, despite our reservations clearly stating the size and slideouts. We had to enter the wrong way to get to the hook ups which were placed at the opposite end of every other vacant spot in our row. Won't return ever.
Jun 24, 2019
This KOA is very 'rustic'. They just re-did the pool and are working on other upgrades. The bathrooms/showers definitely need work. But the staff were very friendly, and we had a very nice time.
Jun 23, 2019
Very nice and helpful staff. They're in the process of updating the facilities, a understandable slow process given their location. This location had everything we wanted for an enjoyable stay.
Jun 22, 2019
Really friendly staff, looks like they have big upgrades planned!! Ideal location!!
Jun 21, 2019
We habe staued there many times. It is an awesome koa surrounded by many points of interest. Camp is clean and well kept. The new owners are in the process of updating the camp sites. Will stop again.
Jun 20, 2019
This KOA had some nice features like TV in the cabins. Solid tent structure over tables were nice. Mini golf looked nice, but balls and clubs weren't available when it was cool due to limited store/office hours, could have them outside for use. Would be nice to have a cooled indoor activity room for kids. Parts of the kampground looked unfinished. Was ok, felt like had potential to be really nice
Jun 17, 2019
The facility was nice and clean. The managers very friendly and helpful. My husband and I will stay there again.
Jul 05, 2020
Awesome! Even though the pool was closed there was still a golf course.
- Kevin G on Google
Jul 03, 2020
Good place to fill your propane .
- julia winker on Google
Apr 16, 2020
Katie and her staff were very professional and helpful. This KOA is currently under renovations, and they are doing a great job! The addition of a Kamp K-9 was much appreciated by my Golden Retrievers! We could tell that they are working on several other improvements as well. The Kampground is conveniently located just off of I-10, but far enough away to feel secluded and quiet. We thoroughly enjoyed our stay, and we will be back!
- Jennifer Campbell on Google

Benson KOA
Open All Year
180 West Four Feathers Lane
Benson, AZ 85602-7952
Check-In/Check-Out Times
All Sites
Check-in: 3:00 pm, Check-out: 11:00 am
Get Google Directions

© 2020 Kampgrounds of America, Inc.