Benson KOA Reviews
Directions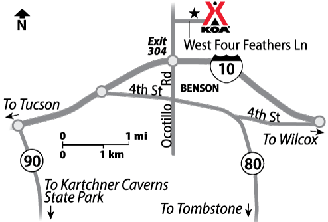 Exit 304 off I-10: go north 1/2 mile and follow the signs.   A-Frame lights can be seen from I-10 : East Bound Interstate signs are here!  West bound interstate billboard at exit 340.
Get Google Directions
Feb 07, 2020
Lovely spot -- quiet, lots of trees.
Feb 03, 2020
Nice quiet site. Staff very helpful. Will be great stop when front area finished. Doing a very good job.
Feb 02, 2020
The only problem we experienced was the laundry room has an overwhelming smell of mildew. They are upgrading things so I hope this is on the list.
Feb 02, 2020
It was a great stay .Katy was very accommodating since they were full and found a us a site for one night.Thank You Katy.
Feb 01, 2020
Great place to stay, obviously a lot of upgrades have been done and many more in the works, quiet friendly place, no body bothers you, best propane prices in town, clean bathrooms. We shall return for sure next winter.... John & Karen ( chemainus BC)
Jan 31, 2020
Very nice proprietor and grounds. I accidentally left my Journal and they sent it back to me in Tennessee. Much appreciated.
Jan 28, 2020
The campground is in the process of updating the grounds. It is kind of a mess right now. Once it's done, I'm sure it will be fine.
Jan 26, 2020
The hostess, was very friendly and helpful. She put me on a great site and had her son in law come and fix a problem on my RV! Clean restrooms and shower. Overall a great experience!!!
Jan 16, 2020
We were there only over night, but it was easy on and easy off. The hosts were friendly and helpful. The site was nice and long.
Jan 16, 2020
Bathroom lights did not work and there are no shelves in the showers for soap or shampoo.
Jan 08, 2020
beautiful views. clean sites. quiet.
Jan 06, 2020
This camper comment has been removed by KOA due to profanity.
Jan 05, 2020
Park was ok but pricey for what they offered.
Jan 04, 2020
We arrived after dark and the office closed early due to Christmas Eve. The problem was finding our site in the park. The lack of lights/illumination and signs made it difficult to locate our site. I'm not sure we ended up in the correct site. The lack of lighting and signage, narrow lanes, and over hanging branches cost me some sheet metal damage to my RV. We had to leave early the next day
Jan 03, 2020
Surprised to see campground was under renovations. Campground was rundown. Our lot was not level nor very big. Sites and roads did not match given map at checkin. Management was very friendly and helpful. I believe when this campground is completed it will be a nice place to stay.
Jan 03, 2020
Got there after dark; no lights, spots not marked well; couldn't find our space.
Jan 02, 2020
Showers need to be cleaned.
Jan 02, 2020
The cabins are very cute, and the mattresses on the beds are super comfortable. For winter camping, our first night, I felt an extra or more proficient heater would have been nice, but second night weather warmed up. The fire pit was great, but it was built so close to a small RV site that the couple in the RV site were getting all the smoke, Lol. But clean, quiet, comfy, and lovely campground!!!!
Jan 02, 2020
Staff was very friendly and helpful. We were just passing through and only stayed one night but the facilities were well maintained, and clean.
Jan 01, 2020
We enjoyed our stay, we stayed 3 nights, nice and quiet, in the process of remodeling, clean campground, the staff was very helpful and friendly, will stay here again Thank You!
Jan 01, 2020
we Stayed here last year and enjoyed it. This year the front section is being completely rebuilt so unavailable. My only complaint this time is that it didn't appear that they have the staff to service the bathrooms. Floors were cleaned and paper towels and toilet papers wasn't replenished. We will comeback though and try them again.
Dec 31, 2019
Nice owners. Park is getting upgrades too!
Dec 30, 2019
I loved it. I will stay again. It felt safe as I was traveling alone.
Dec 29, 2019
40+ years of KOA's - never stayed at one as bad as this one. totally unlandscaped cluttered grounds- piles of old metal and debris everywhere- no hot water for washing up or showersSame dead bugs in sinks the whole 4 days we were there and no paper towels the last 2 days. Unflushed poop in toilet first 2 days. TV when it actually worked. Managers doing very little for their pay no amenities
Dec 28, 2019
We stayed in a cabin. I know the weather was probably colder than normal, but the portable heater didn't keep the cabin warm
Dec 28, 2019
Not as advertised worst KOA I have ever seen. Playground on there website looks awesome, the real one is nothing more then broken swing
Dec 25, 2019
Under renovation but the sites they have open are unlevel and very very close together. For a overnight $52.00 was very high for what you get. Maybe when renovation is finished things will be different.
Dec 24, 2019
The staff are great. Very helpful. We only stayed 1 night on our way to Mesa Az. RV site was NOT handicap friendly. Trying to get my wifes wheelchair through loose gravel was no fun. The dirt road going to the rv park from the main road would be impassable if was to rain. Not to sure if there was gavel mixed in the dirt, I didnt see any.
Dec 23, 2019
Arrived late in the evening, no reservation but was looking over the map and was meet by Donna who helped me and got me setup in an RV site. Thank you and Merry Christmas. Can always depend on A KOA for a place to stay the night when traveling in American and Canada too.
Dec 21, 2019
Park is being updated. It was very quiet there. Staff was very friendly.
Dec 16, 2019
The stay was fine - obviously as the website stated A LOT of work is being done. The staff was great!
Dec 16, 2019
Great campground, quiet and very accessible to Benson.this was at least 4 stays in my past travel history from Vermont. Always friendly. Also good WiFi.
Dec 15, 2019
We have stayed at Benson KOA many times and will stay there again. The staff/owners were friendly and helpful. They are upgrading the power and cable to the main campground which leaves them with just a few sites in the back. These sites are smaller and more difficult for big rigs to maneuver. We would have preferred to have been told of the upgrades so we could have make other arrangements.
Dec 14, 2019
Laundry and shower are very nice. Wifi did not work.
Dec 13, 2019
Nice stay... thanks a lot.
Dec 13, 2019
It was very relaxing and the managers are very friendly.
Dec 13, 2019
Very quiet. Nice spot. But only 5 cable channels.
Dec 09, 2019
Lots of improvements are in process and we are excited to see the campground when it's done. We enjoyed talking to Katy in the office - she was friendly and helpful.
Dec 05, 2019
they provided propane even tho the sign said closed. Thanks, we were low and it did get cold. Staff is great, level site. I can see the improvements being made which will enhance this koa. Worth the dirt road to get there.
Dec 04, 2019
Charged way to much for run down park. Yes, they are making improvements, but lower the price while doing so. $50..+ with KOA discount is just wr6.
Dec 03, 2019
First the great, very friendly staff warm inviting. Location is awesome. Bad the road in, dated older koa needs work but still normal koa nightly charges. 1 small bathroom and showers again needs work and also IF full no way it would accommodate the entire campground.
Dec 03, 2019
Great site. Owners are upgrading. Should be really nice when all the electrical is finished.
Aug 14, 2020
Staff was great! Katie got us set up with our membership and got things squared away for us. Going through some renovations right now but highly recommend you stop if passing that way.
- Gary Copsey on Google
Jul 05, 2020
Awesome! Even though the pool was closed there was still a golf course.
- Raze Gamer on Google
Jul 03, 2020
Good place to fill your propane .
- julia winker on Google

Benson KOA
Open All Year
180 West Four Feathers Lane
Benson, AZ 85602-7952
Check-In/Check-Out Times
All Sites
Check-in: 3:00 pm, Check-out: 11:00 am
Operating Hours
Sunday: Open 9:00 AM to 5:00 PM
Monday: Open 9:00 AM to 5:00 PM
Tuesday: Open 9:00 AM to 5:00 PM
Wednesday: Open 9:00 AM to 5:00 PM
Thursday: Open 9:00 AM to 5:00 PM
Friday: Open 9:00 AM to 5:00 PM
Saturday: Open 9:00 AM to 5:00 PM
Get Google Directions

© 2020 Kampgrounds of America, Inc.