Benson KOA Reviews
Directions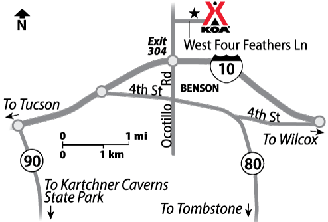 Exit 304 off I-10: go north 1/2 mile and follow the signs.   A-Frame lights can be seen from I-10 : East Bound Interstate signs are here!  West bound interstate billboard at exit 340.
Get Google Directions
Jan 02, 2020
Staff was very friendly and helpful. We were just passing through and only stayed one night but the facilities were well maintained, and clean.
Jan 01, 2020
We enjoyed our stay, we stayed 3 nights, nice and quiet, in the process of remodeling, clean campground, the staff was very helpful and friendly, will stay here again Thank You!
Jan 01, 2020
we Stayed here last year and enjoyed it. This year the front section is being completely rebuilt so unavailable. My only complaint this time is that it didn't appear that they have the staff to service the bathrooms. Floors were cleaned and paper towels and toilet papers wasn't replenished. We will comeback though and try them again.
Dec 31, 2019
Nice owners. Park is getting upgrades too!
Dec 30, 2019
I loved it. I will stay again. It felt safe as I was traveling alone.
Dec 29, 2019
40+ years of KOA's - never stayed at one as bad as this one. totally unlandscaped cluttered grounds- piles of old metal and debris everywhere- no hot water for washing up or showersSame dead bugs in sinks the whole 4 days we were there and no paper towels the last 2 days. Unflushed poop in toilet first 2 days. TV when it actually worked. Managers doing very little for their pay no amenities
Dec 28, 2019
We stayed in a cabin. I know the weather was probably colder than normal, but the portable heater didn't keep the cabin warm
Dec 28, 2019
Not as advertised worst KOA I have ever seen. Playground on there website looks awesome, the real one is nothing more then broken swing
Dec 25, 2019
Under renovation but the sites they have open are unlevel and very very close together. For a overnight $52.00 was very high for what you get. Maybe when renovation is finished things will be different.
Dec 24, 2019
The staff are great. Very helpful. We only stayed 1 night on our way to Mesa Az. RV site was NOT handicap friendly. Trying to get my wifes wheelchair through loose gravel was no fun. The dirt road going to the rv park from the main road would be impassable if was to rain. Not to sure if there was gavel mixed in the dirt, I didnt see any.
Dec 23, 2019
Arrived late in the evening, no reservation but was looking over the map and was meet by Donna who helped me and got me setup in an RV site. Thank you and Merry Christmas. Can always depend on A KOA for a place to stay the night when traveling in American and Canada too.
Dec 21, 2019
Park is being updated. It was very quiet there. Staff was very friendly.
Dec 16, 2019
The stay was fine - obviously as the website stated A LOT of work is being done. The staff was great!
Dec 16, 2019
Great campground, quiet and very accessible to Benson.this was at least 4 stays in my past travel history from Vermont. Always friendly. Also good WiFi.
Dec 15, 2019
We have stayed at Benson KOA many times and will stay there again. The staff/owners were friendly and helpful. They are upgrading the power and cable to the main campground which leaves them with just a few sites in the back. These sites are smaller and more difficult for big rigs to maneuver. We would have preferred to have been told of the upgrades so we could have make other arrangements.
Dec 14, 2019
Laundry and shower are very nice. Wifi did not work.
Dec 13, 2019
Nice stay... thanks a lot.
Dec 13, 2019
It was very relaxing and the managers are very friendly.
Dec 13, 2019
Very quiet. Nice spot. But only 5 cable channels.
Dec 09, 2019
Lots of improvements are in process and we are excited to see the campground when it's done. We enjoyed talking to Katy in the office - she was friendly and helpful.
Dec 05, 2019
they provided propane even tho the sign said closed. Thanks, we were low and it did get cold. Staff is great, level site. I can see the improvements being made which will enhance this koa. Worth the dirt road to get there.
Dec 04, 2019
Charged way to much for run down park. Yes, they are making improvements, but lower the price while doing so. $50..+ with KOA discount is just wr6.
Dec 03, 2019
First the great, very friendly staff warm inviting. Location is awesome. Bad the road in, dated older koa needs work but still normal koa nightly charges. 1 small bathroom and showers again needs work and also IF full no way it would accommodate the entire campground.
Dec 03, 2019
Great site. Owners are upgrading. Should be really nice when all the electrical is finished.
Dec 02, 2019
Easy reservations. After hours check in was flawless. Everything was in place and instructions were clear. The Kamp Kitchen was utilized and appreciated (our fire starting was a fiop due to rain) The cabin was clean and well furnished. We liked having a fridge and space heater. We kniwhere was an upgrade going on; negative was that we could see all the scraps from Our site. Will stat again!!!
Nov 24, 2019
It appeared that they were upgrading utilities in most of the campground during our stay so there were very few sites available. There had been 3 days if rain and the road to the campground was very muddy. I came close to getting stuck when leaving the campground.
Nov 24, 2019
It looks like this will be a lovely KOA when they are done with upgrades. For now it's comfortable and very friendly.
Nov 21, 2019
Currently updating resort! It will be great when this is completed.
Nov 16, 2019
The kampground is under repair so it's not at its best right now. Overnight stay was quiet and noise-free.
Nov 13, 2019
It was fine. I only stayed one night. I got laundry done. The RV next to me rolled in at 2AM and set up. Noise and flashlights definitely kept me awake. I guess I think the campground is overpriced. It is so worn down and dilapidated. I truly hope the new construction helps change that, but the dust and noise from the construction does not add anything positive to the camping experience.
Nov 13, 2019
We rented a class C from Cruise America to travel central Arizona. We went as far south as Tombstone and as far north as the southern rim of the Grand Canyon. We stayed at 3 different KOA's and EVERY TIME was FABULOUS!!
Nov 12, 2019
We enjoyed our stay. Everyone was very helpful, friendly and accommodating.
Nov 11, 2019
everything in the front was being worked on. Only the sites in the back were open. Restrooms clean but old. Sheds with lots of materials lying around. Internet did not work.
Nov 10, 2019
Needs some updating which is being worked on.
Nov 10, 2019
Wifi was non existent and we rely on that when travelling.
Nov 09, 2019
Great campground.Amazing staff wonderful Facility.
Nov 07, 2019
Too much dust. dirty laundry room
Nov 05, 2019
Benson KOA is currently undergoing construction to improve the facilities. Their current facilities however are very nice! It's a very quiet location with nice big campsites. They have a brand new dog run area and there are plenty of shade trees throughout. The staff is very nice and I look forward to seeing the completion of their renovations!
Oct 31, 2019
This KOA is bad ,not accommodating for 40 ft rv , we pull in and did not stay ,We left and went to a other campground, Katie gave us our full refund
Oct 30, 2019
Nice sites, black hose heated pool and spa: good surrounding areas for dog walks, good birding, helpful staff. Our second out of many visits.
Oct 30, 2019
This KOA is changing. You could not have a better owner and staff. They are working hard to make this a premier KOA I look forward to retuning in a couple of years and enjoying all the improvements. Loved my stay.
Oct 30, 2019
Accommodating, wonderful staff,clean and safe.
Oct 29, 2019
Always a nice place to stay.
Jul 05, 2020
Awesome! Even though the pool was closed there was still a golf course.
- Kevin G on Google
Jul 03, 2020
Good place to fill your propane .
- julia winker on Google
Apr 16, 2020
Katie and her staff were very professional and helpful. This KOA is currently under renovations, and they are doing a great job! The addition of a Kamp K-9 was much appreciated by my Golden Retrievers! We could tell that they are working on several other improvements as well. The Kampground is conveniently located just off of I-10, but far enough away to feel secluded and quiet. We thoroughly enjoyed our stay, and we will be back!
- Jennifer Campbell on Google

Benson KOA
Open All Year
180 West Four Feathers Lane
Benson, AZ 85602-7952
Check-In/Check-Out Times
All Sites
Check-in: 3:00 pm, Check-out: 11:00 am
Operating Hours
Sunday: Open 9:00 AM to 5:00 PM
Monday: Open 9:00 AM to 5:00 PM
Tuesday: Open 9:00 AM to 5:00 PM
Wednesday: Open 9:00 AM to 5:00 PM
Thursday: Open 9:00 AM to 5:00 PM
Friday: Open 8:30 AM to 5:00 PM
Saturday: Open 9:00 AM to 5:00 PM
Get Google Directions

© 2020 Kampgrounds of America, Inc.