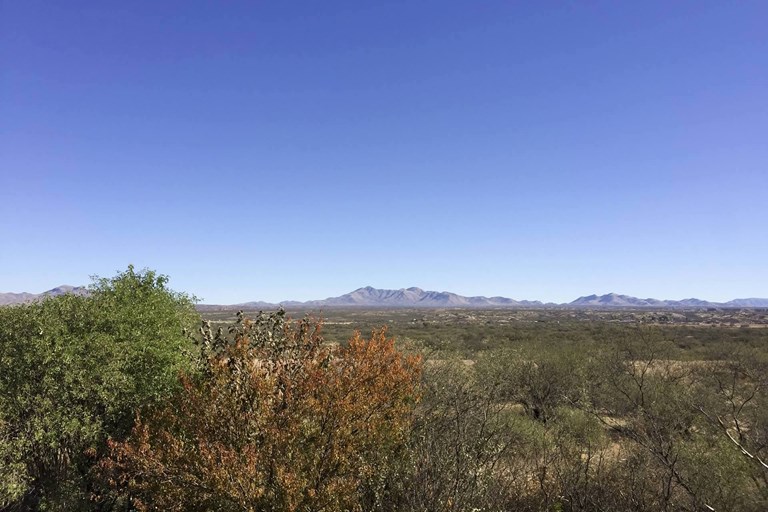 Benson KOA Reviews
Directions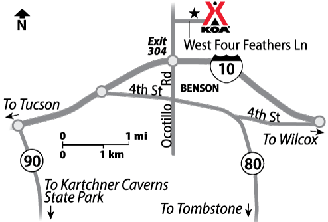 Exit 304 off I-10: go north 1/2 mile and follow the signs.   A-Frame lights can be seen from I-10 : East Bound Interstate signs are here!!!!
Get Google Directions
Jul 06, 2020
Great staff friendly and helpful.
Jul 02, 2020
The tent site we had was so nice. It had both morning and afternoon shade.
Jun 28, 2020
We did a staycation and decided to try Benson KOA. Very quiet place and clean facility
Jun 28, 2020
A beautiful campsite with a very nice host. We had been camping for two weeks by the time we got here and we're great full to have access to a real kitchen!
Jun 23, 2020
Very friendly folks..can tell the improvements need to be done, but I will definitely go back..very peaceful location
Jun 22, 2020
100 degree weather, pool not open, no shade, even the cable tv was of extremely poor quality. Not the experience we have enjoyed at other facilities, but 30% higher on cost
Jun 20, 2020
Great stay regardless of ongoing construction
Jun 19, 2020
We understand they were in the process of renovating but the only sign of it was the light poles were in the process of being installed in the meantime they had shut down the store, closed the pool. The dog area was mostly dirt with some dead grass, a dead tree, no shade. There was dirt and dead grass through out the entire property and yet they charged us full price $ 50.00 plus taxes per nite
Jun 19, 2020
Nothing was open for our family to enjoy
Jun 19, 2020
The cabin was comfortable and kozy!! The company was great and the employees very kind...
Jun 17, 2020
Great place. New owners are pulling out all stops in upgrading and refursbishing. Have stayed there many times. Will stay there any time traveling through area.
Jun 13, 2020
We enjoyed the middle of the desert. I know our friends would be bored to death.
Jun 06, 2020
Nice campground; they are working hard to make upgrades and improvements. The office staff are amazing!
Jun 06, 2020
Hope Katie gets better... I understood campgrounds under renovation but saw none while we were there. Arrived Monday pm and office closed Tues and Wed. Swimming pool non functioning, saw no repairs being made to anything. Mens bathroom nasty- urinal filthy, never saw a empty trash can. Cabin was as expected and when we saw someone that worked there, they were friendly. Old picnic table. Could be n
Jun 06, 2020
Cable did not work Store was closed several days even for posted open hours Pool was closed for construction
May 28, 2020
Stayed at the Benson KOA at the end of February, 2020. The campground is close and easy to get to from the Interstate, clean and nicely maintained. We will stay here again!
May 27, 2020
The pull through sites at the front of the campground were much narrower than we expected. Fine for an overnight stay close to the highway, but disappointing for a long weekend getaway where we wanted to put out awnings and have a campfire. Katie and Larry are making great progress on the campground upgrades. We played putt putt golf while we were there, but the pool is still being rebuilt.
May 27, 2020
Pool was out of service and this was one of the big reasons we chose this campground. Was very clean and staff was working hard to really make improvements! Their hard work was showing through on the new projects they were working on. You can really see the ownership in the management team. They are great people.
May 26, 2020
THE AREA WAS CLEAN AND THE UPGRADES WITH CABLE AND WIFY WAS GREAT. ONLY CONCERN IS WHY THEY HAD USE PARKED IN THE AREA WITH NO SHADE WHEN THERE WAS AN EMPTY AREA WITH SHADE TREES AND NO ONE WAS CAMPED THERE.
May 24, 2020
Clean and quiet. Thank you for preparing our cabin. Beautiful spring birds in the area too.
May 22, 2020
this was our first camping experience... and they made it easy.... helped with and showed us how to hook up...and said if you have any questions or need anything.... just to let them know. it was great!
May 20, 2020
Perfect. Thank you!
May 15, 2020
Very friendly and clean
May 15, 2020
Very nice place and very quite!
May 03, 2020
Nice quiet getaway. People were very friendly, always there to help.
May 02, 2020
Wonderful people who really care about their campsites.
Apr 26, 2020
New hook ups for full service was great. Were open for us during Covid-19 quarantine, and we appreciated that!
Apr 23, 2020
Very pleasant. Spaces were being upgraded to make it better.
Apr 22, 2020
This KOA was a PLEASURE to stay at. The staff are the KINDEST people and the sites were clean. We will DEFINITELY be going back soon.
Apr 21, 2020
Clean and quiet. Nice greeting on arrival.
Apr 17, 2020
Cabin was amazing. It was clean and comfortable. It was nice having a grill and fire pit at the site. Firewood was available which was a plus. My kids loved playing putt putt. The management was exceptionally helpful and kind. We will definitely be coming back again soon.
Apr 16, 2020
Katie and her staff were very professional and helpful. They volunteered special accomodations for us, and our stay couldn't have been nicer. The upgrades to the property are coming along nicely. My dogs enjoyed the new Kamp K-9. During rattlesnake season, I feel more comfortable taking them to the enclosed yard than I do walking in the desert. We will be back!
Apr 14, 2020
Katie was very friendly and nice to talk to. I love the new electrical hookups.
Apr 13, 2020
Very friendly people, looking forward to visiting again.
Apr 12, 2020
Katie was incredibly helpful and attentive, made my stay a pleasure and a breeze, thanks!! ��
Apr 10, 2020
Quiet location away from the freeway. Loved hearing the coyotes yipping at each other.
Apr 08, 2020
People every friendly. Person at the check in did not have a lot of knowledge about lengths of units compared to length of the spots in the park. Front portion of the park looked good but no long spot. Only two long spots in the rear portion of the park. This portion of the park needs major work.
Apr 02, 2020
Campground was clean as were the bathroom facilities.
Apr 02, 2020
Some new construction going on . Staff very friendly and showed us to our site. Staff accommodated us by letting us park our U-Haul & trailer in the site next to our camper without charging us extra. Greatly appreciate that so we could keep an eye on everything even though we felt completely safe there. Staff also put us close to the dog walk area since we had a dog. Thank you!
Apr 01, 2020
Stayed here twice. We plan on coming back.
Jul 05, 2020
Awesome! Even though the pool was closed there was still a golf course.
- Kevin G on Google
Jul 03, 2020
Good place to fill your propane .
- julia winker on Google
Apr 16, 2020
Katie and her staff were very professional and helpful. This KOA is currently under renovations, and they are doing a great job! The addition of a Kamp K-9 was much appreciated by my Golden Retrievers! We could tell that they are working on several other improvements as well. The Kampground is conveniently located just off of I-10, but far enough away to feel secluded and quiet. We thoroughly enjoyed our stay, and we will be back!
- Jennifer Campbell on Google

Benson KOA
Open All Year
180 West Four Feathers Lane
Benson, AZ 85602-7952
Check-In/Check-Out Times
All Sites
Check-in: 3:00 pm, Check-out: 11:00 am
Get Google Directions

© 2020 Kampgrounds of America, Inc.