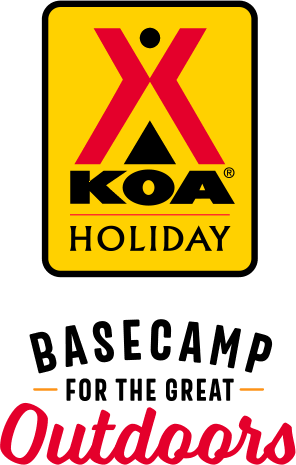 KOA Holiday Campgrounds
Whether you're exploring the local area or hanging out at the campground, KOA Holidays are an ideal place to relax and play. There's plenty to do, with amenities and services to make your stay memorable. Plus, you'll enjoy the outdoor experience with upgraded RV Sites with KOA Patio® and Deluxe Cabins with full baths for camping in comfort. Bring your family, bring your friends, or bring the whole group – there's plenty of ways to stay and explore.
KOA Holidays Feature:
RV Sites with a KOA Patio®
Deluxe Cabins with full baths
Premium Tent Sites
Group meeting facilities
Directions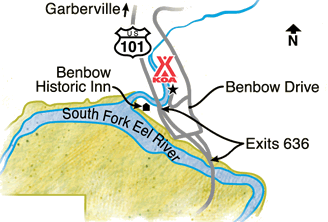 Benbow KOA is located in Garberville, California: 200 miles north of San Francisco; 70 miles south of Eureka. Take Exit #636 from Scenic HWY 101 Benbow Exit.
Traveling South: turn left onto Benbow Drive Exit 636 and follow the signs to RV Park and Golf Course.
Traveling North: turn right onto Benbow Drive Exit 636 and follow the sign to RV Park and Golf Course.
Get Google Directions
Aug 28, 2020
It was great. Cool and guiet
Aug 28, 2020
VERY NICE AND CLEAN! THE PERSONS IN THE OFFICE WERE VERY NICE. WE WILL BE BACK FOR SURE.
Aug 27, 2020
Pleasant, clean, lovely pool, comfy lounge, reasonable price, pleasant office staff! Will definitely return.
Aug 26, 2020
Very nice and clean RV park. Golfing not so good. We will definitely be going back to there.
Aug 26, 2020
Had a site mix-up on arrival, but staff handled it well. Very happy with the site & Staff.
Aug 25, 2020
Didn't sleep well with neighbors music after midnight both nights. At other KOA'S the host would drive around to let campers know to turn off music. Went to watch movie and people were smoking there. Not happy about that either. Cigarette butts and dog poop in campsite when we arrived.
Aug 25, 2020
Pretty good campground, we didn't use any of the facilities but we walked to the river (under the freeway). Reasonably quiet, plenty of stars visible when we arrived at 10pm! Easy check-in process. A bit pricey, but we would stay here again.
Aug 24, 2020
Freeway was noisy
Aug 24, 2020
It looks like a lot of the cabins were permanent residents with lots of junk. Grass was all dead at the sites. Narrow roads make it difficult to get in and out of your site.
Aug 24, 2020
Stayed for a 3 day weekend to explore the Avenue of the Giants and Redwoods National Park. Benbow KOA had a nice layout with larger rigs near the front entrance and smaller lots towards the back of the lot. There is bathrooms and showers right in the middle and at the front desk area. We did not get to enjoy the premises during the day but it is lively at night during the summer time.
CAMPGROUND RESPONSE / COMMENTS:
Thank you for staying with us while exploring the area. There is so much natural beauty to explore here.
Aug 24, 2020
Last minute call for an overnight stay turned into a 3 night stay. Lots of places to go see from there! Easy to get in and out with a 40ft rig. We will come back, if we travel in this area again.
CAMPGROUND RESPONSE / COMMENTS:
So glad you enjoyed this beautiful area. Hope to see you again. Safe travels!
Aug 24, 2020
We were very happy to get a site for two nights at the last minute. Our "interest" was to see the redwoods and walk the trails both days. It was great. The first night the "party people" near us quieted down right at 10:00. Hooray! But the second night the same groups were noisy well beyond that time. I guess some come to party and some for other reasons. Either way, we'd likely stay aga
CAMPGROUND RESPONSE / COMMENTS:
Please do come see us again. On your map there is a night manager number, please use it. We will send someone to respond to issues at night so all campers are able to enjoy their experience.
Aug 22, 2020
The Inn and grounds around it are great. Not so much the RV Park. Grass was dead on sites, lots of dust. The guess staying didn't care about social distancing and gathering in big groups, neighbor came in at 8pm and set up camp till 1:30 am. I came to get away from it all and had a neighbor spouting off his political views to all his neighbors. The area beautiful KOA needs work ran down.
CAMPGROUND RESPONSE / COMMENTS:
Sorry you were disappointed. There is a night manager phone number you can call and we will respond. Please be sure to let us know while you are here so we can help make it better.
Aug 22, 2020
Facilities were satisfactory and the staff very friendly and helpful. Unfortunately the premium spaces as well as most standard spaces were all dead lawns, sticker weeds and dirt. Don't even think about golfing. The course is a dead weed patch. Yep even the Ts, fare ways, and greens. Sorry to see such decline to the park and course. I hope the owners will invest in saving these beautiful grounds
CAMPGROUND RESPONSE / COMMENTS:
Unfortunately, we have been hit with irrigation problems 2 years in a row. Last year we lost the well and this year the new watering system was under too much pressure and blew out the irrigation underground. We have been and will continue to work on it to make it better for our guests.
Aug 21, 2020
Staff very friendly and there to help with any of your needs.
Aug 21, 2020
We love Benbow KOA. Neil and his staff are amazing and that's why we keep coming back. You always see the staff working so hard and they are so polite to all the guests. Krissy, Dean, Winston, Roberto and Icsley are unbelievable! Neil is doing a wonderful job with his staff and getting the golf course back to the way it was several years ago. Thanks for the awesome work Benbow KOA!
CAMPGROUND RESPONSE / COMMENTS:
Thank you for your kind words and support!
Aug 21, 2020
This was our first KOA stop on our RV adventure and we loved the campground! Our site was really nice, we appreciated the table, chairs and lawn to hangout on. Definitely recommend reserving a Premium site. Huge shoutout to the staff here, they were beyond helpful and really friendly. Thanks again!
CAMPGROUND RESPONSE / COMMENTS:
We are thrilled to be a part of your RV adventure and we hope the rest of the trip goes just as well.
Aug 20, 2020
We appreciate the safety precautions put in place at this time especially for the pool area. There was a lot of room to social distance from other campers which we appreciated. The garbage was overflowing so that could have been improved.
Aug 18, 2020
Our stay was great we used it as home base to see redwoods and drive out to Shelter cove and lost coast beaches.
Aug 18, 2020
Friendly staff and clean campsites.
Aug 17, 2020
Nice KOA even with the Covid-19 limitations. Who new that we would book our weekend during a state wide heat wave. It was disappointing that the grass was dead on the premium site I booked and paid a premium price for specifically for a green grass area.
Aug 17, 2020
It was very nice.
Aug 17, 2020
Organizing a weekend outing for a group of 100 is no easy task. The Benbow KOA and the staff made me look like a hero. Thank you
CAMPGROUND RESPONSE / COMMENTS:
Our pleasure! Hope to see you all again.
Aug 17, 2020
Didn't feel that the measures for the COVID were being taken very seriously. Several times I walked into the office and employees had their masks off. Also campers were coming into the office without masks and employees said nothing. The pool seemed kind of crowded as well.
CAMPGROUND RESPONSE / COMMENTS:
We will review the mask procedures with our staff. It is a risk for all to be out and about with COVID but we are disinfecting regularly and keeping up with our county's health recommendations. Thank you for staying with us.
Aug 16, 2020
Great visit with family!
Aug 16, 2020
I traveled with my four dogs. I loved the set up with the large lawn at the perimeter of the RV sites. Other than the extremely hot weather which I did not anticipate this weekend ( a heatwave ), I would have arrived earlier . My dogs were uncomfortable on the trip up to Benbow from the Bayarea, and climbing temperatures sent us back home early. Oh well, next time...
CAMPGROUND RESPONSE / COMMENTS:
Please do come again. We would love to have you and your dogs in some milder weather.
Aug 15, 2020
Very nice, enjoyed the pool.
CAMPGROUND RESPONSE / COMMENTS:
Thank you for staying with us!
Aug 14, 2020
The staff was freiendly and very competent. The KOA was well run and clean
Aug 13, 2020
The employees that work at the Benbow KOA are fantastic. They work extra hard to provide a great experience for everyone. Note: Robert is wonderful!
Aug 13, 2020
Wish they would have separated us more. it was a nice, clean park with nice staff but they stacked us side by side. I would return it was nice.
Aug 11, 2020
Very busy and still very helpful staff.
Aug 11, 2020
Excellent staff. Very friendly and attentive. Premises were well maintained and kept clean. Golf course is in rough shape, so if that's the reason you are coming here, bear that in mind. We brought our clubs but decided to pass. All in all, I rate this place highly due to the staff and the premises in general. We enjoyed our stay and will return.
CAMPGROUND RESPONSE / COMMENTS:
Thank you!
Aug 10, 2020
An overnight stay, very pleasant KOA, lots to do if you are interested, and many places to walk to with your dog, Staff is always great!
Aug 10, 2020
Very nice camp ground. We stayed in space 79 and unfortunately the highway noise was pretty loud so if we stay again i would want to be further away from the Hwy 101.
Aug 10, 2020
fine site / well maintained / close to the river / but road noise was a bit of an issue
Aug 10, 2020
A great stay. I would stay again for sure. The 2 cons were that the WiFi didn't work well & the bathrooms are dated. That makes the bathrooms feel like they were not clean.
CAMPGROUND RESPONSE / COMMENTS:
Thank you for staying with us! The back bathrooms have been remodeled but not the front ones yet. Next time, ask for a site closer to the back bathrooms.
Aug 09, 2020
We planned to golf but choose not to. Apparently they have gone without irrigation for over 2 months. The coarse looked terrible. Sites were also very dry with brown grass. Office staff was excellent! We didn't reserve a premium site but I would recommend paying the extra cost and getting one. Good KOA for staying while traveling just off Hwy 101. As a destination not much for seniors to enjo
Aug 09, 2020
The first time we stayed @ Benbow was 8 yrs ago prior to KOA. We returned in Aug. 2020 & was surprised the ground up keep needed some attention as well as bathroom/shower (front facility). Because our travel trailer doesn't have a bathroom, we used KOA bathroom/shower daily. I can say the cleaning needs improvement. Great memory on our 1st visit.This time around it didn't feel the same. It was ok.
Jan 22, 2021
Dogs loved it, we loved it . Great place ! ☺️
- Robert Bowers on Google
Jan 14, 2021
Nice cabins! Great customer service! People in the office are really nice!!
- Linda Browning on Google
Dec 31, 2016
Great place great staff what more can you ask for nice the river has water in it
- Jay Weltzheimer on Google