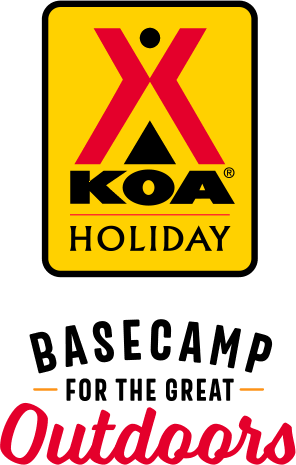 KOA Holiday Campgrounds
Whether you're exploring the local area or hanging out at the campground, KOA Holidays are an ideal place to relax and play. There's plenty to do, with amenities and services to make your stay memorable. Plus, you'll enjoy the outdoor experience with upgraded RV Sites with KOA Patio® and Deluxe Cabins with full baths for camping in comfort. Bring your family, bring your friends, or bring the whole group – there's plenty of ways to stay and explore.
KOA Holidays Feature:
RV Sites with a KOA Patio®
Deluxe Cabins with full baths
Premium Tent Sites
Group meeting facilities
Directions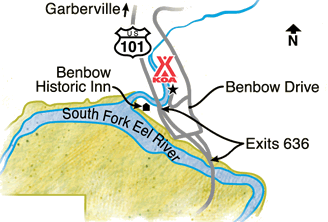 Benbow KOA is located in Garberville, California: 200 miles north of San Francisco; 70 miles south of Eureka. Take Exit #636 from Scenic HWY 101 Benbow Exit.
Traveling South: turn left onto Benbow Drive Exit 636 and follow the signs to RV Park and Golf Course.
Traveling North: turn right onto Benbow Drive Exit 636 and follow the sign to RV Park and Golf Course.
Get Google Directions
Aug 10, 2020
Love this KOA, the people are so friendly and accommodating. The manager Neil is awesome. He makes sure everyone is having a good time and any problems he makes sure they are resolved. We have taken advantage of all this KOA has to offer. The golf course is ruff due to lack of water but we still enjoy playing we are not serious we just like to have fun. They take the covid-19 precautions serious.
CAMPGROUND RESPONSE / COMMENTS:
Thank you for staying with us! We are glad you enjoyed your time here.
Aug 09, 2020
Love Benbow KOA! Had a great time! Everyone very nice and other campers considerate. Many kids were wearing masks for COVID precautions which was great! Very relaxing for my family.
Aug 04, 2020
It was a comfortable & wonderful stay.
Aug 04, 2020
Dried up grass with stickers so if you had dogs or small kids, and aesthetically it looked awful, dried dead flowers everywhere you look. And the golf course I wouldn't set my foot on, disgusting. Parties till all hours of the night with no quiet time being in forced, somethings should be done here, Either the money is not being put back into the place, or poor management.
CAMPGROUND RESPONSE / COMMENTS:
This year has been a unique one with its own unique challenges. We are working on irrigation issues. Please be sure to call the night manager number if there are issues so we can send someone to address issues.
Jul 29, 2020
We really enjoyed our stay. The little cabin was perfect. Very clean. The people were awesome. Very respectful of the new precautions which we really appreciated.
CAMPGROUND RESPONSE / COMMENTS:
Thank you for recognizing our efforts. Please come stay again.
Jul 27, 2020
The cabin was clean and more than we expected! Friendly staff. The only hiccup was that the blinds closest to the bed were broken. When we tried to lower them on arrival 1st day, it fell apart and it looks like a dog had chewed on them. We rigged them as best we could for our privacy. We alerted a maintenance worker the moment it happened on our first day but no one ever came back to look or fix.
CAMPGROUND RESPONSE / COMMENTS:
Sorry we didn't touch base with you about the blinds. They have been ordered as we didn't have that size on-site but we certainly should have gotten back to you. See you again!
Jul 27, 2020
We were thrilled to find a room to stay in at the last minute. However, as we were walking through the campground we noticed many of the cabins were unoccupied, but the only option given to us was an very small "room." We were also not told that we would be sharing a third of a double wide trailer so we had neighbors on either side of us and a shared picnic table and BBQ.
CAMPGROUND RESPONSE / COMMENTS:
They certainly should have explained all about the cabin when you checked in. Guests can arrive any time after 4pm to check into a cabin, some even come very late so sometimes what looks empty can be booked.
Jul 23, 2020
One of the best KOA so far that we have stayed in. Cabins are nice and clean with complete linens and the pool was open! River front was really nice too! We just hope free wifi was available at our cabin.
CAMPGROUND RESPONSE / COMMENTS:
Thank you! We hope you come back and stay again. Free WiFi in the summer is always challenging with so many devices connected but there is a reasonably priced paid option we can tell you how to access next time.
Jul 22, 2020
Loved it. Great location and very relaxing.
Jul 16, 2020
This review has been removed by KOA due to profanity.
Jul 16, 2020
Horrible stay, if possible I would like a refund. The cabin had ants, including on the bedding, sheets, towels, kitchen, etc. Also, the cabin was not cleaned prior to arrival, the floor was filthy etc.
CAMPGROUND RESPONSE / COMMENTS:
I'm sorry you were disappointed. The cabin was cleaned but we will pay closer attention to the floor. We sprayed the ants and did give you a full refund.
Jul 13, 2020
I am concerned about the way management is handling the Covid cleaning process. Cabin 44 was filthy. There was about 2 inches of dust and dirt along with a food wrapper under the bed. Our feet were black from the floor. We spilled water and cleaned it up and the towel turned black from the filth that was caked on. Our clean towels were on top of a filthy dusty cabinet with someone's tank top.
Jul 13, 2020
we always love our time at the Benbow KOA!
Jul 12, 2020
Our cabin was very run down, trim falling off, beds very hard and uncomfortable and not clean. Lots of bugs, probably due to gap in door. The you g staff at office were very nice though.
CAMPGROUND RESPONSE / COMMENTS:
Thank you for mentioning these issues. We will check the cabin to be sure it is up to standard. While it is our most basic cabin, sounds like it can use some attention.
Jul 08, 2020
Had a great time! Enjoyed the bike parade on the 4th! My grandaughter really enjoyed herself!
Jul 08, 2020
Ahora es uno de nuestros lugares favoritos!! El personal es muy amable. Nos encantó la limpieza en la cabaña. Muchas gracias por hacer de nuestras pequeñas vacaciones inolvidables
Jul 03, 2020
It's a very beautiful place to stay even though this time there's not much activity because of the covid 19 we still enjoy our stay, we play golf and went to the river.
Jul 01, 2020
First stay, will be back!....fantastic place for kids! Safe and clean. Some of best customer service I've experienced at a campground. The river flow and access to was perfect for kids.
Jun 30, 2020
Nice accommodations, great location, and very pleasant staff. Wonderful weekend.
Jun 29, 2020
This site is very motorcycle friendly
Jun 28, 2020
Nice quiet RV park with cabins and tent camping. Stayed in a riverfront cabin for five nights as base for visiting family in the area. Cabin was clean and had everything we needed. Great place to relax as long as you don't mind hearing the traffic on Hwy 101. Golf course in dire need of water, mowing, and TLC. Golf fee $51 too high for a 9-hole course in such shape.
Jun 27, 2020
Wasn't impressed with this KOA as with others in N Cal. Doesn't have a good vibe. Our cabin, 44, had a nice layout and location on creek. But a trail to creek was in middle of our campsite and people cut through all day. No special cleaning inside for Covid. Stairs and deck not swept. Picnic tables filthy and debris left all over ground from prior guests. Public bathroom dirty. Crowded p
Jun 24, 2020
We rented a lovely cabin just steps away from the creek! It was gorgeous and so much fun! The KOA is laid out perfectly so that we were close to all our friends. 10/10 would stay again!
Jun 22, 2020
Great cabin and location
Jun 20, 2020
Campground is very clean, the showers have locking doors, and were spotless. We stayed in a cabin near the playground so the children were nearby. There is a big bonfire for the s'mores makers each night. The Eel River is nearby, the swimming pool super clean as was the splash park. The Avenue of the Giants easy and beautiful drive.
Jun 15, 2020
We rented Cabin 401 for $221 per night. Our cabin was dirty and dusty when we checked in. The light in the bathroom wouldn't stay on unless you held it down. Dust and dead bugs on the window sills. broken blinds on the windows. Only 3 chair at the table. Dirty inside cabinet and drawers. Dirty utensils in drawers. Not enough dishes for everyone. We were really disappointed in the cabin.
Jun 15, 2020
The campground nice and typically we have our trailer but on this stay we did not. We rented a Deluxe Cabin and I will never do that again. Not only did we not have a patio like the details said the cabin was filthy. I don't think they cleaned them at all. Considering covid right now I was extremely upset that they did not Clean this to the standards and guidelines. Mattresses were terrible too.
Jun 15, 2020
Very nice stay. Enjoyed taking the dogs down to the River and dog park. Melissa was very professional and took care of our needs
Jun 14, 2020
we had a very nice stay
Sep 13, 2021
The staff was really helpful and the place was very clean and easy to get around. The pool and laundry facilities were really nice and together so we could hang out at the pool while doing laundry. Also awesome that everyone was masked very friendly.
- Tawnya Crowe on Google
Aug 31, 2021
Absolutely Beautiful!!! Also, my new home 💚🏡
- Dawn Derner on Google
Aug 30, 2021
We truly enjoyed our stay here...the campground was full, but the people in the campground were respectful and it felt a family get together! The staff worked hard to accommodate our changing schedule to get us on our way...hey, golf, camping and fun...what more can you ask for?
- Scott Joss on Google