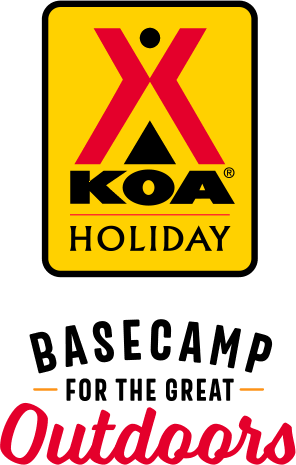 KOA Holiday Campgrounds
Whether you're exploring the local area or hanging out at the campground, KOA Holidays are an ideal place to relax and play. There's plenty to do, with amenities and services to make your stay memorable. Plus, you'll enjoy the outdoor experience with upgraded RV Sites with KOA Patio® and Deluxe Cabins with full baths for camping in comfort. Bring your family, bring your friends, or bring the whole group – there's plenty of ways to stay and explore.
KOA Holidays Feature:
RV Sites with a KOA Patio®
Deluxe Cabins with full baths
Premium Tent Sites
Group meeting facilities
Directions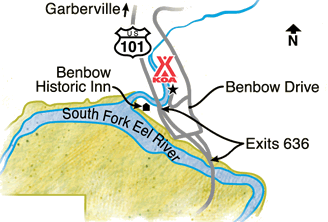 Benbow KOA is located in Garberville, California: 200 miles north of San Francisco; 70 miles south of Eureka. Take Exit #636 from Scenic HWY 101 Benbow Exit.
Traveling South: turn left onto Benbow Drive Exit 636 and follow the signs to RV Park and Golf Course.
Traveling North: turn right onto Benbow Drive Exit 636 and follow the sign to RV Park and Golf Course.
Get Google Directions
Apr 18, 2021
The door wouldn't fully close/lock but the cabin I stayed at was cute and clean. Didn't get to see Turbo the cat this time ): . It was a fun trip with my dog thank you.
Apr 14, 2021
Loved being on the River! The bed in the triplex wasn't very comfortable and the sheets seemed too small for the bed though
Apr 11, 2021
I love this KOA. I usually stay in the deluxe cabins which are much more affordable than anything else in town with that many amenities. Will keep coming back for sure.
Apr 07, 2021
Two disappointing issues: Oven in kitchen could not be used as it was very dirty with built up burnt food, it kept smoking the cabin out. Gas BBQ was also dirty and had spoiled food all over it.
Apr 05, 2021
I will be calling and writing corporate. Our stay was unacceptable.
Apr 01, 2021
Customer service was great! When we asked or needed anything it was addressed. Our cabin was clean and our needs were met. We will be coming back without a doubt!
Mar 22, 2021
Our cabins heater cover was missing and the heater was so loud we had to turn it off to sleep. It was cold and only one blanket was provided.. The front room hide a bed mattress was so worn down that all you could feel were the springs. We stay at KOAs all the time, but this was very disappointing and not what we expected for the price we paid for the night.
Mar 20, 2021
I have stayed at many KOAs on the west coast; Ca. Nev. Oregon, Wa. Thought the Benbow was over priced and the triplex cabins were terrible. We upgraded to a single cabin and were happy with that but the bed was really mushy. Need new mattresses.
Mar 19, 2021
Loved our cabin location! Staff were friendly and helpful when we had a problem with our key. So nice to be close to the redwoods!
Mar 15, 2021
Beautiful place, very nice little cabins, and everything worked well. Staff was very nice , and helpful. Would definitely stay again.
Feb 25, 2021
The cabin I had was extremely dirty. Wall not painted since long time, mold in the dishwasher, plates super dirty, some lights not working. The worst was the heat system making noise of a carpenter workshop and the door covering it missing, I slept 2h that night. Horrible!! The manager came over casually and was very kind, recognize it all and discount. But there is a serious engineering issue!
Feb 24, 2021
Was better than expected. I was hesitant reading some of the reviews, but the studio deluxe cabin that we stayed at next to the river was nice, clean and newly renovated inside. The staff was also very helpful and answered all of my questions. We will be back in the future.
Jan 25, 2021
We had previously had a horrible experience at the Cloverdale KOA, but coming to Benbow we were pleasantly surprised. The layout of this place is so cute. Even with everything closed due to Covid, we found plenty of things to do with the kids. The cabin was clean, updated, well maintained and cozy ! Staff was friendly and incredibly helpful. We can't wait to come stay again !
Jan 08, 2021
The campground is beautiful, love it. We were checking in family cabin, and unfortunately the cabin was used by someone smoking before. We came at Christmas Eve and there was no other vacant cabin that they can assign us. The manager onsite was very understanding, offered us a free night and invited us to Christmas dinner onsite next day, but we drove back the next morning. Good service!!!
Dec 27, 2020
It was horrible. Not only did they give us the wrong, smaller cabin for 3 people but there was no bedding for the sofa bed. I called to speak to a manager went back into the office, and all I was offered was a half price triplex room, similar to a jail cell. On top of that, the manager never called me back. Upon arrival, late at night, the cabin was 48 degrees and not warm til 1am. Don't stay he
Dec 22, 2020
Krissy was an absolute sweetheart! She check us in quickly and was very helpful of information around the area for our next day outing. Thank you Krissy for everything! She made out stay there special.
Dec 01, 2020
Everything was easy and friendly about check in and we had a great time over all. We have two small girls and they loved being right next to the river and the playground. The cabin was smaller than expected but for our family it was fine. Some improvements needed: 1) the floor of the cabin was extremely filthy - our bare feet were black with dirt! 2) the bathroom light/heat lamp was too loud!
Nov 29, 2020
Loved it. The kabins are great. The area is beautiful. My family really enjoyed our stay.
Nov 29, 2020
The thing I would improve....the cabin could have been cleaner. I did feel all the bedding looked clean and inviting. Thank you for supplying the towels they were soft and absorbing.
Nov 26, 2020
Cute cabin, lots of things to do where it not a pandemic. Helpful staff.
Nov 19, 2020
It's hard to rate this place it's a beautiful place, the people are nice but our room marijuana so bad that I was vomiting most the night with a headache and also when I mentioned it to the front desk the person smiled at me and said it's Humboldt very unprofessional a lot of us don't smoke marijuana and it makes us sick so I would not recommend it to families or friends that have asthma.
Nov 05, 2020
Staff were very friendly, campgrounds clean, and we really liked the two bedroom cabin and all the kitchen amenities. The power went out on one side of the cabin just before we went to bed and the heater didn't work at all in the cabin.
Oct 26, 2020
Relaxing stay and staff was friendly. The cabins were a bit run down for the price.
Oct 17, 2020
Everything was excellent.
Oct 11, 2020
Very nice place.
Oct 07, 2020
Cabin was clean and AC was working great, basketball courts were nice, and grounds seemed well maintained. Unfortunately the pool was freezing even though it was 95 degrees that day, the hottub wasn't working, and they ran out of water for the little kids water park...
Oct 06, 2020
Very nice and quit. Will come back again and tell my friends
Oct 05, 2020
We had a great time and made so many memories thank you so much!
Oct 05, 2020
We came here for my 2 year old sons birthday and we had one of the best weekends. The park was so clean and nice. My son loved the pool and the splash pad. There is something to do for all ages here! Everyone was so kind that worked there and very accommodating to our needs. We can't thank you All enough for such a great weekend. We will be coming here every year now.
CAMPGROUND RESPONSE / COMMENTS:
So glad you enjoyed your stay and we are excited to add you to the list of returning guests. See you again.
Oct 05, 2020
Couch smelled and had stains..for 230 a night i wasnt impressed. Cabins need updating...golf course was a complete joke. Not mowed. Or maintained. I recommend going straight to willits koa.bypass this failure.
CAMPGROUND RESPONSE / COMMENTS:
Sorry you were disappointed. We are checking on the cabin and will address issues. It is our goal for our guests to be happy every stay.
Sep 28, 2020
It was good but the facilities could certainly be improved. Some suggestions: - Better wifi - Better cleaning of homes. Lot of dead insects - Liquid bottle soap instead of bar soap. Will lead to cleaner to keep bathrooms - A few utensils in the kitchen. - USB chargers next to the beds
Sep 28, 2020
This was a perfect Covid vacation for me. I felt very safe and happy in the cabin with the big back deck overlooking the river. I did wonder why there were not any cooking utensils. This is cabin number 46 and the bed is turned around so the part where the headboard goes is sticking out and I hurt my ankle on that.
Sep 28, 2020
I really like this KOA, even though it seems to always be full this year it is kept clean and the staff is great. Very good with the social distancing. My family feels safe using all the amenities. The golf course is in need of the TLC but I understand they will be redoing the course next to month. I look forward to our next stay at this this KOA.
Sep 26, 2020
The room is a trailer divided into 3 rooms. Way too tiny. A branch overhung and was in the way of the entry stairs. Campers are packed in like sardines. No place to park.
Sep 24, 2020
Mostly great. A little weird having people set up their tents just below our patio but I guess that comes with the territory of a KOA. We've stayed there multiple times and will probably continue to, although the price seems a little steep.
CAMPGROUND RESPONSE / COMMENTS:
Thank you for staying and coming back. Please be sure to let us know when you are here if there is any way we can make your stay better.
Sep 11, 2020
Well, we had planned on a 3 nights stay in a deluxe cabin but there were fires all around us. The Deluxe cabin was clean and cute but the fires were getting closer so we left the next day.The staff was very helpful and courteous but we needed to leave.A few hours later , I Believe the area was evacuated. We received our refund and hope to try this again sometime.
Sep 02, 2020
Staff were just wonderful! Friendly and helpful. Cabin was lovely and spotless. The campground was a little too crowded and noisy, but the other campers were very considerate and quiet by 10p. Super nice bathrooms, especially the showers! Our only problem was the stove didn't work and no one came to fix it even though we asked twice. But overall it was a lovely visit.
Aug 29, 2020
We loved our sweet little cabin and that we could go right down to the river from our site!
Aug 27, 2020
Our first time camping and KOA! With a special needs person, having the luxury of the cabin was perfect! we will be back! Staff was wonderful and pool was awesome. A great experience through the Covid epidemic..Thank you!
CAMPGROUND RESPONSE / COMMENTS:
So glad you enjoyed your time with us. We look forward to seeing you again!
Aug 25, 2020
Cabin in need of a lot of TLC. Broken microwave, dangerous dishwasher that was smoldering with melting plastic, and lots of ants. Suggest better maintenance and cleaning protocols. The site overall is good, but has the potential to be so much better.
Aug 22, 2020
We rented a deluxe cabin 4 nights.. 1.smoke detector chirping every night 2.ants everywhere & live inside the stove 3. dirtiness in general especially the oven 4. bathtub leaks to hallway 5.missing a cabinet drawer 6.broken blinds 7.broken lightbulb (ceiling) 8.A/C barely working at 90-100 deg week 9.our cabin is next to the playground. KOA manager allows outdoor movie playing 4 nites & till 11:45
CAMPGROUND RESPONSE / COMMENTS:
That is quite a list. We have gone through the cabin and remedied those items we found. Please next time be sure to let us know immediately so that we can make your stay better. Sorry for the disappointing stay.
Aug 17, 2020
I was with the clamper search group. We had a great time and would definitely go back.
Oct 16, 2021
Nice chill spot. Clean park and bathrooms.
- Sebastian Wszolek on Google
Oct 15, 2021
I wasn't sure what to expect in the one-bedroom full cabins by the River but found them to be extremely accommodating. There's a dishwasher, microwave, coffee maker, and toaster in addition to the fridge and oven/stove. Basic utensils, dinner ware, and pots and pans are also provided. There are two televisions with cable - one in the bedroom and one in the living room area with the sofa bed. The bathroom has towels and soap. It was clean and people were friendly. People mostly kept their dogs on leashes (as required) unless using the dog park. I saw a puma on a low tree branch one day while walking my dog near the golf course area and it immediately ran into the brush away from us. If you love your dog - keeping them on a leash protects them from deadly encounters with wild life like coyotes, bobcats, and mountain lions. Demographically, it's not a diverse area of CA. Our family pretty much brought the only diversity.
- Melissa Marini Švigelj on Google
Sep 13, 2021
The staff was really helpful and the place was very clean and easy to get around. The pool and laundry facilities were really nice and together so we could hang out at the pool while doing laundry. Also awesome that everyone was masked very friendly.
- Tawnya Crowe on Google