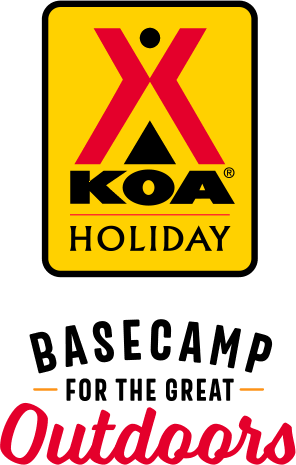 KOA Holiday Campgrounds
Whether you're exploring the local area or hanging out at the campground, KOA Holidays are an ideal place to relax and play. There's plenty to do, with amenities and services to make your stay memorable. Plus, you'll enjoy the outdoor experience with upgraded RV Sites with KOA Patio® and Deluxe Cabins with full baths for camping in comfort. Bring your family, bring your friends, or bring the whole group – there's plenty of ways to stay and explore.
KOA Holidays Feature:
RV Sites with a KOA Patio®
Deluxe Cabins with full baths
Premium Tent Sites
Group meeting facilities
Directions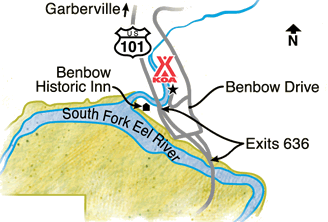 Benbow KOA is located in Garberville, California: 200 miles north of San Francisco; 70 miles south of Eureka. Take Exit #636 from Scenic HWY 101 Benbow Exit.
Traveling South: turn left onto Benbow Drive Exit 636 and follow the signs to RV Park and Golf Course.
Traveling North: turn right onto Benbow Drive Exit 636 and follow the sign to RV Park and Golf Course.
Get Google Directions
May 15, 2021
Very nice, well maintained campground. We didn't use the facilities onsite, but I would presume they were clean. Wi-fi service was very sketchy.
May 14, 2021
Quiet, disappointed that pool only open evenings
May 14, 2021
Horrible, non-existent WiFi. Absolutely impossible to plan our trip, check tour sites, conduct banking, or retrieve/respond to emails. It is shameful that "full hook-ups" means no WiFi. I will never stay there again, and will reevaluate any further use of KOA if this is the norm.
May 14, 2021
Benbow is close to a great adventure into the redwoods! The only complaint is the WiFi connection! Otherwise my rating would have been 5!!
May 13, 2021
Better then expected. Any need I had was addressed by staff.
May 11, 2021
Clean park, friendly staff
May 11, 2021
Would have been 5 but no golf
May 11, 2021
Very easy in and out! Very clean! Very friendly!
May 10, 2021
Beautiful sites with lots of trees and flowers. Friendly staff. Short walk to the historic Benbow Inn.
May 10, 2021
Very nice staff, clean facilities nice place.
May 10, 2021
My son and I enjoyed a cozy stay in cabin 44. I appreciated that there were bed linens and towels, and it was clean. One rung on the bunk bed ladder was loose, and the office was responsive when we reported it. Some RV neighbors were a bit loud, but it was quiet enough in the cabin with the windows closed to get a good night of rest. Loved the view of the river!
May 08, 2021
We have stayed here many times. The last two visits were tough for us. On one visit, at the height of the pandemic, we couldn't open our truck door. A tent was placed on the edge of the adjacent site, barring us from leaving our truck. We were then kindly offered another site, barely able to park our rig. Our site didn't have a firepit screen, this on our visit. Look, this KOA only wants money.
May 08, 2021
Check in by Christy was great. She was very friendly and helpful. Bathrooms are tired,park location is nice
May 07, 2021
We had a large group (20) stay for 4 nights. The park seemed a little unkept. We were told the golf course was opening the day before our arrival, but it remained closed throughout our stay! The majority of the members of our group are golfers. The friendship hall was ill equipped. If you're going to charge for your halls, they should have the basics: garbage cans, basic (clean) pots, pans, etc
May 07, 2021
Most of the group we had 10 couples play golf. we were anticipating playing, But the course was closed. not enough maintenance people to get it going. Have stayed here in the past and played golf. that was the only BIG downer. The sites are a little tight for the new and larger rigs whether a pull behind, 5th wheel or motor-home. regardless, had a great time with the group..
May 07, 2021
From the office girl Krissy to the other employees that we met, everyone was very nice & helpful. Enjoyed our stay & will come again!
May 06, 2021
Very friendly staff and quiet, beautiful, well-maintained campground.
May 06, 2021
At the time of booking it should be disclosed that the golf course is closed. Everyone in our group which consisted of 4 full hook up sites and 1 cabin rental, booked this campground specifically to play golf and were greatly disappointed to find out it was closed when we checked in. Had the course been open this would have been a 5 star experience.
May 05, 2021
We enjoyed our time it was quiet and peaceful! Hope they keep the golf course it is nice addition when we visit again
May 04, 2021
Very clean RV park. A little noises due to Hwy 101 but a very enjoyable stay. Great people.
May 03, 2021
Lovely to see kids and families enjoying each other and the outdoors! I would appreciate a bit more attention spent on the cleanliness of the cabins. Staff is quite responsive to any missing items that are required.
May 03, 2021
Nice Clean Park. Sites are plenty big for our 28 foot Bunkhouse Travel Trailer. Staff was nice
May 03, 2021
I was just there to sleep and leave early the next morning. The place was well kept and very nice.
May 02, 2021
Property is beautiful and everything about our stay was lovely except the bath houses. The one by the hall in the back was disgusting. Shower Floors covered in dirt/mud/goo and hair balls everywhere. Drains were stopped up and so water didn't drain. Honestly it was very unsanitary and disgusting. Everything else was wonderful! Beautiful property, great amenities, lovely staff!
May 02, 2021
This is a nice park. Right off the freeway so a bit of road noise. Was hoping to play the golf course but didn't open to May 15. This is the 2nd time we have stopped here.
Apr 30, 2021

Apr 29, 2021
Such beautiful grounds, very clean and well kept. The staff we friendly and helpful. We definitely will be going back, already booked our next stay!
Apr 29, 2021
Nice park with lots of grass for the dogs.
Apr 29, 2021
Stayed one night. Just passing through. It had everything we needed. Very nice campground.
Apr 29, 2021
Very good. Will definitely stay there again.
Apr 27, 2021
With all the rules in print, they are not enforced. Mainly the cabin dwellers/full timers/employees would speed about. Disappointed there were virtually no Redwoods in the park and the golf course was not at all what we expected nor appeared to be open. Long grass in very small dog run. The sites were very narrow. Probably designed for smaller trailers with no slides. Cabin porches littered.
Apr 27, 2021
Nice place, Thank you Rosie
Apr 27, 2021
A friendly helpful staff that is a part of making it an enjoyable time at the camp makes it a must in one's vacation plans.
Apr 27, 2021
Our site #57 was flooded due to a broken sprinkler line (which I heard has been leaking for over a year). We ended up leaving a day early because of standing water and mud.
Apr 26, 2021
We had a very nice time. Justin and Krissy are amazingly helpful. They are a credit to Benbow.
Apr 26, 2021
We've been staying at Benbow KOA WITH OUR GOOD SAM RV GROUP for a long time. We always enjoy our time there.
Apr 25, 2021
After confirming the site we'd reserved over the phone, they gave away our site and moved us to the back of the grounds. The power hook-ups didn't work in our site. The 2nd day, they'd booked a wedding in the hall, so we had people parked in and around our site, people walking and driving through our site, etc. Our family's site ended up flooding due to a sprinkler leak. We all left a day
Apr 24, 2021
We were overnighters. Cute place. Wide open. Trees in each site. Electrical boxes could use an upgrade or renovation. Could be just me, but I prefer not to see wires with electrical tape on them.
Apr 24, 2021
Arrived to our room to find it had not been cleaned from prior stay, urine on toilet seat, hair in shower. The manager promptly upgraded us to a nicer more expensive cabin which was appreciated. But even this place was not properly cleaned. The window in the shower was broken, there was a banana peel left at the picnic table, the bedside light didnt work, there was toothpaste "spray" on wood
Oct 16, 2021
Nice chill spot. Clean park and bathrooms.
- Sebastian Wszolek on Google
Oct 15, 2021
I wasn't sure what to expect in the one-bedroom full cabins by the River but found them to be extremely accommodating. There's a dishwasher, microwave, coffee maker, and toaster in addition to the fridge and oven/stove. Basic utensils, dinner ware, and pots and pans are also provided. There are two televisions with cable - one in the bedroom and one in the living room area with the sofa bed. The bathroom has towels and soap. It was clean and people were friendly. People mostly kept their dogs on leashes (as required) unless using the dog park. I saw a puma on a low tree branch one day while walking my dog near the golf course area and it immediately ran into the brush away from us. If you love your dog - keeping them on a leash protects them from deadly encounters with wild life like coyotes, bobcats, and mountain lions. Demographically, it's not a diverse area of CA. Our family pretty much brought the only diversity.
- Melissa Marini Švigelj on Google
Sep 13, 2021
The staff was really helpful and the place was very clean and easy to get around. The pool and laundry facilities were really nice and together so we could hang out at the pool while doing laundry. Also awesome that everyone was masked very friendly.
- Tawnya Crowe on Google