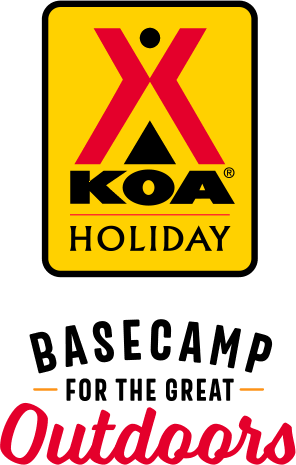 KOA Holiday Campgrounds
Whether you're exploring the local area or hanging out at the campground, KOA Holidays are an ideal place to relax and play. There's plenty to do, with amenities and services to make your stay memorable. Plus, you'll enjoy the outdoor experience with upgraded RV Sites with KOA Patio® and Deluxe Cabins with full baths for camping in comfort. Bring your family, bring your friends, or bring the whole group – there's plenty of ways to stay and explore.
KOA Holidays Feature:
RV Sites with a KOA Patio®
Deluxe Cabins with full baths
Premium Tent Sites
Group meeting facilities
Directions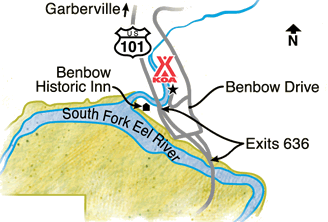 Benbow KOA is located in Garberville, California: 200 miles north of San Francisco; 70 miles south of Eureka. Take Exit #636 from Scenic HWY 101 Benbow Exit.
Traveling South: turn left onto Benbow Drive Exit 636 and follow the signs to RV Park and Golf Course.
Traveling North: turn right onto Benbow Drive Exit 636 and follow the sign to RV Park and Golf Course.
Get Google Directions
Jun 23, 2021
It was really good except for the strange guy that showed up overnight. A beautiful campsite. We will be back.
Jun 23, 2021
As usual, wonderful stay though it be short. We will be back next week for a longer stay. We really wish the internet service was better but totally understand.
Jun 23, 2021
Sites are tight. Water was being turned off to the campground which was unfortunate. Not really impressed with this KOA.
Jun 23, 2021
Great for kids clean polite and helpful staff pool and playground activities for kids was good definitely will be back
Jun 23, 2021
Tent camped. A lot of dog poop near my camp. Bathrooms could have been a lot cleaner.
Jun 22, 2021
Everything was great but we wish there was better phone service & WiFi.
Jun 22, 2021
This is our first KOA and we had a pleasant stay. The staff were all welcoming and accommodating. The shop was fairly well stocked with necessities. The park was quiet at night and felt safe. Bathrooms are not updated but were serviceable, however cleaning could be better. Most sites have shade trees and pads/hookups will be updated soon per the host. The pool area was small but nice for the heat.
Jun 22, 2021
Sorry Benbow you guys need help ! We've been coming here for years and the past two visits were disappointing! No attempts to get the golf course open - the sprinkler system in the park is failing - our campsite was flooded with water when we pulled in . Lots of excuses about why things are broken , run down , not working etc but not a lot of work getting done by the staff . Sad
Jun 21, 2021
Another great stay at the bimbo Inn love this place can't wait till our next time there thanks again to all the staff
Jun 21, 2021
We had a great time with the family. Clean and easily accessible space and facilities. Pool was a blast and the staff very friendly. Thanks again!
Jun 21, 2021
we enjoyed our stay. enjoyed the pool, clean bathrooms, friendly staff.
Jun 21, 2021
Very pleasant. Clean, great pool.
Jun 20, 2021
Very accommodating. Although they were fully booked we asked to be moved to a different spot and they worked it out for us.
Jun 20, 2021
Just there one night but Benbow is a very nice KOA with lots of amenities.
Jun 19, 2021
First time using Koa. We loved it! We will be using koa again!
Jun 19, 2021
We have stayed there many times &would probably return because it's convenient. This time, 6/17, though, the power was on and off during the night. I use a CPAP--was not a good night. The lawns were not cared for like they should be. Again, we would probably return but we're disappointed in the care of the prop. The staff was very good.
Jun 18, 2021
Lovely relaxing time
Jun 18, 2021
Very nice and quiet. Problem in bathroom. No toilet cover in stall 3 for women for 7 days. Reported problem with door latch not closing in stall 2 reported 1st day but by day 7 it still had not been fixed. Everything else nice.
Jun 18, 2021
We had a great stay. Such nice friendly staff. The park was nicely maintained. Our grass was green!
Jun 17, 2021
Nice campground. Good greenery around each site and newer picnic benches. Lots of long termers in cabins. Crowded. Need an outdoor sink for washing up of dishes and pots!
Jun 17, 2021
Staff were the best! Everything was in Much better condition than previous stays and especially clean. Staff was Very helpful. Rates are higher than usual, but we will be coming back at least one more time. Thank you for a fun relaxing visit!
Jun 16, 2021
Great cabins! Staff friendly. Nice pool and hot tub
Jun 15, 2021
Friendly staff clean restrooms will stay aging
Jun 15, 2021
Very friendly Hosts.clean quiet campground
Jun 15, 2021
Very clean rest rooms , and the whole place seemed to be very well maintained. We had great neighbors, so it made the stay even better. Pool was nice, even though the golf was not open. The people were very nice, a great improvement over last time we stayed there, 20 years ago.. Despite the freeway being close, it was very quiet at nite. The local kitty cat was also very friendly.
Jun 15, 2021
How disappointing that the golf course is closed; this is the reason we come to this RV Park (32 years). The park is very run down, not kept up and maintained at all. Sorry to say our 32 years coming to this park has ended. Definitely wasn't worth the $70+ price.
Jun 14, 2021
Friendly helpful staff. Our cabin was very clean. The bed was a little too soft for us but we slept! Clean campground. Great amenities.
Jun 14, 2021
The Staff were very professional and friendly, we Reserved a small cabin for a motorcycle trip, the cabin itself was clean and nice though it lacked anyplace to hang jackets or even towels and there was no night stand either. Overall it was a nice accommodation just very small. We were disappointed that the Hot tub was closed after 8pm even though posted signs showed a later time.
Jun 14, 2021
This time wasn't as pleasant. The garbage & recycling cans were overflowing. A campsite nearby had loud kids playing outside past quiet hour. We aren't getting out of bed to contact the office. Just made for a less enjoyable time.
Jun 14, 2021
Too noisy in the evening and early morning and when we arrived to our spot someone in the spot next to us was using our space to park in, had to find out who owned the vehicle which held up traffic. Too many kids flying around in the golf carts. WiFi was the pits.
Jun 14, 2021
Super clean campgrounds, great hosts, FANTASTIC amenities, perfect location!
Jun 14, 2021
Stayed for a couple of days and traveled the Avenue of Giants. They were awesome. A little disappointed in the WiFi, but they told us that when we checked in.
Jun 13, 2021
Excellent as always at KOA
Jun 13, 2021
Great time and very quiet but loved hearing the kids ride bikes and having fun during the day.
Jun 12, 2021
Very safe as a one nite stay. We were here for 4 nites without a car, thought it would have more things to do for kids. Other KOA's have the bounce balloon, Mini golf and bikes to rent. Disappointed that golf course was closed. Pool and hot tub were good.
Jun 12, 2021
Clean and friendly camp ground. Very enjoyable, the only real complaint is the highway noise. Sites are level and not too close together. Pool and hot tub clean and felt good. Campground well maintained. Would go back again Thank you. �
Jun 11, 2021
Spaces are too crowded in-felt like sardines. Please put a change machine in laundry room....some of us like to do laundry at night but don't have access to change while your office is closed. The River is a great option for those of us who don't care for crowded pools....cleaner, easier access to River without traveling to state park is within your means. Your access is overgrown with poison
Jun 11, 2021
The office staff were so friendly and helpful upon checkin. The campsites are clean and the grounds nicely maintained. We enjoyed the easy access to the Eel River.
Jun 11, 2021
Although our tripwas only 3 nights, we enjoyed our time there. Nice park. Even though it close to 101 there wasn't much traffic noise. Will stay there again.
Jun 11, 2021
As usual, we had a wonderful time at the Benbow KOA. Bummed no golf course yet but totally understand why. Looking forward to our next visit in a little over a week.
Jun 11, 2021
Long way to pool and spa. Kids monopolizing the hot tub. Otherwise good stay.
Sep 13, 2021
The staff was really helpful and the place was very clean and easy to get around. The pool and laundry facilities were really nice and together so we could hang out at the pool while doing laundry. Also awesome that everyone was masked very friendly.
- Tawnya Crowe on Google
Aug 31, 2021
Absolutely Beautiful!!! Also, my new home 💚🏡
- Dawn Derner on Google
Aug 30, 2021
We truly enjoyed our stay here...the campground was full, but the people in the campground were respectful and it felt a family get together! The staff worked hard to accommodate our changing schedule to get us on our way...hey, golf, camping and fun...what more can you ask for?
- Scott Joss on Google