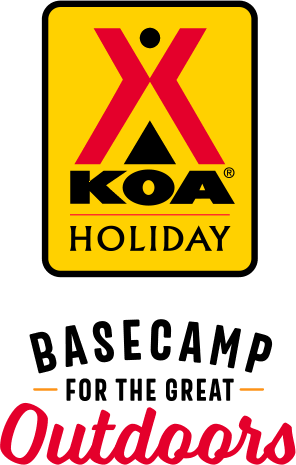 KOA Holiday Campgrounds
Whether you're exploring the local area or hanging out at the campground, KOA Holidays are an ideal place to relax and play. There's plenty to do, with amenities and services to make your stay memorable. Plus, you'll enjoy the outdoor experience with upgraded RV Sites with KOA Patio® and Deluxe Cabins with full baths for camping in comfort. Bring your family, bring your friends, or bring the whole group – there's plenty of ways to stay and explore.
KOA Holidays Feature:
RV Sites with a KOA Patio®
Deluxe Cabins with full baths
Premium Tent Sites
Group meeting facilities
Directions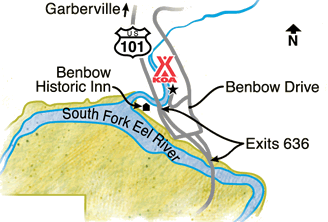 Benbow KOA is located in Garberville, California: 200 miles north of San Francisco; 70 miles south of Eureka. Take Exit #636 from Scenic HWY 101 Benbow Exit.
Traveling South: turn left onto Benbow Drive Exit 636 and follow the signs to RV Park and Golf Course.
Traveling North: turn right onto Benbow Drive Exit 636 and follow the sign to RV Park and Golf Course.
Get Google Directions
Jul 16, 2021
We enjoyed our stay very much. The park was clean and well maintained. And staff was friendly and helpful. We discovered our water pressure regulator wasn't working and a kind KOA employee named Dan came to our rescue. He provided us with a regulator that worked! Thanks so much we really appreciated his kindness.
Jul 15, 2021
Nice spot and amenities with the Premium Site, but very pricey. Pool is small, very few lounge chairs and many are broken, and concrete around the pool is very rough on the feet! Enjoyed the fire ring for a fire at our site and the people there were friendly and nice. Laundry was clean.
Jul 15, 2021
Second time at Benbow and will comeback again
Jul 14, 2021
Our RV site was clean and spacious; perfect for our stay/
Jul 13, 2021
We had a horrible ant infestation ants crawling all over us as we attempted to sleep. Dirty dishes, rusty pots and pans. Disgustingly filthy couch. Told staff at the camp. They didn't care. Will never stay at KOA again. Want a full refund.
Jul 13, 2021
We had a fantastic time! The employees are the BEST!!!!!!!
Jul 13, 2021
The staff were very friendly and helpful. I appreciated that the laundry room could be used 24 hours a day. The only negative was people driving around with their car stereos very loud and the people who pulled in next to us at 3:00AM who acted like it was the middle of the day with loud talking and slamming of doors.
Jul 12, 2021
dishwasher and toilet seat broken. no screen on sliding door. across from playground which stated it closed at dusk. 10:30 still teenagers playing loudly. 2 of us had backaches from too soft mattresses. pool was lovely.
Jul 12, 2021
Nice KOA. I was surprised that the WIFI was not included in the price.
Jul 12, 2021
First I understand water shortage / restriction. It makes the place not look Holiday. Map shows dumpster in front area. Not there. Not mentioned at checkin...
Jul 11, 2021
Neat place, friendly staff.
Jul 11, 2021
Nice camp grounds
Jul 10, 2021
So friendly and very clean.
Jul 09, 2021
Unbelievable has everything you can want. A pool, a playground, craft center, very friendly and super clean. The cabins are amazing.
Jul 09, 2021
Pool area dirty and equipment not kept up Women showers mold all over
Jul 09, 2021
Nice KOA. The pool was open and they have towels for you to use. The bathrooms were kept clean.
Jul 09, 2021
Freeway close with great KOA amenities. Sites are easy to pull through. Dog friendly. We would stay again.
Jul 09, 2021
Tent site no water-electricity, car park across from tent site. Dog park dry & full of burrs, our puppy is full of burrs. Homeless people walking threw park, homeless people living under trees behind our tent site. 8am sprinklers where turned on we had to get all our stuff to car check out is 12pm but we couldn't return to site do to water. Pool is nice & laundry room is nice. No sleep -
Jul 08, 2021
Benbow was a nice campground to stay at. There were plenty of trees and lots of space to move around. The laundry room did not have any type of cooling so, it was miserably hot in their laundry room.
Jul 08, 2021
Very clean campground and friendly staff
Jul 07, 2021
As usual we had a wonderful stay at Benbow KOA! Words cannot express what a great time we had. This is our favorite campground to come to and that's why we have 3 more trips booked and are going to try and get some more in.
Jul 07, 2021
Loved staying here. The landscape is just beautiful. The park is kept very clean, something that has been missing in the last few KOAs we have stayed at. The staff was super friendly and helpful.
Jul 07, 2021
We have been coming here for years and loved our stay. Just wish the camp sites were greener and that maintenance would blow off the pool deck areas like they used to in the past. However, I'm glad to see that the store has more of a selection of items, then in the past.
CAMPGROUND RESPONSE / COMMENTS:
Thank you for the feedback. We agree, bicycles are the best way to get around the Benbow KOA! You can even ride under the bridge to the Historic Inn for dinner and drinks! Hope you can visit again.
Jul 07, 2021
WE ALWAYS HAVE A GREAT TIME STAYING AT THE BENBOW KOA. WE TELL OUR FRIENDS AND RETURN EVER YEAR. SOMETIMES WE ARE ABLE TO STAY TWICE A YEAR! THANKS FOR HAVING US. EVERYONE IS ALWAYS FRIENDLY AND THE CAMPSITES ARE CLEAN AND READY WHEN WE ARRIVE. KEEP UP THE GREAT WORK!
CAMPGROUND RESPONSE / COMMENTS:
Thank you for making the Benbow KOA a summer tradition with your family! See you again Soon!
Jul 06, 2021
We have been coming to this campground for years..! Before it was a KOA. Expensive, with not all the amenities available. Golfing has been very disappointing and please set aside the drought and COVID. We were here two years ago and the golf course was not open. There is always some sort of excuse as to why something is not available. Campsites are not maintained very well. GET IT TOGETHER. !!!
Jul 06, 2021
Even though I didn't have a reservation they were very helpful finding me a site for just the nite. Good Shade trees, quiet park.
Jul 04, 2021
Its a nice campground but way over priced, especially the deluxe cabin we had. There were multiple maintenance issues in our cabin, The doors didn't latch, the window blinds were missing wands, the sliding door didn't lock and the screen door didn't slide and it was ripped. The kitchen pans were well used and the handles were falling off. Many employees speeding around in golf carts. refunds?
Jul 02, 2021
Accommodations were great. Staff very friendly. Facilities were very clean and well maintained.
Jul 01, 2021
a little disappointed, we are charged full price for our stay and, The store is poorly stocked, golf course closed, water park closed, tried to attend the scheduled ice cream social, No Social no sigh on the door cancelling. I understand things are not quite back to normal from COVID, then don't charge the full service rate.
Jun 30, 2021
Very disappointed in the condition. Although the staff were very nice the grounds were not clean. Trash built up at dump site. Bathrooms were over loaded with trash. The waterpark for children was off which forced kids to the pool. The kids were running and jumping in pool even though there was a sign. Also adults were bringing in drinks in bottles and glass. No oversite of facility. disappointed
Jun 30, 2021
Pool area had broken furniture, Cabin 45 had damaged flooring, a missing drawer and damaged cabinetry. Not a good value for the quality of the pool space and the cabin I rented.
Jun 29, 2021
Epic. Great time with family. Will be back. Expensive for a cabin considering there are no included services (cleaning, making bed, etc) but still a good time.
Jun 28, 2021
Benbow KOAs sites are level and well maintained. Nice pool area and playgrounds. Most sites are long enough for the trailer but not the tow vehicle which you have to jockey around like at many RV parks. You can have fine dining at the famous Benbow Inn via a walking path under the hiway. Located on the Eel River with a path to it. Overall great experience.
Jun 28, 2021
Grass needs more water. Also need more light at night.
Jun 28, 2021
I like the little cabin and hot tub. The need to empty the overflowing dumpster that sit right outside the cabin before a busy weekend it stunk like dead fish. P s. The hardworking maids were awesome. I left a clean room and a tip
Jun 28, 2021
Pool and spa were dirty. Water was cloudy on pool and yellow in spa. Lots of gross things floating around. Lost of people in resident buildings (?) with things on their porch like moon boots and other personal effects. It looked like a run down trailer park that also had KOA spots. Glad we went but not in a hurry to return. We loved the friendship hall!
Jun 28, 2021
Our unpleasant stay had nothing to do with with the KOA, so I don't know how it could be fixed. We were parked across from a group is partiers who for the weekend we were there drank constantly, and talked at the top of their voices at all hours. They were there first and when we left they were still there, but we were glad to move on.
Jun 27, 2021
We had an overnight stay which was pleasant. Our site was in the very back..nice wide spaces. The trees could use a little trimming, nothing that damaged our rig, but we were hitting them. I didn't use any of the amenities, so I can't comment on them. But I would like to comment on the the friendliness of all the staff. It was nice walking into an office with smiling faces.
Jun 26, 2021
Nice park. Nice pool. Nice staff.
Oct 16, 2021
Nice chill spot. Clean park and bathrooms.
- Sebastian Wszolek on Google
Oct 15, 2021
I wasn't sure what to expect in the one-bedroom full cabins by the River but found them to be extremely accommodating. There's a dishwasher, microwave, coffee maker, and toaster in addition to the fridge and oven/stove. Basic utensils, dinner ware, and pots and pans are also provided. There are two televisions with cable - one in the bedroom and one in the living room area with the sofa bed. The bathroom has towels and soap. It was clean and people were friendly. People mostly kept their dogs on leashes (as required) unless using the dog park. I saw a puma on a low tree branch one day while walking my dog near the golf course area and it immediately ran into the brush away from us. If you love your dog - keeping them on a leash protects them from deadly encounters with wild life like coyotes, bobcats, and mountain lions. Demographically, it's not a diverse area of CA. Our family pretty much brought the only diversity.
- Melissa Marini Švigelj on Google
Sep 13, 2021
The staff was really helpful and the place was very clean and easy to get around. The pool and laundry facilities were really nice and together so we could hang out at the pool while doing laundry. Also awesome that everyone was masked very friendly.
- Tawnya Crowe on Google