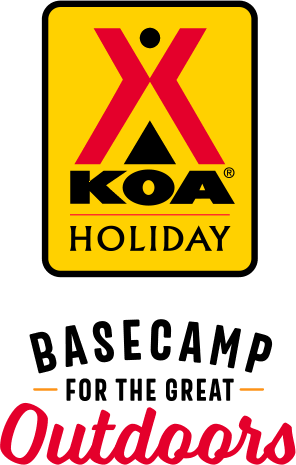 KOA Holiday Campgrounds
Whether you're exploring the local area or hanging out at the campground, KOA Holidays are an ideal place to relax and play. There's plenty to do, with amenities and services to make your stay memorable. Plus, you'll enjoy the outdoor experience with upgraded RV Sites with KOA Patio® and Deluxe Cabins with full baths for camping in comfort. Bring your family, bring your friends, or bring the whole group – there's plenty of ways to stay and explore.
KOA Holidays Feature:
RV Sites with a KOA Patio®
Deluxe Cabins with full baths
Premium Tent Sites
Group meeting facilities
Directions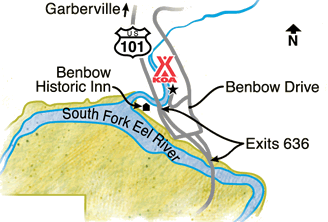 Benbow KOA is located in Garberville, California: 200 miles north of San Francisco; 70 miles south of Eureka. Take Exit #636 from Scenic HWY 101 Benbow Exit.
Traveling South: turn left onto Benbow Drive Exit 636 and follow the signs to RV Park and Golf Course.
Traveling North: turn right onto Benbow Drive Exit 636 and follow the sign to RV Park and Golf Course.
Get Google Directions
Jul 23, 2021
Easy in and out!
Jul 23, 2021
We were really happy with the swimming pool area. The bathrooms by the tent area were not super clean and pretty smelly. We stayed in a tent spot and our neighbors warned us of the booming skunk population and once it got dark we experienced it as well. Nobody was sprayed, but the skunks were definitely comfortable around people and it added a little extra "excitement" to our night.
Jul 23, 2021
3rd time there and planning to go there again - clean, accessible, plenty of space - good stop if you traveling between Oregon and California
Jul 22, 2021
Enjoyed our stay. Staff was friendly and helpful. Pool was nice but hot tub didn't work properly.
Jul 22, 2021
nice size spaces with shade trees; the patios are great.
Jul 22, 2021
Staff are super helpful and friendly. The KOA is clean and the pool is fabulous. Would recommend to anyone.
Jul 21, 2021
We were disappointed as this was advertised as a KOA Holiday. Activities were scarce-no movie, no BINGO-things that were on the website when booked. In addition, staff gave us differing answers when it came to activities (one told me that there was no community campfire...I asked another and found out where the campfire pit was but was told that we would need to take care of the fire ourselves).
Jul 21, 2021
We love the large campsites and redwoods at Benbow-- we had workers from hotel/campground living in a cabin by us, and they played music and partied on porch until three am, It was also disappointing that the movie night and bingo were on website, but did not actually happen (my guess is website was out of date). The metal vent pole by our hookups actually fell over...be careful!
Jul 21, 2021
Beautiful grounds, pleasant staff, we loved it!
Jul 20, 2021
Ants everywhere in cabin. Couch is extremely dirty. Bathroom always smell like urine.
Jul 20, 2021
OK for stopover. Staff friendly and helpful. Loose wiring at pedestal. Vehicles parked on dead grass area.
Jul 20, 2021
We enjoyed our stay at Benbow KOA, very relaxing, enjoyed the pool.
Jul 20, 2021
The a/c where running continuously the whole time we were there and no one where staying in them. What a waste of money. Other than that It was a good stay.
Jul 20, 2021
We were in a premium space and the table was dirty, cigarette butts, and even dog poo in our spot. Needless to say, I was very disappointed. I asked one of the workers to please at least clean the table, but he said they were to busy. Enough said. I cleaned it myself, you know, covid and all.
Jul 20, 2021
Had a nice stay in a 20' travel trailer. Nice and close to the redwoods. The staff were kind and attentive.
CAMPGROUND RESPONSE / COMMENTS:
Thank you for visiting. So glad you enjoyed your time with us and visiting the ancient Redwoods along Avenue of the Giants! Hope you can visit again. :)
Jul 19, 2021
This RV park is in bad need of repair. The sites are not level, the asphalt has badly eroded, the landscaping is not maintained and the roads need to be resurfaced. The golf course is all but forgotten. The rules are not enforced: saw several pit bulls in camp, campers did not necessarily clean up after their pets. Quiet time was not enforced.
Jul 19, 2021
Wi-fi was inaccessible at our site. Otherwise, it was great.
Jul 19, 2021
We met up with a group there and had a great time! Easy access park, great amenities, beautiful location
Jul 19, 2021
We had a very good stay. The cabin we rented was nice, clean, and with more than enough space for the weekend we stayed. Looking forward to the next time we come up and stay!
Jul 19, 2021
We only stayed one night on our way home. . Try to add a night, but you were full.
Jul 18, 2021
Activities for the kids were excellent! Campsites under the big trees were amazing! Campsites not under the big trees out by the cows and open field are less than wonderful. We were only there for one night but the grass doesn't appear to be watered much, while the grass under the big trees is bright green. The baths in this area are clean but shower itself doesn't have much pressure and too h
Jul 18, 2021
The campground was clean, these were the nicest bathrooms I've seen at a KOA and the dog park was nice.
Jul 18, 2021
Clean,quiet,and great staff! Fun activities for kids. Level sites, tree shaded and Nice camping neighbors.
Jul 18, 2021
Very nice campground we enjoyed our stay
Jul 16, 2021
We enjoyed our stay very much. The park was clean and well maintained. And staff was friendly and helpful. We discovered our water pressure regulator wasn't working and a kind KOA employee named Dan came to our rescue. He provided us with a regulator that worked! Thanks so much we really appreciated his kindness.
Jul 15, 2021
Nice spot and amenities with the Premium Site, but very pricey. Pool is small, very few lounge chairs and many are broken, and concrete around the pool is very rough on the feet! Enjoyed the fire ring for a fire at our site and the people there were friendly and nice. Laundry was clean.
Jul 15, 2021
Second time at Benbow and will comeback again
Jul 14, 2021
Our RV site was clean and spacious; perfect for our stay/
Jul 13, 2021
We had a horrible ant infestation ants crawling all over us as we attempted to sleep. Dirty dishes, rusty pots and pans. Disgustingly filthy couch. Told staff at the camp. They didn't care. Will never stay at KOA again. Want a full refund.
Jul 13, 2021
We had a fantastic time! The employees are the BEST!!!!!!!
Jul 13, 2021
The staff were very friendly and helpful. I appreciated that the laundry room could be used 24 hours a day. The only negative was people driving around with their car stereos very loud and the people who pulled in next to us at 3:00AM who acted like it was the middle of the day with loud talking and slamming of doors.
Jul 12, 2021
dishwasher and toilet seat broken. no screen on sliding door. across from playground which stated it closed at dusk. 10:30 still teenagers playing loudly. 2 of us had backaches from too soft mattresses. pool was lovely.
Jul 12, 2021
Nice KOA. I was surprised that the WIFI was not included in the price.
Jul 12, 2021
First I understand water shortage / restriction. It makes the place not look Holiday. Map shows dumpster in front area. Not there. Not mentioned at checkin...
Jul 11, 2021
Neat place, friendly staff.
Jul 11, 2021
Nice camp grounds
Jul 10, 2021
So friendly and very clean.
Jul 09, 2021
Unbelievable has everything you can want. A pool, a playground, craft center, very friendly and super clean. The cabins are amazing.
Jul 09, 2021
Pool area dirty and equipment not kept up Women showers mold all over
Jul 09, 2021
Nice KOA. The pool was open and they have towels for you to use. The bathrooms were kept clean.
Jul 09, 2021
Freeway close with great KOA amenities. Sites are easy to pull through. Dog friendly. We would stay again.
Sep 13, 2021
The staff was really helpful and the place was very clean and easy to get around. The pool and laundry facilities were really nice and together so we could hang out at the pool while doing laundry. Also awesome that everyone was masked very friendly.
- Tawnya Crowe on Google
Aug 31, 2021
Absolutely Beautiful!!! Also, my new home 💚🏡
- Dawn Derner on Google
Aug 30, 2021
We truly enjoyed our stay here...the campground was full, but the people in the campground were respectful and it felt a family get together! The staff worked hard to accommodate our changing schedule to get us on our way...hey, golf, camping and fun...what more can you ask for?
- Scott Joss on Google