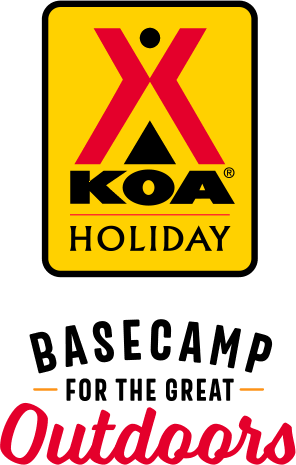 KOA Holiday Campgrounds
Whether you're exploring the local area or hanging out at the campground, KOA Holidays are an ideal place to relax and play. There's plenty to do, with amenities and services to make your stay memorable. Plus, you'll enjoy the outdoor experience with upgraded RV Sites with KOA Patio® and Deluxe Cabins with full baths for camping in comfort. Bring your family, bring your friends, or bring the whole group – there's plenty of ways to stay and explore.
KOA Holidays Feature:
RV Sites with a KOA Patio®
Deluxe Cabins with full baths
Premium Tent Sites
Group meeting facilities
Directions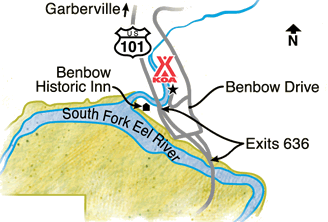 Benbow KOA is located in Garberville, California: 200 miles north of San Francisco; 70 miles south of Eureka. Take Exit #636 from Scenic HWY 101 Benbow Exit.
Traveling South: turn left onto Benbow Drive Exit 636 and follow the signs to RV Park and Golf Course.
Traveling North: turn right onto Benbow Drive Exit 636 and follow the sign to RV Park and Golf Course.
Get Google Directions
Aug 10, 2021
We always love staying at Benbow KOA… Although, there is still a fly problem and I didn't see any fly traps in the tree this time. Otherwise the staff is friendly and we're willing to come help us with a problem with our cable hook up. We will return as often as we can.
Aug 10, 2021
Our first night stop after picking up our new camper van. We wanted a familiar place to land and get to know our new rig. Weather perfect, staff great. Just what we were looking for.
Aug 09, 2021
I booked a cabin for my husband's birthday and we loved our stay. Loved how kid and pet-friendly everything was! Only problem, at no fault of the KOA or staff, as we had a riverside cabin with no water! We are already planning our next event there!
Aug 09, 2021
The personnel were great. The campground was ran down or not maintained.
Aug 09, 2021
Very nice camp ground. And everyone us very friendly
Aug 09, 2021
Clean, well groomed grounds. Pleasant stay, friendly staff.
Aug 09, 2021
Great place to stay! Clean and comfortable. Friendly staff. We have already booked our next stay!
Aug 09, 2021
They were great to give us a site spur of the moment. Only complaint was out of 14 washers/dryers, 5 were out of order. And personal opinion, jacuzzi should be only for adults. Next to a nice restaurant, good food (don't get Fish n Chips). A nice one-night stopover.
Aug 08, 2021
i am was very disappointed that I paid for a premium site #92 like in the picture above and the grass was not only all dead but most of the dirt was barren. For $80 I expected much better than that. I understand there is a drought but the few premium spaces should be watered. The rest of the facilities were very nice.
Aug 08, 2021
Nice spots. Clean pool. The arcade is small and outdated, but the kids still liked it. The Benbow Inn has great food. Close to Confusion Hill which was fun to visit. Good time all around.
Aug 08, 2021
Black water/Grey water is at the site, no separate dump site area.
Aug 07, 2021
We loved staying at Benbow KOA! Very friendly staff and lots to do in the area!
Aug 07, 2021
So sad to.spend money where the facility was nothing like the website. Please update your website! I heard they plan to start watering soon. We drove 7 hours most of our neighbors left for a better experience.
Aug 06, 2021
The family and I had a great time.
Aug 05, 2021
Not a great stay. Manager Justin was very rude. One of the cabin beds were all springs when this was told to Justin he said he couldn't do anything. They had no ice the whole 100 degree weekend. The only staff that went above and beyond for use that gave stars to my rating were Irean and Don. They were great and helped make the trip a little better. They should manage they know customer service!
Aug 05, 2021
OK campground. Pool closed at 8pm in 100* weather, would have been nice to be able to use it in the evening. Person smoking at the pool, also don't think staying there... the campsites decent, very dry no grass due to drought so won't judge. Just seemed a bit run down. Golf course (if can be called that) was also brown and very dry (drought?). May try again in better times.
Aug 04, 2021
Quick overnight trip on our way to Oregon.
Aug 04, 2021
We enjoyed our stay at this KOA. The staff were friendly and the site was perfect for our 40 foot 5th wheel with all the hook ups working great. The weather was beautiful and the area is very scenic. We really enjoyed the ride up the 101 to get to Benbow and our stop in town for shopping.
Aug 04, 2021
My cabin was in better repair than my cabin last year. It was adequate in size, however my reservation said I had a small cook plate, and basic dishes but had neither. I had pots/pans….but nothing to cook ON. my menu plans were foiled. All said, we made due. The fridge was small but adequate.. and we took some of our food home to cook there. It was a very expensive midweek getaway.
Aug 04, 2021
Beautiful campground with lots of amenities. Bathroom however was not clean with a hair ball in the shower. Price ($85/night) was excessive
Aug 03, 2021
Good overnight stop for us. Have stayed there several times in route somewhere. RV spots need a little work, and grass needs water but with Covid and everything going on the last year, not in bad shape.
Aug 03, 2021
Not our cup of tea. The spots are SO close together. And the pool closes at 8? That's really early. Lobby smells like a smokers room too. Just not the best experience. To top it all off, I had to pay for 2 nights when I only needed 1 as a stop through on our way home.
Aug 02, 2021
We got a nice shady spot in the back of the park. I would recommend a bike if planning on trips to the pool because it's quite a way. Overall park was clean and we had a great stay.
Aug 01, 2021
Problem with site. Rectified quickly. Disappointed with limited internet. Nice for dogs. Nice place overall.
Aug 01, 2021
It was too bad that a water shortage caused the grass to die but glad we could stay this year. Last year our reservations were cancelled because they were evacuated for fire.
Aug 01, 2021
The sites are too close to each other and there aren't enough trees or foliage for privacy. Hookups worked well. Unfortunately the temperatures were in the 100's so very hard to enjoy the outdoors. It's a beautiful area though.
Aug 01, 2021
The bathrooms in the back of the campground were not cleaned properly and half of them did not work. We expect KOA's to have higher standards like Missoula, MT. They were friendly, helpful, courteous!! Please take note of them. The pool was dirty and the hot tub did not work and was also dirty.
Jul 30, 2021
The camp was clean, well organized and quiet except for some highway noise. The showers were nice. Lots of families. Dinner at the lodge across the freeway was very good but there are few other dining options. We used this campground to access the Lost Coast NCA. Other options in the area that would work well for this purpose are the fairgrounds in Ferndale and the Humbolt Redwoods State Park.
Jul 30, 2021
Clean bathrooms and friendly staff
Jul 29, 2021
The sites were okay and relatively clean with the exception of chalk drawings all over the concrete slab. That should have been cleaned off before the next guest. The fact that started you charge for WiFi makes us want to find a different place to stay. No other campground charges for this. Why bother having a golf course if you're unable to maintain it?
Jul 29, 2021
Not worth the price. I could have stayed in a motel down the road with a pool & spa and it would have cost less and been open more hours. The cabin was not cleaned well. 100 degree days & AC didn't work to cool the cabin, even when it was set at 80 degrees and was obnoxiously noisy! Things falling apart.. Kitchen was too minimal for adult and 3 kids:1 glass, 2 bowls, 1 steak knife 0 mixing bowl
Jul 29, 2021
Campground was clean. Staff was not rude, but not friendly.
Jul 29, 2021
Great place to stay, with friendly staff. Clean and welcoming environment.
Jul 27, 2021
Very nice place with all the amenities. A bit pricy. We just stayed one night.
Jul 26, 2021
Don went over and beyond making sure he was doing everything possible for us to have a nice stay. However the golf course is not in good shape and the check in process was very slow. Seems like Don was the only person who was really trying to make sure guests got what they needed. Everyone else seems to have a "not my job" attitude.
Jul 26, 2021
There were 20 or more teenagers on the playground screaming profanities until past midnight. I called the "Night Manager" multiple times with no answer. After a restless night sleep I told the man behind the counter about our problem. He just stared at me blinking slowly like he couldn't be bothered. After a long silence he looked at me and shrugged said "…ok…sorry?". Absolutely terr
Jul 25, 2021
I would not recommend this KOA. It is run down, the grass is dead, the cabins were not very clean and the campground was not allowed to run the splash zone for kids on a hot day. The pool was too cold. A one night stay is ok but to stay any longer is a waste of money.
Jul 25, 2021
Got treated so well at Benbow KOA our Spot was Very Clean Grounds were Nice I will definitely be back Thank You Staff
Jul 25, 2021
It was a short stay before getting home. Very relaxing stay, we have vacationed here few times now and the service is great. We will be back very soon. Thanks Benbow KOA
Jul 25, 2021
stayed their many times. its always a good spot. the office people are very nice.
Jul 25, 2021
Nice location. Sites dusty, but I'll attribute that to the drought. Grass was dead. Decent laundry room. Bathrooms were why I give this KOA a low rating. The ventilation only worked when someone was in there and it smelled moldy. Floors and showers looked like they had done had a good cleaning in ages. The shower was really moldy. Pool looked nice although we left early and did t use it.
Jul 23, 2021
Unfortunately it was not what we expected from a KOA experience. The staff was very nice and friendly but the overall campground was lacking in activities. The playground was rundown, the pool was cold, there was no snack bar or casual food option and the overall experience left us underwhelmed. We ended up cutting our trip short and going somewhere else. It did not live up to the KOA name.
Jul 23, 2021
Spent 4 days at the Benbow KOA. This place is clean and the staff is so kind and helpful. My family and I had the best time.
Sep 13, 2021
The staff was really helpful and the place was very clean and easy to get around. The pool and laundry facilities were really nice and together so we could hang out at the pool while doing laundry. Also awesome that everyone was masked very friendly.
- Tawnya Crowe on Google
Aug 31, 2021
Absolutely Beautiful!!! Also, my new home 💚🏡
- Dawn Derner on Google
Aug 30, 2021
We truly enjoyed our stay here...the campground was full, but the people in the campground were respectful and it felt a family get together! The staff worked hard to accommodate our changing schedule to get us on our way...hey, golf, camping and fun...what more can you ask for?
- Scott Joss on Google