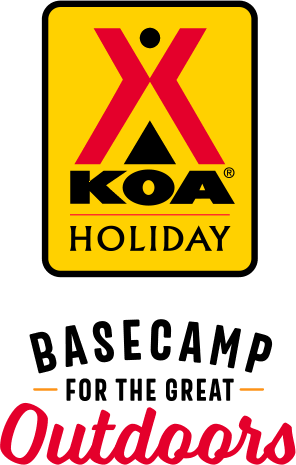 KOA Holiday Campgrounds
Whether you're exploring the local area or hanging out at the campground, KOA Holidays are an ideal place to relax and play. There's plenty to do, with amenities and services to make your stay memorable. Plus, you'll enjoy the outdoor experience with upgraded RV Sites with KOA Patio® and Deluxe Cabins with full baths for camping in comfort. Bring your family, bring your friends, or bring the whole group – there's plenty of ways to stay and explore.
KOA Holidays Feature:
RV Sites with a KOA Patio®
Deluxe Cabins with full baths
Premium Tent Sites
Group meeting facilities
Directions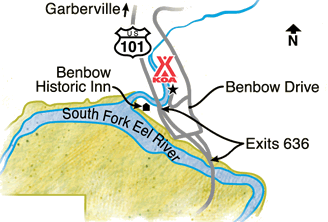 Benbow KOA is located in Garberville, California: 200 miles north of San Francisco; 70 miles south of Eureka. Take Exit #636 from Scenic HWY 101 Benbow Exit.
Traveling South: turn left onto Benbow Drive Exit 636 and follow the signs to RV Park and Golf Course.
Traveling North: turn right onto Benbow Drive Exit 636 and follow the sign to RV Park and Golf Course.
Get Google Directions
Sep 07, 2021
Great location, nice facilities! Unfortunately, our assigned spot was taken when we arrived late, and the after hours number was not answering. Other than that, great place!
Sep 07, 2021
I arrived at 9pm and departed at 7am. Neighbors were up late playing corn hole, wasn't able to access any restrooms.
Sep 06, 2021
Very nice park,, clear restrooms, pool, but the grounds were littered with candy wrappers and cigarette butts,,
Sep 04, 2021
We enjoyed our stay very much. I feel that some more effort should be put into maintaining the cabins. The cabin that I stayed in had a loft which the children slept in. The windows that are in the loft fully open but they do not have screens. Very unsafe. The window blinds in the living area are broken. They are missing slats so there is not full privacy and the pole to open and close are gone.
Sep 03, 2021
This KOA is ok for an overnight stay as long as your not determined your stop here by the pictures. The golf course is brown. And when it says there is wifi, most people would expect that to mean in the campground, not having to go into the store/office to use it.
Sep 02, 2021
Our stay was amazing. The site was large. The staff super friendly
Sep 01, 2021
We stayed in a one bedroom cabin and it was extremely clean and well maintained. The office personnel were friendly and very helpful!
Aug 31, 2021
Friendly staff, power, water, cable all working perfectly. We did find some debris in our site. Just didn't seem as tidy as the other KOA's we have stayed. It was pretty quiet, small amount of road noise but nothing major. I really do notice the difference from the different tiers of KOA's, I think I much prefer the resort option.
Aug 31, 2021
First class customer service from camp hosts Don and Ann. We had a reservation for a 4 day stay when just 40 miles away from the resort our tow vehicle broke down, and had our travel trailer towed to our site. We needed to add extra days to our reservation. During this stressful situation, Ann and Don went above and beyond to find a site for us to stay until our vehicle was repaired. Thank you
Aug 30, 2021
We just had a family reunion there with 5 rigs. 3 of us had to move cuz of no water and electricity, after we just got set up. Golfing was terrible. Dry as toast. Wifi wasn't working good. The employees were very kind. It isn't their fault. It's the management's fault. We would not recommend to people to stay there. Sad to say that. We have been going there for lots of years.
Aug 30, 2021
Great check-in experience and friendly, helpful staff. Good full-hookup site, allowed personal fire ring, which was wonderful! Convenient location and good access to the Benbow Inn (campers are allowed to make reservations at the Inn's restaurant, which is otherwise only open to hotel guests at this time).
Aug 29, 2021
The cabin was great! All the amenities of a house. Loved the back porch. The campground was clean, quiet, and easy to navigate. The staff is very friendly and kind.
Aug 29, 2021
Was a very clean, quiet and easy to get too.
Aug 28, 2021
We enjoyed our stay until my grandkids were asked to be quiet inthe pool
Aug 28, 2021
A convenient location near the Avenue of the Giants and lovely California State Parks for hiking and picnicing, but the campground is situated below 101 so it is very noisy. Facilities were very old and poorly maintained. We were told that the campground will be undergoing a major renovation - we just hope that includes the restrooms and pool and the existing trees are retained and more planted.
Aug 28, 2021
Only stayed overnight. I noted that with the lack of water the golf course was dry and there was little water in the adjacent river. Thanks
Aug 26, 2021
Benbow Campground used to be one of the most beautiful campgrounds on the California Coast—not anymore! The campground wasn't that clean. One positive was the path to the Benbow Inn where we had a delicious dinner!
Aug 26, 2021
I found the Ben Bow experience relaxing. The campground staff was wonderfully nice and courteous. My wife and I enjoy the stay when we travel the 101 corridor. What is one of the best things is the closeness to great natural resources, redwoods, rivers, the lost coast, what a pleasant venture.
Aug 25, 2021
This park was lacking maintenance; especially in the bathrooms and yard.
Aug 25, 2021
Wi-Fi coverage was very disappointing. After being on the road for several days, wanted to get caught up on e-everything.
Aug 25, 2021
We did not enjoy, mostly bad luck, not a nice site. The park is nicer than the part we were at. If we could have arrived earlier, we would have driven around and picked a better one. Be selective and enjoy.
Aug 25, 2021
This place is old and does not have hookups for bigger campers. Short on staff broken water line running through park. Had to sweep broken glass from my site before I could drive in. The write up in KOA guide is nothing like the park. The price for was to expensive for what they have highest price I paid for my entire trip from indiana to California and back. Alot of KOAs are living off the KOA
Aug 24, 2021
We had a great stay. The park is lovely and I'm sure would be beautiful if it weren't for this awful drought. The staff were all kind and happy to help with anything you need.
Aug 24, 2021
Campground is rather tight but is located in an excellent location for Redwood Tree viewing. Full hookups availabile.
Aug 23, 2021
Staff was very friendly. Easy access to site.
Aug 23, 2021
Had a wonderful time! The staff there was very helpful and accommodating for all our needs.
Aug 23, 2021
We have been going to this Benbow for years. It is the worse we have seen it. Very ran down. They can't seem to keep a manager different staff every time we go. There are people that live there that have a lot of traffic in and out. Disappointing
Aug 23, 2021
Reason for not giving 5 stars is the shorepower electrical box was not functioning. Called for after hours assistance. There was a timely response with resolution being assigned another site. It was inconvenient having to move. Preventative maintenance should have caught the faulty breakers.
Aug 23, 2021
weekend get away
Aug 23, 2021
We love the Benbow KOA and come for a short stay every year. The only downside this year is the lack of water for the golf course which was a bummer but obviously not the KOA's fault we are in a drought. Great staff and fun time. The pool is fantastic and the kids love it!
CAMPGROUND RESPONSE / COMMENTS:
Thank you for your understanding and support during this sever drought. We're glad you had a great time. Come see us again, soon.
Aug 23, 2021
First time in a KOA. Quiet, lots of trees and excellent service. Thank you
CAMPGROUND RESPONSE / COMMENTS:
So glad you had a good time. Our staff here at Benbow KOA enjoyed serving you. Safe travels to you.
Aug 22, 2021
We have stayed here many times. This time the condition of the park was awful! All grass around the sites and on the golf course was dead! You can't distinguish the greens from the fairways. And two sites away from us they had a water leak that turned the entire aisle into a swam The WiFi is non-existent, even up at the office. All this for $70+/night. We won't be back.
Aug 22, 2021
Just an overnite stay. Perfect for our needs. This will be the same stay in the furture.
CAMPGROUND RESPONSE / COMMENTS:
Glad you enjoyed your stay. We'll look forward to welcoming you back. Safe travels to you.
Aug 22, 2021
Very nice camp area. Some of the turns are a bit tight for a 38 foot 5th wheel but with a little skill its fine. Nice pool and hot tub which were both working while we were there. I wanted to play the golf course but didn't get a chance. The host were very nice at check in. Very busy and a lot of people.
CAMPGROUND RESPONSE / COMMENTS:
We are glad you enjoyed your stay with us. Summer is a busy time here at the Benbow KOA and we are pleased to be able to host many vacationers like yourself. Safe travels!
Aug 21, 2021
I have stayed here many times in the last 15 years. It is a great location for visiting the giant redwoods. I was a little disappointed this time for two reasons. First the park felt dirty. I know there is a drought and the grass could not be maintained but that would be no excuse for not cleaning up the debris and leaves that were all over the grounds. The pay for Wi-Fi per device is ridiculous.
Aug 21, 2021
Nice. The employees were very helpful and friendly. The park seemed a little rundown. But clean.
Aug 19, 2021
Very enjoyable! The campground is very clean. Nice bathrooms. The pool area was our favorite part. Lots of room to hang out. A big beautiful oak for shade if u need it. The playground area was nice for our little one. Great place to bring your bikes. Plenty of things to check out in the area. We are definitely coming back.
Sep 13, 2021
The staff was really helpful and the place was very clean and easy to get around. The pool and laundry facilities were really nice and together so we could hang out at the pool while doing laundry. Also awesome that everyone was masked very friendly.
- Tawnya Crowe on Google
Aug 31, 2021
Absolutely Beautiful!!! Also, my new home 💚🏡
- Dawn Derner on Google
Aug 30, 2021
We truly enjoyed our stay here...the campground was full, but the people in the campground were respectful and it felt a family get together! The staff worked hard to accommodate our changing schedule to get us on our way...hey, golf, camping and fun...what more can you ask for?
- Scott Joss on Google