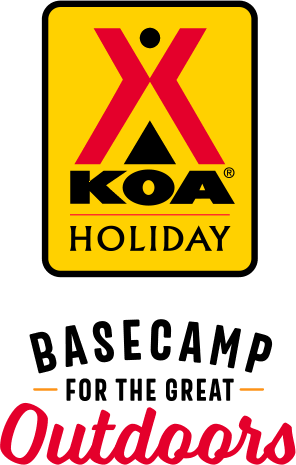 KOA Holiday Campgrounds
Whether you're exploring the local area or hanging out at the campground, KOA Holidays are an ideal place to relax and play. There's plenty to do, with amenities and services to make your stay memorable. Plus, you'll enjoy the outdoor experience with upgraded RV Sites with KOA Patio® and Deluxe Cabins with full baths for camping in comfort. Bring your family, bring your friends, or bring the whole group – there's plenty of ways to stay and explore.
KOA Holidays Feature:
RV Sites with a KOA Patio®
Deluxe Cabins with full baths
Premium Tent Sites
Group meeting facilities
Directions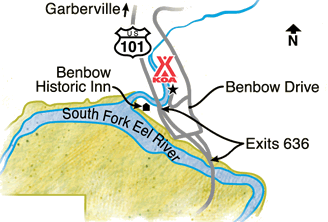 Benbow KOA is located in Garberville, California: 200 miles north of San Francisco; 70 miles south of Eureka. Take Exit #636 from Scenic HWY 101 Benbow Exit.
Traveling South: turn left onto Benbow Drive Exit 636 and follow the signs to RV Park and Golf Course.
Traveling North: turn right onto Benbow Drive Exit 636 and follow the sign to RV Park and Golf Course.
Get Google Directions
Jun 15, 2020
The grounds are very well cared for and everything is green and there are a lot of trees. We noticed they were cleaning the picnic tables when Campers left. My Husband used the men's room and said it was very clean. Although due to Covid-19 the Pool and Movie night wasn't open. The employees are all very friendly. We had a great time.
Jun 15, 2020
We rented Cabin 401 for $221 per night. Our cabin was dirty and dusty when we checked in. The light in the bathroom wouldn't stay on unless you held it down. Dust and dead bugs on the window sills. broken blinds on the windows. Only 3 chair at the table. Dirty inside cabinet and drawers. Dirty utensils in drawers. Not enough dishes for everyone. We were really disappointed in the cabin.
Jun 15, 2020
The campground nice and typically we have our trailer but on this stay we did not. We rented a Deluxe Cabin and I will never do that again. Not only did we not have a patio like the details said the cabin was filthy. I don't think they cleaned them at all. Considering covid right now I was extremely upset that they did not Clean this to the standards and guidelines. Mattresses were terrible too.
Jun 15, 2020
Very nice stay. Enjoyed taking the dogs down to the River and dog park. Melissa was very professional and took care of our needs
Jun 15, 2020
Small spaces, no fire pits, too close to other spaces. People in RVs checked in after 11 waking up everyone. Not enough trash cans. Expensive considering there were no services offered. The best thing I can say is that the bathroom was clean. We won't be back.
Jun 14, 2020
we had a very nice stay
Jun 13, 2020
We very much enjoyed our stay.. even though the pool was closed due to COVID, the park was well maintained and very clean as well as quiet. We will definitely be coming back.
Jun 13, 2020
We've stayed at the Inn before but thanks to covid that wasn't an option this time. The campground was as expected with friendly staff. Could use some maintenance but a welcome respite.
Jun 12, 2020
Trees need to be trimmed around the sites. Coaches are being scratched and damaged getting in and out of the sites.
Jun 12, 2020
Lovely park, nice and green at our campsite with a tall tree. Facilities were all within walking distance. We would love to come again for a longer stay. We're Happy Campers!
Jun 11, 2020
Melissa made us feel so welcome she answered any questions the best
Jun 11, 2020
Sooo much overhead freeway noise, terrible WiFi, and of course pool closed. I'm sorry, I understand Covid shutdowns but Rates should have dropped since perks were greatly reduced. No lounge tv, art/craft etc.
Jun 10, 2020
Super clean hot showers. Nice and quiet.
Jun 09, 2020
We enjoyed the park very clean and beautiful.
Jun 08, 2020
Un lugar familiar,agradable cada año estoy biniendo a este lugar me encanta
Jun 08, 2020
Friendly Staff, helpful - Thanks
Jun 06, 2020
Great park. Had fun playing golf then walked down to the river to cool off after. Spacious RV spots.
Jun 04, 2020
What a beautiful place! Very clean and quiet. Staff were very kind and accommodating for our young family. Other campers very friendly. Thank you for making our stay special!
Jun 04, 2020
We had our trailer at Benbow KOA for 14 days and so worth it! The staff was amazing and we are looking forward to our next visit in 2 weeks! Yes, we love Benbow KOA
CAMPGROUND RESPONSE / COMMENTS:
We love having you!
Jun 03, 2020
I feel like there needs to be more garages around the park. Overall very nice.
Jun 03, 2020
Beautiful area, campground is clean - staff super friendly. Looking forward to returning soon when all the amenities are open, but will definitely be back!
Jun 03, 2020
Friendly staff, beautifully maintained. Peaceful
Jun 03, 2020
Awesome showers, clean camp, well maintained. However ravens got into swing-top trash can and scattered garbage around. Recommend different trash can type.
Jun 03, 2020
Good clean campground. We stayed in back portion in a back in. good spacing and near level. pretty quiet, beautiful surroundings with river running on one side a golf course on the other.
Jun 02, 2020
it was great but I wish you would in force your leash law, there were several dogs lose walking with their owners or in campsites, two times a dog came into our campsite to fight with our dogs that were on leashes
CAMPGROUND RESPONSE / COMMENTS:
We are glad you enjoyed your stay. Also, it seems as if we need a full-time employee just to monitor dogs on leashes and kids with helmets; both are state law. It is really hard to get everyone to comply. We will continue to police.
Jun 01, 2020
Great campground. Except wifi was a thumbs down.
Jun 01, 2020
Benbow KOA is always a lovely place to stay. The campground and facilities are always clean. Our family feels safe camping there and we have so much fun!
Jun 01, 2020
Our 4th stay this year and we'll be back. Manager and staff are great. 5-star rating compared to other RV parks. Ways to improve: Want more reliable internet, the service was disrupted many times. Asphalt needs resurfacing. New premium site patios like site 71. Would like to see Humboldt and redwood theme t-shirts and sweatshirts in the store. Extra garbage bins needed for busy periods.
CAMPGROUND RESPONSE / COMMENTS:
Thank you for staying with us! Our new premium site is the prototype for the upgrades we hope to make next year. We do have more items coming for the store, and yes, trash pick up will be more frequent now that we can open up to travelers.
May 31, 2020
Had Fun!!! Thank You!!! Joe
May 31, 2020
Ticks galore!!!! dog & kids got bit and we were only there over night (7hrs) and left immediately in the morning, after removing ticks from everyone!!! This property should be treating grassy areas for this issue. We have been traveling for 3 weeks & this was NOT the best KOA we have stayed in.
CAMPGROUND RESPONSE / COMMENTS:
I'm sorry you got ticks! We have not seen any ticks in the park nor had any other reports. However, if you were down at the river, that is not an area we have any control over.
May 29, 2020
Lovely stay, friendly staff, very clean, and enjoyed it very much!
May 27, 2020
Had a fantastic time
May 27, 2020
We enjoyed every moment we were there. It's a beautiful peaceful campground. We arrived Tuesday, May 19th was going to leave on Friday, May 22nd we were having such a great time we stayed until Sunday, May 24th. Thank you �
May 26, 2020
The grounds and facilities were really clean and well kept . The staff were all awesome and super helpful. Highly recommend...
May 26, 2020
Beautiful campground and so many things to do nearby. We went on a hike in the Redwoods one day and went to the river another. Great time.
May 26, 2020
Very nice place to stay and relax
May 26, 2020
The staff was very helpful and the site, Right on the River, was great! We had a wonderful Memorial day weekend
May 26, 2020
We had so much fun. Beautiful campsite, friendly staff, super clean facilities and cabins. My kids didn't want to leave. Well , neither did I. We'll be back in July.
May 26, 2020
The cabin smelled. There were broken things everywhere inside including window screens, blinds, drawers, curtain rods and parts of the outside were overly worn or broken. Generally dirty as well. These things wouldn't have bothered me so much if it wasn't so expensive to stay there.
CAMPGROUND RESPONSE / COMMENTS:
Thank you for the feedback. We went through the cabin and have ordered replacement blinds for the front window, which were broken. Next time, please let your hosts know of issues so that we can address them right away.
May 26, 2020
Great weekend. All staff were helpful and cheerful even with the SIP in place. Will be coming back in 3 weeks.
CAMPGROUND RESPONSE / COMMENTS:
Thank you for staying with us! Look forward to seeing you again.
May 23, 2020
1..INTERNET...VERY SUBSTANDARD...with today's technology available and the fact you offer it....the system NEEDS UPGRADED with boosters inside the parking areas nearer and around the RVs. Major Complaints. 2. Cable TV...is very Substandard. All sites were terrible. 3. Otherwise.. the park is beautiful and nice and I would return.
Jul 20, 2021
Great campground and great lodges
- Jeffrey Eucher on Google
Jul 17, 2021
Great place to make Awesome memories
- N Chavez on Google
Jul 01, 2021
Great staff. Super helpful. My battery ran down in my tow vehicle. They loaned me a jump start box. Great customer service.
- erick armeson on Google