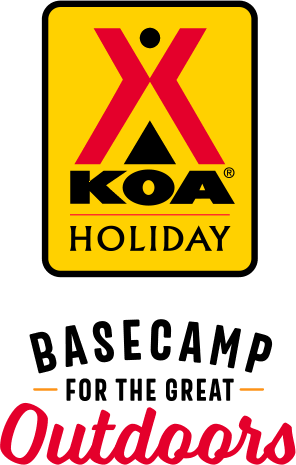 KOA Holiday Campgrounds
Whether you're exploring the local area or hanging out at the campground, KOA Holidays are an ideal place to relax and play. There's plenty to do, with amenities and services to make your stay memorable. Plus, you'll enjoy the outdoor experience with upgraded RV Sites with KOA Patio® and Deluxe Cabins with full baths for camping in comfort. Bring your family, bring your friends, or bring the whole group – there's plenty of ways to stay and explore.
KOA Holidays Feature:
RV Sites with a KOA Patio®
Deluxe Cabins with full baths
Premium Tent Sites
Group meeting facilities
Directions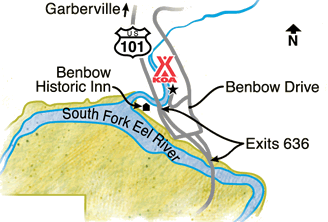 Benbow KOA is located in Garberville, California: 200 miles north of San Francisco; 70 miles south of Eureka. Take Exit #636 from Scenic HWY 101 Benbow Exit.
Traveling South: turn left onto Benbow Drive Exit 636 and follow the signs to RV Park and Golf Course.
Traveling North: turn right onto Benbow Drive Exit 636 and follow the sign to RV Park and Golf Course.
Get Google Directions
Oct 09, 2020
the park was not as well kept as the last time we stayed. the hose connection leaked the entire time. someone was speeding through the park after dark on a ATV which woke me up several times, also there were barking dogs late at night. it appears that many of the cabins are now occupied by long term residents, plants on the decks growing, several cars that looked non operable. very dissatisfied
Oct 08, 2020
It was very relaxing. Friendly, helpful staff.
Oct 07, 2020
Great staff!
Oct 07, 2020
Nice grounds but very noisy. Highway traffic can be too loud unless you run the ac or fan all night. Staff is friendly and helpful.
Oct 07, 2020
Cabin was clean and AC was working great, basketball courts were nice, and grounds seemed well maintained. Unfortunately the pool was freezing even though it was 95 degrees that day, the hottub wasn't working, and they ran out of water for the little kids water park...
Oct 06, 2020
Very nice and quit. Will come back again and tell my friends
Oct 06, 2020
We have been coming here for many years seems run down and the golf course is a mess.
Oct 06, 2020
Just an overnight stay. Clean restrooms, easy freeway access, Would stay again
Oct 05, 2020
We had a great time and made so many memories thank you so much!
Oct 05, 2020
We came here for my 2 year old sons birthday and we had one of the best weekends. The park was so clean and nice. My son loved the pool and the splash pad. There is something to do for all ages here! Everyone was so kind that worked there and very accommodating to our needs. We can't thank you All enough for such a great weekend. We will be coming here every year now.
CAMPGROUND RESPONSE / COMMENTS:
So glad you enjoyed your stay and we are excited to add you to the list of returning guests. See you again.
Oct 05, 2020
Couch smelled and had stains..for 230 a night i wasnt impressed. Cabins need updating...golf course was a complete joke. Not mowed. Or maintained. I recommend going straight to willits koa.bypass this failure.
CAMPGROUND RESPONSE / COMMENTS:
Sorry you were disappointed. We are checking on the cabin and will address issues. It is our goal for our guests to be happy every stay.
Oct 03, 2020
Very clean, very friendly office personnel, but loud partying after hours!
Oct 03, 2020
We had a delightful time at Benbow. Oh the redwoods Avenue of the Giants!
Oct 01, 2020
Staying there again tonight but asked fir a quieter site for this stay.
Oct 01, 2020
There is nothing special about the Benbow KOA. For the location the daily rate is too high. Also to say that you have WiFi is an exaggeration. About half the time the WiFi doesn't work at all and when it does work it only at about 50kbs which is like in the old dialup days. The least you could do is to install an satellite based system for your customers. The bathrooms and showers were okay.
CAMPGROUND RESPONSE / COMMENTS:
I am very sorry if our staff did not inform you of the satellite service. Our local wifi service is free but when there are a lot of devices connected it is very slow and limited. But, we do have a satellite provider who will allow a direct connection for our guests at the rate of $5 per GB.
Sep 30, 2020
The golf course needs help, and if I had to rate it, it would be a 1, but the campground and the restrooms and showers were clean. We would stay there again.
CAMPGROUND RESPONSE / COMMENTS:
Please do come again as we are working on the golf course and hope to have it back in action by spring 2021.
Sep 29, 2020
Everyone was very nice & helpful. Grounds were clean. Bathrooms & showers were clean.
Sep 29, 2020
This is KOA is clean. There is more space between RV's the other KOA's we have been at. There are more trees and vegetation that makes this a pleasant place to stay. This KOA has a less hectic busy feeling.
Sep 29, 2020
WiFi bad very tight getting into site. Site not level. Sewer and power pedestal not conveniently located
CAMPGROUND RESPONSE / COMMENTS:
I'm sorry the site wasn't what you expected. We do have an older park and the roads are narrow for big RV's to navigate.
Sep 28, 2020
The front desk was very friendly. The weather was perfect! Overall, great place to stay and relax with family.
Sep 28, 2020
This KOA has a very nice vibe to it. Beautiful setting, lots of trees around and in the campground. Very clean and COVID safe bathroom. Nicely laid out so it doesn't feel crowded, even when full. Will definitely be back.
Sep 28, 2020
Very happy. Stayed here many times this summer and were never disappointed. Staff was especially great.
Sep 28, 2020
It was good but the facilities could certainly be improved. Some suggestions: - Better wifi - Better cleaning of homes. Lot of dead insects - Liquid bottle soap instead of bar soap. Will lead to cleaner to keep bathrooms - A few utensils in the kitchen. - USB chargers next to the beds
Sep 28, 2020
This was a beautiful campsite. We absolutely loved it. Super friendly staff. Wonderfully well maintained grounds. They made sure most amenities were good to go, during covid, by doing it properly and having enough staff. Absolutely loved this place.
Sep 28, 2020
This was a perfect Covid vacation for me. I felt very safe and happy in the cabin with the big back deck overlooking the river. I did wonder why there were not any cooking utensils. This is cabin number 46 and the bed is turned around so the part where the headboard goes is sticking out and I hurt my ankle on that.
Sep 28, 2020
I really like this KOA, even though it seems to always be full this year it is kept clean and the staff is great. Very good with the social distancing. My family feels safe using all the amenities. The golf course is in need of the TLC but I understand they will be redoing the course next to month. I look forward to our next stay at this this KOA.
Sep 28, 2020
Really nice facilities and extremely family oriented. Since I don't have children, it was unnerving to have kids play in their bikes and electric scooters day and night. But the sites were grassy and had a great shade tree. Will recommend to friends with children.
CAMPGROUND RESPONSE / COMMENTS:
Thank you for staying. Please be sure to let us know if other guests over step their parameters. We want all guests to enjoy their stay whether they have children or not.
Sep 27, 2020
We were in Site 414. We loved it. We had a lot of room to ourselves. It's wonderful that you are so close to the Benbow Inn. We had a lovely time eating there once night and having drinks on the terrace the other night. Everyone, working there, was respectful regarding the wearing of their facemasks. Thank you!
CAMPGROUND RESPONSE / COMMENTS:
So glad you enjoyed your stay!
Sep 26, 2020
The room is a trailer divided into 3 rooms. Way too tiny. A branch overhung and was in the way of the entry stairs. Campers are packed in like sardines. No place to park.
Sep 25, 2020
Facilities were first rate and kept clean and safe. Staff were friendly.
Sep 24, 2020
Stayed three nights and have stayed here in the past. Very quiet, peaceful and relaxing. Other campers were friendly and respectful of the environment. Nobody had external music playing and nobody was talking loud enough to be heard elsewhere. The golf course needs major tending, but I also understand the irrigation system was defunct, causing poor course. We will be back. Thanks for everything.
CAMPGROUND RESPONSE / COMMENTS:
Thank you for staying with us and we look forward to seeing you again.
Sep 24, 2020
Mostly great. A little weird having people set up their tents just below our patio but I guess that comes with the territory of a KOA. We've stayed there multiple times and will probably continue to, although the price seems a little steep.
CAMPGROUND RESPONSE / COMMENTS:
Thank you for staying and coming back. Please be sure to let us know when you are here if there is any way we can make your stay better.
Sep 24, 2020
Just one night, but obviously it shows care. Appears to have some long term residents in some cabins, which gives it a more neighborhood feeling. Wifi was very poor, but there was a disclaimer about that.
CAMPGROUND RESPONSE / COMMENTS:
Thank you for staying with us. Due to the ruralness of the area we are in, we do have employee housing on site for people working at the KOA and the Benbow Historic Inn.
Sep 23, 2020
stayed 4 nights and really enjoyed our visit.
Sep 23, 2020
Really nice and clean.
Sep 23, 2020
I DID NOT stay at your site and sent you an email in July cancelling the reservation as our flight to San Francisco was cancelled due to the Covid-19 problem. RV rental was cancelled so we DIDN'T stay. I am STILL awaiting refund of my payment to you. Please ensure this is repaid to my Credit Card as I cancelled well within the KOA Cancellation Policy. Unimpressed! All other KOAs have refunded.
CAMPGROUND RESPONSE / COMMENTS:
We are very sorry for the confusion. The refund has been issued.
Sep 23, 2020
Would have liked to know in advance we had to bring our own fire pit
CAMPGROUND RESPONSE / COMMENTS:
Fire pits are not listed as an amenity in our sites but it is always better if we communicate that when you book. We do allow them.
Sep 22, 2020
We just stopped in for a quick overnight arriving after dark, and the accommodations were very nice with a pull through full hookup site. If we are back in the area we would definitely stay again.
Sep 22, 2020
It was nice to get away from the smoke. The area is great for exploration. There are trails for walking/hiking located nearby, and a nice drive to the black sand beaches in Shelter Cove. Pool was relaxing and the trailer pull throughs had, trees, grass, and cement pad. Will stay here again.
CAMPGROUND RESPONSE / COMMENTS:
Great having you! See you again soon.
Sep 21, 2020
We always wanted to come here and enjoyed spending the extra night with our KOA gift of a free night. A very good family-based KOA.
Sep 21, 2020
Clean courteous and enjoyable even during a pandemic. Took common sense precautions but still allow people to be human and enjoy their time camping. Facilities were spotless. Staff were always friendly
Sep 21, 2020
Stayed there 7 nights this time and it was awsome! The grounds are beautiful, staff is friendly and weather is perfect!
Sep 21, 2020
We've stayed at Benbow KOA many times. The staff is very friendly. Unfortunately, there are problems with the campground itself. There are no firepits or barbeques at any of the sites, except the premium sites. The latches in the bathrooms. I have found that other KOA campgrounds offer firepits, ect. plus working bathrooms.
CAMPGROUND RESPONSE / COMMENTS:
We are looking into the bathroom stalls immediately. There is no reason guests should not have a safe, secure restroom. It is true that we don't have fire pits in all sites. We do not list them as an amenity at our campground but will consider it for future.
Sep 21, 2020
So much fun. The general store needs to be updated and stocked though. That's the only thing that is lacking in the koa.
CAMPGROUND RESPONSE / COMMENTS:
Since COVID, it is harder to have reliable deliveries but we will keep trying to keep the store stocked. Hope to see you again.
Sep 21, 2020
Why are you sending me this in Spanish? I don't speak Spanish. As far as the koa goes. You really need to have them remove the fact that they have a golf course. We went there to play golf. It is 100% the worst golf course (if you can even call it that) I've ever played. No care or maintenance whatsoever. Staff is great and facility is nice. Too many full time residents there tho.
CAMPGROUND RESPONSE / COMMENTS:
I'm sorry you were disappointed. It is true, we had irrigation problems with the course and by the time it was fixed it was too hot to bring the grass back. We will work on it this fall and be ready for next season.
Jul 20, 2021
Great campground and great lodges
- Jeffrey Eucher on Google
Jul 17, 2021
Great place to make Awesome memories
- N Chavez on Google
Jul 01, 2021
Great staff. Super helpful. My battery ran down in my tow vehicle. They loaned me a jump start box. Great customer service.
- erick armeson on Google