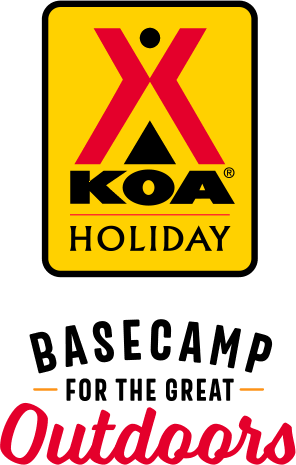 KOA Holiday Campgrounds
Whether you're exploring the local area or hanging out at the campground, KOA Holidays are an ideal place to relax and play. There's plenty to do, with amenities and services to make your stay memorable. Plus, you'll enjoy the outdoor experience with upgraded RV Sites with KOA Patio® and Deluxe Cabins with full baths for camping in comfort. Bring your family, bring your friends, or bring the whole group – there's plenty of ways to stay and explore.
KOA Holidays Feature:
RV Sites with a KOA Patio®
Deluxe Cabins with full baths
Premium Tent Sites
Group meeting facilities
Directions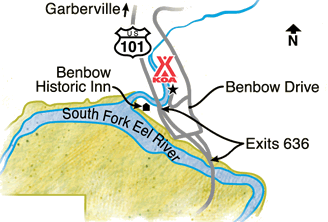 Benbow KOA is located in Garberville, California: 200 miles north of San Francisco; 70 miles south of Eureka. Take Exit #636 from Scenic HWY 101 Benbow Exit.
Traveling South: turn left onto Benbow Drive Exit 636 and follow the signs to RV Park and Golf Course.
Traveling North: turn right onto Benbow Drive Exit 636 and follow the sign to RV Park and Golf Course.
Get Google Directions
Sep 20, 2021
Very helpful and friendly staff. Unfortunately the infrastructure, grounds, and golf course are in desperate need of repair and irrigation. The sprinkler system in the sites sprayed more water on my vehicles rather than the dead lawn. Now I have to wax and rub the water spots out. Ouch! It's a shame to see this beautiful park and area deteriorate so rapidly over time and neglect.
Sep 20, 2021
Nice facility and very friendly staff. Could use better lighting within the park (several broken lights) and better lighting on the walkway to / from the Benbow Inn.
Sep 20, 2021
Very nice-we enjoyed it there. Clean bathrooms, helpful staff, nice to walk to the Benbow Inn. Only disappointment was the golf course was not green and I believe this was necessary because of water rationing.
Sep 20, 2021
Beautiful place. Employees were super friendly. All dogs were quiet all night. Great stay. On site Propane was awesome. I saw that the staff delivered a tank to another guest once it was filled. Rob Luis
Sep 18, 2021
Parties after 10pm. No rule compliance. When asked it was up to us to monitor.
Sep 18, 2021
Staff very friendly and helpful,are site #98 was good table could have been wiped down fire pile still had burnt wood in are feeling is it should have been cleaned out. I have to say it's one of the roomiest KOA we have stayed at, the pool was very clean. We will stay again was a very nice camp ground area. Thanks!
Sep 16, 2021
This is the second time I have stayed here this year. The first time the cable TV connection didn't work. This time we didn't have electricity. There were wires sitting on the ground next to the connection box. I have stayed here before and had a lovely time . I don't know if it's new management or they just don't have the funds to fix things. I have a week stay booked for next year
Sep 16, 2021
Raised the rates without updating website; extremely overpriced for what you get. They use entry cards for bathrooms and our cards did not work after the first day.
Sep 16, 2021
Sheila, Chloe and Justin are wonderful. Patient and kind. Also, the mechanic, Andrew, is a treasure. He helped us last time we visited. The only negative comment I have has to do with the plumbing and the internet. Common complaints. Guests shouldn't pay extra for gigabytes. Just raise the prices.
Sep 15, 2021
Park is nice enough but there is no wifi. We also had no cell signal.
Sep 15, 2021
Well maintained CG. Staff was friendly. Great pool and amenities. Navigating was somewhat tight. We camped in a 44' 5th wheel.
Sep 14, 2021
We had a wonderful stay at your campground and the staff was pleasant to be around. We will certainly stay there again on our next trip to the redwoods.
Sep 14, 2021
Wonderful staff, very accomodating to all our needs. Excellent location. Looking forward to our next visit
Sep 13, 2021
The spa jets didn't work. The bathroom/showers in the back of camp were not cleaned well nor often enough & found mold & paper or old soap stuck in the shower mats all the time. The largest handicapped shower had the same greasy brown goo on the lower walls even after our 4 day stay. The middle camping sites were pretty level & clean. Fairly close to a lot of things like Avenue of the Giants.
Sep 13, 2021
Not Happy that WiFi was limited to immediate pool area and office. They should invest in repeaters so that larger rigs parked at the outer limits of park have same access, rather than having to pay for it through independent provider at a very high cost.
Sep 13, 2021
Everything was as expected.
Sep 13, 2021
The staff was really helpful and very present! (easy to find if needed). It was clean and easy to get around! It would be nice if we didn't have to have a card to get into the bathrooms. We only got one card and were worried we would missplace it. A code would work better.
Sep 12, 2021
Fix the bathroom showers at the far end in the men's side.
Sep 12, 2021
We just stayed for one night but it was clean and quiet and would recommend.
Sep 12, 2021
We arrived on September 6 which was the evening of Labor Day. First was quoted $110. I was shocked. She then dropped it to $75 which I still thought was high. Expecting in the range of $60 to $65 per night. The next morning we went to use the shower/restrooms. Found out we needed a pass card to get in & we hadn't been given any. Called office & they came down & opened them for us. No toilet pap
Sep 12, 2021
Arriving at this KOA after staying at one in Bandon Oregon we were expecting A very clean friendly spot like Bandon. It was opposite. The cabins Had old mattresses outside the doors on the porch. It felt more like a very run down neighborhood instead of what was suppose to be a very clean fun camping experience. While the staff was friendly I will more than likely never stay at this koa again.
Sep 11, 2021
No WIFI or Cell service unless you pay for it.
Sep 11, 2021
First and foremost, the staff was very friendly and helpful. Good customer service. . Really lacked maintenance, broken light poles and power box covers needed to be fixed and the bathrooms and showers were not as clean as I would hope. Otherwise, we had a good 2-night stay.
Sep 11, 2021
Worst wifi of any KOA. COULD only get wifi at office.
Sep 10, 2021
Nice friendly campground.
Sep 10, 2021
Just a 1 nite on our way north, no issues.
Sep 09, 2021
Excellent stay as usual! Can't wait to come back in 2 weeks! Definitely our favorite place to go to.
Sep 09, 2021
Stayed in a back in Rv site. Site was level however the picnic table area was all uneven with cracked concrete making it difficult to place a chair level. Nice site otherwise. Very pleasant staff, the pool and hot tub were clean and good temperature. We did not use bathroom facilities.
Sep 08, 2021
NEEDS WATER. For the price you pay you should get green grass at your site. Golf Course is less than desirable.
Sep 08, 2021
Everything was clean and well-maintained. The staff were friendly and helpful.
Sep 08, 2021
Lack of wi-fi is a concern. Very pricey offer the holidays. But we have stayed there four times over the years.
Sep 08, 2021
Bathrooms were clean and help was always at the front desk. Can't complain.
Sep 07, 2021
Nice KOA. Pet friendly. Quiet. Liked the grassy areas around the rv spots.
Sep 07, 2021
I'd give this park a 5 rating but the AC didn't work properly. 30 amp circuit seemed to have an issue and microwave or AC didn't work. 29 amp circuit read 49v. Only there for one night so just used battery power. Nice park, reasonably spaced site, no wireless to speak of.
Sep 07, 2021
This is a very nice RV park. We have stayed there many times and we like the premium sites because they are on the end of the row, and have outdoor furniture and a fire ring. Room for improvement Why only 4 of 5 stars? The furniture is showing significant wear. Most sites are missing one or more items. Time for new furniture. Also the cable TV needs a tune up. Reception used to be better
Sep 07, 2021
Just an overnight on our way through Redwoods country. While staff were friendly, we had a question regarding our cable hookup. Staff indicated that maintenance would respond, but no one appeared. Restrooms were clean, but inadequate number of showers and stalls for the size the park. WiFi was not free. I assume that the "golf" course was in the terrible condition because dry conditions.
Sep 13, 2021
The staff was really helpful and the place was very clean and easy to get around. The pool and laundry facilities were really nice and together so we could hang out at the pool while doing laundry. Also awesome that everyone was masked very friendly.
- Tawnya Crowe on Google
Aug 31, 2021
Absolutely Beautiful!!! Also, my new home 💚🏡
- Dawn Derner on Google
Aug 30, 2021
We truly enjoyed our stay here...the campground was full, but the people in the campground were respectful and it felt a family get together! The staff worked hard to accommodate our changing schedule to get us on our way...hey, golf, camping and fun...what more can you ask for?
- Scott Joss on Google