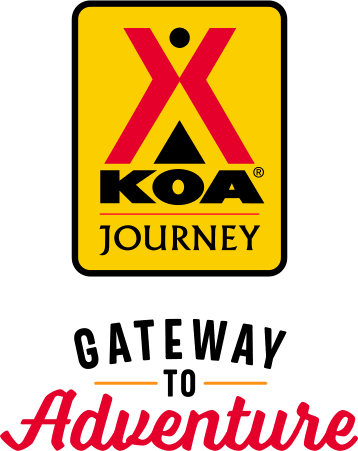 KOA Journey Campgrounds
KOA Journey campgrounds are the perfect oases after a day on the road. Whether it's along the way or a quick getaway, they've got you covered. Located near the highways and byways of North America with long Pull-thru RV Sites, they deliver convenience to the traveling camper. Pull in, ease back and take a load off.
KOA Journeys Feature:
Pull-through RV Sites with 50-amp service
Premium Tent Sites
Well lit after hours check-in service
Directions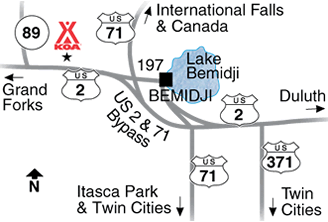 1 mile west of Bemidji, north side of Hwy 2. Between mile marker 109 and 110.
Get Google Directions
Aug 22, 2018
One of the best we've stayed at. The staff were helpful and friendly. Hope to stay there again.
Aug 22, 2018
Nice dog runs! The staff was very nice and courteous. Took us to our site.
Aug 21, 2018
I reserved a shaded site. It was not shaded. There was no grass around the site. The picnic tables were too small and very beat up! Need major updates!
Aug 21, 2018
Great campground big site. Very please. Friendly staff
Aug 21, 2018
nice level sites,friendly staff
Aug 20, 2018
The campsite we stayed in was a back in for our ice castle and it was great! It faced the woods on the one side and we had no neighbors on the other. Granted, that doesn't always happen but it was very quiet even with the amount of people. The staff was friendly and the bathrooms/showers were pretty clean, outdated but clean. It would have been nice though if the pool would open in the morning.
Aug 20, 2018
We did a two night stay. Nice long level sites for larger units. Nice location to visit the Mississippi headwaters from.
Aug 19, 2018
Great campground, staff was friendly.
Aug 19, 2018
Excellent campground..well kept.
Aug 15, 2018
Sites are very narrow and it was almost impossible to drain the holding tanks with the sewer connection so high off the ground. Loved the dog park
Aug 14, 2018
Great stay. Had camper problems, KOA staff helped find a mechanic for us. Everyone was super friendly. Thanks KOA. Karen Hart
Aug 14, 2018
Very helpful staff. Friendly and courteuos. Store had useful travel items for travelers.
Aug 13, 2018
Recommend pool opened before noon
Aug 13, 2018
Quick 2 night visit. Clean bathrooms, store was clean but could have had more grocery type items. by far the least amount that I have seen in a campground store. Didn't have styrofoam coffee cups and was told that they had gone to the store to get more but they were out too. Wal-Mart had the cups, 2 miles away...Not a deal breaker, minor inconvenience.
Aug 13, 2018
We came in late night after the office was closed, the late night registration was very easy to use. The campground was clean and very quaint. Definitely would stay again if in the area.
Aug 11, 2018
Great place to camp in. Close to town and easy to get there from the hwy. Owners were very polite and helpful.
Aug 11, 2018
friendly hosts nicely maintained campground
Aug 11, 2018
We like the campground and all what you had to offer. But on the sleeper cabin the bunk beds were small in the length.
Aug 11, 2018
Owners were attentive to our needs, guided us to our site. Provide a tool to allow my putting an A/C hose back on. Stow and laundry clean and more than met needs. Long site, good water pressure, flat site and nice dog run available. Will return.
Aug 10, 2018
Great place, with friendly host. Had a very nice stay.
Aug 09, 2018
It was really a good time away. The staff was friendly and the grounds and facilities were well maintained and clean.
Aug 09, 2018
Convenient highway access, easily accessible spots. I stay 1 night at a time on my way to and from Road America. I have had 1 very minor issue in the 8 times I've stayed. Washrooms are always clean, showers are hot. I'm a satisfied customer.
Aug 09, 2018
Only negative was the lack of full hookups.
Aug 08, 2018
The site was shady, as requested and it was a good place to stay; we spent 3 days there. Wonderful selection of cable stations.
Aug 08, 2018
The place is clean, has a good selection of RV parts and snacks in their store. Sites are easy to find, but you get escorted anyway. 5 minutes to Bemidji.
Aug 08, 2018
The campground is clean, but it's nothing special. The attendants are dry and not exactly friendly welcoming people. It seems everything is a chore to them. We had visitors and they were pretty rude to them. They want everyone out by 11 AM. The playground is old and outdated like most things at this campground. There are many other campgrounds in the area that are much more welcoming.
Aug 07, 2018
Nice campground. Staff was friendly. My site was nice and level.
Aug 07, 2018
The campground is nice and clean. The host are not very welcoming. This KOA has many rules and pool opening at noon is ridiculous for the children. needs to be 10am at the latest. Campground extremely costly charging extra for adults - I was under assumption it was for 6 people (basic rate is not cheap to begin with). Would stay elsewhere next time to Bemidji. Much cheaper campground around
Aug 07, 2018
Very short but convenient
Aug 07, 2018
Full service spot, pull through across from office. Workable for one night stay. Unattractive for longer. Staff friendly
Aug 06, 2018
Welcoming hosts! Clean camping facilities! We will be back!
Aug 06, 2018
clean,courteous,everything a camper needs
Aug 06, 2018
Clean, comfortable campground. Staff were nice.
Aug 06, 2018
We stayed one night, 25 ft. RV, full hookups. Nice park right off a busy road but we were not disturbed by noise. Sites were spaced nicely for our size unit. Restrooms/showers clean, good hot water and pressure. Minor issue, our site hookups were at the very front of our assigned space rather than at the rear near our RVs hookups. Needed extensions for all hookups to use level area of site.
Aug 05, 2018
Nice location. Not too far from restaurants, shopping , gas. And places to visit. Staff were helpful and gracious.
Aug 05, 2018
Campground was very clean and he staff was very friendly. Site was perfect but being close to the highway, it was a bit noisy.
Aug 04, 2018
I always like the Bemidge KOA, the staff is very friendly and sites are nice...
Aug 01, 2018
Very friendly staff and clean facilities!