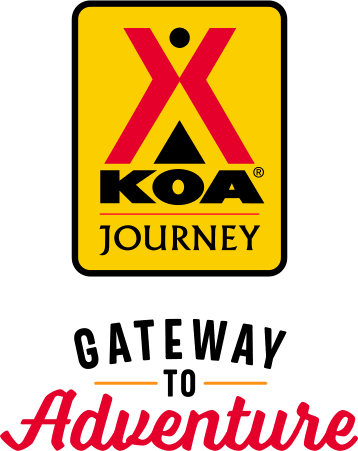 KOA Journey Campgrounds
KOA Journey campgrounds are the perfect oases after a day on the road. Whether it's along the way or a quick getaway, they've got you covered. Located near the highways and byways of North America with long Pull-thru RV Sites, they deliver convenience to the traveling camper. Pull in, ease back and take a load off.
KOA Journeys Feature:
Pull-through RV Sites with 50-amp service
Premium Tent Sites
Well lit after hours check-in service
Directions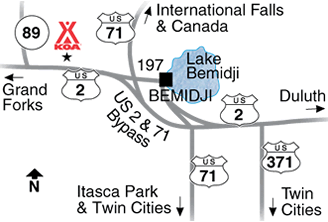 1 mile west of Bemidji, north side of Hwy 2. Between mile marker 109 and 110.
Get Google Directions
Aug 21, 2019
We stayed 2 nights, but didn't use any facilities.
Aug 21, 2019
The camp hosts were very friendly. Our site was easy to pull into and level. We liked the proximity to Lake Bemidji State Park and all of the wonderful walking/biking trails. The highway noise didn't bother me, but being in the flight path of the regional airport was slightly bothersome, but it didn't affect our stay. This was a good place to stay on our cross country RV trip between ND & WI.
Aug 21, 2019
Very friendly staff... really enjoyed the pool!
Aug 20, 2019
The staff were very friendly and helpful, and the campground is in a good state. Excellent for an overnight (or longer) stay.
Aug 20, 2019
We stayed here two nights while travelling from Canada to Mackinaw City, Michigan. We enjoyed having a deluxe patio site both times. Staff were very helpful and friendly. The campground is very clean and well organized. The slope for sewer drainage could be improved a bit. We would definitely stay here again.
Aug 20, 2019
Damaged Motorhome on pine trees encroaching drive which made entire visit disappointing.
Aug 20, 2019
Excellent big site with patio.. Friendly, helpful staff.
Aug 20, 2019
Stayed one night. Nice campground. Big sites
Aug 18, 2019
Extremely friendly staff. Clean campground. Will definitely come back again
Aug 16, 2019
Super friendly staff more than willing to help in anyway !�
Aug 15, 2019
Enjoyed the grounds. Clean and neatly kept. Staff were more than friendly.....and in a sincere way, not fake. One staff member helped a new rv'er with an awning that didn't want to cooperate........in the rain. He was soaked. The RV'er offered a $5 tip for the help, the employee refused saying, "Glad he was able to help".
Aug 14, 2019
Great stopping place for a few days. Crew was nice.
Aug 14, 2019
Very nice site and very nice people. My only complaint was that the WIFI was not very good.
Aug 12, 2019
We were extremely pleased with our stay at Bemidji. Our site was long, level and adequate room between us and our neighbors. The staff bent over backwards trying to help. Wish we had been able to stay longer.
Aug 12, 2019
This review has been removed by KOA due to profanity.
Aug 11, 2019
This is one of the cleanest and nicest RV parks that we have stayed in. The staff are very friendly and helpful. I wish we would have had more time to stay in the area. We highly recommend.
Aug 11, 2019
Very nice campground, and the staff were helpful and accommodating.
Aug 11, 2019
Park is clean and orderly. Friendly staff. Note if you are sensitive to noise it is right on highway 2 which is 4 lane and noisy!! Ask for spaces in back. Note those spaces do not have the patios.
Aug 11, 2019
Very well taken care of
Aug 11, 2019
We were there overnight. Had Pizza at night and pancakes in the morning. Very helpful and knowledgable staff and a very neat campground
Aug 10, 2019
Overnighted on our way west on hwy 2. Very clean. Extremely friendly staff. On my A list.
Aug 10, 2019
Nice travel stop over
Aug 10, 2019
Clean bathrooms but little ventilation
Aug 10, 2019
Glad to have gotten a spot.
Aug 09, 2019
Enjoyed all the site seeing 8n 5he area.
Aug 09, 2019
Very clean. Bathrooms and laundry (reasonably priced) had AC. Obvious they cared. Always doing something. Sites clean. Escorted. Staff helpful. They make a point to check in. We'd definitely go back.
Aug 07, 2019
The new Camper helper/host couples were all very nice and helpful. We had issues with the cable tv, and water. It was fixed quickly.
Aug 07, 2019
Great staff, clean campground and our site was absolutely fantastic (11-A). It's a pull thru with a patio; talk about luxury accommodations! Pool is nice and clean (I only wish it were open earlier; noon-9 pm). (The one downside for us was poor cell signal (NOT KOA's fault at all of course), we have AT&T. Free wifi, low signal too.) We will definitely be back!
Aug 07, 2019
We really enjoyed our stay at the campground. The staff was awesome and even put up with the antics of our 6 month old shepherd puppy. They even graciously filled some holes she dug at our campsite. Everything was clean and well maintained. Thanks for a great camping experience!
Aug 05, 2019
Nice shaded lot. Great staff and amenities.
Aug 04, 2019
Second stay Very accommodating staff Clean
Aug 04, 2019
Great campsite, enjoyed everything about the facilities, will make future plans to return at a later date and stay much long. Thank you, John & Roxanne
Aug 03, 2019
We loved our stay! Spacious sites for large trailers/RVs. Clean, well kept and managed park, facilities, pool; management very friendly and accommodating; quiet nights. Close to Lake Bemidji State Park for hiking and biking. Short drive from camp to see Paul Bunyon and Babe in Bemidji. A hike around Lake Bemidji was a great way to end a great vacation. We will camp here again for sure!!
Aug 03, 2019
Nice park, well spaced, friendly staff. Clean restrooms, nice size dog park
Aug 03, 2019
very nice park