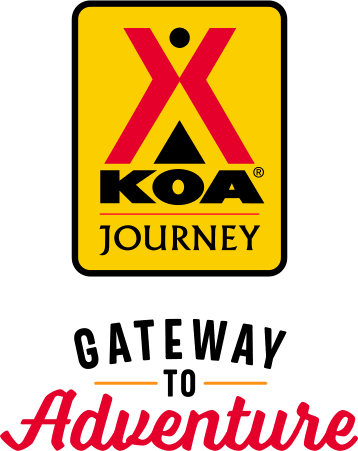 KOA Journey Campgrounds
KOA Journey campgrounds are the perfect oases after a day on the road. Whether it's along the way or a quick getaway, they've got you covered. Located near the highways and byways of North America with long Pull-thru RV Sites, they deliver convenience to the traveling camper. Pull in, ease back and take a load off.
KOA Journeys Feature:
Pull-through RV Sites with 50-amp service
Premium Tent Sites
Well lit after hours check-in service
Directions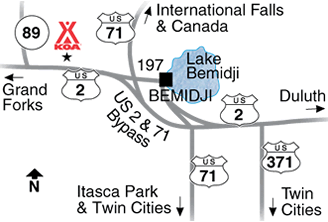 1 mile west of Bemidji, north side of Hwy 2. Between mile marker 109 and 110.
Get Google Directions
Jun 23, 2020
Very friendly people Nice area very clean
Jun 23, 2020
I wish the hosts would have shown us available spaces before assigning one in a very busy area. We would have preferred a spot much further away from the office.
Jun 23, 2020
nice staff, pool was open (!) and we had a nice, quiet site.
Jun 22, 2020
Great place to camp.
Jun 22, 2020
Stayed just one night. Had our granddaughter of 3 years old with. She enjoyed the pool and playground. Also tried the mini golf.
Jun 22, 2020
Stay was great people were friendly, site was nice.
Jun 21, 2020
the cleanest campground I've ever been to. Used the showers each day and every time the whole bathroom smelled and looked like it was cleaned minutes before walking in. Only complaint is a male pit mix free roaming around at nights. my dog was in heat and I couldn't let her go potty unless it was right outside the door. At checkout I saw a guy walking past the oFfice with the same dog unleash
CAMPGROUND RESPONSE / COMMENTS:
The dog belongs to someone in the community. We called as soon as we found it was loose.
Jun 20, 2020
Clean showers and bathroom. Appearance of campground average at best
Jun 19, 2020
Quiet, relaxing atmosphere. Clean and well kept grounds. Very clean bathrooms and showers. Agreeable and friendly staff.
Jun 18, 2020
Everyone at the KOA were very kind and very helpful.
Jun 13, 2020
When we arrived, we were not sure what to expect due to Covid. Over all this is one of the best experiences ever. There was food deliver and anything else you might need. Brought right to your site. Even warned about late night severe weather and checked up on everyone in the morning. Even advice for newbies! Best experience ever! We are gonna be frequent visitors to this KOA!
Jun 08, 2020
Everything went smoothly. We were not aware there were no visitors allowed due to Covid. This was our first trip we ever took with our motorhome and wanted family, cousins to stop by and see it. Wish this would have been communicated to us prior to making reservations. However, with that said, the Covid thing has turned everyone's world upside down.
Jun 06, 2020
Very good camp ground very nice people were wonderful will absalutly go again
Jun 04, 2020
Nice campground with lots of trees. The staff is very friendly and did a great job.
Jun 04, 2020
We were charged full price but nothing was open. No pool, no laundry, no showers, no playground. Not given the wifi password. Highly disappointed
CAMPGROUND RESPONSE / COMMENTS:
Wifi password is on site map. Sorry we were unable to open amenities due to the covid-19 and health dept closures orders.
Jun 01, 2020
it was very sad to see the campground so empty. we have stayed here before and it was busy : ) i think the grounds are set up very well and very well maintained. staff is friendly, quick to bring wood ordered and let us know of curfew right away.
Sep 21, 2019
Park was being lightly used at the time, and crew was wrapping up facilities as the season was coming to a close. We were just passing through for the evening, but it seemed like a very nice park and location, and the staff was quite accomodating.
Sep 12, 2019
Close sites and the staff was a little curt!
Sep 12, 2019
First time stay. We stayed here while visiting family in the area. Close to town for shopping.
Sep 12, 2019
Staff was nice and helpful. Bathrooms and showers were clean. Site was level. My only negative is location. The campground is beside an industrial business of some kind. You could hear trucks or forklifts backing up and beeping.
Sep 11, 2019
Wonderful campground, wonderful people
Sep 08, 2019
Nice staff and a well kept campground. We have stayed there often over a number of years, and it is always well kept. Nice level sites
Sep 08, 2019
The staff was amazing. We were trying to get to the campground by closing time. I called ahead to let them know we would be about 10 minutes late. When we arrived, there was an employee waiting at the gate to let us in. We really appreciated him escorting us to our sight. Would not hesitate to spend time in this location again.
Sep 07, 2019
Even with it being the end of the season we were welcomed with kindness, information, and helping us with getting the cable set up with patience. Thank you so much!
Sep 06, 2019
Everything was clean and our hosts were friendly. We truely enjoyed our stay and that helped to make it a perfect mini vacation. Thank you!
Sep 04, 2019
Nice quiet stay(end of season); used as base for sight seeing; main roads in park need to be paved (dusty); sights are too close to each other.... neighbors campfire smoke filters into other units; sewer connections are in neighbors main outdoor space... you get the idea.
Sep 03, 2019
Nice clean friendly campground. Starting to get a little date but still a nice. place. great location. wish they had more site with sewer. All in all a great stay
Sep 02, 2019
Very nice campground.
Sep 02, 2019
Quiet clean park
Aug 31, 2019
Great park. Friendly staff. Delicious pizza!!! Wonderful grounds for a nice walk. Our dog loved the doggy park cause it was nice grass! We had a great stay. Thank you!
Aug 31, 2019
Nice quiet place. Everything was clean. The staff were friendly and helpful.
Aug 28, 2019
Everything was great except for the fine sand. It tracked in kinda bad.
Aug 28, 2019
Staff very helpful.
Aug 27, 2019
Very professional
Aug 26, 2019
Great campground, employees could be a little more friendly and welcoming towards families.
Aug 26, 2019
Quiet, friendly campground. Flat sites made it extremely easy to level our camper.
Aug 26, 2019
We loved your campground and the feel there. Great staff and amenities.
Aug 24, 2019
Great KOA. We stay there every time we are in Bemidji. Friendly staff and clean camp.
Aug 23, 2019
Clean and friendly staff.