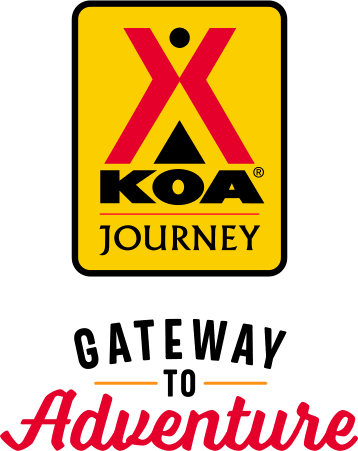 KOA Journey Campgrounds
KOA Journey campgrounds are the perfect oases after a day on the road. Whether it's along the way or a quick getaway, they've got you covered. Located near the highways and byways of North America with long Pull-thru RV Sites, they deliver convenience to the traveling camper. Pull in, ease back and take a load off.
KOA Journeys Feature:
Pull-through RV Sites with 50-amp service
Premium Tent Sites
Well lit after hours check-in service
Directions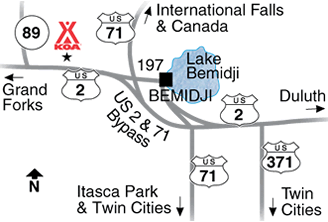 1 mile west of Bemidji, north side of Hwy 2. Between mile marker 109 and 110.
Get Google Directions
Jul 18, 2020
Very clean. Very accommodating. Staff was wonderful. Had a great stay. We will be back.
Jul 17, 2020
Good location! Friendly, helpful staff! Well maintained and nice treed campsites!
Jul 16, 2020
Very clean facilities with friendly and helpful staff.
Jul 16, 2020
Very friendly and helpful staff!
Jul 16, 2020
Staff is very friendly and the park is spacious. One of my favorite KOAs.
Jul 16, 2020
Great location
Jul 16, 2020
Nice campsites, clean bathrooms & painted so lovely. Great stop on our way further north. Would definitely stay here again.
Jul 14, 2020
Awesome place to stay! Everyone was super friendly and very helpful. Property was very well taken care of and clean.
Jul 13, 2020
Bemidji KOA is a beautiful park with a well supplied store and beautiful pool — all just west of Bemidji on US 2. A great KOA with excellent security and easy access.
Jul 12, 2020
very Pleasant restful
Jul 12, 2020
Convenient, easy to level my camper, close to the pool, accommodations were perfect. We're already coming back in August with the family.
Jul 11, 2020
Very friendly, clean amenities, flat sites. Would definitely come back, great base to explore the region.
Jul 10, 2020
We had a wonderful time at your KOA. Even though many activities were closed because of the virus. Lots to see and visit in Bemidji! Our site (1) was very nice. It was a large, beautiful end spot with a grill, patio and a very nice fire pit! Thank you!
Jul 09, 2020
Stayed at Bemidji Koa over the 4th of July weekend. The owners and staff are very friendly. Very nice site and things to do at this campground and not far into town. Restrooms are very clean and the pool is wonderful! would recommend a stay here.
Jul 08, 2020
It's a decent campground, but they need to reinforce the dog leash rules. 3 big dogs running lose and one came after us. I screamed for help as we scooped up our 2 yorkies. A woman came running out of a cabin on the east side of office and thankfully the dog obeyed. Bathrooms were fine and nice long spaces for a 40 ft. Motorhome. Could use some gravel on the dirt roads. Had a pool and puttputt.
Jul 07, 2020
Nice clean campground and he staff friendly and helpful. Would go back again.
Jul 07, 2020
Loved how close this KOA is to town, the lake and the state park. Very clean park, all the staff were very friendly. We enjoyed the pool and putt putt. The dog park was very large and spotless. The fun extra was seeing rabbits in the open field.
Jul 07, 2020
Nice week. Nice people. Would have liked a site with sewer but none were a available. The dirt site was a little messy. But overall nice park
Jul 07, 2020
Great staff and wonderful campground. One of my guests made the following comment: "They really take good care of the grounds. Very clean". Thank you for everything! Gary
Jul 06, 2020
Vary nice employees there. Pool was great kids had a blast there definitely coming back
Jul 06, 2020
Very clean and quiet campground. The staff was very friendly and helped us a lot especially since it was our first time there. They even provided local recommendations for shopping and where the best place was to watch fireworks.
Jul 06, 2020
Friendly staff, convenient location, homey grounds. Could use a few more trees. Would stay again when in the area.
Jul 06, 2020
Great setting, staff and pool was very clean.
Jul 06, 2020
Best owners, staff and common facilities immaculate...will return
Jul 05, 2020
Very nice!! Clean and quiet. Staff super helpful!
Jul 04, 2020
Awesome stay with wonderful owners and staff! Thank you
Jul 03, 2020
Awesome staff and ownership. My wife broke her hip while in our motor home and they were so accommodating and helpful in every way imaginable. Thankful.
Jul 02, 2020
Excellent effort in being prepared and ensuring that guest were informed and properly prepared for camping during this pandemic! Thank you for wearing masks! Several other KOAs are not enforcing or following state and federal guidelines and we very much appreciated that you do!!
Jul 02, 2020
Thank you for being conscientious and prepared properly during this pandemic! Because of your precautions we felt safe!
Jul 02, 2020
Lovely place. Super folks.
Jul 01, 2020
very nice and friendly staff close to town is a plus
Jun 30, 2020
Very helpful staff. When we came back to our KOA spot after our morning out, our AC had gone out, as well as the rest of our electrical. One staff member came over to help with 2 testers, and determined that the AC draw or our converter may be the culprit. Another staff member checked later to see what the status was.
Jun 30, 2020
Enjoyed my brief stay. Hosts where very nice and helpful.
Jun 30, 2020
Great time. Nice location
Jun 29, 2020
Great stay! The owners and staff were awesome. Very friendly, attentive and helpful!
Jun 29, 2020
We had a great time! The pool was such a nice bonus and was kept up very well! Staff were so helpful and accommodating!
Jun 24, 2020
We had a wonderful stay for 4 nights. All of the hosts were very friendly and accommodating! The dog park area was a plus for us and our dog! Thank you!
Jun 24, 2020
Truly enjoyed out star here at our first KOA. It was quiet, clean and the staff was excellent. The pool and grounds were very clean and it was perfect for all ages of kids with the amount of activities. The store was very clean and open. We really enjoyed our stay and we will look forward to coming again but also exploring other KOAs. Thank you for a great stay!
Jun 23, 2020
We LOVED our stay and wish it was longer. Our site was perfect. The staff was friendly and helpful. The bathrooms were clean, the pool was clean and warm, the playground was perfect for our almost 4 year old.