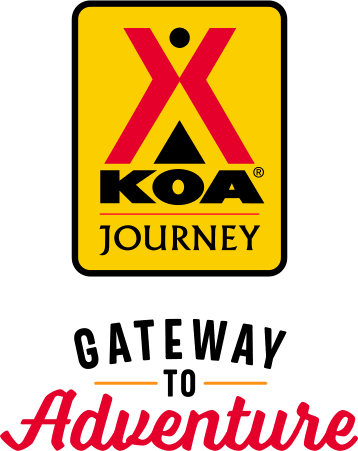 KOA Journey Campgrounds
KOA Journey campgrounds are the perfect oases after a day on the road. Whether it's along the way or a quick getaway, they've got you covered. Located near the highways and byways of North America with long Pull-thru RV Sites, they deliver convenience to the traveling camper. Pull in, ease back and take a load off.
KOA Journeys Feature:
Pull-through RV Sites with 50-amp service
Premium Tent Sites
Well lit after hours check-in service
Directions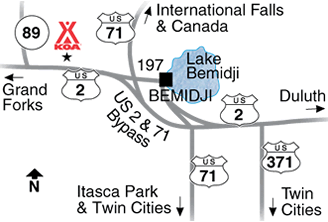 1 mile west of Bemidji, north side of Hwy 2. Between mile marker 109 and 110.
Get Google Directions
Aug 17, 2020
What a nice campgrounds and location! We visited the Lake Bemidji State park nearby and had a fantastic hike and picnic! And your staff was so helpful too! We had our new camper and some glitches and the staff did not hesitate to jump in and assist us, making our stay so much more enjoyable! Thank you for a great weekend! We will surely be back!
Aug 17, 2020
Sites are close together. Site next door used fire pit and out RV was in golfed with smoke. They also played their fiddle with was loud.
Aug 13, 2020
Nice long sites; clean bathroom
Aug 11, 2020
Friendly staff. Very flexible and helpful.
Aug 11, 2020
At check out staff was extremely rude and acted like they didn't have the time. Even tho it was only us two! Camp sites are extremely close if you are camping with family or friends beside you. Beautiful area and all around good fun. Pool was clean and so relaxing
Aug 11, 2020
Trying to use the pool was nearly impossible, it's not very large. The pool was controlled by the kids and very little chance of adults to enjoy some calm time. Been to many KOA's, nice place but not in my top tier of parks.
Aug 11, 2020
Quiet campground and very nice manager. Stayed for one night. Not a lot of shade, but campsites were a good size.
Aug 06, 2020
Everything is clean and staff was helpful. They have laundry and a pool. Very convenient to Town and sightseeing.
Aug 06, 2020
The park was clean and staff very friendly. You're doing well in a trying time to make sure your guests are taken care of.
Aug 06, 2020
Traveling together, the lady who ckd us in, lied to us and put us at opposite ends of campground, because she said all sites together were reserved. Park was less than 1/3 full. Will never stay there again and will tell every camper I meet, our experience. The lady that ckd us in SHOULD NOT be allowed to deal with the public.
CAMPGROUND RESPONSE / COMMENTS:
Our 50 amp sites and 30 amp sites are not together all 50amps were full and you did not have a reservations we did the best we could to get you in for a 1 night stay.
Aug 04, 2020
Very clean, very friendly and helpful staff.
Aug 04, 2020
It was ok lots of activities had been cancelled because of the overly blown covid.
Aug 03, 2020
Nice location on US #2! Friendly staff to assist you when you arrive. Very tight for a class A unit, they need to spend some time trimming up the trees.
Aug 01, 2020
Had a very pleasant stay at this KOA. Staff was very friendly and helpful. Grounds well maintained and everything was very clean ,There are several parks both city and state within 20 or so miles to check out.. Local town of Bemidji has many shops and points of interest with something for most individuals. Only downside was noise from road traffic and airport fly pattern. Would still stay again!
Aug 01, 2020
Quiet, facilities were fine
Jul 28, 2020
WiFi kept dropping
Jul 28, 2020
Very nice campground just a mile from all the conveniences. Restrooms were very clean and the sites were well maintained. Stayed for 5 days and will stay here again.
Jul 28, 2020
This KOA was nice, neat & clean. Was nice having electric & water at our site.
Jul 27, 2020
It was great! The sites seemed very clean. The staff was very helpful, and the food we ordered was great!
Jul 27, 2020
Very nice. Had to leave one day early but was informed no refund would be given even though we gave 4 days notice.
Jul 27, 2020
I think the Pull through campsites are to close to other campers so you can't really enjoy camping without stepping on their hoses and cords, especially if you have a large family. And for a dog run it's not really runable for a large dog. I never went in the actual office because well COVID nor did I go see the bathroom/showers. Pool was decent size, didn't do mini golf or go to the park.
Jul 27, 2020
Excellent place to stay! Staff were helpful and accommodating as well as very pleasant! Definitely would recommend this place.
Jul 27, 2020
The workers were very friendly and helpful. We were renting an RV for the first time, and the KOA staff helped us hook everything up and made sure everything was working properly.
Jul 27, 2020
Was very pleased with the attention to the covid issue...
Jul 25, 2020
Justin was very pleasant, friendly, and helpful, as was Wayne. They made our stay enjoyable and user friendly!
Jul 25, 2020
Nice and relaxing
Jul 25, 2020
Very friendly office staff. Informed us of everything about the campground. The person who took us to our site stayed a few minutes and told us of things in the area and restaurants to eat. Also, told us where we could get assistance at night if needed. Very clean and well kept KOA
Jul 24, 2020
Bathrooms were clean. The campsite area's needed weed whipping . I saw alot of long weeds by the campsites.
Jul 23, 2020
Campground needs an upgrade as showers barely trickle, toilets take forever to flush, and picnic tables are worn.
Jul 23, 2020
Very nice park.
Jul 23, 2020
Our grandboys love the pool and playground.The fire ring was very disappointing. It was so far into the ground that air could not get to it; we basically made smoke. We cook over a fire but was not able to due to this issue. Mini golf needed some updating. Very quite and clean bathrooms.
Jul 23, 2020
Good location. Very well maintained. Very helpful staff.
Jul 23, 2020
Wonderful time with my grandson. We enjoyed time in the pool and the playground!
Jul 22, 2020
We had a nice site they are long but somewhat narrow . I had made a mistake and reserved a site without full hook up so I was upset with myself. The worker did check if there was any available but unfortunately there was not. It was clean and quiet. Very nice.
Jul 22, 2020
Staff was great!
Jul 21, 2020
This is a very nice KOA. My only complaint would be that some of the sites are a little small and close to each other. Staff nice. Well groomed sites. Good place for kids
Jul 20, 2020
We enjoyed it. That being said the sites were close togther. The wood was fairly wet so had to make very small pieces to get fire going. The showers would be extreme hot or cold if multiple people using. Staff was friendly and all hooks worked as they should.
Jul 20, 2020
Not the first time we've been here, it will not be the last. Enjoyed the site very much.
Jul 20, 2020
Nice campground. We just stayed one night so we didn't use the pool. Good location.
Jul 19, 2020
This KOA has lots of trees and shade, level lots, and friendly staff. Very clean and well cared for. We had several hard rains but the ground drained right away so no mud to deal with, contrary to other KOAs we've stayed at. We enjoyed our stay very much and recommend it.