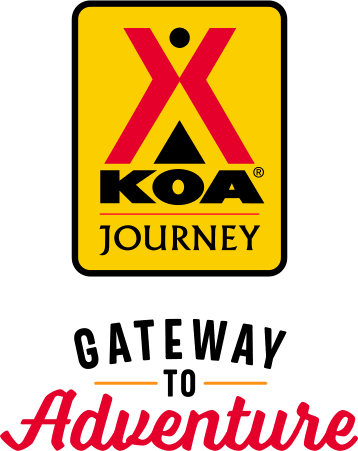 KOA Journey Campgrounds
KOA Journey campgrounds are the perfect oases after a day on the road. Whether it's along the way or a quick getaway, they've got you covered. Located near the highways and byways of North America with long Pull-thru RV Sites, they deliver convenience to the traveling camper. Pull in, ease back and take a load off.
KOA Journeys Feature:
Pull-through RV Sites with 50-amp service
Premium Tent Sites
Well lit after hours check-in service
Directions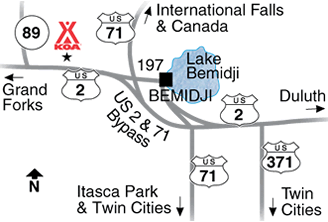 1 mile west of Bemidji, north side of Hwy 2. Between mile marker 109 and 110.
Get Google Directions
Jul 26, 2021
I still have not receive the financial correction from reserving our nine day stay over the phone vs the walk-in rate i was charged upon arrival...approx $20. The site next to us had a sewer hook-up issue. Otherwise, our hookups were good, flat pull thru nice. Highway noise, ugh.
Jul 26, 2021
Nice campground, clean and quiet. Lots of room. Probably should make it more clear on the web site which spots have sewer and which do not. Not a problem for us, others complained however.
Jul 25, 2021
They need to kind of catch up. They're friendly, courteous and diligent, but will need to catch up. Some of the issues are not in their control; premium sites were rough-broken cement patio, furniture rusted. Mini golf looked old and worn, picnic tables rough, more than one dumpster, it filled fast. Maybe adult hour at pool. More kid activities? Despite this is a good place. Would come back again.
Jul 25, 2021
KOA's rock! Super nice place and very friendly and helpful staff!
Jul 25, 2021
Everything was great
Jul 25, 2021
Very pretty park. Big trees and lots of grass. Nice pool. Great staff. One of them replaced our sewer hose for us. In all our years of camping we have never had anyone offer to help with an unexpected problem. Without his help we would not have been able to dump our sewer. It was greatly appreciated. If we travel this way again we will definitely stay here! Thank y'all!
Jul 24, 2021
Dennis and they others that were at the KOA were amazing. We had a great time resting and getting some sun. Thank you for everything!!
Jul 24, 2021
Very nice set up of the campgrounds. Units are not close to one another. Can have a campfire without worry.
Jul 24, 2021
A nice space with concrete patio and a swing. Friendly staff, too.
Jul 21, 2021
Spaces were tight, trash was inconveniently located
Jul 20, 2021
Nice hosts, nice pool, nice sites
Jul 20, 2021
Nice quiet campground. Everything was good. Would definitely go back again.
Jul 20, 2021
Nice quiet campground, good sized lots, clean and friendly staff.
Jul 20, 2021
I love that there was popcorn and rootbeer floats! staff was friendly! Had plenty of activities for the kids! The state park is only a few minutes away!! We loved it and will be back again.
Jul 20, 2021
Very clean facilities. Was expecting air conditioning in the kamping kabin but understand that will be in place next year. Good place with friendly owner.
Jul 19, 2021
NICE TENT AREAS. VERY CLEAN / MAINTAINED BATHROOM / SHOWERS. GREAT STAFF.
Jul 19, 2021
Very friendly, clean restrooms swimming pool very clean nice family park
Jul 19, 2021
Only thing I would change is I would have liked to be able to face campsite next to us ( people we were camping with) and we were told we could not do that
Jul 19, 2021
Kind friendly people.
Jul 19, 2021
It was fine. I had a secure quiet place to come back to each day after long days of business in the Bemidji area.
Jul 19, 2021
Bathrooms dirty and smelled,
Jul 19, 2021
Our stay was perfect! Cute little environment and the kids enjoyed themselves. A minus would be the pool hours, temps were hot right away so earlier pool hours would be nice.
Jul 17, 2021
Easy access and very friendly staff.
Jul 17, 2021
Nice campground and great staff. Construction workers had cut power to some of the sites, but staff was on-site working with all campers to ensure the best service possible, and they stayed after normal hours until everyone was powered back up.
Jul 17, 2021
I appreciated the staff person who kept us informed about the wildfire that was close to us. Friendly staff folks. Very clean restrooms and showers.
Jul 15, 2021
This review has been removed by the moderator for inappropriate or incorrect content.
Jul 15, 2021
Thanks for everything, our stay was awesome!!
Jul 14, 2021
The place was nice and clean. A little tired and not many fancier amenities like some other KOAs. However, the accommodations were clean and kept up. The owner and staff were nice and accommodating. The gates in and out gave you a sense of safety and privacy. We would return and recommend.
Jul 13, 2021
2nd time staying there and both experiences were GREAT! We will definitely be back
Jul 13, 2021
Bathrooms & facilities need an update..
Jul 12, 2021
The only thing that was a problem was that I was told that we could only have one tent, & we needed two due to we came with someone from a different household. Luckily, the gentleman who checked us in was able to give us an additional site right next to us for no charge that was no longer in use. The next time I camp here, I will make sure that we don't bring anyone else from a different household
Jul 12, 2021
The hosts had great communication with guests, very friendly and helpful. The camp was clean, well cared for and had plenty of activities to keep us busy.
Jul 12, 2021
Staff was very friendly and responsive. The pool was clean and well taken care of, if a little small for how many kids were in there. The playground was very fun for our 2-, 4-, and 6-year-olds. The site was clean and level and hookups were easily accessible.
Jul 12, 2021
We like the KOA for the friendly people and we like the amenities such as the small grocery store that carries a little of everything. I was able to purchase some new nick knacks for my new RV there. We enjoy interacting with the employees as they are always friendly and helpful.
Jul 12, 2021
Convenient place to stay, service is amazing! Only down side is the brutal 11am check out time.
Jul 12, 2021
Place was great for our group.
Jul 12, 2021
Was great very nice place
Jul 11, 2021
Great campground and the owner was very accommodating!!
Oct 21, 2021
Price was comfortable and all ammenities available. Very nice.
- Sally Sperry on Google
Sep 30, 2021
Loved it. Will be back to stay again.
- Lorelei Groen on Google
Sep 29, 2021
Beautiful fall getaway, very quite, VERY NICE KOA, So close to Itasca St Park. can't wait to go back next year!
- Anita Strueber on Google