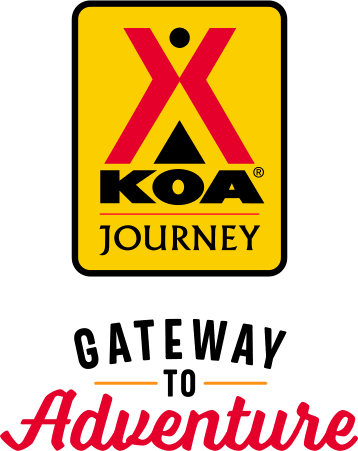 KOA Journey Campgrounds
KOA Journey campgrounds are the perfect oases after a day on the road. Whether it's along the way or a quick getaway, they've got you covered. Located near the highways and byways of North America with long Pull-thru RV Sites, they deliver convenience to the traveling camper. Pull in, ease back and take a load off.
KOA Journeys Feature:
Pull-through RV Sites with 50-amp service
Premium Tent Sites
Well lit after hours check-in service
Directions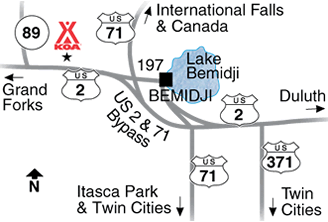 1 mile west of Bemidji, north side of Hwy 2. Between mile marker 109 and 110.
Get Google Directions
Aug 09, 2021
This is an older KOA where parts of it need a major redesign. Campsites are narrow because slide outs were not prevalent when it was built. More sites need sewer hookup. Turning radius at some road intersections are very tight for longer motorhome and 5th wheels.
Aug 09, 2021
it is alway a pleasure to stay there. Very friendly staff and extremely helpful.
Aug 09, 2021
The owners are excellent to work with. Park is super clean and the swimming pool water is warm !!!! This is my second time here this season.. I will be back... Lori S. Moorhead, MN
Aug 09, 2021
Great place, great staff. 200% top notch. Im looking forward to coming back.
Aug 09, 2021
Family vacation for 18 was a hit! We had a great time, used the flap jack building for all our meals, the outdoor kitchen was perfect! Volleyball, heated pool, and bike rentals were a favorite. Best place to bring your dog too! Bathrooms were very clean at all times and the showers were nice and hot. Disliked bathrooms being cleaned in the middle of the afternoon & mini golf needs some repairs.
Aug 08, 2021
The new owners are amazing! Customer excellent. Very nice warm and friendly!!!!
Aug 08, 2021
The Bemidji KOA has clean and well kept grounds. The staff is professional, friendly and kind. I love staying at the Bemidji KOA, which is close to town and where I feel safe. The pool is beautiful, and well maintained. This is a huge attraction, which keeps me coming back.
Aug 08, 2021
Very accommodating, friendly staff. Nice to have air conditioned bathrooms. Pool was nice but small with limited hours. Office area offered extras if you forgot something but could smell much better for a first impression.
Aug 07, 2021
very clean bathrooms. Friendly staff.
Aug 07, 2021
We wanted a quiet getaway for a few days and that's what we got! Staff and owners were very helpful. Nice shady camping spots and an extremely clear and clean pool. We will come back again!
Aug 06, 2021
Great wifi level ground very quiet and shady spots. I can't think of anything negative
Aug 04, 2021
Clean, spacious sites Friendly and helpful staff
Aug 03, 2021
We had 3 sites. The over all stay was great! Security gates were nice to have. Bathrooms/showers & pool were very clean. The only concern was a sewer smell. We were right by the dump station/office & had sewer smell all weekend. Thank you!
Aug 03, 2021
It was nice and clean. The staff was courteous, prompt and friendly. However, I prefer State Parks or State Forests so I have more of my own space. I like more trees and privacy.
Aug 02, 2021
Very clean very nice people to work with! Liked the big sites�
Aug 02, 2021
We enjoyed this quiet quaint campground. Wonderful caring owners. The pool is small but very well kept. Root beer floats and ice cream on Saturday. Our Cabin was clean. Bathrooms and Showers were clean.
Aug 02, 2021
Nice, clean amenities and one of the quietest KOAs I've stayed in. I appreciated the walls between the tent sites for a bit more privacy as well.
Aug 02, 2021
AWESOME CAMP GROUNDS. OWNER/STAFF WONDERFUL!!!
Aug 02, 2021
Nice facility, but many sites have no sewer hookup. They don't have a mobile dump cart, so every few days, it's unhook, pull in the slides. and drive to the dump station. Roads in the camp are too narrow and my rig came out scratched all over. "Just drive out the gate and turn around " was their solution!!
Aug 01, 2021
Booked 75' pull through for 6 day stay. Very disappointed to find no sewer connection! Incredibly, all of the big rig pull throughs in our section had no sewer connection. This was our first experience at a KOA. Do all KOA's have so few sewer connections?
Jul 31, 2021
The owners and other workers were friendly and helpful. Bathrooms and campsites are very clean. Location is convenient to activities in the area. Pool is great! Temperature just right and very ckean!
Jul 30, 2021
Campground was clean and friendly. Need more cement patio pads .
Jul 29, 2021
A bit of road noise but nothing major. Reasonably situated for the places we wished to visit. No problems.
Jul 29, 2021
Campground was very clean and staff very friendly and courteous. Our biggest problem is getting in and out of the pull through sites with a 30 foot trailer and full sized pickup. With the site across and to the right full we would not be able to get out.
Jul 28, 2021
I've stayed here every year during the 3rd week of July while attending Moondance Jam in Walker, MN. It has almost always been 4 nights, this time it was 5 nights. Very comfortable and appealing layout and appreciate being able to take a nice hot shower every morning. The staff has always been helpful. New owners bought it last year, and they were really nice as well.
Jul 27, 2021
Friendly, helpful staff, clean facilities and close to the bicycling trails we came to ride. We stayed 3 nights in July but didn't get back to the campsite in time to enjoy the free root beer floats. �
Jul 27, 2021
No complaints we had everything we needed.
Jul 27, 2021
we enjoyed our stay, lots to see and do in town. was able to get a haircut without any appointment which I really needed.
Jul 26, 2021
We have a wonderful stay. The mini golf course needs some work but they told us that. Also we booked far in advance and over the phone to be able to have our 3 sites next to each other and we were not. That was very disappointing when we have a membership.
Jul 26, 2021
Owners are very attentive to camper needs! Good amenities! It was awesome having a slab on our site!
Jul 26, 2021
We had a great stay at the KAO in Bemidji. Everyone was friendly and welcoming. We booked again for next year and can't wait to return.
Jul 26, 2021
Friendly people. Very helpful.
Jul 26, 2021
It is has a very friendly atmosphere. Clean washrooms, pool and camp sites. The owner and staff are very personable, and helpful. My husband and I are basically newbies in the camping world and I would recommend this KOA to my friends and family. Even all the other campers were friendly and helpful. We are going back in two weeks. Loved it.
Jul 26, 2021
Everyone was extremely helpful. It was our first night with our new camper and the staff was very kind and made us feel very welcome.
Jul 26, 2021
Clean facilities. Nice & helpful staff.
Jul 26, 2021
I still have not receive the financial correction from reserving our nine day stay over the phone vs the walk-in rate i was charged upon arrival...approx $20. The site next to us had a sewer hook-up issue. Otherwise, our hookups were good, flat pull thru nice. Highway noise, ugh.
Oct 21, 2021
Price was comfortable and all ammenities available. Very nice.
- Sally Sperry on Google
Sep 30, 2021
Loved it. Will be back to stay again.
- Lorelei Groen on Google
Sep 29, 2021
Beautiful fall getaway, very quite, VERY NICE KOA, So close to Itasca St Park. can't wait to go back next year!
- Anita Strueber on Google