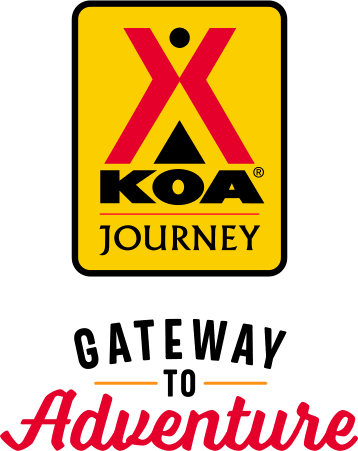 KOA Journey Campgrounds
KOA Journey campgrounds are the perfect oases after a day on the road. Whether it's along the way or a quick getaway, they've got you covered. Located near the highways and byways of North America with long Pull-thru RV Sites, they deliver convenience to the traveling camper. Pull in, ease back and take a load off.
KOA Journeys Feature:
Pull-through RV Sites with 50-amp service
Premium Tent Sites
Well lit after hours check-in service
Directions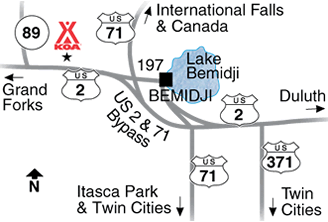 1 mile west of Bemidji, north side of Hwy 2. Between mile marker 109 and 110.
Get Google Directions
Aug 29, 2021
Nice and clean. Very relaxing.
Aug 28, 2021
Owner and staff very helpful and courteous. Internet seemed to lag a bit but they had it. They are trying to improve things there and hopefully updating the restrooms are on their list. Pull through sites were flat and long. Good shade for most part. Would stop again for sure as overall good experience.
Aug 26, 2021
The campground was very good. The bad part was the traffic noise from highway in front of campground !
Aug 26, 2021
Sites were flat which is important to us. The power was soft and even with 50 amps we had to be careful what we used. Sites could have used more gravel. We did not use the campground showers or bathrooms. Very dusty, but we realize that was because of the drought conditions. The sites were spacious enough that we didn't feel like we were in our neighbors space, which was nice. Friendly staff
Aug 25, 2021
It was a great park that COULD be but, sadly, is not. No grass - only weeds. Horribly confusing signage into the park (literally inside the park). Water pressure fluctuates constantly from 20 PSI to 45PSI, never getting to 60PSI. Water tastes strongly like rust so bring your water filters. As we were draining tanks preparing to leave, their septic was backing up out of the pipe.
Aug 25, 2021
Very low water pressure Park was very clean and well maintained WiFi and cable worked good
Aug 24, 2021
I only have one concern and that is the lady in the office was not friendly at all. Seems she could be more cordial to the guests. Otherwise, it was a very nice experience. Clean laundry room and reasonable prices for the laundry.
Aug 24, 2021
My first time at a Koa and I will definitely be coming back there again...the staff were very friendly and helpful!!!
Aug 23, 2021
Everything we wanted and have come to expect at a KOA. We had cabin 42 which was located near the bathrooms and the Kamper Kitchen which we used everyday. We'll be back in the future.
Aug 23, 2021
Proximity to US 2 made it a bit noisy but when my wife started feeling ill and we needed to stay extra nights the host went way out of his way to accommodate us and keep us in the same site for the nights needed
Aug 23, 2021
Wonderful setting, exact right amenities. Store is well stocked. Campsites are large and accommodating. Convenient location and very easy to get to. Excellent security as well.
Aug 23, 2021
We truly enjoyed our stay the only issue we had was in the middle of the night we could hear on neighbors like arguing and other than that we had a great day and I recommend it anytime
Aug 22, 2021
Please put window unit air conditioners in camper cabins.
Aug 22, 2021
Nice clean spacious campground. Hosts are very friendly and helpful. Will stay here again when passing through.
Aug 22, 2021
Site was level and well maintained. Excellent cable! Owner was friendly and helpful.
Aug 22, 2021
Great site, amenities, and exemplary hosts!
Aug 21, 2021
Facilities were as expected, showing a bit of age. Sites are tight with little space between, so if you're looking for privacy, you don't get much. Conditions were very dry so no camp fire but that's not a fault of the campground.
Aug 21, 2021
Overnight place on the way to Glacier National Park
Aug 20, 2021
Very clean and quiet. Lots of activities to keep youngsters occupied. Laundromat was very efficient and well kept. Another great KOA choice. Hosts were great.
Aug 18, 2021
Nice campground and people. Would have been nicer if we were in a different spot. Campground was half empty and they put us on a spot by a very dusty entrance.
Aug 18, 2021
Good location for a base to explore the area. Staff was great…super friendly.
Aug 18, 2021
All dirt! No grass! Rude staff! ��
Aug 17, 2021
Great staff!! Everything you need is there and more. Thanks for the memories!
Aug 17, 2021
Very nice! Super friendly staff! Really clean! Lots to do! We are going back in a couple weeks!
Aug 16, 2021
The cabin was clean and the staff was very cordial.
Aug 16, 2021
Called early spring, April time frame. Asked for site 10 or 11, and mentioned I have a DirecTV satellite mounted to the roof of my trailer. Wanted the person to assure me I could pick up a signal. Never was able to get a signal from site 10.
Aug 16, 2021
Friendly staff, quiet campground
Aug 13, 2021
Well maintained clean nice hosts we will be back
Aug 13, 2021
The pool was refreshing after a long day, bathrooms were clean, showers had plenty of pressure and the owners were amazing! I enjoy talking with them and they were very helpful when I had questions.
Aug 13, 2021
My husband camped there and thinks this KOA was wonderful. Clean, neat, great hook ups for people in tents. Private.
Aug 13, 2021
So easy, found the site i needed on line paid on line. Check out just stopped let them know we were leaving. Friendly host, clean rest rooms, quite place. Will use again.
Aug 13, 2021
Great location. Clean and relatively quiet. I did miss free KOA koffee in the morning so hopefully new management will bring that back
Aug 12, 2021
It was nice relaxing stay. It is a nice and clean. The staff were friendly and helpful. Great place to stay.
Aug 12, 2021
Antiquated facilities. Surrounding view was industrial. Missing showerheads from bathhouse. Severely overpriced. Foul mouthed attendant. Pine sap heavily coated our vehicle. Pictures online were not reflective of facility. Other campers less than 15 feet away. Almost $80 a night. When we realized the Campground was not as advertised we could not receive a refund for unused days.
Aug 11, 2021
Friendly staff. Very accommodating.
Aug 11, 2021
Campsite had lots of garbage not cleaned up, we were put on a small site next to entrance road for two days when many much nicer sites went un-used. Our outdoor space was the same surface as the road we were next to, no grass. Will not go back!
Aug 10, 2021
Very freindly and helpful staff. Campground was neat and clean. We will stay here again and recommend this campground to all styles of campers
Oct 21, 2021
Price was comfortable and all ammenities available. Very nice.
- Sally Sperry on Google
Sep 30, 2021
Loved it. Will be back to stay again.
- Lorelei Groen on Google
Sep 29, 2021
Beautiful fall getaway, very quite, VERY NICE KOA, So close to Itasca St Park. can't wait to go back next year!
- Anita Strueber on Google