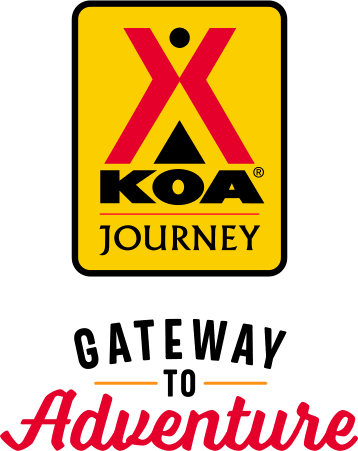 KOA Journey Campgrounds
KOA Journey campgrounds are the perfect oases after a day on the road. Whether it's along the way or a quick getaway, they've got you covered. Located near the highways and byways of North America with long Pull-thru RV Sites, they deliver convenience to the traveling camper. Pull in, ease back and take a load off.
KOA Journeys Feature:
Pull-through RV Sites with 50-amp service
Premium Tent Sites
Well lit after hours check-in service
Directions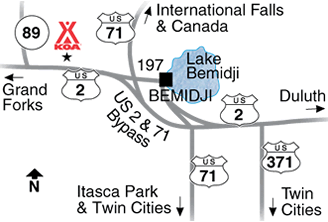 1 mile west of Bemidji, north side of Hwy 2. Between mile marker 109 and 110.
Get Google Directions
Jul 21, 2018
Very helpful
Jul 21, 2018
We found the Bemidji KOA staff to be friendly and helpful, the RV size generous and attractive. They even had food to order! I made a note in our logbook to be sure to stay there again the next time we're in the area.
Jul 21, 2018
Little more gravel on roads and sites would be better . All in all, pleasant stay, nice park. Very quiet.
Jul 21, 2018
First of all, Minnesota is beautiful! We so enjoyed the cool air at night while staying home in our cozy cabin. Our cabin was nice and clean, and so were the restrooms and shower stalls. The staff was friendly and helpful.
Jul 21, 2018
Much too short! We thoroughly enjoyed our time in our spacious lot shaded by beautiful trees. We look forward to coming back soon.
Jul 21, 2018
We enjoyed our stay. Restrooms were very clean.
Jul 20, 2018
Great place to stop at the end of the day on a road trip. Warm welcome, nice people, peaceful and good services. Excellent wifi.
Jul 20, 2018
Stay was okay. However mechanical gate would not allow entry with no contact information to get assistance. Tried calling office from the gate and got a recorded message. Sat at the gate for another 10 minutes trying to figure out how I could get back to my campsite. I finally started backing up and one of the employees came up from the street and drove her golf cart over to open the exit gate.
Jul 20, 2018
We enjoyed this park very much! Warm welcome and the accommodations quiet and great! I must compliment the Ladies Toilet and Shower area. Someone painted a different type of flower and labeled in one each door. There were additional flowers surrounding the mirrors. My husband said their doors were not painted, but the mirrors had fish painted on the corners.
Jul 19, 2018
The campground was very clean. The owner was out every morning checking and picking up trash which there was not much of. He aiso took time to show me on a map the location of a tire dealer.
Jul 19, 2018
Great host, very clean, all hook-ups worked well. We especially liked the fenced dog yard. Easily located from highway.
Jul 18, 2018
We had a great time! We wish the pool had longer hours. It would have been great if there were a few more offerings, or activities. The store was nice but definitely could have more available, ice cream counter, more grocery items, etc. We enjoyed our stay and will probably return!
Jul 18, 2018
Great staff, clean campground. Only complaint is the fact that KOA corporation will not let the campground place signs on the back of the toilet doors stating to flush the toilets. Every time I used the restroom the toilets were never flushed. This is not the fault of the Bemidji KOA. The many young girls just didn't flush and a reminder would have been appreciated by more than just me.
Jul 18, 2018
very clean and quiet hosts were very helpful and a pleasure to talk with went out of their way to make stay great
Jul 18, 2018
It was a nice stay. Small campground but overall great place. Pool was warm. Kids enjoyed the mini golf. The owners were nice and accommodating. The site itself was shaded. We enjoyed the weekend. The only thing we didn't like were the flies, but it is to be expected as were were camping. We wouldn't camp if flies were that big of an issue.
Jul 18, 2018
Very enjoyable. Nice staff.
Jul 17, 2018
Great stay! Pool was a little small. But great experience overall.
Jul 17, 2018
Nice campground. Clean restrooms. Staff friendly and helpful. Pizza delivery available from Daroo's Which was great pizza. Enjoyed our stay
Jul 16, 2018
It was very beautiful and great friendly staff..we had an awesome stay with no complaints�� and would recommend this KOA...we would for sure go back! Thanks again!
Jul 15, 2018
We stayed for two nights and enjoyed the campground. The staff were very friendly. We were concerned about arriving after office hours and they were very accommodating and put our minds at ease that there would be no problems. Restrooms and showers were clean - always a bonus! Very nice experience at this campground.
Jul 15, 2018
We stayed here twice, one night each time on our road trip to/from Wisconsin. Totally pleasant, comfortable, good access to highway, yet quiet.
Jul 14, 2018
Very clean and friendly KOA. Would definitely visit again. Showers and laundry facilities also very nice.
Jul 14, 2018
Nice folks. Spots are right on top of one another tho.
Jul 13, 2018
This was a great campground. Friendly staff and great service. The kids loved the outdoor pool as well.
Jul 13, 2018
Wonderful place to stay during our road trip. Just sad we couldn't spend more than one night! Great staff...beautifully clean washrooms/showers! �
Jul 12, 2018
Had a great stay
Jul 12, 2018
Always enjoy our stay here!
Jul 12, 2018
The staff was so helpful and friendly. Great location, almost no highway noise. Green space was well laid out with ample room between slots for comfort. We enjoyed out stay would stay again in the future.
Jul 11, 2018
The deluxe cabin that I have rented suits my needs very well. The living facilities were clean and fairly comfortable.
Jul 11, 2018
Stay was great. Only complaint was during quiet hours, there were several motorcycles revving their engines. These were (as far as we could tell) outside the camp and there is nothing that could be done but it did detract from the experience.
Jul 11, 2018
VERY well maintained, site was level, utilities grouped together made EASY hookup, staff VERY friendly every day, security gates were great, amenities perfect! LOVED our stay! Model for other parks we rejected on our 6500 mile trip!!!
Jul 10, 2018
Very nice, peaceful campground. Owners were extremely friendly, even when we had to call at 10pm because we couldn't get the gate open. Would highly recommend and will definitely stay again if we are in the area.
Jul 10, 2018
Staff was OUTSTANDING. This was our first camping trip. The only thing that would have made it better would have been a more private spot or larger spot, but we loved our stay.
Jul 09, 2018
We came in for a few days, campground was well kept & owners were very friendly and helpful telling us how to get around construction detour in the area & where nice places to ride the motorcycle