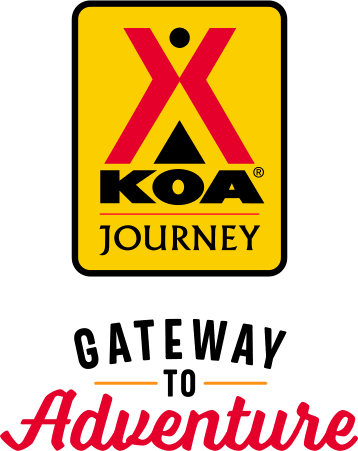 KOA Journey Campgrounds
KOA Journey campgrounds are the perfect oases after a day on the road. Whether it's along the way or a quick getaway, they've got you covered. Located near the highways and byways of North America with long Pull-thru RV Sites, they deliver convenience to the traveling camper. Pull in, ease back and take a load off.
KOA Journeys Feature:
Pull-through RV Sites with 50-amp service
Premium Tent Sites
Well lit after hours check-in service
Directions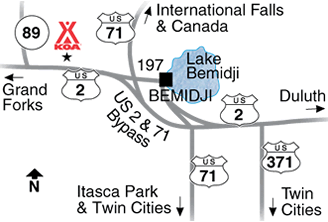 1 mile west of Bemidji, north side of Hwy 2. Between mile marker 109 and 110.
Get Google Directions
Aug 02, 2018
Great location, well-maintained grounds, incredibly helpful staff. This KOA was selected as it is/was the only location in the area with cabins that are pup friendly . We'll definitely be coming back!
Aug 01, 2018
Very friendly staff and clean facilities!
Aug 01, 2018
Clean park. Nice people!
Aug 01, 2018
Good location and very nice people. Would certainly stop again
Jul 30, 2018
We had a great time. The staff were nice
Jul 30, 2018
Lots to do. Swam in pool, mini golf,badminton, bikes and hoopla hoop. Used taxis service to get to town. Owners were very friendly and helpful. Stayed three nights and had a nice fire each night.
Jul 30, 2018
Had a great time at the campground easy access to the ATV trails and the trails were awesome. People at the campground were very nice we have booked another trip already
Jul 30, 2018
ok for overnight stop - washrooms were clean
Jul 30, 2018
the perfect clean and safe place to drop the hook and stay for a night or two when visiting the area.
Jul 29, 2018
Stayed for one night in mid-July in a tent site. Nice small KOA. Had a very comfortable camp site, clean bathrooms.
Jul 29, 2018
It was great, very clean and friendly staff, lots of shade trees
Jul 29, 2018
Courteous staff and good overnight stay
Jul 29, 2018
Very friendly
Jul 27, 2018
Compared to other KOAs this one rates very low. It is beside an industrial park that is in operation from 7am till 7 pm so the back up alarms and equipment are running constantly. The park staff were efficient but certainly not going out of their way to be pleasant and warming. Showers laundry and pool areas were clean and the mini putt was free. I would not return nor would I recommend this KOA.
Jul 26, 2018
It was great. Clean bathrooms. Nice pool. Big camping sites. Definitely go there again!
Jul 26, 2018
We had a great time!
Jul 26, 2018
We stay here every summer love it there
Jul 26, 2018
What a gem. Great clean and lots of amenities for families and kids.
Jul 25, 2018
Sites are nice, large and easy to get in/out of. Located very close to amenities without going into the City, but also very close to the City if that is your purpose for traveling there. The staff was friendly when we checked in. This was just a one night stop-over for us. The pool is small but nice. We would stay again
Jul 25, 2018
The staff was so friendly, bathroom was clean, and it was great.
Jul 25, 2018
Very nice place to stay at
Jul 25, 2018
Staff very friendly and helpful. Small compared to some we have visited but nice to be in a quieter place once in a while. Kept very tidy and laundry facilities and bathrooms were clean.
Jul 25, 2018
The amenities were great but had a very large anthill on the tent site (32), and ore neighbors kept bright LED string lights on all night outside their rv.
Jul 25, 2018
We really liked the campground and would have given it a perfect score except the bathrooms were not cleaned on Monday and the one stall open was low on paper. Nice lots that were well kept. Staff friendly. We will come back.Good firewood. Not that cheap slab wood.
CAMPGROUND RESPONSE / COMMENTS:
Not sure you have the right campground because our bathrooms were cleaned on Monday and we have more 5 womens bath stalls and 3 mens that are all open
Jul 24, 2018
Very clean and well maintained camp ground. We will be back.
Jul 24, 2018
Nice clean campgrounds, well maintained, friendly staff. Enjoyed our time there.
Jul 24, 2018
We stayed in a tent for a week, loved the grounds and pool.
Jul 24, 2018
It was great! The employees were very helpful and worked with us very well. Will probably stay again and again when we head up north.
Jul 24, 2018
Just an overnight to do laundry. Washers and dryers fairly new, worked well and lU,dry room was clean.
Jul 23, 2018
Great campground. Quiet,clean and friendly
Jul 23, 2018
Stayed the night, was quiet and adequate. Did not use facilities.
Jul 23, 2018
Very nice people that run the campground
Jul 23, 2018
stopped in for an overnight stay on a Saturday and to be honest was expecting a patch of grass with no services.. Ended up lucked out and were able to finaggle us into a spot someone else had overbooked.. We didn't use much for out quick overnight but the ladies at check in made the experience fantastic and accomodating.
Jul 22, 2018
The bathrooms and laundry were clean and well maintained. We had plenty of room on our site. The WiFi worked very well,the cable had more channels than most parks. The pool was heated nicely. But,you really need to order one of their pizzas..mmm mmm! Thank you for nice stay.