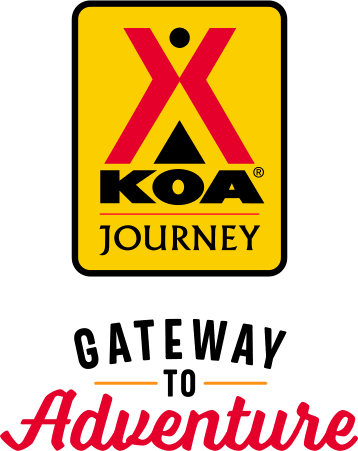 KOA Journey Campgrounds
KOA Journey campgrounds are the perfect oases after a day on the road. Whether it's along the way or a quick getaway, they've got you covered. Located near the highways and byways of North America with long Pull-thru RV Sites, they deliver convenience to the traveling camper. Pull in, ease back and take a load off.
KOA Journeys Feature:
Pull-through RV Sites with 50-amp service
Premium Tent Sites
Well lit after hours check-in service
Directions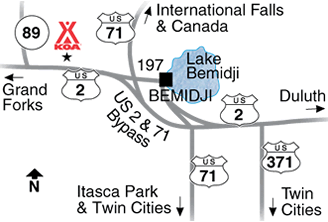 1 mile west of Bemidji, north side of Hwy 2. Between mile marker 109 and 110.
Get Google Directions
Oct 19, 2021
Overnight stay. The owners were very accommodating - with fall temps lots of places were closed so glad they were not! So friendly and welcoming. Clean restrooms and showers. Everything you could want!
Oct 18, 2021
Always relaxing, enjoyable and accommodating. Fall fires are the best!
Oct 06, 2021
Had a very nice stay. Staff are great
Oct 05, 2021
Nice and roomy campground that is very convenient to Bemidji and it's many attractions.
Oct 05, 2021
Very clean, very friendly, convenient location and beautiful area.
Oct 03, 2021
Finally a KOA that is a real campground and not a mobile home park full of monthly tenants. It's refreshing to finally find a KOA that caters to travelers and campers. The owner was a really nice guy and I enjoyed chatting with him. The property was clean, well-maintained, safe and quiet. Getting to town was just a few minutes away. This is how a KOA should be. I'll stay here again!
Sep 29, 2021
Very friendly staff, clean campground, well kept and clean showers & bathrooms. Kamper cabin was clean and nice to stay in. Pet friendly cabin was appreciated.
Sep 27, 2021
So glad your open late in the season. We come up for BSU football games and enjoy your camper cabins.
Sep 26, 2021
Nice time very peaceful and the staff was very attentive to our needs.
Sep 26, 2021
Manager was very accommodating in finding a great site for my very large motorhome.
Sep 24, 2021
I've stayed in 20 dollar places that were more kept up then your KOA. Hire someone that has some people skills! And clean up your camp sites.
Sep 20, 2021
Easy in and out. Friendly and helpful staff. We'll be back.
Sep 20, 2021
Friendly kind staff. Professional and well organized. Our sleeper cabin was clean and tidy. Fans and heaters were available for the unpredictable MN weather. The mattresses were comfortable and my overnight bag fit perfectly on the built in shelf. We especially enjoyed the porch swing.
Sep 19, 2021
Our favorite by far in Minnesota! Denise was the best and so accommodating to our needs. Very clean, and our fur babies enjoyed the puppy jail to play!
Sep 18, 2021
Loud street noise, WORST INTERNET and didn't like that they allow political flags
Sep 14, 2021
The lack of internet service when it was advertised as available was disappointing. We basically had no service while there.
Sep 13, 2021
Friendly staff. Facilities very clean,
Sep 13, 2021
Nice place for an overnight stay.
Sep 08, 2021
We had a nice stay over the Labor Day weekend. Though the campground looked to be nearly completely full it was not loud at all. Our patio site was very nice. The location is very good for many day trips using the campground as a home base. We would certainly consider staying here again if our travels bring us this way.
Sep 08, 2021
Very nice campground, all of the staff was extremely friendly and helpful! We will be back again!! Thank you!!!
Sep 07, 2021
They are always very nice and friendly when we arrive. The other campers are always nice too.
Sep 07, 2021
very nice people. great rates. nice pool area.
Sep 07, 2021
Great staff! Really clean and well kept up! We will be coming back !!!!!
Sep 07, 2021
It was just an overnight stay but it was very enjoyable. Everyone was friendly and Dennis the owner was helpful and very nice.
Sep 07, 2021
We're from MI on a little ride-about on the motorcycles and happened to land in Bemidji. Our two days at the Bemidji KOa turned into four. Staff was very friendly and accommodating and the campground very clean Would definitely recommend and stay again. Thanks!
Sep 06, 2021
Great place and good Root Beer Floats
Sep 06, 2021
Grounds are well kept. Staff is 5 star- friendly and helpful! Recommend updating showers/restroom. There's no space in the shower to keep anything dry. It's tolerable but all other KOAs I've been to have had really nice showers. Lot sizes are nice and spacious
Sep 05, 2021
Hosts were great
Sep 04, 2021
The staff is great. The only down side is all of the fine sand, it gets into everything.
Sep 03, 2021
I just stayed overnight. So, I cannot tell much about anything but the hot, powerful shower. I have to give it a 5-star rating since 6-star wasn't available!
Sep 02, 2021
Had lots of fun loved the owners very helpful
Sep 01, 2021
Staff very accommodating.
Aug 31, 2021
The wifi signal is strong but is apparently throttled and constantly drops devices. There was a firepit with no above ground metal ring at the end of the my site, which ended up within 5 feet of my rigs door. It was a constant, serious, trip hazard. The cabin closest to us had tenants that decided to have a domestic late at night and as best I can tell no staff asked them to stop.
Aug 31, 2021
4th time we have stayed since 2020. First time this year. New owners. Very friendly & accommodating. Bathrooms/showers clean. Had power issue, however it was local electric company transformer. KOA got right on it & contacted them & issue resolved in less than 90 minutes. Will definitely stay at this KOA again. Some buildings need paint etc. or would give a 5. New owners working on this.
Aug 31, 2021
Really nice campground not too far to the Mississippi Headwaters. The park was quiet and the staff were very friendly. Will definitely stay here again!
Aug 31, 2021
Very well ran, clean safe. He was very helpful to all our needs. We would refer others and be happy to go back. .
Oct 21, 2021
Price was comfortable and all ammenities available. Very nice.
- Sally Sperry on Google
Sep 30, 2021
Loved it. Will be back to stay again.
- Lorelei Groen on Google
Sep 29, 2021
Beautiful fall getaway, very quite, VERY NICE KOA, So close to Itasca St Park. can't wait to go back next year!
- Anita Strueber on Google