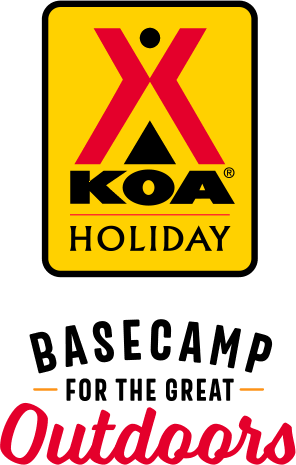 KOA Holiday Campgrounds
Whether you're exploring the local area or hanging out at the campground, KOA Holidays are an ideal place to relax and play. There's plenty to do, with amenities and services to make your stay memorable. Plus, you'll enjoy the outdoor experience with upgraded RV Sites with KOA Patio® and Deluxe Cabins with full baths for camping in comfort. Bring your family, bring your friends, or bring the whole group – there's plenty of ways to stay and explore.
KOA Holidays Feature:
RV Sites with a KOA Patio®
Deluxe Cabins with full baths
Premium Tent Sites
Group meeting facilities
Directions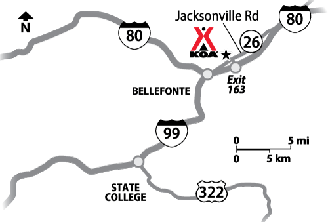 I-80 Exit 161: 2 miles on PA 26 North
From State College, PA: Follow I-99 North. Past I-80 interchange onto PA 26 North 2 miles.
Campground is NORTH of I-80. GPS may try to take you south.
GPS: N40.96275, W77.68725
Get Google Directions
Oct 12, 2020
Friendly staff, clean and modern facilities. Best place we have camped yet. Well done!
Oct 12, 2020
Very small sites. Hosts not helpful. Offered to move two sites over, even smaller. Lied to us, said sold out... not sold out. Could have easily moved to one of 15 other spots. Sites so small, sitting on top of utilities, smells great! Water on one side and electrical and sewer on opposite. Not super happy. Second time and last time we stay here. Rude both times.
CAMPGROUND RESPONSE / COMMENTS:
I promise you if we told you we were sold out all of the sites were booked. Unfortunately it is not uncommon for people to book sites and not show up, or cancel the day of. I apologize if this caused an inconvenience for you.
Oct 12, 2020
Great first experience at KOA. The lodging and restrooms were kept clean. Lots of fun planned activities and the grounds were beautiful, people friendly. My only complaint was getting charged a $25 fee for late half day check out. I was under the understanding check out was 2pm (I got a call around 1:30p being asked about when we planned to leave). It was not posted anywhere :(
CAMPGROUND RESPONSE / COMMENTS:
We're sorry you didn't notice the check out time, but it is on the website, you're confirmation email, and the paperwork we gave you at check in. Check in time is 1pm, and when guests leave late it can cause a poor experience for the people staying the next night.
Oct 11, 2020
This campground is beautiful. We walked all over. The cleanest bathrooms ever!!
Oct 11, 2020
We loved the patio site we got and even extended a night because we liked it so much. As it filled up it felt a bit tight - not much space on either side of us but everyone was nice and our kids loved the jumping pillow.
Oct 10, 2020
We loved how quiet and peaceful your campground was. No golf carts-yeah! The campground was very clean and friendly. We were there for 10 days and enjoyed every minute.
Oct 09, 2020
This is our "go to" Campground while visiting Penn State. Have never had an issue. Decent sites, clean and updated comfort stations.
Oct 09, 2020
Very nice campground, clean showers and cabin!
Oct 08, 2020
Site 106, absolutely beautiful! Big rig easy access, level site and a "front yard" to die for. Only stayed for 2 days, wish out could have been a month.
Oct 08, 2020
Always a great experience!
Oct 08, 2020
All was good.
Oct 07, 2020
Arriving late and leaving early, we just had time for a quick shower and sleep. But the shower facilities in the tent area were superb! And no complaints with the site, electricity or neighbors. Appears to be a really nice campground.
Oct 07, 2020
Nice place. Had a nice hayride and a couple kids activities on Saturday. We stayed in the studio deluxe cabin. (K1) Very nice. Bed made a lot of noise. Couldn't even move your arm without it squeaking so we didn't sleep very well. Bathroom was clean. Nice fire pit area. Kids also did the mining activity. I would definitely visit again.
Oct 07, 2020
Great little cabin. Modern, bright, and very clean. My only "complaint," if you want to call it that, is there were no dishes, cups, paper towels, or even coffee filters. (Those items are usually there.) Granted, very understable given the pandemic but I wish I would have known ahead of time. I would have brought them.
Oct 07, 2020
Awesome as usual.
Oct 06, 2020
Very nice big rig spots. Nice views of the countryside and not too far off the freeway.
Oct 06, 2020
We had a relaxing and fun weekend. Weather was beautiful. There were fun activities set up for the kids to participate in. Would definitely recommend !
Oct 06, 2020
Enjoy the weekend and the fact that you have activities for campers looking forward to coming back next year
Oct 06, 2020
What is not to love about this place? Beautiful campsites and amenities. It was wonderful to see so many young families camping this weekend. Lots of Fall events planned for the weekend. Of course my hubby's fav was the Creamery ice cream.
Oct 06, 2020
Very small site with little room for sitting outside. Site wasn't level. WiFi was horrible.
Oct 06, 2020
The grounds are well kept, the staff was helpful and there were plenty of activities for the kids to do for a short stay. The sites are very close together, crammed and the hookups were in terrible locations. The neighboring site's sewer was just off our concrete pad and our water connection was on a neighboring site. IMO this is a waypoint for a short stay, not a destination. Sites are too small!
Oct 05, 2020
First time visit to Bellefonte KOA Very nice facility. The Bath House was the best I've ever seen at a campground. Good activities and food offered. Campground was clean and very enjoyable. Staff was very helpful.
Oct 05, 2020
Had a great time. We will be back Go Lions..
Oct 05, 2020
Nice park layout newer the upgraded sites were super nice. The table and chairs setup were high quality and the fact that they provided a grill and propane tank I had not see anywhere else before. It was nice and super clean as was the bathhouse it was amazing. We will be back.
Oct 05, 2020
We stayed there to visit our son who is attending Penn State. Very close to the college. We hiked the Mt Nittany Trail. Campground was very nice.
Oct 05, 2020
Staff was extremely friendly. Park is really nice.
Oct 05, 2020
We love it at your KOA! The staff are friendly, the sites are great, the food is good!
Oct 05, 2020
Excellent site, staff, and activities
Oct 04, 2020
We had a good time. The restrooms were very clean and the new ones are really nice. I talked to one young lady on your staff who was very friendly and answered many of my questions.
Oct 04, 2020
Great campsite. Clean campground.
Oct 03, 2020
Consistently good campground. Friendly staff. Site was easy to get into, level and laid out well for easy hookups.
Oct 01, 2020
we were unable to go to the beach this year so we decided to book a cabin for the weekend. The cabin and fire pit was VERY nice and clean!we really enjoyed sitting by the fire at night. It was a bit cold but that is to be expected at this time of year.The only thing we weren't real thrilled with is some people chose not to wear a mask in the Store and the hayride was to full. no social distancin
Oct 01, 2020
Check in after hours was super easy and we were VERY thankful to have wood brought to us for a nice fire, as it was a perfect night. Really loved the built in firepit with lid (we've been to other KOAs and they aren't always that nice). Also love the deck with picnic table, although we didn't use it. VERY nice set up and our cabin was in a great location! Thank you for all you do.
Oct 01, 2020
Well maintained and professional staff. My only complaint was the closeness of the sites. We all seemed to be on top of each other, unlike some other KOAs.
CAMPGROUND RESPONSE / COMMENTS:
If closeness of sites is a concern for you, I do recommend booking a deluxe site or one of our modern pull throughs
Sep 30, 2020
We enjoyed bike paths in surrounding area as well as restaurants. We love the campground by the mountain. Lovely scenery and clean bathrooms. Management is responsive and attentive.
Apr 23, 2021
New section is great with private bathrooms and showers a short walk.
- Gary Holler on Google
Mar 20, 2021
We love this campground! The staff is very friendly. So much to do for the kids! It's very clean and updated. We love tenting in the cooler days of summer and renting one of their cabins in the hotter days of summer. Def. recommend! Also very affordable!
- Sarah G on Google
Dec 23, 2020
Great lil place. Flat level sites. Hookups worked flawless. Check in was easy. Staff all friendly. Close to State College area.
- Explore A New Day on Google