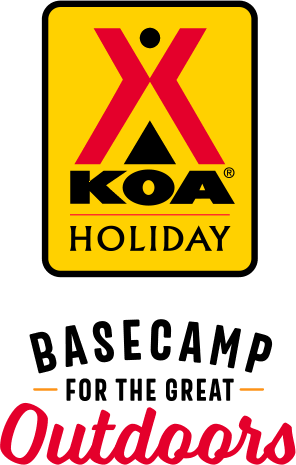 KOA Holiday Campgrounds
Whether you're exploring the local area or hanging out at the campground, KOA Holidays are an ideal place to relax and play. There's plenty to do, with amenities and services to make your stay memorable. Plus, you'll enjoy the outdoor experience with upgraded RV Sites with KOA Patio® and Deluxe Cabins with full baths for camping in comfort. Bring your family, bring your friends, or bring the whole group – there's plenty of ways to stay and explore.
KOA Holidays Feature:
RV Sites with a KOA Patio®
Deluxe Cabins with full baths
Premium Tent Sites
Group meeting facilities
Directions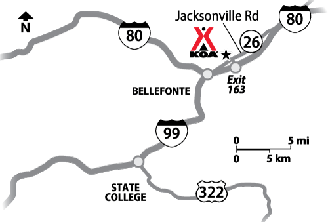 I-80 Exit 161: 2 miles on PA 26 North
From State College, PA: Follow I-99 North. Past I-80 interchange onto PA 26 North 2 miles.
Campground is NORTH of I-80. GPS may try to take you south.
GPS: N40.96275, W77.68725
Get Google Directions
Oct 21, 2020
We really enjoyed our stay. They had nice activities that my grandson loved. The deluxe site was Awesome! We would not hesitate to come back.
Oct 21, 2020
When we couldn't get a place anywhere else you had room and we thank you. The only reason I would not give it a five was that the site was very narrow. It was very easy to get in and out of an incredibly level and private.
Oct 21, 2020
Nice campground. Wish there were more pull throughs
Oct 20, 2020
The cabin we stayed in was nice and clean, as were the facilities. The surrounding area was absolutely beautiful! We loved seeing the mountains every morning.
Oct 20, 2020
We had beautiful weather the whole weekend. The campsite was spacious and we had great views of the mountains with the changing colors.
Oct 19, 2020
The Deluxe Kabin was very nice and cozy. Well maintained. The bed was a little squeaky, but not too bad. Heater was a little noisy too, but prob not much you can do about that. Staff is always so friendly! We have our dates booked for 2021!
Oct 19, 2020
Our electrical box at our site was not working but we reported it and it was fixed in a very timely manner. Thank you!
Oct 19, 2020
Love the staff and activities...sites just too close together...but we manage..lol
Oct 19, 2020
We had so much fun! Beautiful campground and friendly staff We are already talking about coming back next year. Thanks so much!!!
Oct 19, 2020
Amazing campground! We stayed there twice this summer. We love all of the activities for kids as well as the cleanliness of the grounds. It is also in very close proximity to a lot of great activities.
Oct 19, 2020
We loved the Halloween themed weekend! Our spot was difficult to back into (site 78 with a 27 foot trailer) but once we got situated, we loved the cozy feel of it. We will definitely be back in the future!
Oct 18, 2020
The steps are tight.
Oct 18, 2020
this koa is clean and very well located near bald eagle state park
Oct 18, 2020
It's very kid friendly with activities. Friendly staff. Amenities were nice. We didn't like the sites. We couldn't extend our awning fully because of trees & we couldn't move any because we would have been in the site behind us. I get it... it's a business, you're there to make money but a little more thought into site spacing (even the less expensive ones) would go a long way.
CAMPGROUND RESPONSE / COMMENTS:
We do have much larger sites, but they do book early. If room is important to you we recommend you make reservations in advance and choose the deluxe or modern options. I apologize that this affected your stay and hope you'll return in one of our larger sites.
Oct 17, 2020
Always WONDERFUL! But the mattress's in cabin #8 need replacing...like rocks !
Oct 17, 2020
Very nice campspot with fire ring and weber grill- great staff working there all the time-love the area also
Oct 17, 2020
Clean, friendly, good sized site
Oct 16, 2020
This was one of the nicest KOA's we have stayed in. The sites are very nicely spaced and good sized. Bathhouses are amazing!!! Grounds are beautiful. Laundry room was neat & clean. Staff is friendly and welcoming. Wish we could have stayed longer. This was our second stay but won't be our last.
Oct 15, 2020
The staff is very friendly and they do an excellent job keeping the grounds maintained. Outstanding views as well. The only knock is that the wireless isn't very reliable.
Oct 15, 2020
Clean restrooms and grounds. Some pull through sites are on steep hill. Back in sites tend to be more level.
Oct 15, 2020
I was passing thru and just stayed overnight. Was happy to get a pull thru spot on a busy holiday weekend. I probably would want a different site for an extended stay but it was perfect for our needs. Lots of activities going on. Was not sure how to exit and navigate the roads being it was almost a full house. Did a walk around and found an easier path.
Oct 13, 2020
Very nice and clean camp ground
Oct 13, 2020
Always very clean! Love the expansion of the campground!
Oct 13, 2020
We had a great time with the Halloween activities that were planned, the bounce pillow, the gem sand bag, playgrounds, etc. The bathrooms were very nice and I loved the street lights as well. It was a great experience we'll definitely be back! Thank you!
Oct 13, 2020
Wonderful campground!! Very clean and attractive. There were many activities for the kids including an ice cream social with Creamery Ice Cream! Yum!! Would highly recommend. Can't wait to stay again.
Oct 13, 2020
We had a 30 amp site with a pop-up. Great location, beautiful fall colors, really great facilities. It's my 4th or 5th time staying there...always enjoy it.
Oct 13, 2020
Nice Accomodations and beautiful grounds. Only negative we're the campers next to us who did not abide by the 11pm quiet time request. We have children and it was difficult to keep them sleeping when loud conversations were ongoing until 2am. Over all we were very pleased and the boys loved the fishing!
CAMPGROUND RESPONSE / COMMENTS:
We're sorry you had trouble with your neighbors! There is a number in your arriving paperwork that you can call if you have noisy neighbors after hours.
Oct 12, 2020
Such a nice campground for a quick weekend trip. So many activities even with this crazy COVID.
Oct 12, 2020
Nice KOA. We stayed at one of the patio sites which cost a little more.... well worth it to me. Nice fire pit, concrete patio area, outdoor table and chairs to have meals at and a gas grill so I didn't have to break out mine.
Oct 12, 2020
Very nice. We always enjoy staying at KOA bellefonte. One of our favorites. Tons of fun activites for the little ones!
Oct 12, 2020
Very nice campground. Nice staff, good sites with room between, pretty pond and grounds. Pool was closed and most activities canceled due to covid. Would definitely stay again.
Oct 12, 2020
Love the KOA!
Oct 12, 2020
Very clean and we'll kept. Great time.
Apr 23, 2021
New section is great with private bathrooms and showers a short walk.
- Gary Holler on Google
Mar 20, 2021
We love this campground! The staff is very friendly. So much to do for the kids! It's very clean and updated. We love tenting in the cooler days of summer and renting one of their cabins in the hotter days of summer. Def. recommend! Also very affordable!
- Sarah G on Google
Dec 23, 2020
Great lil place. Flat level sites. Hookups worked flawless. Check in was easy. Staff all friendly. Close to State College area.
- Explore A New Day on Google