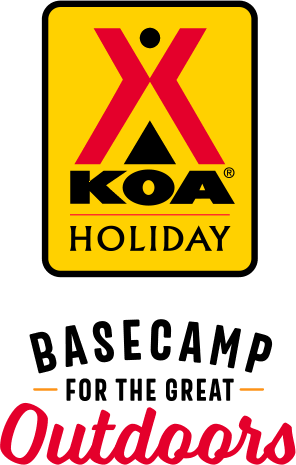 KOA Holiday Campgrounds
Whether you're exploring the local area or hanging out at the campground, KOA Holidays are an ideal place to relax and play. There's plenty to do, with amenities and services to make your stay memorable. Plus, you'll enjoy the outdoor experience with upgraded RV Sites with KOA Patio® and Deluxe Cabins with full baths for camping in comfort. Bring your family, bring your friends, or bring the whole group – there's plenty of ways to stay and explore.
KOA Holidays Feature:
RV Sites with a KOA Patio®
Deluxe Cabins with full baths
Premium Tent Sites
Group meeting facilities
Directions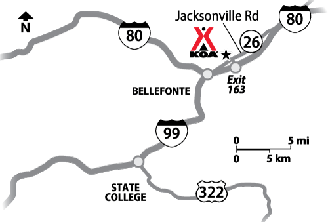 I-80 Exit 161: 2 miles on PA 26 North
From State College, PA: Follow I-99 North. Past I-80 interchange onto PA 26 North 2 miles.
Campground is NORTH of I-80. GPS may try to take you south.
GPS: N40.96275, W77.68725
Get Google Directions
Apr 27, 2021
We couldn't have had a better stay. The facilities and amenities are great and the staff was exceptionally helpful and friendly. We look forward to our next stay at this KOA.
Apr 27, 2021
Good for kids and love that it is pet friendly!
Apr 27, 2021
Very nice campground. Public restrooms were very clean and the patio lots were fantastic. We will be staying there again!
Apr 27, 2021
The campground was well maintained and clean with lots of fun activities to entertain my busy body children- they had a blast! The store was well stocked, had extended hours, and the staff extremely friendly. The bath houses were very clean and well maintained. Our spacious pull through site with the concrete pad and propane grill was perfect! The fire pit was nice! Definitely will be back!
Apr 26, 2021
Everything kept nice. Good activities for kids. Camp store has all you would need. There was a fenced in run for small dogs, but would be nice to have a place for larger dogs to run. All in all - a good trip. Look forward to going back.
Apr 26, 2021
Great Stay! The kids and adults had a blast! Everything was clean and accessible.
Apr 26, 2021
We couldn't have asked for better hospitality than we found at this beautiful park. We had some special requests as we were trading in our coach for a new 5er, but Casey and the rest of the team helped us get it done with a smile. :D We will definitely be back... hopefully for a PSU game weekend!
Apr 26, 2021
Great weekend as usual
Apr 26, 2021
Great time!! Fast check in and all staff followed mask wearing guidelines. The new lots included a paved patio with fire pit and our own Weber grill! Loved it for our family and dog! We will definitely stay here again.
Apr 25, 2021
Friendly greeting clean campground
Apr 25, 2021
We stayed in the new section with our RV and had more than enough room to spread out with our 4 kids. The bathrooms in that section are single occupancy with a large shower, toilet and sink. Cleaned several times a day! Very nice! The amenities for the kids were wonderful! But the best part of the whole campground was the incredible view, being surrounded by gorgeous mountains! Highly recommend!
Apr 24, 2021
We were living in our RV while house was under renovation. Adding days was super easy. Nice that you have ice onsite. We were in a 33' RV in a back in full hook up site. $70/night was high for what we got I thought since pool wasn't open. New bath houses are sweet, older bath house is dated. Proximity to I-80 was nice.
Apr 23, 2021
Beautiful camp ground easy in easy out wish we could of stay longer. Will plan again to come back.
Apr 22, 2021
Very nice campground. Would stay with you again. Easy in easy out. Beautiful rooms.
Apr 20, 2021
We originally had booked for a premium (more expensive site) on the new section but upon arrival didn't like what we saw at all. Too wide open, zero tree coverage, sloping camp site with a large drainage depression on the one end. Not ideal for kids to fall in. Luckily we were able to move over and get a better/less expensive site in the old part which we loved. Very woodsy feel,We enjoyed our s
Apr 20, 2021
Great weekend with my 4 adult children and their families. The camp is very clean and well maintained. Casey as well as the rest of the staff offers excellent customer service; they are very patient, courteous, and helpful. Great mini-vacation. My only suggestion would be to upgrade mattresses; some of them were pretty worn out. We will visit again!
Apr 20, 2021
Nice campground...safe and friendly atmosphere.
Apr 20, 2021
We love the patio sites in the new section! They're spacious and comfortable, with amenities like a Weber grill and a stone fire pit. This is one of our favorite campgrounds. It's always fun to take a run into town for some great grocery stores like Wegman's and Trader Joe's.
Apr 20, 2021
Great stay .. only complaint is bathroom/showers could be warmer especially when it's cold. Thank you for a great stay!
Apr 19, 2021
I went camping with my 4 grown children and their families. We had a GREAT time. The cabins were very clean and comfortable and the staff couldn't have been more helpful. My grandkids loved the bouncing bubble and the stocked pond for fishing. Perfect weekend!
Apr 19, 2021
Great time, great staff! Super friendly.
Apr 19, 2021
It was very clean and easy to set up. The staff was fantastic and very helpful when needed!!! Looking forward to another stay in the future... Great Job!!!
Apr 19, 2021
The premium pull through sites are very nice especially for a large size camper. Loved the wood swing, gas grill with table and chairs. All on a nice stamped concrete patio with built in fire pit! Beautiful views and lots of things to do there. We would definitely stay there again.
Apr 19, 2021
It was great. We already have reservations for the weekend April 30th through May 2nd. Everyone was so nice and very helpful. Very friendly and so willing to help. We could tell they really enjoyed their work and being around people. Campsites were nice and well kept. restrooms and showers were spotless no matter what time of day you went in. Over all a great place to camp.
Apr 19, 2021
This was our first trip to this KOA with our new RV. We enjoyed our stay at the campground and taking walks with our dog. We will definitely be returning.
Apr 19, 2021
This place was wonderful. Exceptionally clean bath and grounds. The staff was very helpful and friendly. Will definitely be back!
Apr 17, 2021
Beautiful comfortable place
Apr 16, 2021
Very nice! Great service.
Apr 14, 2021
Friendly staff!! The campground is well kept, very clean. We booked several more weekends.
Apr 13, 2021
all was great EXCEPT for dog patrol I should have come to your office but got tied up on work, there was a camper with 3 dogs below my site which took their dogs to do their thing and the owners NEVER picked up their deposits and als I stepped in some from another dog by my electrical box. the people with the three dogs had Vermont license plate Like I stated you have a great well kept facili
Apr 12, 2021
It was a very quiet stay with very few sites being utilized. With that said, it was great as always. Helpful staff in the office and clean campground. The guests across from us left their trash out and it blew around their site a bit but no one can help inconsiderate guests.
Apr 12, 2021
Very pleasant stay. Person at check in was very helpful and the campground was very clean and orderly.
Apr 11, 2021
Awesome staff, awesome park, awesome facilities, perfect location!!
Apr 11, 2021
Just stayed one night. Very clean and friendly
Apr 10, 2021
Always a joy at the Bellefonte KOA! Wonderful clean cabins, friendly staff, quiet and peaceful stay!
Apr 23, 2021
New section is great with private bathrooms and showers a short walk.
- Gary Holler on Google
Mar 20, 2021
We love this campground! The staff is very friendly. So much to do for the kids! It's very clean and updated. We love tenting in the cooler days of summer and renting one of their cabins in the hotter days of summer. Def. recommend! Also very affordable!
- Sarah G on Google