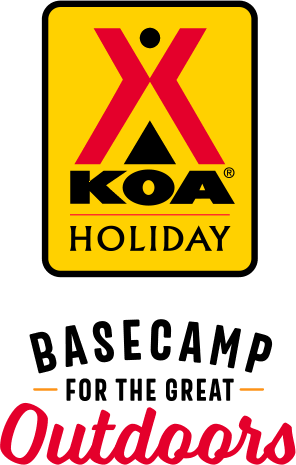 KOA Holiday Campgrounds
Whether you're exploring the local area or hanging out at the campground, KOA Holidays are an ideal place to relax and play. There's plenty to do, with amenities and services to make your stay memorable. Plus, you'll enjoy the outdoor experience with upgraded RV Sites with KOA Patio® and Deluxe Cabins with full baths for camping in comfort. Bring your family, bring your friends, or bring the whole group – there's plenty of ways to stay and explore.
KOA Holidays Feature:
RV Sites with a KOA Patio®
Deluxe Cabins with full baths
Premium Tent Sites
Group meeting facilities
Directions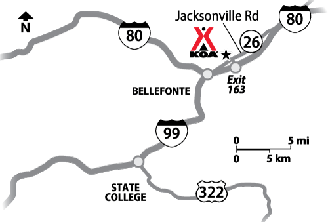 I-80 Exit 161: 2 miles on PA 26 North
From State College, PA: Follow I-99 North. Past I-80 interchange onto PA 26 North 2 miles.
Campground is NORTH of I-80. GPS may try to take you south.
GPS: N40.96275, W77.68725
Get Google Directions
May 12, 2021
You know it rained - really rained hard - and was cold most of our stay so we didn't get to enjoy some of the amenities. But the hook ups were easy, the pull through spots great, the staff was friendly and most especially the shower/bathrooms were really clean and taken care of properly. For the first time at an RV park and first time in an RV, the staff and site made it easy in tough elements.
May 11, 2021
Not out first time here. Always clean and great staff
May 11, 2021
One of the best campgrounds that we have stayed at!!! Everything that was there was great!!!
May 11, 2021
Great campground, facilities were spotless and very clean! Staff were very pleasant and helpful. Definitely stay here again.
May 11, 2021
Friendly, helpful, and well kept facalites.
May 11, 2021
I feel the WiFi is not strong enough , when campground is at full capacity
May 11, 2021
Had no power at first arrival but had instant service to replace the bad breaker. Also did blow off the grass clipping from the patio.
May 10, 2021
Very nice place
May 10, 2021
We enjoyed the delux cabin very much. Will definitely be back.
May 10, 2021
This is a very nice campground. Sites are clean and nice size
May 10, 2021
It was cold; they had the heat on in our cabin for us when we got there����� We very much appreciated that!!
May 10, 2021
Friendly, very clean facilities.
May 10, 2021
What can I say, I love this campground. The family that runs it are super nice people. I was up this time for my youngest son's graduation band we had a terrific time. Even with the weather being so so. If your visiting the State College/Belefonte area this is the place to stay. It's also super close to I 80 if your passing thru and need to stop and rest. Thanks again
May 10, 2021
Roads are in need of repair. Lots of holes especially at entrance
May 10, 2021
Always clean, always friendly
May 10, 2021
Well maintained and nice quiet setting. Staff very friendly. It's was our first stay at this location and we will likely come back in the future. Only minor suggestion is could use a little road work to fix a few potholes but sure that is a constant battle this time of year.
May 10, 2021
Very nice campsite. Parking was a little tricky, as not a large area was level. The restrooms were modern and clean.
May 10, 2021
Went there with my Nephew and we had spots 28 and 29. both pull thru but 29 is very step and pulling thru you will bottom out any trailer over 30 feet. He had to back the trailer in.. At the end of our stay when we dump black and gray water at our full hook up sites we both had the sewer back up on us and had to wait 15 to 20 mins for it to recover before finishing dumping.
May 10, 2021
Clean campground with a really nice store and nice services. The sites were just a wee bit cramped but still nice.
May 10, 2021
Great personnel, friendly and helpful!
May 09, 2021
Friendly staff. Quiet and clean campground.
May 09, 2021
I always love the Koa's and will always choose a Koa over a private camp ground any day.
May 08, 2021
I was happy with the tent site and bathrooms
May 07, 2021
We enjoyed our stay at your KOA. Some attention needs to be paid to the condition of the driveways, alot of holes, at entrance, and muddy spots.
May 07, 2021
Great campground!! Friendly staff.
May 06, 2021
Our stay was great although the only issue I had was that the site we stayed in was quite narrow and short mostly because the rear of the site was a slightly steep downgrade. The newer section of the campground has very spacious and flat sites. We did book again because the campground was beautiful and the staff was great. And we booked in the new area. Highly recommended
May 06, 2021
Very enjoyable and relaxing. We loved the activities for the kids. They are very family oriented. The bathrooms were very impressive!
May 06, 2021
Great KOA, patio site are nice. Check out the Amish deli nearby. Yummmy
May 04, 2021
Very friendly and helpful personnel Loved the deluxe section My little granddaughter loved the jumping pillow
May 04, 2021
We stay here a lot during the camping. Especially when we are on call for work since they are close to the hospital. Very friendly and courteous. Sites are very well maintained, facilities are clean. Overall great campground!
May 04, 2021
Beautiful campground well manicured and lots of fun to be had. We stayed in site 127 and I highly recommend it. Level gravel site and real nice patio. With inground fire pit and table, chairs and new grill! Stay here!
May 03, 2021
Great place to stay. That part of the state is full of great roads if you're on a motorcycle. The camp is very clean and quiet.
May 03, 2021
Great place to camp. Very nice campground and even with a lot of people there it's quiet. The restrooms are always so clean and kept up with. Returning again in a couple weeks for our third stay.
May 03, 2021
We had a great deluxe patio site. Staff was extremely friendly.
May 02, 2021
Great campsites with friendly site staff. Highly recommend!
May 02, 2021
The entire staff was friendly and helpful. Our site had plenty of room and we loved the patio - no mud or dirt to track into the camper... It was great to have the grill, table and stone firepit and all was clean and ready for use. We would stay there again.
Apr 30, 2021
Your bathhouse is outstanding. We were very disappointed with your fishing pond. Being situated on the hill, it makes it very difficult, if not impossible, for seniors to use it. Our site (109) had the lowest water connection of any camp site that we have ever used. Again, an older senior would have not been able to get down on the ground to hook-up a water hose. We won't be back.
Apr 28, 2021
Sites are the smallest I've ever been too. Fire pits are dangerously close to neighbors trailers and vehicles. This campground is set up like a Walmart parking lot with how close the sites are together. Kids loved the bounce pad though!
Apr 23, 2021
New section is great with private bathrooms and showers a short walk.
- Gary Holler on Google
Mar 20, 2021
We love this campground! The staff is very friendly. So much to do for the kids! It's very clean and updated. We love tenting in the cooler days of summer and renting one of their cabins in the hotter days of summer. Def. recommend! Also very affordable!
- Sarah G on Google