Alert
PHASE 3 HAS BEGUN. PLAYGROUND IS OPEN. ACTIVITIES WILL RESUME WITH SOCIAL DISTANCING CONSIDERATIONS. As of June 26th the governor is requiring face coverings to be worn inside buildings and outside when you can not maintain 6 foot distance. You may not enter the store without a face covering GUESTS WITH THEIR OWN SELF CONTAINED RV'S WILL BE ASKED TO USE THEIR OWN RV RESTROOMS/SHOWERS VERSUS THE PUBLIC BATHROOMS/SHOWERS.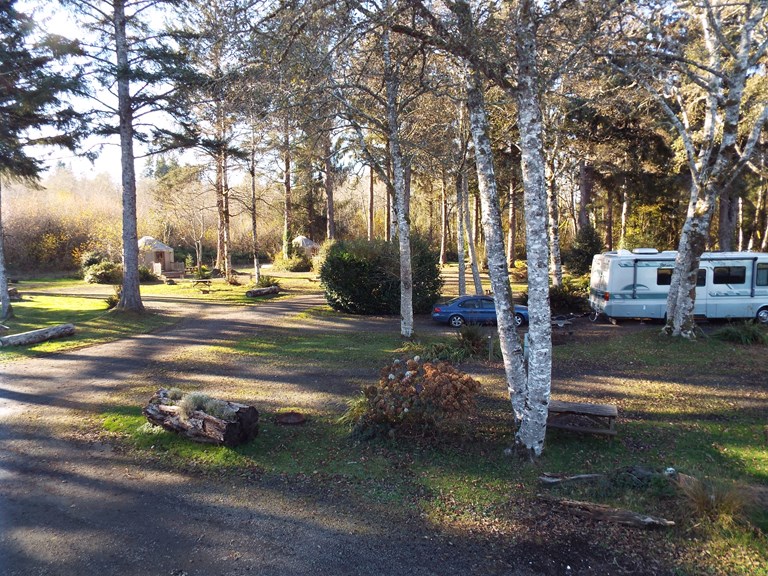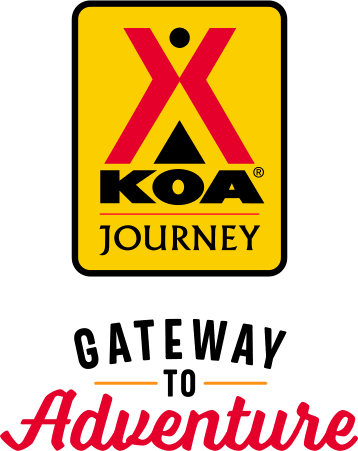 KOA Journey Campgrounds
KOA Journey campgrounds are the perfect oases after a day on the road. Whether it's along the way or a quick getaway, they've got you covered. Located near the highways and byways of North America with long Pull-thru RV Sites, they deliver convenience to the traveling camper. Pull in, ease back and take a load off.
KOA Journeys Feature:
Pull-through RV Sites with 50-amp service
Premium Tent Sites
Well lit after hours check-in service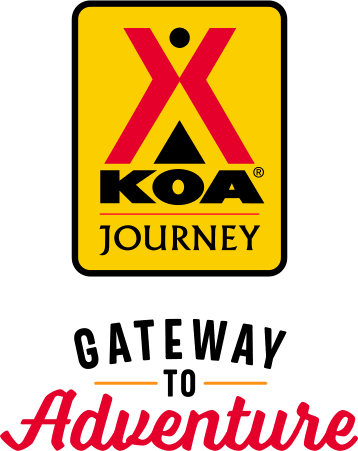 KOA Journey Campgrounds
KOA Journey campgrounds are the perfect oases after a day on the road. Whether it's along the way or a quick getaway, they've got you covered. Located near the highways and byways of North America with long Pull-thru RV Sites, they deliver convenience to the traveling camper. Pull in, ease back and take a load off.
KOA Journeys Feature:
Pull-through RV Sites with 50-amp service
Premium Tent Sites
Well lit after hours check-in service
Directions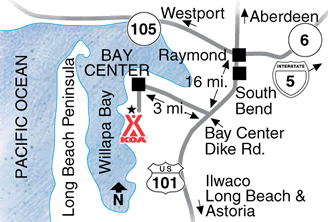 16 miles south of Raymond on Hwy 101: Exit between MM 42 and 43 on Bay Center Dike Rd, drive 2 1/2 miles, turn left on Bay Center Rd, drive 1/2 mile. GPS: Use 457 Bay Center Rd, South Bend, WA 98586.
Get Google Directions
Jun 01, 2020
I can't not say good enough things about the KOA hosts. They went above and beyond to meet our needs and unfortunately we were pretty needy this trip. We will tell everyone we know what an amazing place this is!
Jun 01, 2020
Awesome. Had a great site. Owners were super great. Clean and safe. Even during pandemic the protocols were in place to keep everyone safe.
Jun 01, 2020
Wonderful campground, incredibly well maintained and the staff is very friendly. Ken helped us order some oysters and clams for lunch during our stay, and had great recommendations for hiking and scenery in the area and beyond. We will definitely be back in the future.
Jun 01, 2020
This is by far the best Koa I have ever stayed at. It's has lots of trees and it's on the ocean. The host was very accommodating and friendly. The bathroom was spotless and has the fastest hot water I have ever seen. I wish I could have stayed longer.
May 29, 2020
The campground was very clean with wide lush spaces. We enjoyed the easy access to the bay and walking the beach. Very friendly and especially clean at this time. Felt very safe there.
May 26, 2020
A beautiful site with many unexpected amenities: Such as a love seat swing and a full bbq with utensils!!!
Mar 24, 2020
Very friendly staff. Corona virus had closed down all the facilities while we were there but we appreciated the ownership taking the necessary precautions.
Mar 20, 2020
We had a great time. The hosts were exceptionally hospitable. We had great beach access through a lovely trail. Our daughter had a great time counting the gnomes around the campground. We are looking forward to visiting again.
Mar 18, 2020
Hosts were amazing! Being colder time of the year the campground was quiet which was nice. It is very clear they take pride in their campground. Everything was maintained well and exceptionally clean. Loved that there were signs and info on oysters, learned a lot.
Nov 10, 2019
This is a great place to relax and enjoy your surroundings and RV with the beach access only a short walk away its sunsets are amazing. The campground hosts onsite are an amazing couple who genuinely care about you and your stay. I will definitely be back at the close of the 2019 season they were in full swing on the property with upgrades so stay tuned for new amenities for the future.
Nov 09, 2019
We stayed for a week. The staff is very friendly and accommodating. Campsites are roomy and restrooms are clean.
Nov 09, 2019
We were 5 minutes late from the 8:00 office closing time, but Ken was there to meet us. We asked to rent clamming equipment because that was the whole reason we were there and low tide was that night. We have experience clamming and said we would be quiet. Ken was not willing to accommodate us, so we will not be returning.
CAMPGROUND RESPONSE / COMMENTS:
Due to safety concerns we do not suggest people access the clamming beds at 3am. Clam tides can be found on line or you can call the office. Please plan accordingly for a daytime dig.
Nov 07, 2019
We stayed in a yurt. It was clean and cozy. The facilities were great too. We thoroughly enjoyed our stay and will be back again.
Nov 04, 2019
My husband & I we lucky to find this KOA. The managers/owners were friendly & helpful. The facility was decorated for Halloween & the manager told us she does themed weekends during the summer. We hope to come back with our grandkids. Very close to the beach.
Nov 03, 2019
Management was very helpful in setting up site, providing coffee in the AM and hours office was open. Very friendly. Nice sites, well maintained facilities
Oct 28, 2019
Iris and Ken are wonderful, caring people. Always a pleasure to have some time with them.
Oct 24, 2019
Very relaxing campground stay. Great information available about all the sights to see, things to do. Hope to see more of the improvements made in the kids area activities. Love the gnomes!
Oct 21, 2019
Was supposed to be rainy and stormy but the clouds went away and my granddaughter got to play with her sand toys on the beautiful beach! The super nice staff! Cabin was clean, warm and cozy!
Oct 20, 2019
This was our second visit to this KOA. We stayed in the yurt, it was very roomy and comfortable. We particularly enjoyed looking at the stars through the skylight. The facilities were clean and in good repair, staff was friendly and welcoming. We would certainly come back here again. Our only complaint were some overly noisy and inconsiderate neighbors across from us.
Oct 17, 2019
Enjoyed it very much. Stayed in cabin. Cabin had TV and POD coffee maker Nice patio with gas Barbecue. Well stocked store. Short walk down to the Bay. Everything sparkling clean. Clean bathrooms. Excellent hosts We arrived early and we're allowed to hang around till check in. Thank you. Pet friendly. In the forest. We'll be back Thanks Stop here if you're in the area
Oct 13, 2019
We have stayed at this campground on three occasions. The campground and facilities are spotless and well kept. All staff are helpful and courteous. We highly recommend this campground.
Oct 12, 2019
Nice quiet place to stay. Absolutely loved the dog play area! But too much a of a hike to beach for an old person. Very nice lady in office.
Oct 12, 2019
The hosts were fantastic and our space was awesome, private but right next to the trail to the beach.
Oct 09, 2019
Great little park. We were there in October so not real crowded. Easy walk to beach, good WiFi and clean bathrooms. Owners really take care of their park.
Oct 09, 2019
What else can I say other than Iris and Ken are the best hosts that take pride in them campground and it shows!
Oct 08, 2019
We always enjoy our stay. Staff is always very friendly, park is always and beautiful and clean.
Oct 08, 2019
Fantastic stay with great hosts Ken, Iris and Kayla and staff. Everything is so well taken care of, friendly. Great clam beds. A must campground to stay:):)
Oct 07, 2019
Campground is clean and well kept. Very nice staff and a lot of things to make it more enjoyable for the kids. The only downfall would be that the beach access is pretty muddy and really only good for clamming. I will not go again during hunting season as we had a couple of big groups of hunters staying there being pretty loud during wake hours, but that's just a personal preference of mine.
Oct 07, 2019
We enjoyed the location, the grounds, and the hosts. It was especially nice to have access to the beach and ocean. Clean pleasant restrooms too.
Oct 06, 2019
the "biggies": Very clean bathrooms, lots of hot water! Free coffee every morning. Very warm hearted staff. Learned about the how-to's of oyster farming and harvesting ( lots of hard work, year round), local history, how private landowners own property out into the waters (deeds prior to statehood), thank you Kayla for all that :) Well run, peaceful, pretty, polite, and quiet. Thanks again.
Oct 05, 2019
Quiet and peaceful.
Oct 04, 2019
Small KOA. In the middle of nowhere. Nice sites. Great trail to the ocean. Laundry room adequate. Nice staff. Nice store. Nice bathrooms. In a motorhome. We've stayed here before.
Oct 03, 2019
First time at this KOA location and we loved it. Extremely well kept campground with amazing and fun touches. We were in a pull thru site but saw a lot of other sites with BBQ's on them. Super friendly and helpful hosts. This campground feels like real camping - rustic, full of nature and incredibly peaceful.
Oct 03, 2019
Nice, level, quiet site, love the proximity to the bay. Friendly staff.
Oct 01, 2019
Great facility, friendly staff, cool location. The hardest ice cream on the coast!
Sep 29, 2019
The hosts are very pleasant and accommodating. Peaceful, rural, wooded surroundings very close to the bay. Great for clamming. $3.50 for a small wash tub is too much for laundry but the big dryers were reasonable and dried very well. Nice variety of store items and a good, little deli. Of all the KOAs we've stayed at this was the first to charge us for our dogs. We'd stay here again. Thanks.
Sep 29, 2019
A good stopping overnight place from where we'd come from and to where we were going.
Sep 27, 2019
So, the owners, Iris and Ken, and the staff, Kayla, Diane and Cindy were great and made our stay memorable.
Sep 26, 2019
Sehr schöner Campground.Ganz in der Natur.Kleiner Weg direkt ans Meer.Natur pur.herrlich.Leider Campground etwas abgelegen dafür absolute Ruhe.Sehr Nettes Host Paar
Jul 06, 2020
Second time back, planning on coming often. Hosts are great, they have a good thing going. Clamming is great, site is smaller which is nice. Kids can ride bikes without having to dodge cars all the time. Sites are clean the store has some supplies in case you forget.
- Kirill Volkov on Google
Jul 06, 2020
Awsome spots!!
- Sean Harlington on Google
Jul 05, 2020
Great KOA covered in trees and close to bay/beach. The Hosts very hospitable. Bathrooms too very clean.
- Jessica Allen on Google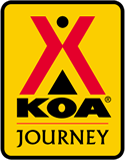 Bay Center / Willapa Bay KOA
Open March 18 - December 31
457 Bay Center Road
Bay Center, WA 98527
Check-In/Check-Out Times
RV Sites, Tent Sites
Check-in: 1:00 pm, Check-out: 11:00 am
Accommodations
Check-in: 3:00 pm, Check-out: 11:00 am
Bay Center / Willapa Bay KOA
Get Google Directions