Bas Saint-Laurent KOA Resort Recreation
No matter if you come and stay just for a day or a weekend or spend your holiday here, Bas St. Laurent KOA is a true resort offering plenty of activities: fun for everyone. See hereunder and tab 'events" for details.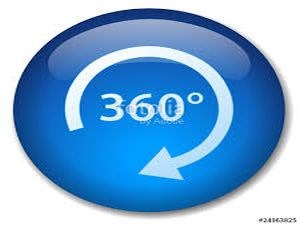 TOUR of KOA Bas-St-Laurent 360 deg.
Take a streetview 360 degrees tour of our campground: have fun! Kid's entertainment
Regardless of weather, every Saturday morning from 9h30 to 11h00 AM, we have entertainment for kids: a lot of fun! A new activity each week and it's free!
Jumping Pillow
Jumping Pillow is a giant trampoline accessing over 40 people at the same time: a ton of fun for everyone!
Sandy beach on the lake
Have your chairs and towels and go to lakeshore sandy beach and spend time with family and friends: build a sand castle, swim in the warm waters of Lac St-Mathieu, walk on the pier or just relax in the sun. You also can rent a kayak, pedalboat or paddleboard. Why not a pontoon cruise?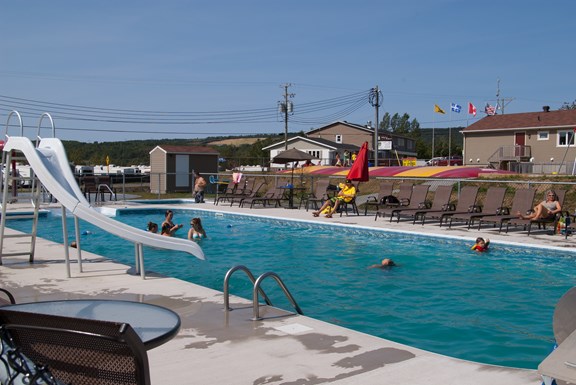 Large heated pool
You love water temperature at 80 degrees? Our large heated pool with waterslide can accommodate up to 60 people. A kiddie pool for youngest kids!
For safety, a lifeguard is always on duty and you can access pool using stair and handrail.
Tables and chairs available for everybody!
Pool open 7 days a week from June 24 to September 4. Also during weekends June 11-12, June 18-19, September 10-11 and more if weather permitting.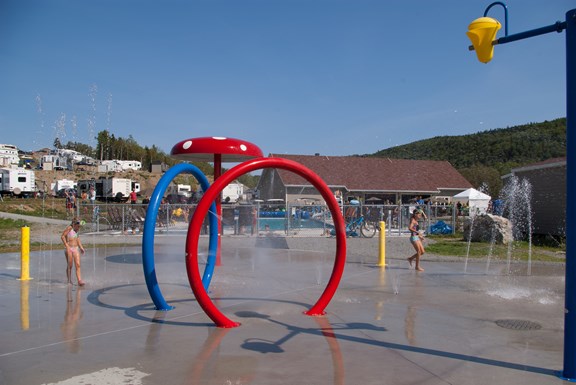 Splashpad
Professional splashpad close to the pool: fun for everyone. Water is heated at beginning and end of season.
Open from June to end of September!
Kiddie pool
For young kids and close to pool and splashpad: all family members can have fun at same time!
Spa for adults only
FOR ADULTS ONLY: relax in our professional spa. When store is open, do your reservation and get your key at front desk!
Playground
Fun and safety were the key elements when we built our playground. Design, equipments, their installation and 18 inches of high performance wood chips are in accordance with safety CSA standards. Then, everybody may have fun safely!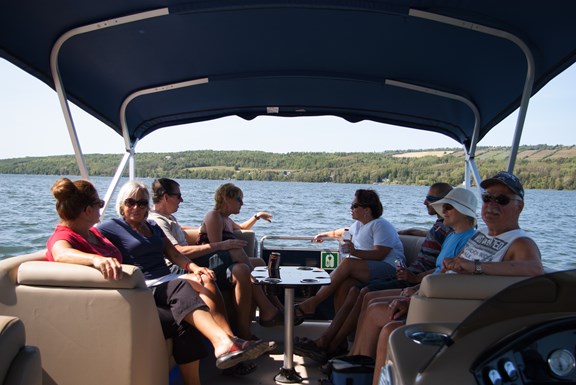 Pontoon cruise
Have fun and make friends: take a one-hour cruise on our 12-passenger pontoon on 3 mile long Lac St-Mathieu. It is very inexpensive.
... or rent pontoon privately!
Renting of boats and bikes
Renting of kayaks, pedalboats, paddleboards and bicycles are available.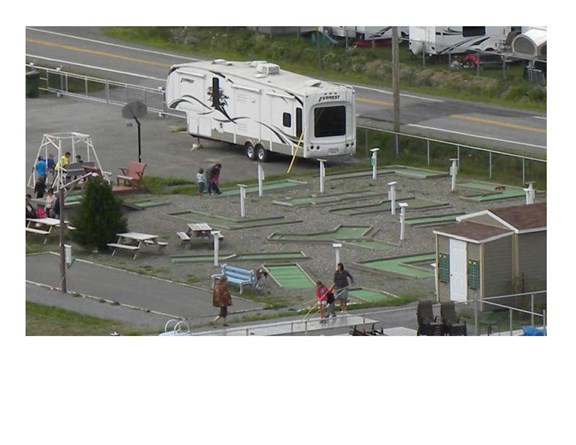 Mini-golf
18-hole mini-golf course for everybody: who will be the winner? And it is FREE!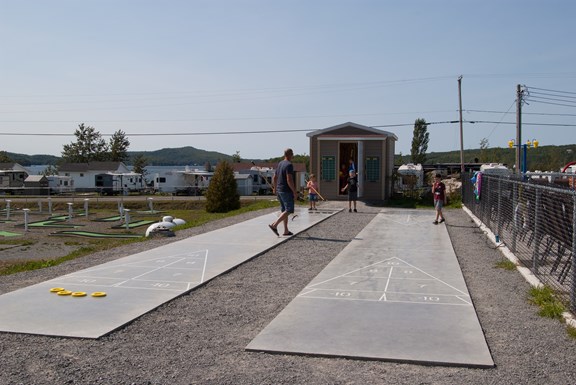 Shuffleboard
An activity for everybody: shuffleboard. You get everything to practice and rules are easy to understand. Hours of fun! Why not a friendly tournament? Fitness equipment
Lakeview work out on our fitness equipment: treadmill, stationary bike and stepper. It's FREE!
Petanque
Come to play petanque! If you're feeling competitive, every week, you can play fun tournaments! Kamp K9 dog park
Your best friend needs to run in an off-leash dog park: we have it for him (or her)! Cinema
Inside pavilion, there's a giant screen with tremendous Dolby 5.1 sound system. Come to watch movies depending on temperature!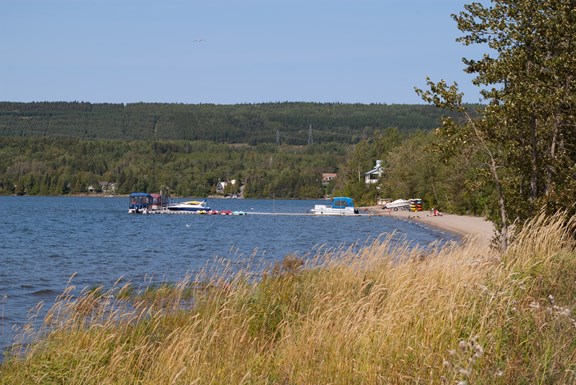 Boat ramp
You have a boat and need to go to lake: boat ramp is just here and we have the dock too! Piste de BMX track with ramp
BMX track with ramp for everybody
Local Area Recreation