Local Area Attractions Near Bas Saint-Laurent KOA
Bas St-Laurent KOA is just in the heart of Bas-St-Laurent area: Trois-Pistoles is at 15 minutes, Rimouski, Rivière-du-Loup and Temiscouata-sur-le-lac are at 45 minutes or less only. Take info at front desk!
Camping KOA Bas-St-Laurent est situé en plein dans le coeur de la région du Bas-St-laurent: Trois-Pistoles est à 15 minutes et les villes de Rimouski, Rivière-du-Loup et Témiscouata-sur-le-lac sont à 45 minutes ou moins seulement. Informez-vous à l'accueil!
Excursions at sea
Dive into the sea adventure cruise through several activities and visits to historic and exciting sites ! Whale watching Tours is one of many excursions offerred.  Excursions to the l'Île aux Basques,l ocated 5 km from Trois-Pistoles, it was occupied by Native Americans 2,000 years ago and frequented by Basque fishermen from 1584. 
More details : http://www.koabasstlaurent.com/koabsl/en-us/todo/excursions.aspx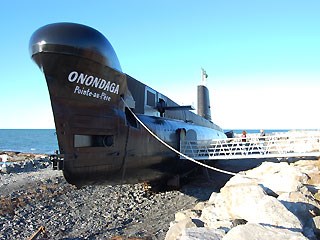 Pointe-au-Père Maritime Historic Site (Onondaga Submarine & The Empress of Ireland
Pointe-au-Père Maritime Historic SiteClimb aboard the only submarine open to the public in Canada. Upon entering the ship you will discover the daily life of some sixty men, who lived confined for months in a submarine 90 meters. The audio tour takes you into this fascinating and unknown. It is also possible to spend an evening and a night aboard for the experience as if you were a submariner!
The Empress of Ireland pavilion tells the story of the Empress of Ireland. From its construction in 1906 until 1012 who made shipwreck victims in 1914, you will learn about this magnificent ship. Discover the collection of objects taken from the wreck, photos, interactive kiosks and testimonials from passengers. A screening will take you into the atmosphere of that fateful night.
See more details : http://www.koabasstlaurent.com/koabsl/en-us/todo/touristicattractions.aspx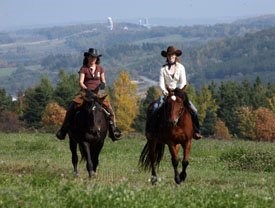 Horse back riding
'Ranch CR' in Saint-Fabien at 30 km from the KOA campground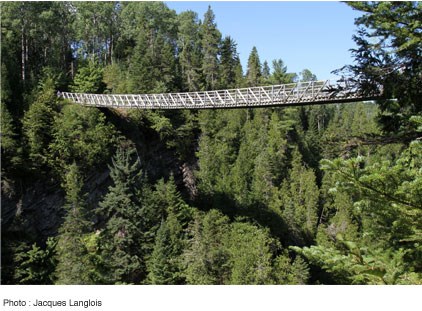 Canyon des Portes de l'Enfer
The Canyon des Portes de l'Enfer (hell's gate canyon) in Saint-Narcisse-de-Rimouski begins with the Grand Sault waterfall and stretches nearly five miles between steep and narrow rock walls up to 90 metres high.A network of easy-to-intermediate hiking trails, from 1 to 14 kilometres, leads to stunning panoramic views and a 63-metre high suspended footbridge, the highest in Quebec
See more info : http://www.koabasstlaurent.com/koabsl/en-us/todo/touristicattractions.aspx
Local Area Recreation Near Bas Saint-Laurent KOA
Whale cruise / Croisières aux baleines
Watch till 9 species of whales mainly white belugas: a 3.5 hour cruise from Rivière-du-Loup at 45 minutes only from campground.
Get 5$ discount if you buy at campground front desk!
Observez jusqu'à 9 espèces de baleines dont les fameux bélugas (baleines blanches): croisière de 3.5 heures à partir de Rivière-du-Loup située à seulement 45 minutes du camping.
Obtenez un escompte de 5$ si vous achetez vos billets à la réception du camping!
Onondaga submarine and sea museum / Onondaga
Onondaga submarine and the Empress of Ireland museum are a must to see in Bas-St-Laurent. You can visit inside the submarine, a true war submarine. Empress of Ireland sank in St. Lawrence River near Rimouski in 1914, just weeks before World War 1, taking 1,012 people to their death. This is the most important historical site in Rimouski.
After your visit, take the time to walk along Rimouski promenade on the sea!
Le sous-marin Onondaga et le musée de l'Empress of Ireland sont la principale attraction du Bas-St-Laurent. Vous pouvez visiter l'intérieur du sous-marin, un véritable sous-marin de guerre. L'Empresse of Ireland a coulé en 1914, quelques semaines à peine avant le début de la Première Guerre Mondiale, faisant 1 012 morts. C'est le plus important site historique de Rimouski.
Après la visite, prenez le temps de prendre une marche sur la promenade de Rimouski, sur les rives du Fleuve!
Hiking and mountain bike / Randonnées
Just 2 minutes' walk and you are at the foot of Mount St-Mathieu: paradise of hiking and mountain biking. Climb the mountain for a breathtaking view! You have an ATV? You are at the right place!
.
The National Hiking Trail (144 km in 12 segments) passes through 3 distinct environments: coast and lowlands of St. Lawrence River, higland plateaus and Notre Dame Mountains.
Parc du Bic is just at 20 minutes of campground.
À juste 2 minutes de marches se trouve le Mont St-Mathieu: paradis de randonnée pédestre et de bicyclette de montagne. Grimpez la montagne et profitez d'une vue à couper le souffle! Vous avez un VTT? Vous êtes au bon endroit.
.
Le Sentier National (144 km en 12 segments) est un paradis de la randonnée en forêt et passe à travers 3 secteurs: la côte et les basses terres du St-Laurent, les plateaux et les Monts Notre-Dame.
Le Parc du Bic est situé à 20 minutes du camping.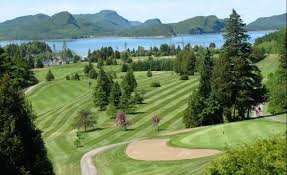 Golf
Golfers: 7 golf courses are situated at one-hour drive or less from campground.
Golf St-Mathieu is very cheap and is situated at 3 km: a 9 hole par 36.
Prestigious Golf du Bic (18 holes par 72) is at 30 minutes from campground: $5 off if you buy your tickets at campground and we do reservation at the same time!
Golf Rivière-Hâtée is a 9 hole par 3 lighted. New: disc-golf and driving range.
Ask to front desk, we can help you\
Golfeurs: 7 parcours de golf sont situés dans un rayon d'une heure de route du camping.
Le Golf de St-Mathieu est peu dispendieux et est situé à 3 km du camping: c'est un 9 trous par 36.
Le prestigieux Golf du Bic (18 trous par 72) est situé à 30 minutes du camping: 5$ de rabais si vous achetez vos billets au camping et nous faisons la réservation en même temps!
Le golf de Rivière-Hâtée est un petit 9 trous par 3 éclairé. Ils offrent aussi le disc-golf et ont un terrain d'exercice.
Demandez à la réception du camping, on peut vous aider!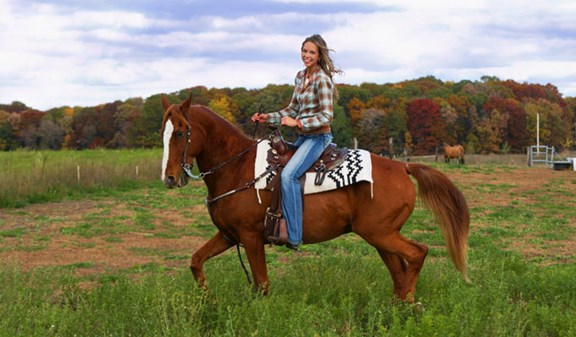 Horse back riding / Équitation
Ranch St-Fabien is just at 20 km only from campground.
Le Ranch St-Fabien est situé à 20 km seulement du camping.