Alert
We are open for camping at Barstow Calico KOA. We have implemented enhanced cleaning procedures. We hope to see you soon!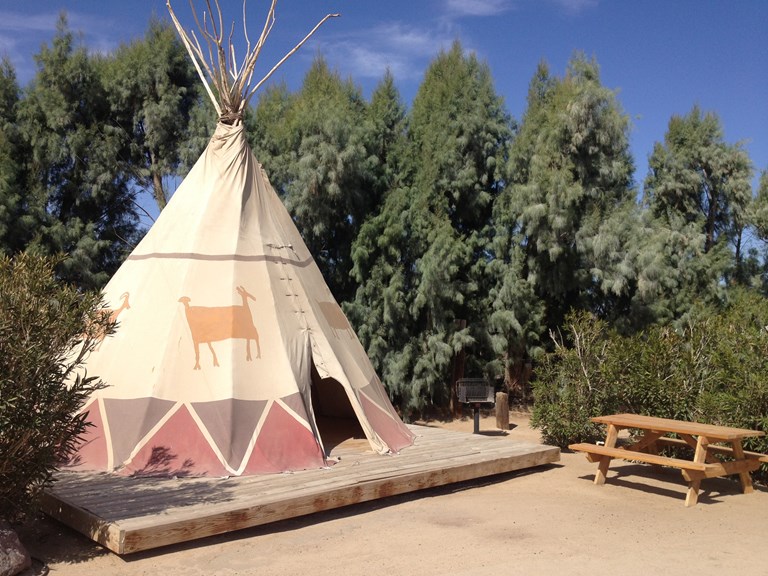 Barstow / Calico KOA Reviews
Directions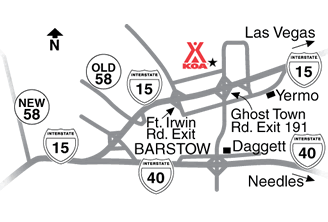 DO NOT FOLLOW GPS  ADDRESS - USE THE DIRECTIONS GIVEN BELOW. 
Northbound: I-15 Exit 191 (Ghost Town Rd), left under freeway to service station, left 1/4 mile.
Southbound: I-15 Exit 191 (R), then left at service station, 1/4 mile.
Eastbound: I-40, Exit 7 (Dagget Rd), left, 3.5 miles under I-15, left at service station, 1/4 mile.
Westbound: I-40 Exit 7, right, 3.5 miles under I-15, left at service station, 1/4 mile.
Get Google Directions
May 18, 2020
Always a wonderful time and relaxing.
May 18, 2020
Nice place and friendly staff, barstow koa haven't disappoint us yet. Just hope this pandemic be over soon so the pool be open by summer. So excited about the water slide that the owner is going to add.
May 16, 2020
WiFi was not available and cable TV was not clear and some channels did not work at all.
May 15, 2020
Place is rundown not taken care of. No internet. Disappointing to stay there.
May 15, 2020
Nice pad sites. Basic needs met. Beautiful view of the mountains and desert. Staff was very friendly and helpful.
May 14, 2020
The drain was clogged which make me do loops to get the waste back in the RV and drain it elsewhere. Not fun way to leave the site.
May 13, 2020
Good RV sites. Level and clean. Good walking areas around.
May 12, 2020
Quick on and out. Area was clean, neat and well organized. Staff was excellent, kind and very helpful.
May 11, 2020
Quick overnight stop. Very accommodating and a nice spot.
May 10, 2020
Our stay was overnight. We were in space 20, 50 amp full hookup, near the KOA office. The park seems very new with with new very nice hookups, volcanic gravel spaces and roads to keep the dust and dirt down and out of our RV's. Despite the freeway nearby, the park seems quiet and we slept well. Sensitive folks might stay at the far end of the park for less freeway noise. WIFI/cable were good.
May 09, 2020
Clean quiet excellent
May 09, 2020
very nice site, well maintained. The host was well informed of the covid19 issues, for this site. Restrooms, showers, play ground for children were all secured.
May 06, 2020
The staff was above and beyond
May 05, 2020
This is my second time staying there I love it, it's very relaxing and very clean. I will definitely be there again soon.
May 05, 2020
Had a great time camping and off roading.
May 05, 2020
great place to stay. we love it
May 04, 2020
Cable TV was really bad! Sewer connection was plugged up. We could not drain RV Site 40
May 04, 2020
Very clean and well maintained. Looking forward to my next visit.
May 04, 2020
very clean place.
May 02, 2020
Clean campground. Very friendly staff. The cabin was in excellent condition and very clean.
May 02, 2020
Staff very friendly
May 01, 2020
Was a good stay...I can say they could increase the wifi strength thru the whole park...also put air conditioning in laundry room...thank you...
Apr 29, 2020
It was just what we needed. A KOA halfway to our destination.
Apr 29, 2020
The KOA is clean and well kept up. Was not happy to have to pay $5. extra for a tree in my spot. The tv cable is messed up. The fox news channel had audio for a car channel. And the car channel had the fox audio. This to me is an intentional blunder by a wacky left wing liberal who hates conservatives and fox news. So if you are a radical liberal you can watch fake news on CNN or MSNBC. Fix it.
Apr 28, 2020
Clean, beautiful, serene, great customer service... What is not to like?! Thank you!
Apr 27, 2020
We really enjoyed the overall campground layout and the different type of camping options available. We usually tent camp, but the cabin we stayed in was excellent and we would do that again anytime. Loved the coveted picnic area especially. Beautiful area and great amenities.
Apr 27, 2020
very pleasant stay ... due to the Covid-19 virus , the pool was closed and you couldn't go in the store (they had a window to go to if you needed something from the store)...... but other than that, it was a nice stay and very quiet, got some good sleep.
Apr 22, 2020
We arrived early in the morning so the site wasn't empty yet but they were so accommodating by offering us to stay in the over flow. That was great, we were able to take our Jeep out sight seeing and we didn't have to worry about leaving our coach in a vulnerable area. Thank you for your great hospitality! That's why we keep coming back!
Apr 21, 2020
Staff were very friendly
Apr 21, 2020
Wow what can I say, we have been staying at this KOA for more than 8 years. We never have a complaint. The Staff and the Owner are amazing. They make you feel at home. We stood in cabin 4. We really enjoyed.
Apr 21, 2020
awesome place to get away to..... Especially in times like these... Very clean and well kept grounds... Cabin is the way to go..
Apr 21, 2020
We had a very relaxing time at this park and the male owner? sorry I do not know his name was very hospitable and even thanked us for coming and helping his small business during this pandemic crisis we are in. We have stayed here before and will definitely be back again! Great park.
Apr 20, 2020
Stayed in a cabin, hardly any hot water, other than that the cabin was perfect. Check in, lady was very unpleasant, had it not been for the gentleman that checked us into the cabin we would have said bye, but he was very nice. Not much there at all, if you have bikes or stuff like that would be better
Apr 20, 2020
Thank you Barstow KOA for an amazing camping experience. The new check in was very organized especially to adhere to social distancing. We have been camping at this location regularly and look forward to the great customer service. Our family loves waking up each morning listening to the birds and the occasionally train passing through Barstow Station. The campsites are very clean and spacious.
Apr 20, 2020
Thank you for being open during this time.
Apr 18, 2020
Great folks working there made for a quick and easy registration. The park was clean, and quiet, and has lots of room to maneuver into our space.
Apr 15, 2020
Seems odd to charge for our kids when everything was shut down. Run down oark
Apr 14, 2020
Very convenient stop between Lake Havasu, AZ. and Chowchilla, CA. Just off I-15 in Barstow, Ca. it was a quick stop. Did not see much of the amenities because of Covids-19 virus. Would stay again if in the area.
Apr 13, 2020
All of the employees were super nice and helpful. We appreciated that we could stay the night when most other campgrounds were closed due to COVID 19.
Apr 10, 2020
We loved our cabin it was very nice and cozy!! We can't wait to stay again!! The staff was very friendly. It was a very nice quite park. Thanks for being open during the crazy pandemic!!
Apr 07, 2020
Nice park. Easy in / easy out. Staff is very nice.
Jul 27, 2020
Very clean. Convenient, right off of the interstate. Nice store and propane sales.
- David Smith on Google
Jul 26, 2020
Staff very friendly and helpful. We were in Space 32 and the sewer connection was quite a distance from the water and power. Not convenient.
- Mary Wilson on Google
Jul 18, 2020
Loved the site. It was pretty hot and without shade but nice.
- Jeremy Nauck on Google

Barstow / Calico KOA
Open All Year
35250 Outer Highway 15 North
Yermo, CA 92398
Check-In/Check-Out Times
All Sites
Check-in: 2:00 pm, Check-out: 11:00 am
Get Google Directions

© 2020 Kampgrounds of America, Inc.