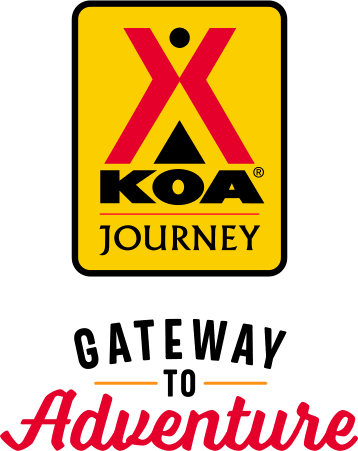 KOA Journey Campgrounds
KOA Journey campgrounds are the perfect oases after a day on the road. Whether it's along the way or a quick getaway, they've got you covered. Located near the highways and byways of North America with long Pull-thru RV Sites, they deliver convenience to the traveling camper. Pull in, ease back and take a load off.
KOA Journeys Feature:
Pull-through RV Sites with 50-amp service
Premium Tent Sites
Well lit after hours check-in service
Directions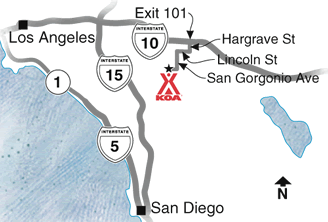 (Heading West towards L.A.) Take the I-10 West to Exit 101 (Hargrave St.), turn left off the freeway ramp onto Hargrave St. Take Hargrave to Lincoln (first stop sign), make a right onto Lincoln. Take Lincoln to S. San Gorgonio (next stop sign,) make a left onto S. San Gorgonio. We are located on the right at the base of the 243 Hwy.
(Heading East towards Indio) Take the I-10 East to Exit 101 (Hargrave St.), turn right off the freeway ramp onto Hargrave St. Take Hargrave to Lincoln (first stop sign), make a right onto Lincoln. Take Lincoln to S. San Gorgonio (first stop sign,) make a left onto S. San Gorgonio. We are located on the right at the base of the 243 Hwy.
Get Google Directions
Mar 08, 2021
This was our second time staying here. We enjoyed our stay. The staff is very friendly. Would highly recommend.
Mar 07, 2021
We are new RV campers so our experience is more limited than other commentersRV . We have stayed at 40 or so RV parks ranging from Federal, state and Boondocking sites to more exclusive private parks. The Banning Stagecoach was one of our favorites. Clean, friendly well-organized, level gravel sites, dog run area, picnic tables landscaping etc. One negative, the showers and restrooms were closed.
Mar 01, 2021
Power pedestals door fell off. The pole breakers cover was sitting on top of the box. Made reservations for 2 trailers to be close to each other. We didn't know we were 3 rows apart until we got there after the office was closed. The pool water was green. Disgusting
Feb 27, 2021
The same as last year.
Feb 27, 2021
Your policy of closing the rest rooms came as a complete surprise to us. We have camped at other CA sites & their rest rooms are open. If you are closing them, that needs to be communicated upfront!!
Feb 23, 2021
What we didn't like was the wind we had every day which is of no fault of RV park. Summer time would probably be much more comfortable . No dog bags in containers or paper towels in laundry.
Feb 22, 2021
Quick overnight. Surprised about how quiet the entire park was especially for a Friday night. Propane readily available for a last minute refill. Very professional staff
Feb 21, 2021
Quite, scenic, spacious
Feb 20, 2021
Beautiful park, quiet and away from the freeway.
Feb 19, 2021
Clean and extremely quite. Needs more garbage/recycling bins throughout the campground.
Feb 17, 2021
Always nice.
Feb 17, 2021
We were not told about the closed restrooms and showers. Our confirmation did not mention anything other than 24 hour availability of both showers and restrooms. We do not have an operational shower so we were really disappointed. The park is a little rough around the edges but the staff were friendly.
Feb 16, 2021
This KOA is nicely laid out, and it really is at the gateway to Idyllwild, with good views of the mountains. That said, you can hear freight train whistles all night. Also, our site had a sewer overflow from a previous guest, and we had raw sewage all around our trailer that they didn't help clean up. Ruined a set of Lynx levelers and some chocks, and it was just gross. We had to cover the mess
Feb 16, 2021
The campground was clean and well maintained. The sites are gravel with a concrete pad for the picnic table. The ground was a bit deceiving as it was more uneven than it appears due to the gravel. A concrete pad for the RV would have been nice since we had difficulty leveling our motorhome.
Feb 16, 2021
Nice and clean campsite. only hear the train running once a day. Close to Lake Fulmor and shopping area
Feb 16, 2021
Awesome experience. Friendly staff
Feb 15, 2021
We really enjoyed our stay here. The grounds were clean and we really enjoyed the wide pull thru spots. Other places we camped at are cramped and tight but not here. Thanks!
Feb 15, 2021
Peacful and curteous staff.
Feb 12, 2021
Very nice campground. Hidden gem at the base if the San Jacinto Mtns. Close to Idyllwild and Palm Springs
Feb 08, 2021
Very clean and quiet camp ground with a lovely view of the mountains. My only recommendation would be to send a text of the campground map to make the check-in process touchless for covid during check-in.
Feb 08, 2021
the campground is beautiful!
Feb 07, 2021
We had a very pleasurable stay. Staff was very friendly and sites were clean. Mountain very was very pretty with the snow.
Feb 06, 2021
Only problem was that people coming to park late at night making noise and leaving at 4:30 am It happened three times in one nite I have come to parks late but, I'm very quite and respectful and try to call ahead Park is clean and well mantined
Feb 05, 2021
We arrived after dark. Our space was very unlevel and since the office was not open did not have options. We were unable to get our RV to level because of the unleveled ground and were unable to put our slide out due to this.
Feb 02, 2021
Staff very friendly and professional.
Feb 02, 2021
Great place to stay very friendly and helpful staff is great too
Feb 02, 2021
Quick and easy check-in. Grounds were in very nice condition. Due to Covid we did not use and facilities other than the dog park.
Jan 30, 2021
great experience. Friendly & helpful staff everything worked fine.
Jan 27, 2021
Love this hidden away place! Nestled right up next to the mountains in a quiet area with beautiful surroundings. Everything you could possibly need within 15 minutes away. People were great, spot was perfect and we will definitely be back. Price was very fair as well. Internet service was very functional the entire time and EASY to log into. Great Place!
Jan 21, 2021
Staff was great, weather was windy but other than that was great.
Jan 21, 2021
I've stayed at this KOA campground before and I'll stay here again if I'm ever in the area again. the people are so happy to please you.
Jan 20, 2021
They were very welcoming! The grounds were clean and kept as you expect. The playground was fun and the dog park was perfect.
Aug 02, 2021
I stayed there with my son and the amenities were nice. The weather was cool for the summer time. I enjoyed the surroundings and the facilities were clean. I would definitely recommend and if I ever find myself in southern California again I'll definitely stay there.
- Chris Ferguson on Google
Aug 27, 2021
was a difficult choice on how many stars. Last time we stayed there they got a 1 star only because it was horrible. this time it was cleaned up the site we were in had fresh gravel and not full of ant nests everywhere you walked. had a nice shade tree on each side and wide enough to open slides without worrying about hitting branches. We would stay there again.
- Jo Little on Google