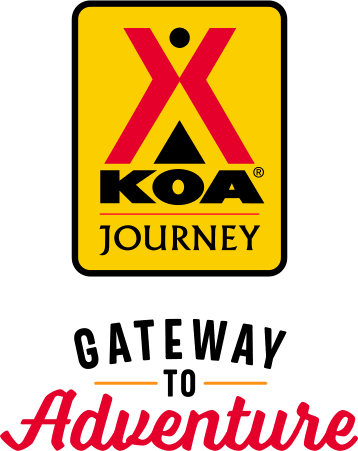 KOA Journey Campgrounds
KOA Journey campgrounds are the perfect oases after a day on the road. Whether it's along the way or a quick getaway, they've got you covered. Located near the highways and byways of North America with long Pull-thru RV Sites, they deliver convenience to the traveling camper. Pull in, ease back and take a load off.
KOA Journeys Feature:
Pull-through RV Sites with 50-amp service
Premium Tent Sites
Well lit after hours check-in service
Directions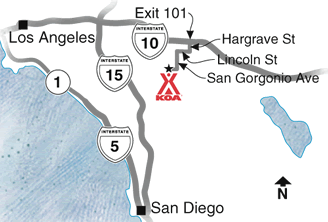 (Heading West towards L.A.) Take the I-10 West to Exit 101 (Hargrave St.), turn left off the freeway ramp onto Hargrave St. Take Hargrave to Lincoln (first stop sign), make a right onto Lincoln. Take Lincoln to S. San Gorgonio (next stop sign,) make a left onto S. San Gorgonio. We are located on the right at the base of the 243 Hwy.
(Heading East towards Indio) Take the I-10 East to Exit 101 (Hargrave St.), turn right off the freeway ramp onto Hargrave St. Take Hargrave to Lincoln (first stop sign), make a right onto Lincoln. Take Lincoln to S. San Gorgonio (first stop sign,) make a left onto S. San Gorgonio. We are located on the right at the base of the 243 Hwy.
Get Google Directions
May 18, 2020
No pool, no shower or toilets. Wanted $5 for a cable adapter. Scolded several times for not having a face mask. Desk lady not friendly at all.
May 13, 2020
Clean, well set up, everything one could expect from a KOA.
May 12, 2020
Todo muy limpio y ordenado, y tiene una excelente ubicación, el precio por noche muy bueno. Creo q voy a regresar pronto
May 11, 2020
We really enjoyed our stay and are looking forward to returning.
May 06, 2020
The people were very helpful and nice. The location is beautiful and quiet.
May 01, 2020
Too many stupid rules. Cost way too much for what you offer. Staff were rude. We did not enjoy our stay.
Apr 29, 2020
Very clean, well maintained, beautiful and relaxing Park! Great stay either short or long term. Staff is so friendly, personable and genuinely caring. Wonderful KOA.
Apr 28, 2020
Staff was very friendly and helpful. Grounds were very clean. I'm sure the pool is great too. Will hv to return.
Apr 27, 2020
Clean well maintained facility.
Apr 26, 2020
Prices a bit high considering all amenties pretty much closed....Judith is absolutely a delight to deal with. ....beware the wasp...the bushes all full of them...we couldn't sit outside they were so bad
Apr 25, 2020
Had a very relaxing time. We love this KOA. It is close to home and easy to get to. The place is very clean & the staff is always courteous and accommodating. The last time we stayed it was to attend a festival nearby (before COVID-19). It was easier than the commute to and from my home, plus it gave us an opportunity to camp in our motorhome. Thank you, KOA!
Apr 17, 2020
Everything in working order. Great staff.
Apr 16, 2020
We lived fulltime here for 15 months. The staff became like family. Alex and Brandon are phenomenal, always there to help. Judith and Theresa keep the office/store/mail running, with a friendly smile.
Apr 13, 2020
The campground itself was nice, the site was nice but the people staying there are horrible. This place caters to full timers and i was harassed by them with out them knowing my situation. Especially by the people in space 63. We were being called bad people and weekend warriors. Very sad. We will not go here again as it appears is only for Full timers period.We found somewhere else to go and left
Apr 09, 2020
I just do not understand why the bathrooms and showers were closed because of the coved-19 virus. Plus no effort to discount the rate for us because of this inconvenience.
Apr 06, 2020
The staff are extremely friendly and helpful, and this KOA is exceptionally maintained.
Apr 05, 2020
Overnight stay. Easy to find and close to freeway. Campsite was level. Bathrooms were closed due to coronavirus so not able to comment.
Apr 04, 2020
Wifi terrible, speed 2mps just means you have it doesn't mean it works. Cable TV horrible and only has Analog channels. Shows you just don't care about your customers comfort. Didn't use anything else due to shelter in place. Stop advertising internet and cable since you aren't providing these services
Mar 29, 2020
The RV Park is nice and new. It was March during the covid-19 crisis, so everything was shut down to include the restrooms. The lower RV sites where we stayed were not as level as I like, I hope they we designed to protect our RV refrigerators from damage, otherwise sinks and shower pans do not drain properly, leaving some standing water.
Mar 29, 2020
We wanted to get out of the house due to being isolated due to the Corona Virus. We figured we'd still be able to stay away from people if we camped. We did. Your staff took good care of us while maintaining a distance. We have stayed at Banning/Stagecoach KOA before the virus, during the virus and will again after the virus.
Mar 28, 2020
It rained almost everyday but enjoyed staying in, the KOA is very quiet and calming. Stayed during a stay home order so our 5th wheel home it was, had everything we needed, the staff was extremely helpful and kind, this our home away from home camping spot, we love going to Stagecoach Banning KOA and would recommend it to everyone.
Mar 25, 2020
Sites are easy to get into. Staff very friendly
Mar 22, 2020
Clean facilities. Quiet surroundings. Our second visit. We will be back.
Mar 22, 2020
Sewer was way too far from the site. It was more into the next site. We arrived at 5:03 pm. Office was closed and the dump was locked.
Mar 20, 2020
Very nice. I would stay there again.
Mar 20, 2020
Very friendly and knowledgeable of KAO this was our first KAO park. The park was easy to get in and out of, and we loved the off leash area for our fur kids We joined the membership rewards and will be back next fall as we are snowbirds
Mar 17, 2020
We've stayed at the Banning KOA four times now. The campground is nice with sites large enough for our truck and 32ft 5th wheel. There is a nice view of the mountains too. It's a good place to stop on our way to Arizona. The location is easy on and off the freeway yet you don't hear the freeway at all. Short 20 -30 minute drive to downtown Palm Springs to walk around the shops and restaurants.
Mar 16, 2020
The landscaping is excellent and what you want to see in a southern Arizona campground. Staff and owners are friendly and welcoming.
Mar 15, 2020
Unfortunately I did not get to come to the California Campers camp out due to the fact that my hubby was burned severely when his car caught on fire and I have spent the last 6 days at the ICU burn ward at West Hills Hospital...Most likely will be there for several more weeks...Hope when this is over we will be able to come and stay at your wonderful park.
Mar 13, 2020
Excellent place to stay while in the area. Highly recommend!
Mar 09, 2020
The staff in the office is excellent! Alex is a "saint" very helpful and informative. The sites are excellent.
Mar 08, 2020
A very friendly and helpful staff that work at this KOA park. Some other member of our RV Club have requested a reservation for a campout at this KOA park later this year. I believe that in its self speaks compliments for this park.
Mar 06, 2020
Judith was very helpful. The grounds are well maintained. The bathrooms were clean. Traveling alone, I felt safe. I would recommend Banning Stagecoach for anyone needing a respite away.
Mar 05, 2020
Enjoyed our stay wish it could have been longer.Great staff
Mar 02, 2020
Nice, clean park. Excellent staff. Great area for pets. Easy pull thru sites.
Mar 02, 2020
We stayed Feb. Friday & Saturday night. The campgrounds were very clean and easy full hook ups. Friendly check in with staff. Very quiet with pretty views of the hills. Nice pool area but closed at this time. Close to Morongo Casinos and Cabazon outlet mall. Great for travelers passing through. Would stay here again.
Mar 02, 2020
Nice campground, good aminities, for one night it was great.
Dec 07, 2020
Nice rv park with good host
- Brian Werle on Google
Jan 07, 2021
Neighbors allowed their young kids to play & scream until 12 midnite...not cool😡our first KOA...guess we should've known??
- Neta Madrone Marlin on Google
Dec 27, 2020
Very easy check in, the sites we're very unlevel but for one night it was ok.
- Tom Torres on Google