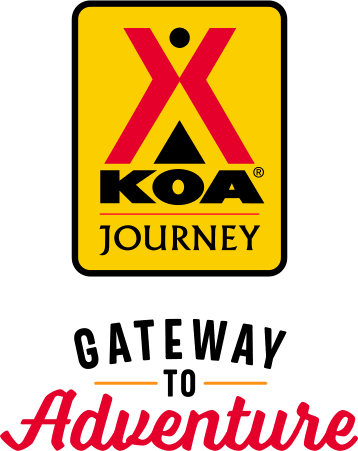 KOA Journey Campgrounds
KOA Journey campgrounds are the perfect oases after a day on the road. Whether it's along the way or a quick getaway, they've got you covered. Located near the highways and byways of North America with long Pull-thru RV Sites, they deliver convenience to the traveling camper. Pull in, ease back and take a load off.
KOA Journeys Feature:
Pull-through RV Sites with 50-amp service
Premium Tent Sites
Well lit after hours check-in service
Directions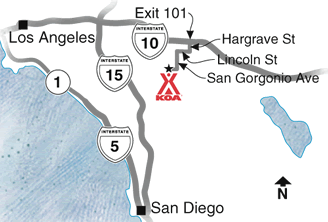 (Heading West towards L.A.) Take the I-10 West to Exit 101 (Hargrave St.), turn left off the freeway ramp onto Hargrave St. Take Hargrave to Lincoln (first stop sign), make a right onto Lincoln. Take Lincoln to S. San Gorgonio (next stop sign,) make a left onto S. San Gorgonio. We are located on the right at the base of the 243 Hwy.
(Heading East towards Indio) Take the I-10 East to Exit 101 (Hargrave St.), turn right off the freeway ramp onto Hargrave St. Take Hargrave to Lincoln (first stop sign), make a right onto Lincoln. Take Lincoln to S. San Gorgonio (first stop sign,) make a left onto S. San Gorgonio. We are located on the right at the base of the 243 Hwy.
Get Google Directions
Apr 20, 2021
Very convenient place for an overnight or longer stay. Away from the highway, so very quiet at night. Easy pull through sites.
Apr 20, 2021
I was late arriving after hours but they had a pre mande camp registration waiting for campers in my situation and it was simple and fast to complete The camp was clean safe and inviting
Apr 19, 2021
I was part of an RV group from the Elks and also the WagonMaster for the group. The Stagecoach personnel I worked with were very accommodating and answered all questions when asked. We would go back again!
Apr 19, 2021
Love the park, however this time, we were disappointed to see the pool in such a state of disrepair. It's a shame it was let to get to that state before draining. I'm sure the health department would not approve.
Apr 19, 2021
We had a wonderful time. Everyone was very friendly, especially the staff. This was our third stay and we will return!
Apr 19, 2021
Very clean, well maintained RV/trailer park.
Apr 18, 2021
We stay at Koa most of the time , however this stay at Banning stagecoach was a big disappointment, bathroom and showers being closed? That we could live with since everybody uses the COVID excuse but the worst thing was your swimming pool which was half drained with green water breeding mosquitoes, it was gross , hope you clean that up before the health dept sees it.
Apr 15, 2021
Organized. Clean. Well run. Pretty park. Thanks
Apr 13, 2021
always a relaxing stay. everyone is very nice, friendly and helpful.
Apr 13, 2021
Very clean. Easy to get in and out. Quiet.
Apr 13, 2021
It was fine. One night. Came late and left early.
Apr 12, 2021
Beautiful campground with nice views. Friendly staff. Our dog loved the dog park.
Apr 10, 2021
Everyone in the office and the grounds people were extremely helpful and friendly.
Apr 09, 2021
This was our "maiden voyage" with our new RV. Everyone was very helpful and friendly. We will likely return for additional visits in the future
Apr 09, 2021
Nice campground but way too expensive for a one night pull through. This location was the highest price stop of my trip.
Apr 08, 2021
Sites ok, pool looks like a moat, bathrooms/showers closed.
Apr 07, 2021
Ok for a short stay. Lot was adequate but pretty short for a pull through. Outdated and not very well maintained. Trash was left on ground around dumpsters and was overflowing. Long termers have there lots trashed up with all sorts of extras. We would stay again for an overnight stay.
Apr 07, 2021
We enjoyed our stay, we're disappointed to see that the bathrooms and Pool were closed but understand Due to Covid. The campground was quiet and will maintenance, our only real concern with our stay was that all three dumpsters on the site we're extremely full if not overflowing which made it difficult to throw trash.
Apr 07, 2021
Lovely Kampgrounds, friendly staff and really easy, professional front office.
Apr 06, 2021
Clean well kept property and good customer service.
Apr 06, 2021
The making of registration was pretty easy, but the cleaness of the grounds was not kept up. I do understand the Covid-19 has restricted some items but the bathroom being locked was a bit put off, the trash in our camp location was not picked up not a lot trash but some and the green slimmy pool was very gross and kind of stinks a bit
Apr 06, 2021
It was great friendly staff
Apr 05, 2021
It was very quiet with beautiful views. There was a train in the distance, but it was not close enough to be annoying, but an almost a pleasant sound. All the spaces were leveled and very clean.
Apr 05, 2021
Enjoyed our stay. Nice RV park well taken care of. However, very disappointed that the restrooms were closed.
Apr 05, 2021
This is not a kid friendly place. Pool was not working but on the koa app it said it was working. They have no fire rings. My kids where really disappointed and bored.
Apr 05, 2021
First off, we love this park! It is about an hour from where we live and so it makes it easy when we just want to go camping somewhere. Idyllwild is just an hour from the park, so a great place to explore. Next, the campground is always very clean. The sites have just the right amount of space in-between campers. The owner and staff are always accommodating and nice. Thank you!
Apr 05, 2021
Enjoyed my stay, staff were very pleasant/personable, very helpful. Campsite was great! Ample room for chairs/BBQ, will definitely come again!
Apr 05, 2021
The campground is well kept and the location is very close to Interstate 10. We stayed as an overnighter on our way to Northern California. The woman that answered the phone was very nice and accommodating, allowing us to check in late as long as we were quiet upon arrival.
Apr 04, 2021
Beautiful park friendly people quiet surroundings
Apr 02, 2021
The park itself is good but the wind is horrible. Loved the dog park. It has large grass area, seating area, obstacles for dogs and water. Had end site with grass, bench table and fire ring.
Apr 02, 2021
Very pretty place during the Spring. There are a lot of long term campers staying here that have helped keep the camp nice looking and quiet.
Apr 02, 2021
Quite, fine.
Mar 31, 2021
Staff is super friendly, no restrooms or showers open, they said til Covid is 100% over they don't have the staff to clean them. I do understand but I have been to other KOA's during the pandemic and they were open. Dog park is really nice but the water bowl was very corroded, we brought our own dogs water with us. I would like to see some sort of security overnight, since there is no gate.
Mar 31, 2021
A very beautiful place my wife and I enjoyed our time
Mar 26, 2021
One night stop, AZ to No Calif. All went well. Easy online registration. Arrived after office hours. Envelope was waiting.
Mar 23, 2021
Our RV Club had a nice outing at your Banning, CA location. Teresa, the manager always treats us well during our stays there. There was a problem with hot water while there, so the bathrooms were closed. The pool was also closed and was green with algae.
Oct 08, 2021
Nice and quiet people there are friendly
- Ricky Mendaz on Google
Sep 12, 2021
Very nice people working there. Good spaces. Pool was cold as all get out, I thought I was back in college in an ice bath therpy. Up against mountains and a nice drive to Idyllwild
- Raelene & Becky Bloom on Google
Aug 27, 2021
was a difficult choice on how many stars. Last time we stayed there they got a 1 star only because it was horrible. this time it was cleaned up the site we were in had fresh gravel and not full of ant nests everywhere you walked. had a nice shade tree on each side and wide enough to open slides without worrying about hitting branches. We would stay there again.
- Jo Little on Google