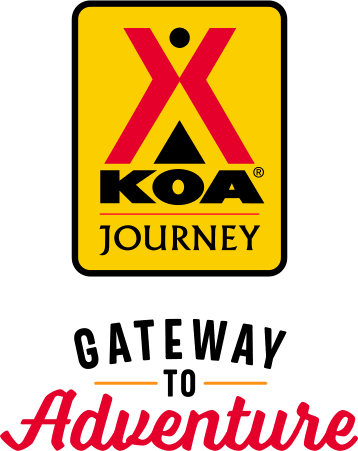 KOA Journey Campgrounds
KOA Journey campgrounds are the perfect oases after a day on the road. Whether it's along the way or a quick getaway, they've got you covered. Located near the highways and byways of North America with long Pull-thru RV Sites, they deliver convenience to the traveling camper. Pull in, ease back and take a load off.
KOA Journeys Feature:
Pull-through RV Sites with 50-amp service
Premium Tent Sites
Well lit after hours check-in service
Directions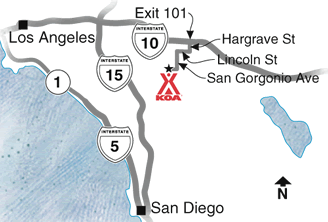 (Heading West towards L.A.) Take the I-10 West to Exit 101 (Hargrave St.), turn left off the freeway ramp onto Hargrave St. Take Hargrave to Lincoln (first stop sign), make a right onto Lincoln. Take Lincoln to S. San Gorgonio (next stop sign,) make a left onto S. San Gorgonio. We are located on the right at the base of the 243 Hwy.
(Heading East towards Indio) Take the I-10 East to Exit 101 (Hargrave St.), turn right off the freeway ramp onto Hargrave St. Take Hargrave to Lincoln (first stop sign), make a right onto Lincoln. Take Lincoln to S. San Gorgonio (first stop sign,) make a left onto S. San Gorgonio. We are located on the right at the base of the 243 Hwy.
Get Google Directions
Apr 05, 2021
Enjoyed our stay. Nice RV park well taken care of. However, very disappointed that the restrooms were closed.
Apr 05, 2021
This is not a kid friendly place. Pool was not working but on the koa app it said it was working. They have no fire rings. My kids where really disappointed and bored.
Apr 05, 2021
First off, we love this park! It is about an hour from where we live and so it makes it easy when we just want to go camping somewhere. Idyllwild is just an hour from the park, so a great place to explore. Next, the campground is always very clean. The sites have just the right amount of space in-between campers. The owner and staff are always accommodating and nice. Thank you!
Apr 05, 2021
Enjoyed my stay, staff were very pleasant/personable, very helpful. Campsite was great! Ample room for chairs/BBQ, will definitely come again!
Apr 05, 2021
The campground is well kept and the location is very close to Interstate 10. We stayed as an overnighter on our way to Northern California. The woman that answered the phone was very nice and accommodating, allowing us to check in late as long as we were quiet upon arrival.
Apr 04, 2021
Beautiful park friendly people quiet surroundings
Apr 02, 2021
The park itself is good but the wind is horrible. Loved the dog park. It has large grass area, seating area, obstacles for dogs and water. Had end site with grass, bench table and fire ring.
Apr 02, 2021
Very pretty place during the Spring. There are a lot of long term campers staying here that have helped keep the camp nice looking and quiet.
Apr 02, 2021
Quite, fine.
Mar 31, 2021
Staff is super friendly, no restrooms or showers open, they said til Covid is 100% over they don't have the staff to clean them. I do understand but I have been to other KOA's during the pandemic and they were open. Dog park is really nice but the water bowl was very corroded, we brought our own dogs water with us. I would like to see some sort of security overnight, since there is no gate.
Mar 31, 2021
A very beautiful place my wife and I enjoyed our time
Mar 26, 2021
One night stop, AZ to No Calif. All went well. Easy online registration. Arrived after office hours. Envelope was waiting.
Mar 23, 2021
Our RV Club had a nice outing at your Banning, CA location. Teresa, the manager always treats us well during our stays there. There was a problem with hot water while there, so the bathrooms were closed. The pool was also closed and was green with algae.
Mar 23, 2021
Weak cable TV signal and very poor/no Internet connection.
Mar 23, 2021
Beautiful spot clean site the pool was pretty disgusting looks like a few full time people staying
Mar 22, 2021
I had reward points and they were unable to redeem them said I needed to stay two days. Not a happy camper
Mar 22, 2021
Closed rest rooms, tight spots, un-cooperative staff.
Mar 22, 2021
We just stayed overnight,, but it was perfect!
Mar 21, 2021
Very nice campground!!! Everything worked. People were very nice. Will stay there again.
Mar 21, 2021
disappointed that still n o shower available
Mar 19, 2021
Because of covid restrictions most amenities were not available.
Mar 17, 2021
I love this KAO. Staff is awesome (no, I don't work there :}).
Mar 17, 2021
We were greeted by nice folks in the office. Wonderful place to stay. Look forward to returning.
Mar 16, 2021
Smooth check in and site was fine. Appeared that almost everyone there was long term including our neighbors. Bathrooms and showers closed due to Covid which we dont see much anymore. Police patrolled right through the campground which made us wonder why. Not a terrible place to stay if passing through.
Mar 16, 2021
We loved our one night stay with you -thank you! Team Arnone Cheers
Mar 14, 2021
Great place to stay . Will stay with you again.
Mar 14, 2021
It rained during our stay. The puddles indicate that the sites are in need of some gravel. Water pressure could use some improvement. Sign in laundry asks that you clean the lint fron the dryer screen. However, no trash can to put it in. Towels and disinfectant left for use in laundry...towels looked like they were used on the floor and disinfectant bottle was almost empty.
Mar 12, 2021
Easy access. Park a little dusty.
Mar 12, 2021
Quite and easy going stay
Mar 11, 2021
Our spot was amazing, staff was super helpful. Clean office. Would have liked restrooms and showers but totally understand the Covid-19 policy!. Cant wait to stay again
Mar 10, 2021
the special place to be relaxed and quiet, very clean and safe
Mar 10, 2021
Short stay, but enjoyable, loved taking a walk around the campground, staff very friendly and helpful
Mar 10, 2021
Place was fine but manager was rude, unhelpful, and snobby
Mar 08, 2021
This was our second time staying here. We enjoyed our stay. The staff is very friendly. Would highly recommend.
Mar 07, 2021
We are new RV campers so our experience is more limited than other commentersRV . We have stayed at 40 or so RV parks ranging from Federal, state and Boondocking sites to more exclusive private parks. The Banning Stagecoach was one of our favorites. Clean, friendly well-organized, level gravel sites, dog run area, picnic tables landscaping etc. One negative, the showers and restrooms were closed.
Jul 21, 2021
Stayed for 2 months in my travel trailer and loved everything about it! The only thing I wished for was more shade and better WiFi (both of which probably depend on which site you stay in). We'll definitely be back soon!!
- Michelle Potter on Google
Jul 03, 2021
We overnighted here in a class A towing a car. Arrived after hours and our site information was on the office door. Gravel sites and paced roads. Looked to be picnic tables at each site. Pull through site #38 was easily accessible, good width, level and long enough to leave the car hooked up. Park isn't far off the interstate but didn't notice the traffic noise. Did hear the train whistle once in the night but that was the only time I noticed it at all. Didn't use the amenities but all looked to be in good shape. The only negative is that when we left, the back in sites at the end of the road where we needed to turn had several cars parked in front of their sites making for a tight turn. A 40' rig towing might not have made it. Would stay again.
- Nancy Ahsmuhs on Google
Jun 26, 2021
Pretty nice place. Great shade trees, pool, grounds. Quiet... about average price for a KOA. will come back. Ourt mall is about 7 miles away.
- Jay Bodam on Google