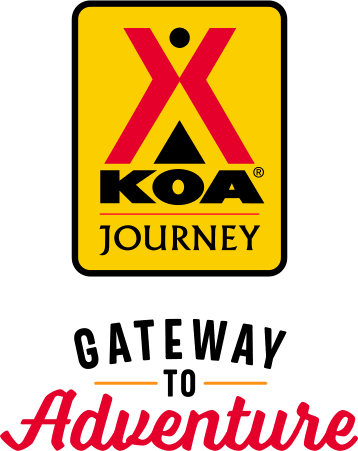 KOA Journey Campgrounds
KOA Journey campgrounds are the perfect oases after a day on the road. Whether it's along the way or a quick getaway, they've got you covered. Located near the highways and byways of North America with long Pull-thru RV Sites, they deliver convenience to the traveling camper. Pull in, ease back and take a load off.
KOA Journeys Feature:
Pull-through RV Sites with 50-amp service
Premium Tent Sites
Well lit after hours check-in service
Directions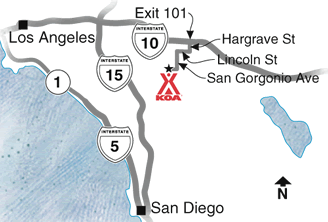 (Heading West towards L.A.) Take the I-10 West to Exit 101 (Hargrave St.), turn left off the freeway ramp onto Hargrave St. Take Hargrave to Lincoln (first stop sign), make a right onto Lincoln. Take Lincoln to S. San Gorgonio (next stop sign,) make a left onto S. San Gorgonio. We are located on the right at the base of the 243 Hwy.
(Heading East towards Indio) Take the I-10 East to Exit 101 (Hargrave St.), turn right off the freeway ramp onto Hargrave St. Take Hargrave to Lincoln (first stop sign), make a right onto Lincoln. Take Lincoln to S. San Gorgonio (first stop sign,) make a left onto S. San Gorgonio. We are located on the right at the base of the 243 Hwy.
Get Google Directions
Jun 07, 2021
Everything was great except bathrooms still being closed due to COVID Regs.
Jun 07, 2021
Beautiful grounds and scenery. All staff very friendly and helpful. This was our second stay and is our local go to now.
Jun 06, 2021
Staff is awesome and always available. Very peaceful and safe. Well maintained resort.
Jun 05, 2021
Very nice park, clean, with green grass! Big park, but very quiet. RV sites very well maintained.
Jun 05, 2021
Tried to top off propane when we checked out at 1015 am. Lady at front desk said nobody could help for an hour- they were all busy and can't stop - that was disappointing to say the least!
Jun 03, 2021
Our negatives: Bathrooms/Showers were closed, Game room was closed, our site was infested with ants and pincher bugs, playground nothing to brag about. Not much going on for the kids. Our positives: staff was nice, other then the bugs site was nice and clean, has pavement so it's not all dirt and dusty, quiet chill small park
Jun 03, 2021
Good overnight pull thru. Cooler temps than Indio / Palm springs IMHO Easy in and out and very quiet no highway noise.
Jun 03, 2021
Everything is still closed, even the bathrooms and showers. My understanding is that most Covid restrictions have been lifted in CA. Why are these not open? Paying full price for a just pad and hookups is ridiculous.
Jun 02, 2021
Quiet, that was the best part. Winds were high so paper blowing about property. Needs some work around in different spots but for the most part it was great.
Jun 02, 2021
It was a nice stop! Close to Shopping, Morongo Casino, which was amazing! Sightseeing! My pups had a great time at the k9 playground! I would recommend this place to all!
May 31, 2021
Very clean and friendly park
May 31, 2021
Quite and Clean!
May 26, 2021
Clean well maintained
May 26, 2021
Not set up for units over 35 ft
May 25, 2021
It was really quite.
May 23, 2021
Bathrooms still closed? Sorry, no reason since all restrictions in California will be lifted next month. No public restrooms are closed in any restaurant, gas station. I keep saying I won't stay here again but it's halfway between me and Tucson. Come on guys.
May 23, 2021
Club house was closed, bathrooms, showers were all closed.
May 21, 2021
Restrooms are still closed or I would give 5 stars. We use this as a one night stay place on our way to the destination. Nice little RV Park.
May 20, 2021
Nice clean campground.
May 20, 2021
Great RV Park and nice people.
May 17, 2021
We enjoyed our stay very much. The bathrooms were closed but we made do. We would stay there again if we ever get down that way.
May 16, 2021
Staff was super nice! Grounds are clean and inviting. We travel woth our dogs and dog areas are huge to us. This park has one of the best dog park.
May 14, 2021
Great place to stay.
May 13, 2021
quiet clean beautiful..........
May 12, 2021
Nice facility, good location, hedge between sites.
May 11, 2021
Nice level sites divided by hedges. Many permanent and transient campers. Mountain views beautiful...cool nights and warm days. Perfect for our visit to see family in Santa Clarita...be ready for traffic into LA!
May 10, 2021
The management was terrible. Company has done nothing to invest in or maintain their facilities. The sewers main system overflowed 4 times while there. Flooding folks campsites. The bungalows were run down and things kept breaking. When the toilet broke they didn't want to replace it. First night in the bungalow there was no heat, hot water, or working stove and bungalow was dirty.
May 07, 2021
This is one of our regular stops.
May 06, 2021
This campground needs a lot us TLC. There are many connections that need to be repaired. The cable TV signal is very poor and although the WIFI signal was good, there was NO INTERNET connection for our entire stay, The staff was very indifferent about it and this is a game changer for us.
May 05, 2021
Very friendly and clean. Saturday night there was a MH that was about 4 spots down from us that was playing loud Spanish music but we were too tired to call and complain. Sunday night was quiet. Other than that incident the park was very quiet.
May 05, 2021
Great area for the pets. It is a little windy here but great service always. Very clean and orderly. I see the pool is recently redone. Looks great.
May 05, 2021
Beautiful sites and views. Bathrooms not open, and poor WiFi. Didn't stay as long as we originally planned.
May 05, 2021
Nice quiet place on edge of town but unfortunately we didn't realize bathrooms and showers had been closed due to Covid-19 and hadn't been reopened as they had been at other KOAs.
May 04, 2021
We had a great experience.
May 04, 2021
Stayed at this campsite on our way back to the Bay Area. Campground was well maintained and the service at the front desk was very good.
Apr 29, 2021
It was great but reserved camping space next to us for friends rev but it was not available when they checked in. They stayed in different spot.
Apr 28, 2021
They finally got the pool clean! So about there cable tv that's free it was very staticky and could not see the picture on most channels. And they will charge you to barrow a connector for it even though it should already have. They are very well kept up clean to the eye. Internet needs some help. It's always quiet here, and a very good spot for one nighters passing thru.
Apr 27, 2021
This was a last minute unplanned stop and I'm glad we did! Very nice park! Very clean and quiet. We will make it a point to stay there again!
Apr 27, 2021
We arrived late and had to leave early, however, we were left an envelope with everything we needed. The park was very clean and quiet. We would stay again! Thank you
Apr 26, 2021
Just a quick overnight stay, but what we saw was clean and scenic.
Apr 24, 2021
We just spent one night. Park was clean but sites are very short so we had to unhook the trailer.
Apr 23, 2021
Unfriendly check-in. No assistance in finding space. Pull thru was barely large enough for rig.
Oct 08, 2021
Nice and quiet people there are friendly
- Ricky Mendaz on Google
Sep 12, 2021
Very nice people working there. Good spaces. Pool was cold as all get out, I thought I was back in college in an ice bath therpy. Up against mountains and a nice drive to Idyllwild
- Raelene & Becky Bloom on Google
Aug 27, 2021
was a difficult choice on how many stars. Last time we stayed there they got a 1 star only because it was horrible. this time it was cleaned up the site we were in had fresh gravel and not full of ant nests everywhere you walked. had a nice shade tree on each side and wide enough to open slides without worrying about hitting branches. We would stay there again.
- Jo Little on Google