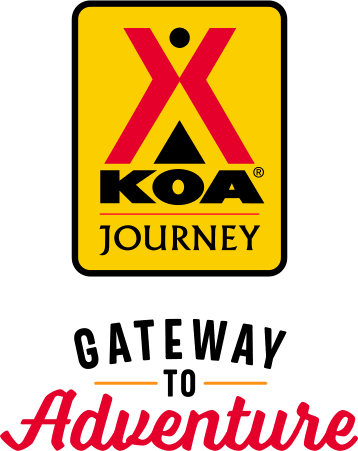 KOA Journey Campgrounds
KOA Journey campgrounds are the perfect oases after a day on the road. Whether it's along the way or a quick getaway, they've got you covered. Located near the highways and byways of North America with long Pull-thru RV Sites, they deliver convenience to the traveling camper. Pull in, ease back and take a load off.
KOA Journeys Feature:
Pull-through RV Sites with 50-amp service
Premium Tent Sites
Well lit after hours check-in service
Directions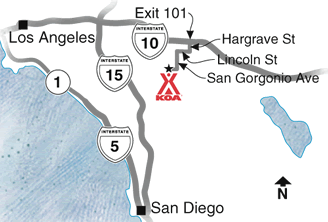 (Heading West towards L.A.) Take the I-10 West to Exit 101 (Hargrave St.), turn left off the freeway ramp onto Hargrave St. Take Hargrave to Lincoln (first stop sign), make a right onto Lincoln. Take Lincoln to S. San Gorgonio (next stop sign,) make a left onto S. San Gorgonio. We are located on the right at the base of the 243 Hwy.
(Heading East towards Indio) Take the I-10 East to Exit 101 (Hargrave St.), turn right off the freeway ramp onto Hargrave St. Take Hargrave to Lincoln (first stop sign), make a right onto Lincoln. Take Lincoln to S. San Gorgonio (first stop sign,) make a left onto S. San Gorgonio. We are located on the right at the base of the 243 Hwy.
Get Google Directions
Jul 26, 2020
Nice shaded site, good privacy provided by the hedges between campsites. Our campsite #49 needs work. Apparently no one is checking the sites between campers. The cover on the electrical box was open when we arrived. It fell off when I tried to close it. The cable TV connection is female; should be male. Luckily I had an adapter that allowed me to connect. The site is not level.
Jul 25, 2020
The campground is very nice. Was unhappy about the WIFI it definitely needs improvement. We are a camping club, and the $250 deposit is ridiculous. We go to camping sites all over the inland empire and no one charges that amount everywhere else is $100.
Jul 23, 2020
The staff was very friendly! Our spot was awesome. It was a back in 50amp spot. It had a swing and an awesome view. We were afraid to try this place due to the hot weather, but there was a constant breeze which made it feel perfect. We spend the entire trip outside. We will definitely be back.
Jul 20, 2020
They are wonderful . They are always willing to help you and answer any questions. You should be very proud to have them working for you. They are amazing.
Jul 20, 2020
The staff is friendly and attentive. No negatives except for the WiFI, I never got more than two bars. Bandwidth is always an issue when the campground is full.
Jul 20, 2020
Was only there for a night, but I'd stay for a month! It was great!
Jul 19, 2020
Stayed for a month while waiting for our house to close. Wanted to stay much longer, but could never get internet and I had a lot of work getting contractors lined up, so I had to move. All the staff was great, they tried to reboot, but nothing worked.
Jul 17, 2020
Very nice grounds, lots of shade trees. Will stay here again.
Jul 14, 2020
Check in was really easy and the staff was friendly. The campsite was perfect, quiet and shady. Easy to drive in and out, plenty of room.
Jul 13, 2020
Just a weekend get-a-way to relax from life! This park was amazing and very pet friendly! Thank you for your kind hospitality and friendly staff�
Jul 12, 2020
Pool was closed, which I understood. But bathrooms being closed was frustrating! Charging regular full rates for glorified parking lot was very aggravating. The spots are so tight it is like being on top of one another. The only positive I have is that the staff was nice and at least the dog park wasn't closed.
Jul 11, 2020
They were very accommodating. We stayed a night on our way to Arizona. Had a nice shady spot. Also stayed a night on our way back home. They had us booked in a different spot than we had on the first leg of our trip. They were very nice about letting us change spots to the first one we stayed in. All in all, two great stays!!
Jul 10, 2020
Office staff was very friendly and helpful. The grounds were clean and no problem with my space. The virus has their pool closed. Not their fault. It is closed to the 10 freeway. Easy to find. Train whistle was a little loud in the middle of the night, but went right back to sleep. I'm not as critical as others who review, everything is not always perfect. It was good for us.
Jul 09, 2020
My stay at KOA was very pleasant. The Park was clean and quiet. Staff was very helpful and nice.
Jul 09, 2020
Was just an overnight stay. Pool closed. Kind of off the beaten path.
Jul 07, 2020
Very quiet and kept up. I wish the pool was open but in these time I get it! Would recommend this Campgroung!
Jul 07, 2020
Very nice stay, but no amenities were open due to Covid-19. We were hoping the pool would be open with social distancing restrictions.
Jul 07, 2020
IT was remarkably quiet here and we enjoyed our night off the road. We did have trouble getting the electrical to allow our plug to go in but got it to work eventually. Wish I had better instructions for that.
Jul 04, 2020
Outstanding facility with great amenities. The Managers Judith and Theresa with all of their employees treat the visitors and campers, whether short or long-term, like family and are there at the site whenever there is a need. Very friendly, quiet and a safe Park to stay. Welcome Home! Thank you for your kindness, warmth and friendship! We will see you soon!
Jul 03, 2020
Very nice and quiet.
Jun 30, 2020
Great campsites, shade , grass ,fire pits.... friendly people!
Jun 29, 2020
Great staff! Very friendly.
Jun 28, 2020
Fabulous place to stay, short or long term. Staff is professional, extremely friendly and helpful. Facilities are clean, plentiful, and the Park is safe and quiet. Very relaxing. A great campground that is like HOME! Thank you, Judith, Theresa, Alex and Brandon for treating us like family.
Jun 25, 2020
Very friendly staff, nice shady park.
Jun 24, 2020
Shady site that delivered in the summer sun. One of the best kept KOAs we've stayed at. Very quiet location. Definitely coming back.
Jun 23, 2020
Very clean and quiet! Not much to do especially as pool and playground were closed. Staff seemed friendly.
Jun 22, 2020
It was ok. Not the greatest interaction with koa registration and when I bought a few items in the store. But, it is an awkward times with pandemic, but people should still be a little more friendly. The site was maintained and clean.
Jun 22, 2020
This was our first time at KOA Banning/Stagecoach. Lovely mountain views will bring us back, however the office staff were not very friendly and all of the amenities were closed due to COVID-19. Would like to come back when everything is open.
Jun 21, 2020
Very clean and well kept grounds, friendly helpful staff
Jun 21, 2020
Nice, clean sites quiet
Jun 19, 2020
Our small portable grill was stolen from our site. There were a few unsightly rvs. Very windy most of the time.
Jun 17, 2020
Very quiet, nice level gravel site.
Jun 15, 2020
I thought they did a great job during these challenges. Other KOA's they explained trash pick up. Since we didn't see anything in the list of do's and Dont's we assumed we had to lug it to the dumpsters which there weren't very many and they weren't convenient. That is the only suggestion. We had everything we needed and really enjoyed our stay!
Jun 15, 2020
Due to COVID-19, much of the amenities were shut down. However, the park was clean, quiet and efficient. We'd definitely come back!
Jun 15, 2020
Conveniently located for our travels. Only stayed one night. Nice surroundings.
Jun 10, 2020
We always have a good time at the KOA (and no, no one paid me to say that!). I do wish campers were more respectful though and cleaned up their dog poo, that is a problem every where we go, all over the US. If you don't want to pick it up, why do you have a dog?! It can get into the ground water and run into lakes and streams, so get with the program please. Thank you KOA!!
Sep 24, 2020
Nice and quite
- VICTOR ZARAGOZA on Google
Nov 18, 2020
Friendly and nice people. No shower or bathrooms at this time
- Steven Nichols on Google
Nov 15, 2020
Clean, fast in and out.
- Richard Yancey on Google