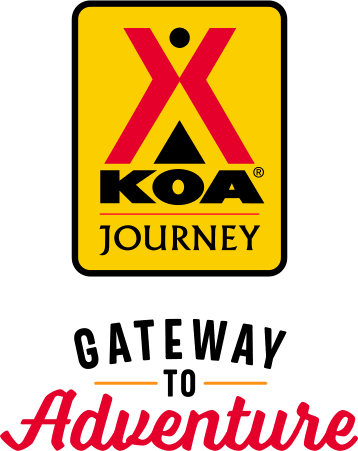 KOA Journey Campgrounds
KOA Journey campgrounds are the perfect oases after a day on the road. Whether it's along the way or a quick getaway, they've got you covered. Located near the highways and byways of North America with long Pull-thru RV Sites, they deliver convenience to the traveling camper. Pull in, ease back and take a load off.
KOA Journeys Feature:
Pull-through RV Sites with 50-amp service
Premium Tent Sites
Well lit after hours check-in service
Directions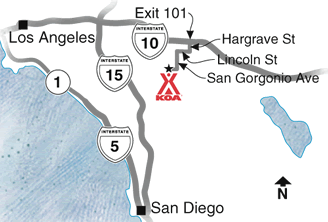 (Heading West towards L.A.) Take the I-10 West to Exit 101 (Hargrave St.), turn left off the freeway ramp onto Hargrave St. Take Hargrave to Lincoln (first stop sign), make a right onto Lincoln. Take Lincoln to S. San Gorgonio (next stop sign,) make a left onto S. San Gorgonio. We are located on the right at the base of the 243 Hwy.
(Heading East towards Indio) Take the I-10 East to Exit 101 (Hargrave St.), turn right off the freeway ramp onto Hargrave St. Take Hargrave to Lincoln (first stop sign), make a right onto Lincoln. Take Lincoln to S. San Gorgonio (first stop sign,) make a left onto S. San Gorgonio. We are located on the right at the base of the 243 Hwy.
Get Google Directions
Jul 06, 2021
Well it was very nice to have a pull in siteit was fairly narrow and we have difficulty filling the car in and worried about the slide outs And opening the door To the motorhome. It was very crowded. The chicken was smooth and efficient. The office staff was pleasant and personable. The pool area didn't have enough chairs. There were people playing loud music and drinking alcohol in the pool.
Jul 06, 2021
There is a sprinkler by a tree/pool that was on the entire time we were there, while other areas could use more watering. Some of the game equipment (volleyball, games, etc.) could use replacing due to wear and tear (long over due for some of it). Otherwise, it's a great place to stay. I would certainly go back.
Jul 06, 2021
Nice, quiet, and clean little spot to relax.
Jul 04, 2021
As first time owners of a motorhome and staying at the Banning KOA it was very easy to book and the lot that we reserved was a very nice size
Jul 03, 2021
It was good enjoyable
Jul 03, 2021
We overnighted here in a class A towing a car. Arrived after hours and out site information was on the office door. Pull through site was easily accessible, good width, level and long enough to leave the car hooked up. Not far off the interstate but didn't notice the traffic noise. Did hear the train whistle once in the night but that was the only time I noticed it at all. Would stay again.
Jul 03, 2021
We checked in late, but the process was easy. The site had nice amenities and was laid out very well.
Jul 01, 2021
We always love being at this oasis in the desert and it's so well-kept and friendly
Jul 01, 2021
We keep coming back because of the location but the park just isn't nice enough, or the spaces large enough, to justify the cost of the sites. $65 a night for a somewhat larger site to accommodate my 34 foot Montana and pickup truck is too much.The sites are so tight, people park haphazardly and very often stick out onto the blacktop. When I left this time, I had trouble getting out.
Jun 30, 2021
Very nice KOA! Hospitable associates, very welcoming. Sites are good sized with ample room for parking tow vehicle. Dog park conveniently located and well maintained. Highly recommend!
Jun 30, 2021
Very clean campground. Staff was friendly and the pool was awesome!
Jun 30, 2021
Thoroughly enjoyed. Great location, very clean. Well sheltered from wind. Very little dust. Rest rooms and showers need soap dispensers, hooks and dry shelves to place sundries, clothes and towels etc.
Jun 30, 2021
A short drive off the 10. Very helpful and courteous staff. A lovely cool pool on a hot day. Nice mountain scenery.
Jun 29, 2021
Wonderful Staff. Park was clean. The men's bathroom needed some cleaning.
Jun 29, 2021
I llove staying at your Banning campground! My only issue is with the fact that the manager is prejudiced against dogs. Emphatically does not like them due to personal reasons. On my initial stay there, she refused to let my service dog inside the office. And she has now banned me from coming with my dogs. Could you please have a supervisor contact me at 909 737 2394. Thank you
Jun 28, 2021
Arrived after hours. Envelope with site listed on office door. Checked out early. No issues.
Jun 25, 2021
It was very nice I just wish the club house was open. The pool was nice and clean wish it was heated but swam anyway. Very clean
Jun 24, 2021
Very nice park. Just passing through Will put on my list to stay there again
Jun 23, 2021
Very nice and like all the upgrades that have been done since our last stay here.
Jun 21, 2021
WiFi worthless. Cable sucked. It used to be better but not now.
Jun 21, 2021
Front desk staff friendly and efficient. Maintenance personnel extremely helpful and friendly.
Jun 21, 2021
Arrived after hours and there was an envelope with out site number and a map. Very nice spaces divided by hedges. Area was very clean. Restroom was clean but showers lack any shelf to place belongings. Will definitely stay here again.
Jun 19, 2021
Front office lady was excellent. Check in was a breeze
Jun 19, 2021
Overall nice overnight park. The dog park needs some work though.
Jun 18, 2021
Loved the park & site, the WiFi did not work and I had to go to office for code on showers? I think the code should had been given at check in.
Jun 18, 2021
This place is awesome! Friendly staff, safe and the bathrooms newly remodeled…beautifully! This is a must stay!
Jun 17, 2021
Very clean. Lots of shade. Nice staff. Beautiful setting.
Jun 17, 2021
Restrooms and showers still closed
Jun 15, 2021
The campground is pretty basic, but the electrical hookup worked fine. Didn't need water or sewer. The pool was clean and refreshing. The one disappointment was that the restrooms/showers were still closed in June even though all of the other parks in the area have had them open for quite a while.
Jun 15, 2021
I liked the location, (centralized), the park maintenance and upkeep condition was excellent, the ease of parking my rv, and all the staff were friendly and helpful. This made my stay a good experience! Recommendations: The spaces are not level in both directions and should be graded by a professional. The rv storage area was level but the sites are not!! FYI
Jun 15, 2021
This was the worst stay! It makes absolutely ZERO sense to not have bathrooms open but have the pool open, the gift shop open, and other amenities. I was car camping and was charged almost $53, which is way too much, and then I don't get the most important need, a bathroom. Am I supposed to pee and poop outside? Also, there was dog poop left behind when we got there. Unacceptable.
Jun 13, 2021
Family visit. Nice park.
Jun 12, 2021
Very nice and quite park. Maintenance guys always busy keeping park nice. Weed eating and trimming shrubs. And there is a lot of shrubs. Would stay there again.
Jun 11, 2021
We only interacted with security checking in but he was the friendliest most welcoming employee we have ever experienced. Whst a great stsrt to our overnight stay in a clean, well msintained park.
Jun 09, 2021
Very nice campground, friendly and courteous personnel, very accommodating. Clean and well maintained property.
Jun 08, 2021
Disappointed the restrooms were not open due to Covid. Every other campground had there's open. Not a great surrounding area. The campground was clean and staff was friendly.
Jun 08, 2021
Pleasant stay
Jun 07, 2021
Everything was great except bathrooms still being closed due to COVID Regs.
Jun 07, 2021
Beautiful grounds and scenery. All staff very friendly and helpful. This was our second stay and is our local go to now.
Jun 06, 2021
Staff is awesome and always available. Very peaceful and safe. Well maintained resort.
Jun 05, 2021
Very nice park, clean, with green grass! Big park, but very quiet. RV sites very well maintained.
Oct 08, 2021
Nice and quiet people there are friendly
- Ricky Mendaz on Google
Sep 12, 2021
Very nice people working there. Good spaces. Pool was cold as all get out, I thought I was back in college in an ice bath therpy. Up against mountains and a nice drive to Idyllwild
- Raelene & Becky Bloom on Google
Aug 27, 2021
was a difficult choice on how many stars. Last time we stayed there they got a 1 star only because it was horrible. this time it was cleaned up the site we were in had fresh gravel and not full of ant nests everywhere you walked. had a nice shade tree on each side and wide enough to open slides without worrying about hitting branches. We would stay there again.
- Jo Little on Google