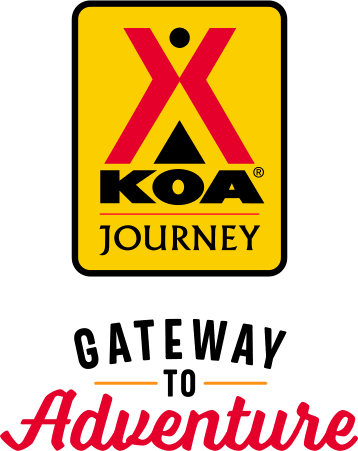 KOA Journey Campgrounds
KOA Journey campgrounds are the perfect oases after a day on the road. Whether it's along the way or a quick getaway, they've got you covered. Located near the highways and byways of North America with long Pull-thru RV Sites, they deliver convenience to the traveling camper. Pull in, ease back and take a load off.
KOA Journeys Feature:
Pull-through RV Sites with 50-amp service
Premium Tent Sites
Well lit after hours check-in service
Directions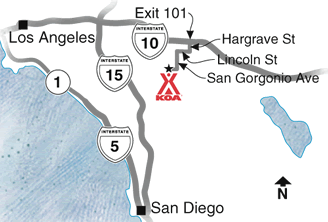 (Heading West towards L.A.) Take the I-10 West to Exit 101 (Hargrave St.), turn left off the freeway ramp onto Hargrave St. Take Hargrave to Lincoln (first stop sign), make a right onto Lincoln. Take Lincoln to S. San Gorgonio (next stop sign,) make a left onto S. San Gorgonio. We are located on the right at the base of the 243 Hwy.
(Heading East towards Indio) Take the I-10 East to Exit 101 (Hargrave St.), turn right off the freeway ramp onto Hargrave St. Take Hargrave to Lincoln (first stop sign), make a right onto Lincoln. Take Lincoln to S. San Gorgonio (first stop sign,) make a left onto S. San Gorgonio. We are located on the right at the base of the 243 Hwy.
Get Google Directions
Sep 27, 2020
I came in after hours and everything was closed up grabbed an envelope found my site and still got my discount the next morning after I had left and I commend those people for doing that. � The campgrounds was clean and well taken care of and I felt real safe there as well I will be back again sometime in the future on my way to Arizona thanks guys.
Sep 26, 2020
We continue to stay here because of the location but the sites are small and cramped, gravel only, and the sewer hose from the RV had to run uphill to the dump and this has been true with every site we have ever been in. We pay the going rate for a substandard spot.
Sep 24, 2020
Considering the times we are in today, the stay was still relaxing and friendly. The staff is always friendly and accommodating. Everyone at the park was doing "their thing", and not one bothering each other. This was our first time out this year and it was very overdue! Nice to be back!
Sep 23, 2020
Great views. Very quiet and peacful
Sep 23, 2020
Quick easy check in. Nice grounds. Friendly staff.
Sep 16, 2020
As hospitable as the times allow. Thank you for all of your courtesies and the positive approach from each staff person, happy to comeback anytime we are near.
Sep 15, 2020
Staff always friendly....Teresa and Alex are awesome. Cant wait for the remodeled bathrooms and showers to open. Love staying here...highly recommend
Sep 14, 2020
Nice quiet spot, hear trains once in a while, nice dog area
Sep 13, 2020
Great location, windy all the time, and sunny everyday. We were here during Covid so a lot of the fun stuff was off limits. The bathrooms were closed at this time also.
Sep 13, 2020
Friendly staff upon check in, great site at 81-A. Had no problems while staying there. We checked out on 9/7/2020 and then received a phone call from Brandon on 9/10/2020 saying we over stayed our 1100 check out time on 9/10/2020, and then no one ever answered the phone or replied to voicemails left to clear up the confusion since we weren't there. So we are a little disappointed about that.
Sep 11, 2020
Nice quiet place. Couldn't use any facilities due to COVID 19 restrictions. Staff were polite and helpful.
Sep 11, 2020
Not happy with the stay VIP member tried to redeem my September free night stay Campground was not participating in this program not sure how that works it's a KOA would like some points or free night somewhere else since I can't accommodate my free night stayed because we were evacuated because of the fires thank you
Sep 10, 2020
The sites we a little tight. The stay was quiet even though the park was full. Well maintained. We enjoyed our stay.
Sep 07, 2020
People that work there are super super nice, I would've gave it a 10 across-the-board, but it seems like I live in trailer Park, although they are very friendly and quiet, I would say a great place to stay
Sep 07, 2020
Quiet, clean, well taken care of, friendly staff.
Sep 01, 2020
Nice people and a very quiet peaceful campground.
Sep 01, 2020
Quietest campground I've ever stayed in.
Aug 25, 2020
Our stay was quite and uneventful. Due to Covid-19 there were no amenities, not even a public restroom, yet the rates were the same as usual and the charge for children is unnecessary in our opinion.
Aug 25, 2020
Staff was friendly when I made the reservation. Lots of shades, clean place and easy access. I would give it a 5 but the wifi did not work at our site, and it would make it a lot easier to maneuver if everyone would make sure their second vehicle is clear off the road.
Aug 24, 2020
We stayed for the weekend and while the hot weather was not their fault, the fact that the pool was closed was disappointing. But then again, with COVID raging, that was somewhat understandable. We ended up staying in our trailer most of the time, so the very weak and slow WiFi is really what caused this rating.
Aug 24, 2020
Great place, staff friendly. The only thing it felt like there were more live in trailers than campers.
Aug 24, 2020
Friendly check in but to close to the high way
Aug 21, 2020
Nice staff, pull through sites are long & wide. Pool needed maintenance. Laundry room worked fine. Appreciate the attention to social distancing & COVID precautions. Couple of rude guests, but staff addressed the issue. Sticker weeds are taking over & yard maintenance is needed. Our dog loved the dog park.
Aug 20, 2020
Last minute overnight on 8/15/2020. Easy process to reserve and check in. Friendly staff. Convenient for visiting family in Banning or going to Cabazon, Desert Hills outlets, Morongo Casino.
Aug 19, 2020
the staff were very nice and helped in all matters. the park was very clean. the view was outstanding. i would recommend this campground to all travelers
Aug 16, 2020
Park was clean and quiet due to COVID no facilities open which not their fault we will stay again.
Aug 15, 2020
It's hard to rate right now with all of the Covid closures. It was very annoying that the public bathrooms were being remodeled and we were listening to a tile saw until we asked him what time he would be making the noise and he said 8 or 8:30pm. We're trying to enjoy some peace and quiet at dinner and that was unacceptable.
Aug 13, 2020
Lovely place with much care given to the grounds. Staff is so friendly. Looking forward to visiting again!
Aug 13, 2020
We arrived after hours but our Paoerwork was on the door with a map to our lot. Very clean and quiet. Wished the bathrooms were open but they were being remodeled. Will definitely stay again.
Aug 11, 2020
We love to stop here!
Aug 08, 2020
Judith and the English gal are very welcoming and the park is clean! Large trees to hide under during summer which is great, fast wifi and a nice breeze!
Aug 03, 2020
Great place, love it
Aug 03, 2020
Banning koa is the best place to stay . My husband favorite place ever . Easy access and hooked up . Friendly staff and affordable price. They have everything. We been a member for the long time . So I recommend the place to be the best place to stay .
Aug 02, 2020
Convenient overnight stop for us with a nice pull thru site. Hot in the summer, 103 when we arrived. We would like to spend more time hear in cooler months.
Aug 02, 2020
Very clean, convenient KOA location. But, due to Covid pool and facilities were closed so limited our experience. Site was easy access, full hook up, and ready for us on arrival. Some shaded spaces, but some unshaded. It was 105 degrees in July so shade is vital.
Aug 01, 2020
It was very nice
Aug 01, 2020
Very nice. Easy to check in. Easy to find our spot. Grill clean. Great spot.
Jul 31, 2020
Thought I had reserved a shaded site, was very little shade in the assigned site.
Jul 30, 2020
Very quiet and clean!
Jul 28, 2020
Only stayed one night but checkin was easy, staff very friendly and accommodating. Park was clean and quiet. Would definitely stay again!
Sep 24, 2020
Nice and quite
- VICTOR ZARAGOZA on Google
Nov 18, 2020
Friendly and nice people. No shower or bathrooms at this time
- Steven Nichols on Google
Nov 15, 2020
Clean, fast in and out.
- Richard Yancey on Google