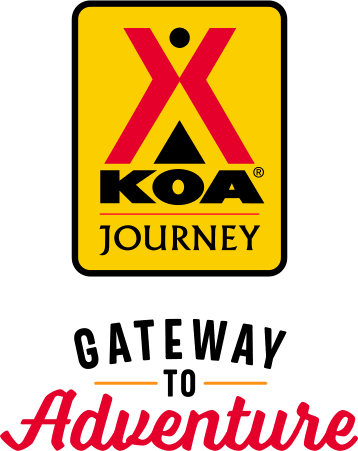 KOA Journey Campgrounds
KOA Journey campgrounds are the perfect oases after a day on the road. Whether it's along the way or a quick getaway, they've got you covered. Located near the highways and byways of North America with long Pull-thru RV Sites, they deliver convenience to the traveling camper. Pull in, ease back and take a load off.
KOA Journeys Feature:
Pull-through RV Sites with 50-amp service
Premium Tent Sites
Well lit after hours check-in service
Directions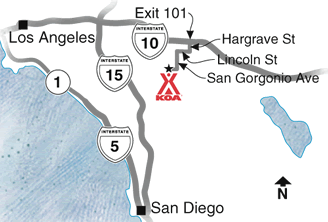 (Heading West towards L.A.) Take the I-10 West to Exit 101 (Hargrave St.), turn left off the freeway ramp onto Hargrave St. Take Hargrave to Lincoln (first stop sign), make a right onto Lincoln. Take Lincoln to S. San Gorgonio (next stop sign,) make a left onto S. San Gorgonio. We are located on the right at the base of the 243 Hwy.
(Heading East towards Indio) Take the I-10 East to Exit 101 (Hargrave St.), turn right off the freeway ramp onto Hargrave St. Take Hargrave to Lincoln (first stop sign), make a right onto Lincoln. Take Lincoln to S. San Gorgonio (first stop sign,) make a left onto S. San Gorgonio. We are located on the right at the base of the 243 Hwy.
Get Google Directions
Jan 11, 2021
The camping site was clean and nice. The pool was not accessible even though the website said it would be. Same thing with bathrooms, showers, and laundry. Staff was very helpful however.
Jan 11, 2021
While the park is very picturesque and it is far enough from the freeway to block any traffic noise, the spaces are very small. I would not recommend for large RVs or for RVs towing. When we pulled into the space, we were too long and ended up blocking the roadway. The spaces were also very narrow, with slides out it wouldn't leave much room to sit outside. Ideal for smaller units.
Jan 10, 2021
The campground was very good. The only thing I didn't like was that in all the campgrounds I have stayed in since covid19 someone comes out to your vehicle with your information having made and paid ahead, you shouldn't have to go in and stand in line. I was in line and the attendant had a mask and the person in front had a mask but people without masks were wandering around us in the store
Jan 09, 2021
Great and quiet. The staff is helpful and courteous.
Jan 08, 2021
You should enforce your quiet hours, the people in front of us screamed and yelled way after 11pm
Jan 07, 2021
We enjoyed the campground and it was clean and nice. The staff at the store was especially nice and took our propane tank to get it filled for us and returned it to our camper. We were worried that the fireworks would last until midnight on New Years Eve but the people stopped shooting them off before 11. I would stay at a KOA again.
Jan 07, 2021
We love this area and this relaxing park.
Jan 04, 2021
This is our second stay here. We arrived to find the office closed, but our envelope was waiting for us outside. Our space was barely long enough but we made it work. The park was full because it was New Year's Eve. At midnight, we found that it was not very loud. We were thankful for that. Thank you for another nice stay!
Jan 04, 2021
Campground was great. Very clean. The dog park was wonderful. The hiking trails are not within walking distance tho. Need a car.
Jan 04, 2021
We enjoyed our stay with Stagecoach and will be returning as my daughter lives in Beaumont. Thank you!
Jan 04, 2021
the site next to us had a dump back up, and by the time i woke up there was a "bigger" mexican guy working on it. he was super nice and explained what was going on. he deserves a bonus.
Jan 04, 2021
Easy to find,easy check in, good site, quiet time is followed, clean park�
Jan 03, 2021
Sites were clean. 50 amp service.
Dec 29, 2020
You need to pick up broken wood in dog park. There are nails in it and they were facing upward where a dog or human could step on them. I turned them over and forgot to mention to staff while I was there.
Dec 28, 2020
It's a nice quiet relaxing place to stay. The staff is always friendly and courteous. We have stayed here many times and always enjoy our stay.
Dec 24, 2020
Beautiful shaded spot with a lovely view of the mountains. Far enough away from the freeway to not have freeway noise but close enough to get back easily. Very nice KOA
Dec 19, 2020
Great facility and friendly, helpful staff!!! We will stay again!!
Dec 18, 2020
Although restricted by Covid, this is a wonderful park and beautiful area.
Dec 18, 2020
Wonderful place you have....thank you for all the great hospitality and friendly folks....���
Dec 17, 2020
Great staff and great facility. Convenient to a lot of sights.
Dec 17, 2020
I came after hours, but a good map and other information was waiting for me. The only problem was someone who was running their big rig after 10 pm for half an hour, but I left a message with the office about that issue. Pretty trees and shrubs make for a nicer campground.
Dec 17, 2020
Short stay but...
Dec 16, 2020
Staff was excellent and was a very clean park. Enjoyed our time there!
Dec 16, 2020
Staff was very pleasant, facility is well maintained, we would stay here again .
Dec 16, 2020
I think this KOA is a stop over location nothing to do.
Dec 13, 2020
It's a very nice campground. Well maintained. Extra wide sites (seen a lot tighter spots at KOA'S but not many that large). A hedge between sites for extra privacy. Workers friendly & helpful. We were supposed to be there 3 nights but found our water heater not working. Called and asked how much I'd be charged for leaving in the morning (2 nights early), given full 2 nights refund.
Dec 13, 2020
In and out. Easy and full functioning.
Dec 12, 2020
Great service - both friendly and efficient. Very nice grounds & facilities.
Dec 05, 2020
Easy check in. Everyone so friendly and helpful. Beautiful park. I will be staying their again.
Dec 03, 2020
Stayed there thanksgiving weekend, 4 days. They FAILED to mention closed restrooms closed due to Covid. Stayed at a bigger KOA the weekend prior, packed campsite with open restrooms and showers! Total fail
Dec 03, 2020
$378 a week plus a $49 reservation fee I stated this place for 3 weeks. no showers no bathrooms no laundry room no anything available at this it is the worst KOA experience I've ever had I would never recommend this place I would never return to this place who wants to pay over $400 a week to camp out at a KOA you can a mortgage on a home for that amount of money
Dec 02, 2020
Hard to rate a one nighter but it was nice enough that we'll go there again. Hook ups are well maintained and conveniently located. Pull through sites where a tad short but plenty wide enough to park the dingy alongside with no problems. The facilities look nice but with Covid restrictions what's inside of them remains a mystery. Staff was very attentive to customers and the on going maintenan
Nov 30, 2020
Wonderful spot just off the I-10. Clean, good service, nice staff, quiet and easily accessible sites.
Nov 29, 2020
Always nice people Clean well kept campground!
Nov 29, 2020
Right now the TV channel listing isn't correct with the check in paperwork you receive. You actually receive more channels than are indicated. This isn't a large campground but is nice and friendly staff wise. I have camped here many times and I am always pleased with the quality and cleanliness of the campground.
Nov 29, 2020
The park is clean, the the staff and residents are friendly and masked.
Nov 29, 2020
Clean, friendly, nice place.
Nov 29, 2020
We got in late and they had all the info in an envelope on the office door waiting for us. Great stay. Thanks!!
Nov 28, 2020
Beautiful area. Personnel were very friendly and helpful. Hookups and spot was fine .. not "too close to neighbors." Some of the long-term-stayers are a bit trashy and, like everywhere else, many people with dogs simply don't know how to manage them (yes, I have a (very well-behaved) dog). Overall, tho, a very nice Kampground and would stay again!
Nov 25, 2020
Very nice facility. The staff is extremely friendly and willing to assist when needed. Nicely treed, clean K9 area, quiet and plenty of room to stretch out! Thanks
Nov 25, 2020
Very nice and quiet. Not great tv reception. Neat and clean.
Nov 23, 2020
Beautiful trees and shaded spots. Very quiet campground. Lots of grassy areas for dogs, and their dog park was pretty nice.
Nov 20, 2020
We enjoyed our stay at KOA Banning. It was our first time here and we will definitely be returning.
Dec 07, 2020
Nice rv park with good host
- Brian Werle on Google
Jan 07, 2021
Neighbors allowed their young kids to play & scream until 12 midnite...not cool😡our first KOA...guess we should've known??
- Neta Madrone Marlin on Google
Dec 27, 2020
Very easy check in, the sites we're very unlevel but for one night it was ok.
- Tom Torres on Google